Why Do Blatter and Havelange need him?
Tuesday March 11, 2008, Zug: Here they come, smartly dressed in their businessman suits, pretending it's an ordinary day at the office, walking quickly past the pack of jackals with their TV cameras and notebooks blocking the glass and brick canyon leading to the court door, nodding to familiar faces, sorry can't stop to chat, must not be late.
Seven years ago it was so different. The Big Six managers from ISL gave us interviews, smiled for our cameras, catered the vol-au-vents and waved press releases announcing new FIFA contracts!
New Clients! New Sports! Global Domination in sports marketing!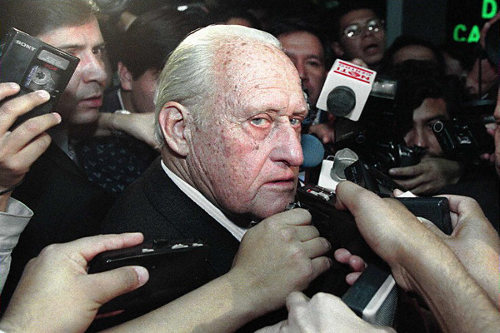 We, the jackals, know that we don't know everything. We hope to learn more in the courtroom. We assume it will be incremental additions to our knowledge. We are not expecting the deafening blast coming our way. The Prosecutor here in the small Swiss City of Zug is demanding up to four-and-a-half years in jail.

The six managers knew that their International Sport and Leisure company — always known as ISL — was bust and couldn't pay its debts but they went on taking credit from gullible banks and corporations who never checked how fragile the company was becoming. When ISL went down the toilet in the Spring of 2001 it owed more than $300 million, the second largest bankruptcy in Swiss history.
Their biggest and best contract was the rights to sell marketing and television contracts for the FIFA World Cup in 2002 and again in 2006. With the help of substantial bank loans they had paid $1.8 billion to buy these rights from FIFA – but they could sell for lots more – and help themselves to 25% commissions on the way.
How could such fantastically clever business whizzes go wrong? Where did the money go? By the end of today we should be getting some clues.
The first surprise is the square courtroom. It could be a conference room for salesmen in a no-frills business motel. At best it's down-market Swedish, designed by the guy who trucked in the ready-mix. No podium, all of us on one level. And that's hard wearing, composite flooring.
The tall, lithe and quite lovely figure of 41-year-old blonde Presiding Judge Ziegler in her dark pant-suit ('I'm Carole, spelled like the French,' she purrs to me in a coffee break) sits flanked by her two middle-aged male colleagues at a table against the back wall.
Facing the judges are more rows of tables and chairs; there sit the Big Six, squashed with their lawyers and their tables are squeezed across the whole breadth of the room. At the back sit the reporters, Swiss, Germans, French — and me from an offshore island. In front of us a dozen or so strained relatives and an attentive young man in a suit who we'll identify later.
They've plenty to worry about. The prosecutor wants to whack them for embezzlement, fraud and fraudulent bankruptcy as well as damaging creditors and falsification of documents.
That's enough scandal to fill our notebooks. But we want more; we came here for bribes, not boring balance sheets. Be patient.
On the far right of the line-up is Daniel Beauvois, early 50s, living again in Brussels. With his swept-back greying hair and trim beard he's the only one who looks creative. Daniel is lucky, he joined ISL to run their television operations long after the bribery scams were put in place. But he could still end up breakfasting on Swiss-government issue muesli because he was a director and all six are accused of keeping around £45 million they should have paid to FIFA.
FIFA! At last Herr Blatter and his organisation get their names on the court record.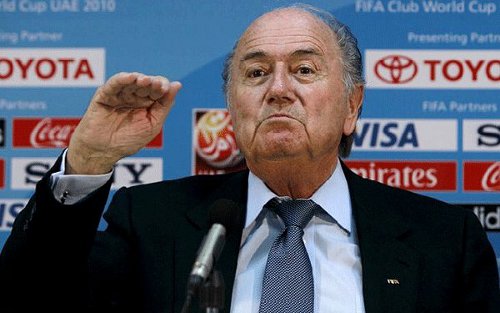 It's 11.02 on Tuesday March 11, two hours into the evidence. The Indictment says that most of the money came from the Brazilian Globo TV network, was an advance payment for World Cup rights and that 75% should have been sent to FIFA. The ISL Six are said to have withheld the money because the company was strapped for cash. Then they went bust and it became, allegedly, a crime.
Monsieur Beauvois tells me during a coffee break that the allegation is 'Fucking nonsense,' the money was definitely a loan, none of FIFA's business.
That's up to the lovely Carole and her two male escorts to decide. She tilts her head attentively, atop her long, elegant neck, stretches her legs and crosses her ankles. Each of the six defence lawyers make their points. Seated next to Beauvois is The Man Who Knew Nothing and got the CEO's job Because he Married the Boss's Sister.
It seemed a great idea 18 years ago for McKinsey-trained Christoph Malms to entwine with one of Horst Dassler's family. When they split he got a bundle of shares and this figurehead job. The Dassler family also owned Adidas but after Horst died young in 1987, sold it for a pittance to a French politician, football club owner and later, jailbird.
Herr Malms, dark brown hair, dark face, middle height and of course a dark suit, leans forward into his microphone, showing his small bald patch. He can't do enough to please. He responds earnestly to every question but doesn't have any answers. We expect a verdict in July, about the time of his 53rd birthday. Next to Malms and close to the centre of the room is ISL's former top bean counter Hans-Jurg Schmid. He's questioned vigorously by the judge sitting on Carole's left.
It's Zug's way. There's no acid-tongued prosecuting barrister, ripping the accused to shreds. Judge Marc Siegwart wears no wig or gown, just a suit, Van Dyke beard twitching as the ramblings from the accused become more unbelievable. When he gets exasperated, Marc's eyes grow larger and rounder behind his spectacles.  Tomorrow we'll see Marc at his most lethal – but as we move towards the 6pm close of play he's warming up, leading the Six through another 15 million francs on the embezzlement part of the Indictment.
Again – a loan or a stage payment on TV rights? The money was from Japan's Dentsu, the biggest advertising company in the world who also acquired World Cup rights from ISL for resale in Japan. As ISL teetered in late 2000, Dentsu sent money from East to West. Days later a slice of that money from an ISL offshore account yo-yoed Eastwards back down that route.
Even as creditors clamoured for their money, four million Swiss francs went to the Gilmark Holdings account, said to be in Hong Kong. Judge Siegwart obviously knew more than he was letting on when he went along the defendants' desks, asking them one by one what they could tell him about Gilmark. They felt unable to assist him.
(Ten days passed and Jean-François Tanda, an enterprising reporter in Zurich – with some the best sources in the business – disclosed that the money went to a senior manager at Dentsu; a Mr Haruyiuki Takahashi. Tanda has tried for comment and I have too but Dentsu's huge media operation in Tokyo is not responsive on this one.)
The Dentsu company has done business with FIFA for more than two decades. They still do. Although the ISL company has evaporated, their gleaming white offices 100 metres from the court now house the Infront sports marketing company. Infront has won, with Dentsu, a big chunk of television rights to the next World Cup.
The name of the Infront CEO has a familiar ring. Philippe Blatter. What do uncle and nephew talk about when not doing private deals about the most sought-after football rights in the world?
Judge Carole closes the court at 5.59.   Blatter's pugnacious personal spin doctor Peter Hargitay has been calling reporters across Europe for the last few days assuring them that the FIFA president is 'relaxed' about the Zug hearings. Not worth turning up, nothing interesting will happen in court. Total waste of time. One London paper repeated the line.
They didn't see Blatter on Swiss TV the next night, after this stage of the trial ended. Pale and drawn, stress creased Blatter's face when a reporter stuck corruption questions to him. But Blatter knew exactly what was going on because the anonymous young man taking notes in the Zug court was a junior lawyer from his solicitors in Zurich.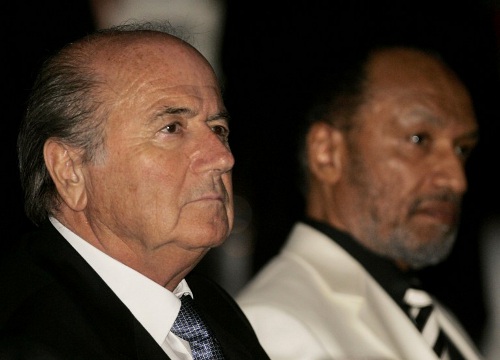 Wednesday March 12, 2008: We barrel down the lakeside, German reporter Thomas Kistner at the wheel, and up through the cow pastures and snowy peaks between Zurich and Zug. Today has to be Schmiergeld – kickbacks – day. We got a taste of Japanese cuisine last afternoon; today we expect to go global.
We are itching for names. We've got the Indictment; the tables in Section 12 list a dozen offshore bank accounts that were paid around 36 million Swiss Francs during the last 15 months of the ISL's life.
It's getting taut in the court as Judge Siegwart reminds the Six, looking more sheepish by the minute, how they shipped the money out of Switzerland to secret accounts in Liechtenstein and the Caribbean. Then it was delivered to lucky bribe-takers. Commercial bribery wasn't illegal then in Switzerland (It is now).
Siegwart argues that the Six knew the company was doomed and the money should have gone to pay overdue debts. So why was it shipped out to these accounts?
Herr Malms clears his throat. At last, the pathetic admission that they weren't the brightest dealmakers on the planet, never Masters of the Business Universe, no more than a grubby bunch of machine-greasers. Anybody with a large bag of cash could have been a boss at ISL. It was a 'regular part' of ISL's business he explained, to pay kickbacks.
'I was told the company would not have existed if it had not made such payments,' Malms said.
He'd discovered the truth soon after joining when he asked where the money was going.
'I do not know who the final recipients were but I was always told they were well-known decision-makers in the world of sports politics.' (Malms knows more – but another 20 days will pass before he punches the tickets of the two biggest names in the game.) It was usual, he admitted, in the whole sports marketing and sports political business worldwide.
'It was the style of the business. If we didn't pay, we would have had to close our company.'
That's what happens when you do business with the FIFA kleptocracy. Absolutely, chipped in beancounter Schmid.
'It is just like when you have to pay someone a salary. Otherwise they won't work for you. If we hadn't made the payments, the other parties wouldn't have signed the contracts.'
(They'll confirm who the other parties were, in another 20 days. Of course some of us know already, but it helps to have these confirmations of corruption made here and so we can report them, protected by court privilege.) But, honestly, please believe me Herr Malms told the court, he intended stopping the rot. That 36 million was to be the last of the kickbacks.
He never did explain why he expected the shakedown artists to halt their demands on the company. But it had to stop, he explained, because ISL was planning a stock market floatation, and they wouldn't be able to bury bribes in their books any longer.
Then he revealed that the techniques for clandestinely moving the wholesale bribe money offshore – the way drug dealers, corporate thieves and thuggish dictators hide their dirty money – were dreamed up by one of the most senior and still very active partners at their Zurich lawyers who we reporters at the
back of the court know also represent FIFA.
This racket was then approved by their auditors KPMG who we at the back remember present FIFA's accounts the way they like them; cloudy and lacking key information. What a small world these rich men inhabit. And they had friends in high places. The scam was given the kiss of life by the Swiss federal tax authorities.
Those offshore accounts had some pretty names; Nunca, Sunbow, Taora and now . . . Sicuretta. Jean-Marie Weber also distributed the kickbacks in traditional suitcases of cash, sometimes more than $500,000 a time – and won't say who he bunged. All he would ever admit was that it was cash for 'the acquisition of rights.'
In an off-hand comment to investigators, and quoted in the richly detailed Indictment, lawyer Guido Renggli who managed the Sicuretta account and doled out the bundles of cash, remembered being taken to Paris for the World Cup in 1998 by Jean-Marie to meet the newly-elected FIFA president Blatter.
Mr Renggli never did disclose why Mr Blatter was so pleased to see him. We can only guess.
OK, said Judge Siegwart, I want to know who got the money?
Five of the Six insisted they had no idea. Like us at the press tables they knew the names of all the top decision-makers in world sport – there's not that many of them – and had lunched and partied with them – but they didn't know who had taken their money. Hadn't a clue. We were asked to believe this fantasy.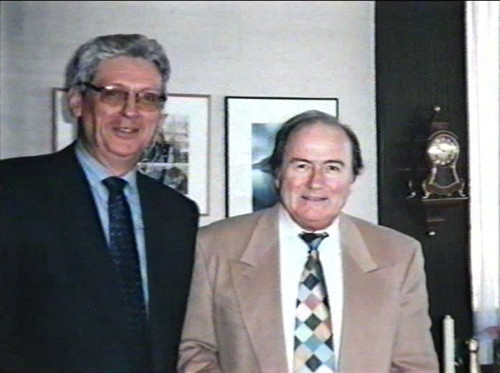 The man who distributed the goodies, Jean-Marie Weber, is the fourth stooge in the line-up in front of us and Jean-Marie knows everything. He was once Horst Dassler's assistant and took over delivering the bungs when Dassler died. His job description at ISL was 'cultivating relationships' and he carried his two black briefcases everywhere, stuffed full of these private agreements to kickback.
For years Jean-Marie's tall frame and bouffant silver hair has towered above every FIFA meeting and the congresses of other wealthy sports. Today he's looking scrawny, his voice is reedy and his hair suddenly cut short, is he hoping to avoid the prison barber?
Judge Siegwart asks him, who got the money and Jean-Marie begins the mantra we hear repeated through the rest of the morning,
'On the advice of my lawyer I have no statement to make. My lawyer will address these matters.'
At other times he says 'these payments were confidential and I must respect that confidentiality.'
Siegwart's getting testy. These clowns are taking the piss. He fixes on a modest kickback, only $250,000, the Indictment says it went to a Mr Abdul Muttaleb of Kuwait. When it was paid in 2000 he was Director General of the Olympic Council for Asia. And yes, ISL obtained a contract with the OCA.
In 2004 the BBC's Panorama programme caught Muttaleb discussing how bribes could be paid to his friends on the International Olympic Committee. End of the big earners for Abdul.
Why have you paid so much money to that person in Kuwait, demands the Judge. Here, we have to show our companies and tax officials documents for every meal we have with business partners – and you give away $250,000 without any notice, any documentation, any contract, any memo, any letter?
The certificated accountant Schmid states. 'We wouldn't get any receipts from those persons.'
Next for shaming is FIFA executive committee member Nicolás Leoz. He's not in the room, he's back home in faraway Paraguay and he did not steal a lot but he's the first FIFA official to be named. The fact that he trousered $130,000 from ISL was leaked to a London newspaper by Blatter's fixers in the autumn of 2006; damage limitation when this trial seemed imminent.
(Days after the leak Blatter was in Asuncion and brazenly backed Leoz, challenging investigators to produce hard evidence of any wrongdoing. Blatter would have had this evidence in the prosecutors report in his desk drawer in Zurich — he probably leaked it. A month later Blatter was telling reporters, 'There is no need for me to reaffirm my confidence in Leoz.')
Siegwart's had enough. He pulls a hand grenade from the files on his desk, flips the pin and rolls it across the courtroom floor.
BOOUUM! When our ears stop ringing we realise what he's said; he's got evidence that over the years they'd paid out – wait for it, hold tight – a stunning $100 million in bribes.
No wonder ISL dipped south, never to return. Judge Siegwart tries yet again for names. Malms says he doesn't know them. But announces, astonishingly, that a handful of reporters do.
And Yes! Jean-François Tanda from Zurich, Jens Weinreich from Berlin, Thomas Kistner from Munich and I grin at each other. But Jean-Marie still will not name names. The others repeat their mantra, only Jean-Marie knows.   The hearing ended at 11.20. The lawyers will be back on March 31 to submit their arguments and verdicts are expected in three months.
We went away to think about the wider implications of the evidence. Back in 1995 the mighty IMG group promised FIFA they would top any offer from any company for World Cup television and marketing rights. Their starting price was $1 billion and there wasn't a ceiling.
They were given the bum's rush and wrote angrily to Blatter, then FIFA general secretary, that 'preferential treatment [is] being given to other parties such as ISL' and that the bidding was merely 'a cosmetic exercise.'   ISL got the rights.
Monday March 31, 2008: Back in court, it's the turn of the defence lawyers to attack the prosecution case. The hearing lasts for most of the week. The second grenade was tossed into the courtroom by Herr Werner Würgler, the lawyer for Christoph Malms. While his client really, really, honestly didn't have proof of who got the kickbacks, he had been given two huge clues.
Herr Würgler claimed that FIFA President Sepp Blatter had approached Christoph Malms and told him in no uncertain terms that if ISL wanted to keep FIFA's business, Jean-Marie Weber had to keep his job at the company. If not, 'It would be bad for ISL.'
Making sure that Jean-Marie, the man who delivered FIFA's bribes, kept his job at ISL seemed to be a priority for FIFA presidents because Herr Würgler also told the judges that during the World Cup in France in 1998 retiring President Havelange had made the same demand. Blatter and Havelange. What more do you need to know about corruption at FIFA?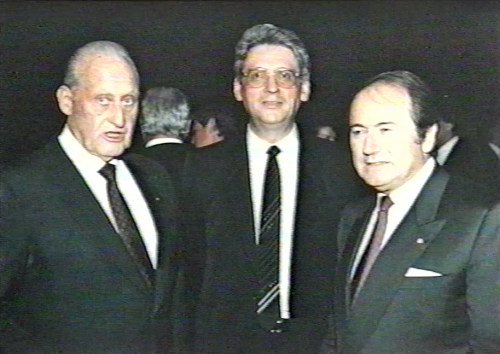 The two top men implicated in the biggest bribery scam in world sport. Würgler added that, 'because of these ultimatums made by the two FIFA presidents, 'it was made economically impossible for the ISL Group to move away from the system of commission payments.'
(Commissions? We thought they were bribes. Calling the kickbacks 'commissions' made the ISL guys feel better about themselves. And it is being made devastatingly clear that Blatter is as involved as Havelange in the kickbacks.)
Würgler hadn't finished with Blatter. The lawyer made the sophisticated point that anybody at FIFA who knew about the bribes – and who was getting them – could exercise great power over fellow officials. And in case the judges hadn't yet got the point, the ISL company had become a private source of money for FIFA – virtually their private bank.
Judge Marc Siegwart gave Jean-Marie one last chance to cough the names.
'No,' he says, 'I make no statement.'
But his lips were dry, he's lost weight since the trial started and a strong wind might break him into parts.   As the first stage of the trial ended in mid-March FIFA executive members were flying into Zurich for their first meeting of the year. But tragedy had struck Nicolás Leoz – he needed some unspecified surgery – and he wouldn't be coming.
The surgery was brilliant, his backbone implant was successful and within days he was attending official football meetings in Latin America.
At his press conference after the ExCo meetings Blatter fended off questions saying he could not possibly comment on the Zug disclosures until after the verdict. That's nonsense. There was nothing to stop him commenting on the documented evidence of Leoz taking money, the money going to the company owned by Havelange and Teixeira – and Malms' electrifying claim that both Blatter and Havelange forced ISL to keep Weber in place to ensure bribes were delivered on time.
Five of the Six were acquitted. Jean-Marie Weber was convicted of helping himself to 90,000 Swiss Francs in cash, although we all believed that the money had been wrapped in a brown paper bag and ended up in the hands of a FIFA official.
Blatter was now in serious trouble. He had been named in court along with Havelange by ISL boss Christoph Malms; they were both involved in the vast bribery scandal. And there was Nicolás Leoz as well.
There must be an investigation. Who could do this?
Step forward Lord Sebastian Coe, British Olympic God. Coe had been appointed by Blatter in September 2006 to head FIFA's Ethics Committee. It was part of the cover-up following my story that Jack Warner, FIFA vice-president from Trinidad, had traded more than 5,000 World Cup tickets into the Black market in Germany in 2006. Coe made clear he would not investigate anything before the date he was appointed.
In one sentence he rendered all FIFA's bribe takers, ticket scalpers, expenses fraudsters and energetic thieves at the executive committee safe and untouchable. Decades of crimes against sport — untouchable. Total amnesty.
Coe had for years been hoping to gain admission to the IOC. Blatter was already a member and had to be courted. If Coe offended Blatter the football boss could assemble a block of votes to keep him out. While the rest of the sports world became increasingly disgusted with Blatter, Coe protected him.
In late 2007 the BBC Panorama programme wanted to ask Coe why he was doing nothing to investigate FIFA scandals. Coe refused to grant an interview. Our editor agreed that I should go and find Coe. We discovered he would be in a remote village in the North of Scotland the next day. We flew overnight from London to Edinburgh, drove through the mountains and soon after dawn, arrived in remote Grantown-on-Speywhere Coe was due to make a public appearance at the local sports centre.
We set the camera high on its tripod well back from the front door and fitted a long lens. A row of local council and sports officials, dressed in their best Scottish kilts, lined up as welcoming committee. Coe stepped from his car and began shaking hands as he worked along the row. It was the funniest sequence I ever filmed.
I ducked in and out of the kilts politely asking Coe for an interview – but Coe was blind to me. He refused to admit that I was close enough to touch him. He didn't notice the microphone clipped to my coat or my camera crew.   The kilted officials took their cue from Coe and pretended I was invisible.
Millions of viewers laughed when the programme was screened and his reputation as FIFA's policeman turned to dust. At the end of the Zug trial Lord Coe should have demanded the case papers from the trial. Lord Coe could have interrogated Blatter and Havelange about their demands that Jean-Marie kept his job at ISL. Coe could have driven the crooks from FIFA. The Brazil World Cup and the Rio Olympics would have benefited. This did not appear to be on his agenda.   
Editor's Note: Wired868 has been authorised to publish excerpts from Omertà for readers. We urge you to purchase an online version of the book for just US$11.70 from Amazon by clicking HERE.