Investigating the Bribe Master and the Bag Man
THE ARROGANT OLD MAN in Rio, now aged 94, refused to admit his guilt, refused to say sorry for his quarter century of stealing millions from world football, refused to give back those millions. Castor Andrade never said sorry.
Why should he?
And what a great deal he had got from the Swiss cops. His crimes would be kept secret, all he had to do was hand over half a million Swiss francs – peanuts.
He had lied his head off about how little money he had – and those nosey investigators in Switzerland were powerless to challenge him. They would have been bogged down for ever in Rio's legal mud.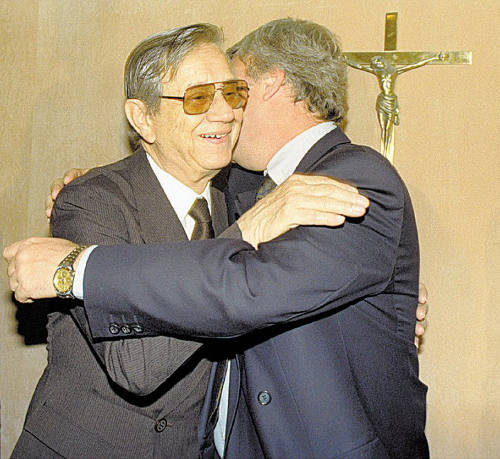 The lawyers in Zurich had done a great job, fighting every inch. And Blatter, who had his own secrets to hide, got FIFA to pay the legal bills.
Never mind the tens of millions extorted from ISL, never mind the shady accounts with big black holes when he was head of Brazilian sport during the dictatorship, FIFA had made João a very rich man.
He had leeched so much money out of FIFA in massive expenses and mysterious payments, had received fabulous gifts from gas and oil rich billionaire Gulf Sheikhs that half a million Swiss francs was a pinprick in his vast wealth.
Ricardo had paid back a little more – maybe 20% of what he had embezzled from FIFA via ISL. But he still had the Nike money to play with.
Blatter and those expensive Swiss lawyers had also promised that the legal settlement with the prosecutors in Zug would forever be a secret.
And he was still boss of the CBF and still on FIFA's executive committee. Whole new possibilities of corruption were opening up around the World Cup.
Lula had been a pushover and Dilma dare not confront him. She loathed him – but he was the one with the power, not her.
IT WAS ALL BLATTER'S FAULT. He had panicked when ISL collapsed in 2001, bankrupted by the huge bribes the Brazilians had demanded.
Those whining troublemakers at UEFA, saw a new battlefront to open. They had lost the election in 1998, outbribed by Blatter, Havelange and their paymasters in the Gulf.
Now Lennart Johansson and the Europeans were demanding action over FIFA's losses.
Worried about the next election, due in 12 months time in Seoul in 2002, Blatter capitulated and made a complaint to the cops in Zug. Even Hayatou was backing the Europeans.
Hayatou!
What a hypocrite!
He had taken ISL money but with European support, he might oust Blatter for the top job.
Of course the Europeans hoped that a police investigation would prove what they believed; that the Brazilians, with Blatter as their link man to ISL in Zug, had trousered millions in kickbacks in return for contracts.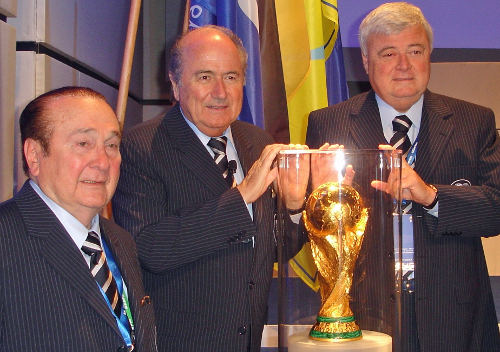 In May 2001, Blatter reluctantly filed FIFA's complaint with the economic crime investigators in Zug.
Then it went quiet. Zug seemed slow to act. At first that was good news. Maybe the complaint would be buried.
The FIFA thieves began to relax. That was a mistake.
Seventeen months later the crooks learned a new name, one that would torture them as the years went by. The Zug authorities had brought in Thomas Hildbrand, a skilled fraud investigator, to dig into the ISL scandal.
He arrested Jean-Marie Weber and other former ISL directors. They were held for several days for questioning. Their offices were searched.
The FIFA crooks could not be sure what was Hildbrand's purpose; was his target them – or the managers at ISL who had paid the bribes?
MEANWHILE the Zug Bankruptcy court had appointed Thomas Bauer from the auditing company Ernst & Young to liquidate whatever assets he could find in the wreckage of ISL.
Bauer was doing what some of us reporters had wanted to do for a decade. He was ferreting through ISL's internal memos, bank statements and, inevitably, he was discovering some very funny payments.
He wanted them back, to share out among ISL's creditors.
Bauer had a duty to the creditors to keep the costs of recovery as low as possible.
It would cost a lot of money – and risky – to tackle the well-connected Havelange and Teixeira with all their friends in Brazil's courts.
But he didn't have to. Near to hand, in Switzerland, was the Bagman, Jean-Marie Weber.
ISL's secret documents showed that Weber had been the delivery man; the intermediary who brought the bearer cheques to individual FIFA crooks and for others, dispatched millions of dollars to the brass plate companies in Liechtenstein.
Bauer started legal action in Switzerland against Weber – who suddenly acquired one of the most high-profile lawyers in the country.
Yes, it was Sepp Blatter's lawyer, Peter Nobel. This was the solid clue that Blatter had much to fear from investigations into the contract kickbacks.
Did FIFA pay his fees?
In March 2004, rather than risk a public court hearing, Weber and Nobel negotiated the repayment down to 2.5 million Swiss Francs. Would that bury the investigations?
In June 2004 Blatter tried to stop further investigations. In secret, he wrote to the Zug authorities telling them that FIFA had withdrawn its complaint against ISL – and goodbye. So Hildbrand could find himself another job!
He was too late.
Hildbrand already knew too much to stop digging. His investigation stretched over years because he was chasing individuals and bank accounts around the world and it could take months to get agreement in foreign jurisdictions to access bank records.
The FIFA crooks did not realise that Hildbrand was playing a game of two halves.
He concluded the first half in March 2005 and sent his investigation file to the Zug prosecutors, recommending the prosecution of six of ISL's top managers for the simple offence of continuing to trade when the company was insolvent, so causing greater losses to creditors.
The evidence he assembled went a lot further – but this was not made public.
Blatter and Havelange and Teixeira might have thought that this was the end.
Phew! We got away with it.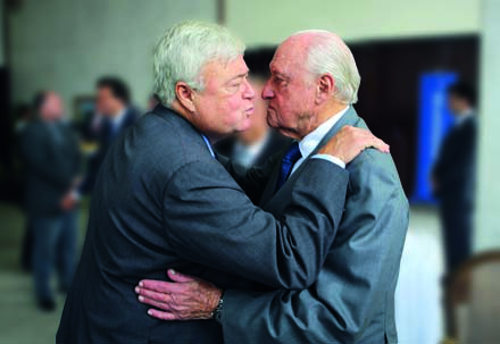 KNOCK, KNOCK, WHO IS THAT?
'Hello, this is Investigating Magistrate Thomas Hildbrand and I have a warrant to search FIFA headquarters. Open the door please.'
It was November 3, 2005 and FIFA was discovering that Hildbrand was commencing a second investigation.
The authorities in Zug had agreed it was now time to target FIFA corruption.
Hildbrand searched the offices and removed documents.
This was serious.
Police officers inside Blatter's offices.
Blatter cast around for a way, any way, to get Hildbrand off his case. He had just the man to tackle this.
His dirty tricks fixer, Swiss-Hungarian Peter Hargitay, devised a strategy and planted it on David Owen, Sports Editor of the prestigious Financial Times.
It was published on December 10, 2005, five weeks after the raid on FIFA.
This 'exclusive' story alleged that a deceased sister of Hildbrand had been married to a cousin of Blatter. This had been filed in a formal complaint with judges in Zug.
It said, 'All of these circumstances do not seem to be conducive to the impartiality of investigating judge Hildbrand towards Mr Blatter and FIFA.' It added, 'The complainant believes that [Mr Hildbrand] tried by all available means to bring criminal charges against [Mr Blatter].'
Hildbrand pointed out that he was not related to Mr Blatter. The Zug court kicked the story – and the Financial Times scoop – into the long grass.
No more was ever heard of it. Hildbrand stayed on Blatter's case.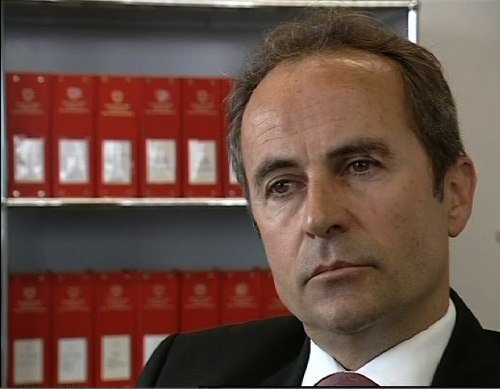 There was a shock for Teixeira in early 2006. Hildbrand turned up in the tiny Pyrenean state of Andorra to interview witnesses involved in managing Teixeira's secret bank accounts.
He had been shipping money from Liechtenstein to an account in Andorra, the small principality high in the Pyrenees, nearest big city Barcelona where his close friend, former Nike official and business associate Sandro Rosell was based at Barcelona FC.
An Andorran citizen would withdraw the money in cash and take it to another bank. Later it was shipped on to Teixeira.
On January 16, 2007 Hildbrand travelled to Erlangen in Bavaria to interview Brigitte Baenkler, sister of Horst Dassler.
He was curious to know about a secret visit to see her two years earlier by Sepp Blatter and Jean-Marie Weber, the Bribe Master and the Bagman.
It seems that Weber did not have the money to pay ISL liquidator Bauer's demand for CHF2.5 million.
So, says a source close to the story, Blatter had authorised payment from FIFA's accounts and now they were looking for someone to plug the hole.
Apparently they told her that as a past owner of shares in ISL, she was vulnerable to demands for money from the company's creditors.
If she paid FIFA the SF2.5 million, they would make sure that she was not bothered again. She refused to pay and the Bribe Master and the Bagman returned to Zurich empty handed.
Editor's Note: Wired868 has been authorised to publish excerpts from Omertà for readers. We urge you to purchase an online version of the book for just US$11.70 from Amazon by clicking HERE.