"It means a lot to us (to be in the final)," said Trinidad and Tobago attacker Tasha St Louis yesterday. "A lot of us have been (involved in the women's game) for a long time and the chance to win the trophy at home (before) going into the CONCACAF tournament is a great thing.
"We want to win it really badly."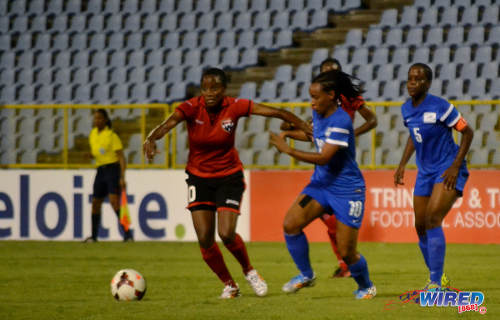 Trinidad and Tobago has not won a senior Caribbean Cup title since 2001. To put that into perspective, Basdeo Panday was Prime Minister, the United States' twin towers were unscathed in lower Manhattan and Movie Towne was not yet opened.
On Tuesday night, 13 years later, the "Soca Princesses" aim to put Trinidad and Tobago at the pinnacle of the regional game once more—albeit in the inaugural female competition—after they closed their Group B schedule with a crushing 7-0 win over Martinique.
Trinidad and Tobago will meet fierce regional rival, Jamaica, from 7.15 pm at the Hasely Crawford Stadium, Port of Spain after the third place play off between Martinique and Haiti, which kicks off at 5 pm. Admission is $50 for everyone over 12 and free for children.

In three Group A matches, the "Reggae Girls" scored 15 goals and conceded two while, in Group B, the Princesses banged in 19 goals without reply. This is the final for the purists and partisans alike.
In October, three CONCACAF teams will advance to the 2015 Women's World Cup in Canada while a fourth will go to a play off. The United States and Mexico are heavily favoured to qualify automatically but Costa Rica, Jamaica and Trinidad and Tobago will all fancy their chances of joining them while Haiti and Guatemala are the outside shots.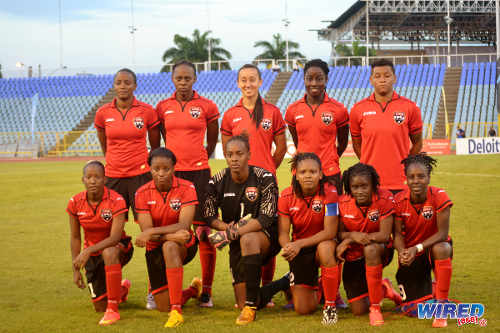 On Tuesday, the Princesses can strike a double psychological blow.
First, a warning shot to their World Cup rivals that they mean business. And, just as importantly, a message to local football fans and corporate Trinidad and Tobago about their potential to achieve great things.
It was impossible not to appreciate the team's talent last night.
For starters, patrons would want to take their seats early when these ladies are playing.
As in their opening 10-0 rout of St Kitts, the Princesses came flying out of the blocks against Martinique. Only 49 seconds elapsed when enigmatic forward Kennya "Ya Ya" Cordner put the hosts ahead after a fluent attacking play that featured two accurate passes from defender Rhea Belgrave and deep-lying midfield playmaker Karyn Forbes.
The Trinidad and Tobago camp spent the past four days in a state of unease after St Clair Medical Centre suggested that the 25-year-old United States-based star should have a cardiac MRI after complaining about chest problems on Thursday.
On Saturday night, Dr Shane Gieowarsingh of the Southern Medical Clinic assured Cordner that she had nothing to worry about.
But, after two fatal heart attacks in the past year to former national stand-outs Akeem Adams and Kevon Carter, it is understandable that fans remain divided as to whether the TTFA Player of the Year should be "risked" at all.
Waldrum followed medical advice in using Cordner and there is certainly no doubt about her worth to the team.
"It was good to get back on the field and help out the team and play for my country," said Cordner.
Her goal apart, Cordner only had a direct hand in Trinidad and Tobago's sixth item which was scored from close range by Mariah Shade. But her sureness of touch, pace and mischievous dribbling skills were crucial to the outcome, even when they did not lead to scoring opportunities.
As Cordner dragged the ball past Dorialina Dijon, flicked it over the head of Sylvia Solbiac or rolled it through the legs of Severine Cadare, Martinique shoulders dropped and her own teammates strutted while about 800 supporters clapped and screamed in delight.
In the covered stands, the Jamaica players watched the game with pens and notepads in hand. But, as one observer pointed out, it was hard to see them writing anything down but two words: "Kennya Cordner."
And yet Trinidad and Tobago is no one-woman team. Even in the absence of suspended skipper Maylee Attin-Johnson, the Princesses moved the ball around crisply and some of their one touch football was a pleasure to watch.
Khadidra Debesette and Forbes accurately sprayed the ball around while St Louis and midfielder Janine Francois moved intelligently, Shade always spotted the open spaces in the opposing box and defenders Arin King and Linda Hutchinson were authority personified.
Even substitute Dernelle Mascall offered an intriguing cameo as she had a hand in Shade's two second half items before closing off the score summary with a blast into the far corner in the 69th minute.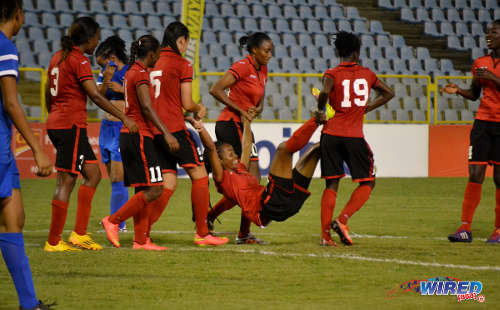 In between, St Louis scored her second hattrick of the tournament to take her tally to a Caribbean Cup high seven items, which is one better than Jamaica's Shakira Duncan.
St Louis' second was the move of the night, though.
Stand-in captain Ayanna Russell, who played as a holding midfielder rather than in central defence, traded passes with St Louis near the halfline before slipping the ball forward to Forbes. Debesette, as always, sprinted down the right touchline and Forbes' first time pass in her direction was so well weighted that she did not have to break stride.
The teenaged right back took one touch to steady herself before whipping a cross to the edge of the six yard box where St Louis climbed to head firmly to Martinique goalie Cathy Bellune's left.
No wonder Waldrum was cooing when he addressed the press after the match.
"We asked them to get a quick, fast early start," said Waldrum. "We felt that our pace, if we jumped on them early, would be a problem… The performance tonight was a very professional one."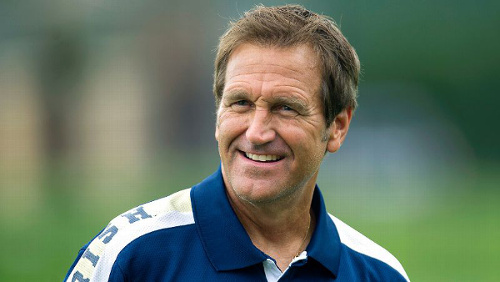 It was not a flawless showing. Trinidad and Tobago attacked with as many as seven players at times and there were two careless turnovers that led to promising counter attacks for Martinique.
Jamaica has the quality to punish such lapses.
"Jamaica is a very good team and you can tell they have been together for some time," he said. "It will be a great match-up… I think the important thing as we move forward to CONCACAF is I want (our team) to get pushed and stretched in every game. Whether we win or lose at this point doesn't matter.
"We need games that are going to stretch us and expose us to some things; and I know that Jamaica will expose us in some ways that the other three games haven't so far. So I think it is a positive regardless."
Waldrum suggested that his team must concentrate better in the Caribbean Cup final; and choose wisely as to when to employ a high defensive line and when to sit deeper so as not to be exposed by Jamaica's pace.
But he insisted that the Princesses would continue to play on the front foot and rely on their own creativity to lift the title.
"Jamaica has some speed (and quality) on top just like we do," he said. "They are going to have to watch out for us too. We won't change our game plan."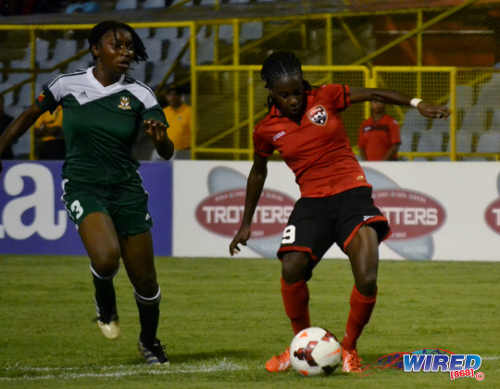 Cordner had no doubt about which offence would emerge victorious.
"We are going to beat up Jamaica," she said.
If the Princesses pull it off, it would be the first time that Trinidad and Tobago rules the region at senior level in 13 years. History beckons.
(Teams)
Trinidad and Tobago (4-1-2-3): 1.Kimika Forbes (GK); 6.Khadidra Debesette (15.Patrice Superville 46), 4.Rhea Belgrave, 5.Arin King, 12.Lauryn Hutchinson; 2.Ayanna Russell (captain) (7.Dernelle Mascall 46); 14.Karyn Forbes, 11.Janine Francois (13.Shenelle Henry 74); 3.Mariah Shade, 10.Tasha St Louis (vice-captain), 19.Kennya Cordner.
Unused substitutes: 21.Tinesha Palmer (GK), 8.Afiyah Matthias, 18.Annalis Cummings.
Coach: Randy Waldrum
Martinique (4-4-1-1): 16.Cathy Bellune (GK); 4.Dorialina Dijon, 6.Severine Cadare, 17.Nathalie Rangoly, 11.Sylvia Solbiac; 5.Johanne Guillou (captain), 10.Christine Gamot (8.Nathalie Cyrille 75), 18.Aurelie Rouge, 3.Marielle Marie-Sainte (21.Adeline Privat 46); 15.Audrey Bernabe; 12.Prisca Carin,
Unused substitutes: 7.Kelly Brena, 9.Nathela Paulin.
Coach: Dominique Brafine
Referee: Iola Simmons (Antigua)
Caribbean Cup results
(Sun Aug 24)
St Kitts and Nevis 2, Antigua and Barbuda 1 at Hasely Crawford Stadium;
Trinidad and Tobago 7 (Kennya Cordner 1, Tasha St Louis 4, 9, 45, Mariah Shade 48, 62, Dernelle Mascall 69), Martinique 0 at Hasely Crawford Stadium;
(Sat Aug 23)
Puerto Rico 5 (Karina Socarras 13, 76, Zahimara Fantauzzi 15, Scout Benson 45, Maria Aquino 82 pen), Bermuda 1 (Miosoty Garcia OG) at the Ato Boldon Stadium;
Jamaica 2 (Jodi-Ann McGregor 8, Donnakay Henry 81), Haiti 0 at the Ato Boldon Stadium;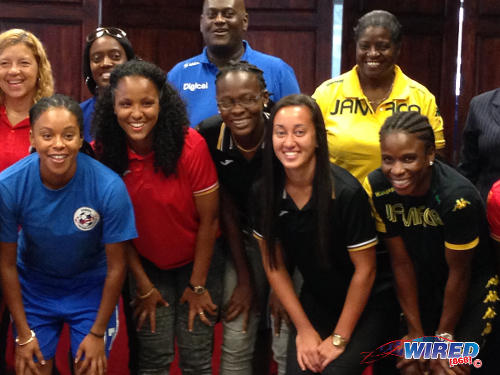 Upcoming fixtures
(Tue Aug 26)
Haiti vs Martinique, 5 pm, Third Place Play-off, Hasely Crawford Stadium;
Trinidad and Tobago vs Jamaica, 7.15 pm, Final, Hasely Crawford Stadium.