Mr Live Wire tries to illuminate discombobulated citizens without big words on the constitutional positions of the UNC, COP and PNM; what it means for Independents; why Prakash Ramadhar is a self-hating turkey and who won the last Lotto Plus: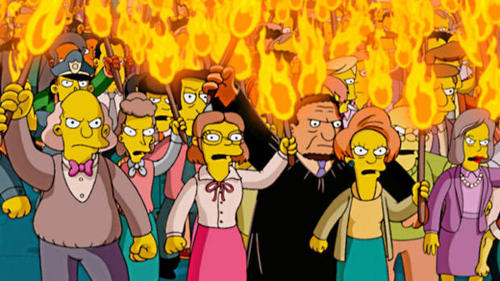 Take the second left, then right, then what? I'm lost!! Mr Live Wire, you could explain this constitutional reform thing for me without them setta big words?
The Government picked five persons (the Constitutional Reform Committee or CRC) to talk to the people and then provide suggestions to create a limit for how long someone could be Prime Minister and a way to fire MPs who are not doing a good job.
The second bit caused the bacchanal. You see the CRC decided that if a MP was not supported by more than half of the voters in his constituency, he might be fired on the first day of the job, which could be chaotic. So, if no candidate has 50 percent of the votes on election night, there would be a runoff election in two weeks to decide who has the majority support.
Pay attention to this bit: The CRC recommended that any MP could be fired once more than the number of persons who voted him now wanted him out.
I see Anand and Merle cussing one another; so I know something devious happening. What going on, man?
Well, there are two sides to this. One consideration is what the CRC Report means to voters. And the other is what it might mean to the supposed smaller parties like COP of which the CRC chairman Prakash Ramadhar is the political leader and Merle Hodge is supposedly a foot soldier.
Let's look at what affects the wider public first. I pointed out that any MP could be "recalled" once more than the number of persons who elected him wants him out.
So, in the case of Anil Roberts, he was elected by 9,541 voters, which was more than half of the votes cast. So it would take 9,542 D'Abadie/O'Meara voters to get rid of him.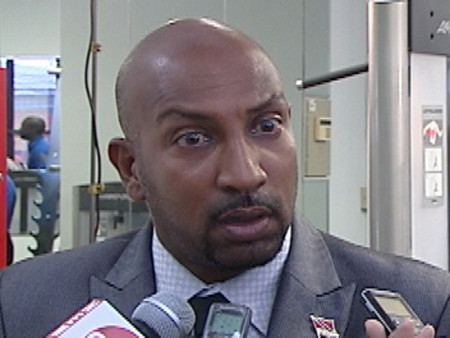 But when the Bill arrived in Parliament, a theoretical petition to remove Minister Two Pull suddenly needed support from "at least two-thirds of all the persons who, on the date of issuance of the petition, were registered voters in that constituency."
The devil is in the details. Eighteen thousand and forty-seven people voted in D'Abadie/O'Meara during the 2010 elections; but the number of registered voters was actually 26,019.
So, instead of 9,542, a successful petition now needs 17,346 voters, which means almost every single person who cared to vote must support a decision to remove him!
Oh gaddo! Is section 34 again! So wait nah; Anand doesn't need Volney around to pull a fast one on the people then?!
I wasn't finished… Not only must two-thirds of the total number of registered voters back the move to fire the Minister; but those voters must also "still reside in the constituency."
The Election and Boundaries Commission (EBC) does not even have such a list and, according to the Bill, lacks the resources to create one.
So not only would someone trying to get rid of Two Pull have to be better at campaigning than the defeated PNM candidate for the area; he or she would need more resources than the EBC to create a new electors list. And all within a 21-day deadline!
But that is like finding a needle in a haystack?!
Worse. It is like finding an honest man in Parliament!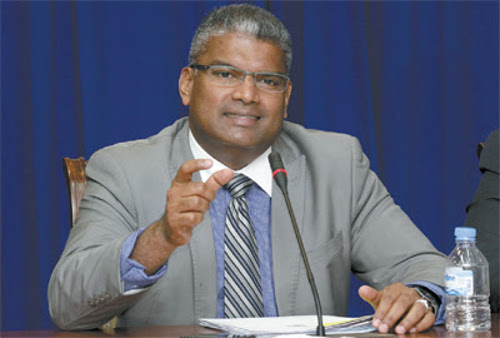 But I still wasn't finished. Even if someone was able to get all of that done, the Government ruled that a MP can only be removed between the third and fourth year of his or her term.
You know how much damage could be done in three years?!
Look at how LifeSport squandered over $400 million in just two years. After three years, SPORTT might be so broke that Keshorn Walcott would be throwing mango branch instead of javelin!
Geezan… So that Bill is a waste of time then; we could never tick all those boxes to sack cock-ups like Anil?!
Actually, even if you did tick all the boxes, Anil could still survive as Sport Minister.
Eh?! Live Wire, I come by you for a simple explanation not to confuffle me more than the AG! Ah mind ah give you a lash in yuh…
Wait, let me explain. When people were calling for Anil to be sacked, they didn't really mean as MP; they meant as Sport Minister. This Bill doesn't address that or provide a way for voters to tell a tone deaf Prime Minister when they no longer want someone in Cabinet.
The Prime Minister could still theoretically appoint a recalled MP as a Senator and we are back to square one. Look Jack Warner is still a MP and who cares? That is Chaguanas West's business. We just wanted him out of Cabinet.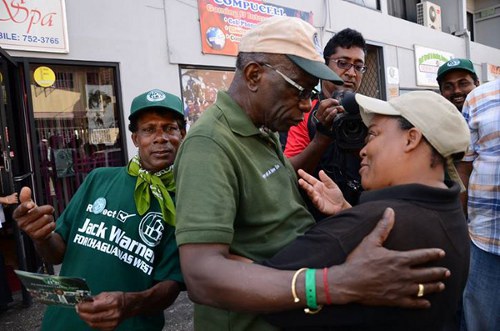 Oh ho… But isn't there an assault on our political system somewhere?
You're referring to the runoff elections. On election day, we go to the polling station to elect our leaders and that won't change. A runoff to ensure each MP has support from more than 50 percent of voters will only delay the outcome for two weeks; and Trinidad and Tobago did not implode in 2001 when we waited on ANR Robinson to decide the next Prime Minister after an 18-18 stalemate at the polls.
You didn't hear Rowley say this is serious business here? How come you saying something different? You holding back or what?!
A divided opposition traditionally suits the PNM, which has never been part of a coalition. And that is what we have at the moment with the ILP at loggerheads with the People's Partnership and friction between the UNC and COP.
So, strategically, it suits the PNM to keep the system as it is for the next election, which will force the UNC to find common ground with the COP and/or ILP or lose.
But when has horse trading between political parties ever suited the electorate? The COP promised to be the conscience of the PP before the last general election and has been unconscious ever since.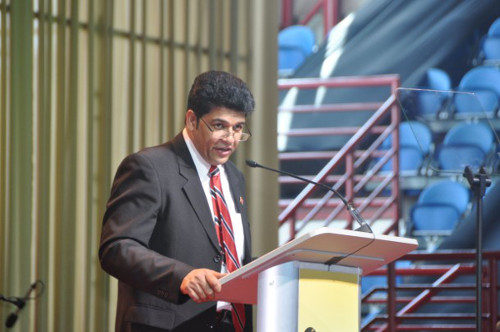 Besides, the potential of a runoff allows the electorate to vote strategically. You see, any vote that doesn't go to the eventual winner is considered a vote against him or her.
For instance, if I prefer the PNM to the UNC but I like my Independent candidate, I can vote for Uncle Errol and know that I can change my allegiance in the runoff. If Uncle Errol got 500 votes that might have gone to the PNM, the UNC still has to defeat the PNM by over 500 votes to get majority support.
If that doesn't happen and Errol is eliminated after the first round, I can switch back to the PNM. So now, Errol can get some numbers on the board and maybe save his deposit or use his improved figures to get some momentum for his next charge at the polls.
If I only find the street address for Wired868, it will be me and you! You can't explain that a little better?!
If there are 2,000 votes, the winner must get at least 1,001. If Om Lalla (COP) or Errol Fabien gets 500 votes combined, Ian Alleyne (UNC) got 800 and Terrence Deyalsingh (PNM) got 700, you might feel like voting for Errol or Om means that you have to put up with a blasted alleged representative for four years.
But now you get a second chance to select between Deyalsingh and Alleyne. So, in theory, you can vote with your heart and then your head.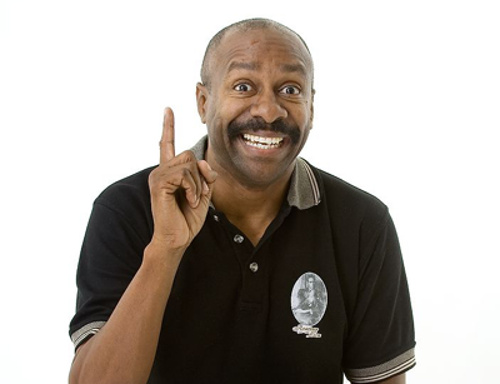 Yeah but what would it cost taxpayers? And is it really an improvement?
It would cost less than staging the Miss Universe or building an additional football stadium in towns that don't have a single professional team.
Still, this is a more convoluted mechanism than is used anywhere else. Most other countries ask voters to select a second and third choice in the ballot on election day and then tally those votes if no candidates gets to 50 percent.
But this creates other problems. For instance, if PNM and UNC voters cannot stand each other and all vote for Errol as the second choice; then what?
Or what if one side plays strategic and doesn't cast any second choice ballots in the hope of picking up stray ballots from the other side?
Consider this though: Even with this amendment, if the persons who did not vote on election day decided to join the opposition's ranks, most MPs can still be recalled as soon as the law permits even if they retained all of their voters.
So, even if this bill is well-intentioned, it does not solve the problem it sets out to.
So Live Wire, you ent see that the UNC lick up the COP before the general elections?! Let us call a spade a spade; you don't find that was a diabolic move from the AG?
Personally, I think the COP has done a much better job of destroying itself than the UNC ever could; and the CRC Report is just another example of that.
It is true that Anand put down some serious nip and tuck on the Report. But Prakash was the real boob job here.
As committee chairman, Prakash signed off on a Report which insisted that MPs must have more than 50 percent of the votes cast. He should have known what that meant for the COP.
And now, after 15 months of deliberations, he and Merle bawling "tips play over" as if they playing pitch?
Prakash will go down in history as the first turkey to vote for Thanksgiving. No wonder he still can't figure out how to save masqueraders from the copyright bacchanal for four straight Carnivals!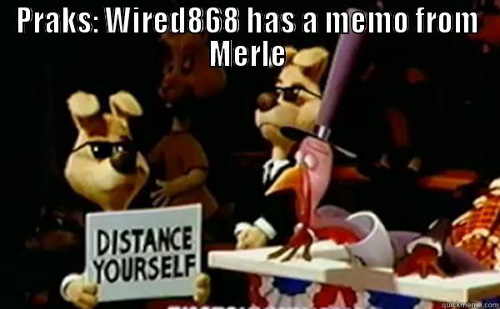 Well, since you feel you know so much, what would be your suggestions for constitutional reform?
I think the main problem in this country is that the watchdogs have no teeth or nutrition and don't get let out of the kennel.
Give the Director of Public Prosecutions (DPP), Financial Intelligence Unit (FIU), Integrity Commission (IC), Police Complaints Authority (PCA) and so on their own budgets and independent full-time investigators and ensure that their appointments are non-partisan.
Introduce legislation to protect whistleblowers and to ensure proper procedure in procurement, abolish preliminary enquiries and fast-track cases involving corruption.
In an excellent TEDTalks presentation in February 2013, Joint Consultative Council (JCC) chairman Afra Raymond suggested that the expenditure of public money without accountability and transparency is equal to corruption.
We have to ask harder questions and ensure we get appropriate answers.
Slow down… What does all that mean?
Who is the "one lucky Lotto Plus winner" that won $14 million from NLCB last Wednesday? What will it take to satisfy you that our lottery money hasn't actually been swindled for umpteen years?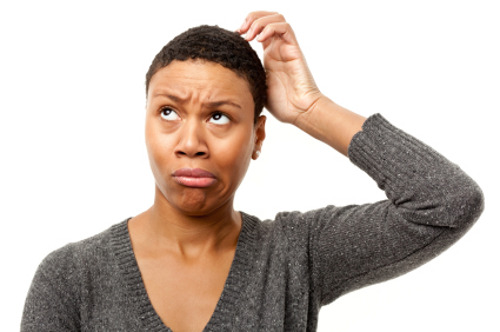 Once you can satisfy yourself about that dilemma, apply it to everything else in the country and you're on the right track.
Waaaaay…
Consider yourself, live-wired!
Editor's Note: Mr Live Wire does not even resemble a constitutional expert and only passes the bar when he is thirsty for inspiration; no big words were harmed during the making of this blog.