Chapter 4: How Mobsters João and Ricardo got rich 
Baur au Lac hotel,Zurich October 2010
'Mr Teixeira, Mr 'Teixeira!'
Ricardo turns to look. It is a scruffy, grey-haired man in a Joe Colombo-style beige raincoat shouting at him from the hotel gateway.
'Mr Teixeira, did you take your bribes through the Sanud company?'
Teixeira freezes. He stares. He can't think of anything to say.
The concierge in the car park of the Zurich 5-star hotel is blocking the noisy fellow, keeping him away. But he is a reporter, he has a TV cameraman at his shoulder and the camera is pointing at him, Ricardo, boss of Brazilian football, thief of thieves, visiting Zurich to continue looting the next World Cup.
Ricardo enjoyed his breakfast and is about to step into the black Merc at the hotel door taking him to FIFA's glass palace on the hill for today's Mafia meetings. The FIFA flunkies hold the car door open but Ricardo is numb.
He can't move – and his tongue is glued. He stares at the reporter at the gateway, baffled.
Sanud? He thought he had buried Sanud.
There had been two emails from those nosey bastards at the BBC in London, requesting an interview. Ricardo ignored them. What could they know?
That politician, Senator Alvaro Dias from Parana, got close. His investigators discovered some strange 'loans' to Ricardo from a company called Sanud in Liechtenstein. But Ricardo and the guys buying his vote at FIFA had set Sanud up as a 'brass plate' company.
There were thousands in the little city of Vaduz, capital of Liechtenstein, their owners hiding behind inscrutable local lawyers. Where Sanud's money came from would remain a secret – forever.
Ricardo had learned to ignore the bastards. Reporter Juca Kfouri and his exclusive 'revelations.' The hooligans on the terraces with their 'Fora Teixeira' banners. Filth. Blatter protected him. Blatter hadn't got any choice. Ricardo knew too much. He had CBF under control. He had his own bench of sit-up-and-beg politicians in Brasilia.
Ricardo was untouchable.
The BBC bastards were only recycling the Dias Senate investigation report from 2001, nine years earlier. They couldn't have any new facts. They filmed him being driven away. Then they went away. That was the end of it. Pricks.
'I THINK THIS is what you want.'
Ten weeks earlier, a warm evening in the late summer in 2010, at the agreed time, somewhere in middle-Europe, the source arrived, planted their briefcase on one of the beergarden tables, opened it and produced a file of four pages.
A list of 175 secret payments beginning in 1989 and running for the next 12 years. $100 million of kickbacks and bribes paid by the sports marketing company International Sports and Leisure — forever after known as ISL — to obtain multi-billion dollar lucrative contracts for the World Cup.
I had known for nine years, within days of the collapse of ISL into bankruptcy in the Spring of 2001, that this list existed. In bars around the world, where reporters drink late into the night with indiscreet sports officials, I had asked, who got the bribes from ISL?
Everybody knew they had been paid and we were pretty sure who took the money. But no documentary proof. I asked every policeman, every court official, every FIFA official who would meet me privately in bars in the Zurich suburbs, every manager who had worked at ISL. I flew tens of thousands of miles to find people who might be able to answer to the question,
'Who got the bribes?'
They knew names and suggested dates. Slowly, I built the case.
Now I had The List my hands.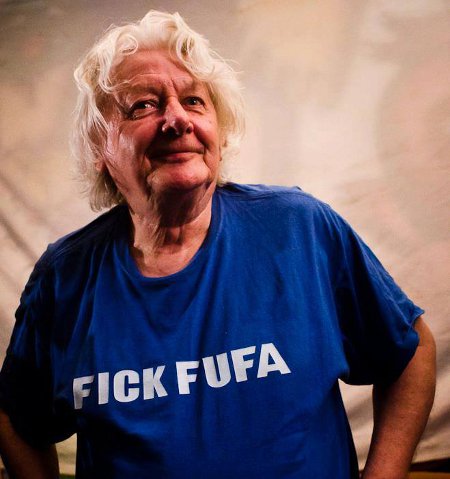 The source beamed. Yes, we could buy them a drink, just one, a small one, before they left. I laid the file on the table and with my BBC producer James Oliver, turned the pages, seeking the page for 1997.
There it was. The evidence. The scoop of a lifetime. The name on a bribe of 1,500,000 Swiss Francs, paid on March 3, 1997, was 'Garantie JH.'
(This figure would vary in years to come, in different official reports and in different currencies. But this was the number in the master Bribes List.)
At last! The proof that João  Havelange, for 24 years the all-powerful, patrician president of FIFA had taken bribes.
I had been told it in TV interviews, had hinted it in newspaper articles, surprised Sepp Blatter with my television crew and the question – was it Havelange that took that bribe?' and Blatter had run away. Now I was holding a document that proved what I had long suspected; I was investigating an organised crime syndicate.
We turned the pages. Bribe after bribe after bribe. Some for millions of dollars. The source left and we called our editor at home in London. We had made the trip hoping for some good leads but now, unexpectedly, had in our hands the biggest corruption story, ever, in world sport. We told him we had the breakthrough but it would be a lot of work cracking some of the clues.
Then we laughed and laughed, stopped working and got drunk. For me it was nearly 20 years of feeling my way around the story, building contacts, sources. There was a lot of work to be done because straight away we saw that most of the bribes had been paid to anonymous companies registered in secretive Liechtenstein. We got to work busting them open.
AN ACCOUNTANT who had worked for ISL gave me the crucial breakthrough in the quest to name Havelange. I filmed an interview with him for the BBC in the summer of 2006. In a hotel room by Lake Lucerne, circled by mountains, he told me his accidental discovery.
During a holiday period he was shifted to work in the ISL department that processed the bribes.  He told me that, over a period of almost 20 years, ISL had paid out tens of millions of pounds to football officials for World Cup rights.
And he had a name for me.
MAN: I became aware that ISL paid major amounts of money in order to get these rights.
AJ: How would you term this, these payments? What would you call them in common language?
MAN: Well, in common language, it's obviously corruption.
AJ: Bribes?
MAN: Yes.
AJ: So what sort of people were taking the money? I mean, was it very many people or is it just a handful of people?
MAN: On the top of FIFA there is just a handful of people in the position to make decisions as to who would get the commercial rights of FIFA.
AJ: And why did they pay the bribes?
MAN: They paid the bribes to get the best sports rights in the world.
AJ: From what you know about the bribes paid to football officials, was it just the occasional brown envelope in the back of a car park? Was it just – oh we haven't looked after you for a bit. How was it done?
MAN: You can think of it at the same way as salary payments that are done out of a company.
AJ: So who was getting payments and kickbacks from ISL?
MAN: There were systematic payments out of ISL by bank remittances to key decision makers. Mr Havelange, the then president of FIFA, was taking money. There were numerous payments and the magnitude was around 250,000 Swiss francs for at least one payment.
The BBC broadcast this interview on June 11, 2006. There was silence from FIFA headquarters.
Havelange has never denied the allegation that he was systematically bribed over the years in return for World Cup contracts.
Blatter never commented, we never heard from their lawyers.
The accountant had handled the payment slips as they went to an ISL bank for dispatch to Vaduz. What he didn't know was how the world's most popular —and valuable — sport had been hijacked and was being looted by gangsters.
MAKE ME FIFA PRESIDENT, said Big João to the German businessman, and we'll both get rich. The businessman Horst Dassler was also Big. His family created the adidas brand in Bavaria and the dynamic Horst expanded the boots to shirts to balls enterprise into a global icon. That wasn't enough for the restless and ruthless genius.
He spotted a huge business opportunity in world sport and created the ISL marketing company. To increase business for both companies he needed to get the officials of the international federations under control. They had their prices, Horst paid.
Tireless and determined, Horst became renowned in the 1970s for his gifts. Sports officials strapped beautiful Swiss watches on their wrists and signed their athletes to wear the adidas three-stripes. An important European football official found a new Mercedes parked at his front door on his birthday.
His would be a short life but Horst's achievements were massive. He deployed bags of cash to lubricate FIFA's voting machine in 1974, and on the eve of that Germany World Cup Brazil's João Havelange became President of the world game. Elegant, charismatic and, like his mentor Castor back in Rio, a thief to his bone marrow.
Dassler created his own crime family, allying with the Brazilians' Rio-based crime operations. Havelange, with his connections to all that was shady in Latin America, made friends with the torturer General Jorge Videla and the Argentine junta for the 1978 World Cup.
Were games fixed for Argentina to win?
Horst and his entourage were at the Montreal Olympics where many new officials were recruited, including a young German fencer and medal-winner, Thomas Bach. He went to work for Dassler's notorious  'international relations' team. He will be in Rio in 2016. He now has the top job.
Horst's influence grew. In 1980 he acquired IOC members' votes from the Soviet bloc and Africa. His well-timed article for the IOC's house magazine Olympic Review pledged that if members let business through their front door in Lausanne, their lifestyle would be greatly enhanced.
Duly they installed Horst's choice for new IOC president, the Barcelona fascist Juan Antonio Samaranch, a man of great personal ambition and no noticeable morality.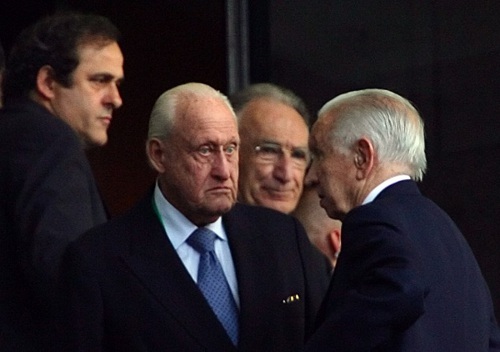 A year later Horst fixed another vote. Primo Nebiolo, the Italian who never saw a bribe he didn't like, was imposed as president of the IAAF. Primo's deputy, later his successor, Lamine Diack, took money from Horst's boys and ISL now had control of football, track and field and the Olympics
Positive drug tests were suppressed at the Games in Moscow and again four years later in Los Angeles in 1984 to make the Olympic product clean and attractive to the global brands. Horst's business team achieved their dream. They privatised the Games. Then they took over football.
Sponsor money was diverted to grease FIFA's leaders and in turn, the World Cup was privatised. Sponsors, rebranded as 'partners,' paid huge bucks to exclude rivals, internationally and in the country hosting the tournament. A slice of those big bucks, that should have gone to develop football at grass roots, was re-routed by ISL into bribes for Havelange and his gang in return for the privileges the 'partners' required.
The system was in place – and then Horst Dassler died from a fast devouring cancer in 1987. He was only 51. At the ISL head office, then in offices above the rail station in Lucerne, the only man who knew who was getting paid — and how much — was his adoring personal assistant Jean-Marie Weber.
Weber became, as ISL's lightweight chief executive Christoph Malms admitted, the only man who could ensure ISL survived. Weber the Bagman became the channel for millions in illicit payments to criminals.
TWO YEARS BEFORE the meltdown ISL executives moved the company north from Lucerne to a sparkling white tower block in Zug. They got a better tax deal in Zug canton and were now only 30 kilometres from their FIFA  'partners' in Zurich if face-to-face cash handovers were required. They demanded too much and ISL crashed.
When the investigators, the detectives, the forensic accountants and the lawyers for the creditors, owed a stunning $300 million, all arrived at ISL's headquarters in the Spring of 2001 they soon discovered the evidence of the vast bribes that the Bagman Weber had suitcased and wired to football's czars. They dug through ISL's accounts, found some fascinating payments, assembled The List and locked it in a safe.
What does it show?
Columns of dollars and Swiss francs, currency conversion rates and dates. There were names of a few officials from football and other sports. And then the brass plate companies in Liechtenstein with names randomly selected to conceal who was getting the loot. Jumping off the page were Monard, Wando, Seprocom, Scienta; Beleza; Ovado and more.
The List began in 1989 and with it began the mysteries. That year, scattered among the payments to the Vaduz brass plates, were seven Bearer Cheques. These are the money launderer's dream, big corruption on a small sheet of paper. Bearer Cheques do not name who is to get the money; they just say 'Pay the Bearer' and the bank, any bank, will.
There will be no record revealing who got the money. Jean-Marie Weber knew how to look after those important men at the top of FIFA. They wanted money, lots of it, but no scandal.
There were seven Bearer Cheques in 1989. The first two, issued on 27 February, were each for $1 million!  Whoever got that $2 +million got another $1 million on 21 June. Ten weeks later they got another $1 million. In December (Happy Christmas!), there was another $1 million. It was a great, $5 million year for somebody.
Was it João Havelange?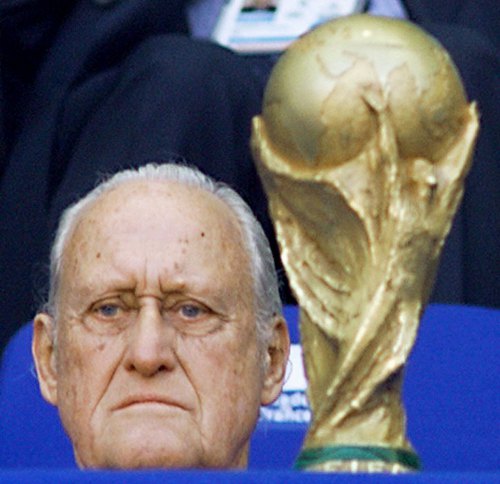 But it wasn't these Bearer Cheques that stood out for me. More significantly, in the long term, was the debut in the List on September 29, 1989 of a brass plate in Liechtenstein named Sicuretta. It got 1.5 million Swiss Francs – nearly one million dollars.
Was the Sicuretta money going to the same official who was getting the Bearer Cheques? Or another official close to him?
There were only two officials who needed bribing at FIFA. Plus a son-in-law to keep warm.
Another $3 million waltzed out in Bearer Cheques in 1990 but, more importantly, here was Sicuretta again. Two payments in the second half of the year, totalling more than $1.5 million. From here on, Sicuretta becomes the brass plate of ISL choice. Next year, 1991, Sicuretta's secretive owner pocketed $1.9 million.
It had to be Havelange.
He was the key decision maker, the only one who mattered, at FIFA and he was getting the biggest bribes
Sicuretta's bribes were laundered to Liechtenstein by a Swiss lawyer with an office 10 minutes away from ISL's white palace in Zug. In mid-1991 ISL sent him a thank you –  $1.25 million.
It's in The List.
In 1998, the Bagman Jean-Marie Weber took this lawyer to Paris during the World Cup where he was greeted by Sepp Blatter, about to take over from Havelange as FIFA president. That meeting is recorded in police files in Zug.
What did they talk about? Did Sepp say 'Thank you'?
THEY WERE the best of times. Eight years of bliss. All Ricardo had to do was raise his hand a few times and grunt agreement when his father-in-law the President cast his hard-eyed, intimidating gaze around the FIFA boardroom table and announced,
'Now we vote to give the contract to our trusted friends at ISL.'
Havelange not only wanted money for himself, the greedy fellow who married his daughter must be paid as well. He had learned much from Castor. Gangster families share what they steal.
Ricardo remembered, fondly, the first big lump of money, a million dollars, in August 1992. The next year was brilliant! In February, May and again in September of 1993, a million more dollars each time. It was the three million dollar year! It all went to his Sanud brass plate in Vaduz. And he wasn't yet a member of FIFA's Executive Committee!
In 1994 Sanud's contract kickbacks came three times, in February, May and November. One and half million US dollars delivered to Vaduz to be laundered back into Ricardo's businesses in Rio as bogus 'loans.'
Then the best times got better. The FIFA World Cup contract had to be put out to tender. ISL had the 1998 France business but a host of rival marketing companies were getting ready to bid, and bid strongly, for the 2002 tournament.
The bids would start coming in during 1995 and if ISL couldn't match them they would go bust. For the FIFA crooks, the Vaduz money tap would run dry. It was a time of two-way embraces and one love.
Ricardo felt ISL's warm embrace four times in the first few months of 1995. Twice in January $250,000 was sent to Sanud's Vaduz account. In May ISL doubled the generosity with two more payments, each of $500,000. That was $1.5 million before the half year.
But the most powerful man in FIFA, milking the Sicuretta account, was bunged a stunning $3,650,000 at the end of March. As the long-expected huge rival bid loomed Sicuretta was blessed in July with more; 2,100,000 Swiss Francs –  $1,826,000. That was $5,476,000 in 13 weeks to the one old man who controlled FIFA.
THE BIG BID arrived on the desk of General Secretary Sepp Blatter on August 18 1995. It came from Eric Drossart, the Belgian president in Europe of IMG, the American marketing company. Drossart, like everyone in the business knew about the backroom rackets between FIFA and ISL.
How to break through the cosy conspiracy? Drossart bid a staggering $1 billion dollars for the rights to 2002.`
Blatter was furious. The crafty Drossart had faxed his eye-watering bid to all the 23 members of the FIFA Executive Committee. Many of them, especially the Europeans from UEFA opposed the contract remaining with ISL.
In fact UEFA did business, apparently clean business, with ISL but the Europeans could smell the FIFA bribes and wanted to end them. One billion dollars would help a lot.
Blatter stalled IMG and the same day a grateful ISL paid $500,000 to Ricardo's Sanud account. Five weeks later ISL, clearly desperate to hang on to their FIFA contract into the next century paid Sicuretta another $1,900,000 bringing the FIFA boss's haul over 5 months to the enormous sum of $7,376,086.
In December, irritated by FIFA's delaying tactics, IMG's Eric Drossart wrote again to Blatter, promising to pay more than any rival bid. Blatter replied, wishing Drossart a Merry Christmas and promising nothing.
As the new year of 1996 began, ISL had six months left to fight to keep the FIFA contract. They started, again, with greasing Ricardo, sending $500,000 to his Sanud at the end of January. In February they stepped up the rate of bribes and $1,350,000 went to Sicuretta.
Did Jean-Marie Weber have any money left? Weren't the Brazilians draining ISL dry?
There was still money left. In April ISL paid a further $1,350,000 to Sicuretta. On July 3, two days before Havelange was due to take the decision – ISL or IMG – Jean-Marie Weber reached deep into ISL's reserves and pulled out two payments to Sanud of $250,000. The same day he authorised $1,350,000 to Sicuretta.
Havelange defeated his UEFA enemies and on the morning of July 5, 1996 gave the World Cup to ISL. There was a twist. As the vote neared Blatter had upset the IMG calculations by announcing that both 2002 and the 2006 World Cups were on the table. ISL had been tipped off long before. IMG had to talk hurriedly to its bankers to raise the guarantees.
The shakedown on ISL wasn't over for 1996. Two months later the Brazilian greed roared back and on September 10, yet another $1,350,000 was sent to Sicuretta. The boy got more as well. On November 6 Sanud received $500,000.
Between them the two shadowy football officials behind Sanud and Sicuretta extorted more than $14,000,000 to guarantee that ISL kept the FIFA World Cup contract.
WAS SOMEBODY inside ISL trying to dump Havelange and his bagcarrier Blatter? In early February the first kickback of 1997, $1,600,000 to the senior Brazilian bloodsucker, went through to Sicuretta in the normal way. The machine seemed to be running smoothly.
Twenty-five days later ISL's dirty secrets exploded in Blatter's face. He could not pretend any more that he didn't know. On the morning of March 3, 1997 a document arrived at FIFA's finance department. It registered that ISL had paid 1.5 million francs —around $1 million — into a FIFA account at the UBS bank in Zurich.
It didn't make sense. When legitimate ISL cheques arrived at FIFA they were for hundreds of millions in fees from sponsors and TV networks.
The covering note sent panic rippling through FIFA headquarters. Finance Director Erwin Schmid hurried to the office of then General Secretary Sepp Blatter.
Blatter read the note. 'Garantie JH.'
'My God,' Blatter groaned.  'This is a problem, this money is not supposed to come here. It does not belong to us.'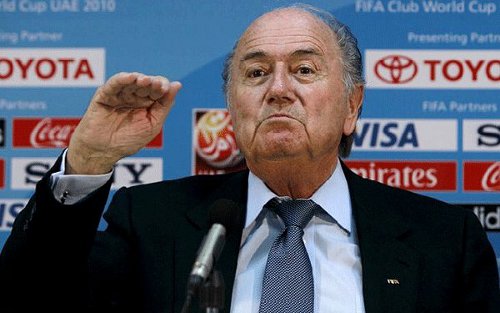 Schmid knew that and so did deputy general secretary Michel Zen-Ruffinen who had joined them.
FIFA's ruling executive wasn't told about the 'guarantee' to João Havelange. Blatter kept it secret. It took five more years for a brave source inside FIFA to tell me. I published the revelation in a London newspaper on the eve of the World Cup kick-off in Korea. My editor published the story big and although we didn't have independent proof that Havelange had taken the bribe, we used a very big picture of him!
How did it happen? It could not have been an accident – unless there was temporary staff working in the ISL finance department. My friend said that it wasn't him.
ONE WEEK later ISL sent a massive $1,900,000 to Sicuretta. João was still milking the system. Later in the year they sent Sicuretta another $2 million. A month later $500,000 went to Sanud and in November yet another $500,000. Then, suddenly, payments to Sanud stopped.
Was it all over?
The good times couldn't continue much longer. Teixeira had embezzled at least $9.5 million dollars in six years from FIFA. The Brazilian greed was bleeding ISL to death. They hoped that Havelange's retirement in 1998 after the France World Cup might reduce his demands – but he didn't think so!
A new brass plate called Renford Investments was registered in Vaduz. It was jointly owned by Teixeira and Havelange and in 1998 Renford scored three payments, totalling $3 million. Sicuretta continued to thrive collecting nearly $3 million in two payments.
ISL needed more money if the company was to survive. They prepared to issue shares and float the company. They wouldn't be able to hide the bribes from new investors with rights to inspect the books so $24 million was moved to a new Vaduz brass plate named Nunca – Spanish for 'Never.' The plan was to pay FIFA officials bribes from Nunca – and hope that Havelange's demands would diminish as he aged.
They didn't.
Did Teixeira and Havelange pick up the vibrations that ISL was in terminal trouble?
Attempting to escape the grasping couple from Rio, ISL had diversified into other sports and spent a fortune buying international tennis. It was a disaster. The FIFA duo didn't care. They wanted 'their' money. Sicuretta extorted an astonishing $6 million in 1999 and Teixeira squeezed another $1 million for Renford.
Jean-Marie Weber and his ISL colleagues begged their associates at the huge Japanese media company Dentsu to lend them a few millions. They needed a recommendation from a senior Dentsu manager. He approved the loan – and demanded his kickback. He laundered his dirty money through a Hong Kong company called Gilmark and in November 1999 banked 1 million Swiss Francs — $638,000. Six weeks later he extorted another 1 million Francs.
As ISL sank through 2000, running up $300 million of debts, Renford sucked out another $500,000. Gilmark kept bleeding the ISL corpse until it expired in January 2001. I asked Dentsu about this manager who leeched $2,515,720. They said he was no longer with them.
Havelange was remorseless, forcing the transfer of a final $1.3 million into Sicuretta. Over the years he stole more than $45 million. There will be more in the other rackets he ran at FIFA. But this much we know.
BRIBENOTE: When Havelange was questioned by Congressional investigators in Brasilia he declared that he was a poor man and what little wealth he had accumulated was in the name of his wife.
Editor's Note: Click HERE to read Chapter One of Omertà: Sepp Blatter's FIFA Organised Crime Family. 
Wired868 has been authorised to publish excerpts from Omertà for readers. We urge you to purchase an online version of the book for just £8 at http://www.transparencybooks.com/