Dutchman Tim Krul might be the first player ever to decide a football match without playing in the active part of the game.
Ninety minutes of regulation time plus 30 minutes extra time had expired when Uzbekistan referee Ravshan Irmatov allowed Krul on to the field to replace first choice Netherlands goalkeeper Jasper Cillessen.
And Krul made his presence felt with two brilliant saves in the penalty shoot-out as the Netherlands edged Costa Rica 4-3 to book a 2014 World Cup semifinal date with Argentina next Tuesday.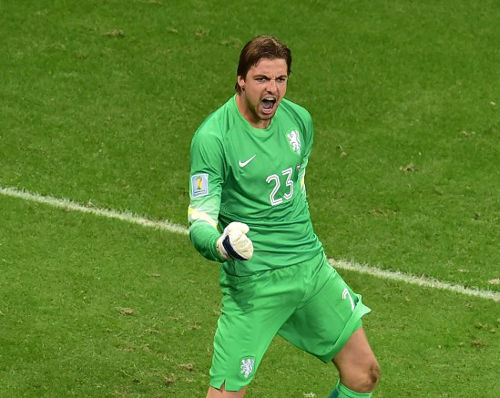 It might be necessary to point out now that Netherlands coach Louis Van Gaal, who also exploited a water break to introduce a decisive tactical change against Mexico in the Round of 16, is the mentor of Chelsea's charismatic, win-at-all-costs coach Jose Mourinho.
And let's just say that, if either Van Gaal or Mourinho was behind Section 34, controversial businessmen Ish Galbaransingh and Steve Ferguson would be free men today.

Next Tuesday, Van Gaal would cross wits with Argentina coach Alejandro Sabella whose major accomplishment today was to get through 90 without falling on his face. Literally.
Well, that is how the social media will remember Sabella's day anyhow; after the 59-year-old coach's enthusiastic shadowing of a Gonzalo Higuain effort left him either trying to defy gravity or earn a spot in a remake of Michael Jackson's "Smooth Criminal" music video. (Click HERE to see the hilarious video clip).
In truth, Sabella produced a more understated masterclass himself as he dusted off the absences of injured striker Sergio Agüero, suspended left back Marcos Rojo and the early departure of winger Angel Di Maria to produce an assurance performance against Belgium.
It is true that Argentina's game plan has just five letters: M-E-S-S-I. But the devil is always in the details and Sabella deserves more credit for his handling of the supporting cast; otherwise known as the ten guys in blue and white stripes who are not Lionel Messi.
Higuain was the player who gallantly offered to give his captain the evening off today as he exploited a yard of space to drive Argentina ahead in the eighth minute.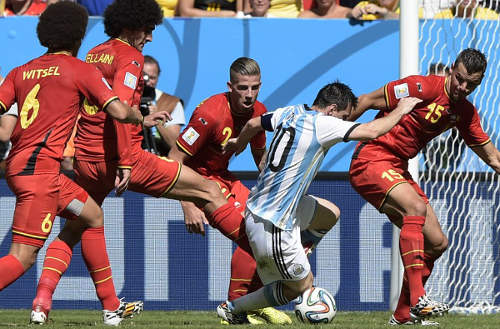 But for the impressive pair of captain Vincent Kompany and goalkeeper Thibaut Courtois, it might have been worse as Messi and Di Maria found the gaps as Belgium bombed forward while Higuain struck the bar in the second half.
Wilmots withdrew his best technical player, Eden Hazard, in the 70th minute and the instructions to his team might well have been "keep off the grass" as they rained long balls towards the opposing penalty box for the rest of the match.
Belgium-cum-Stoke City; it did not stop the European team from being ushered towards the exit.
Van Gaal will not go so easily. The Netherlands should probably have won the match in regulation or extra time as Wesley Sneijder (twice) and Robin Van Persie both hit the frame of the Costa Rican goal.
But, as the game headed towards the lottery of the shoot-out, the Dutch coach improved his team's odds by bringing on a fresh goalkeeper who also happened to be decent at facing penalties.
And it meant a Krul finish for the CONCACAF's last team standing.
Today's World Cup action
Quarterfinal Final results
Argentina 1 (Gonzalo Higuain 8), Belgium 0
Netherlands 0, Costa Rica 0
*–Netherlands win 4-3 on penalties
Star of the Day
Netherlands goalkeeper Tim Krul saved just two from 20 penalties at England Premier League club Newcastle United. But, fresh as a daisy, Krul saved two of Costa Rica's five efforts as Netherlands snuck into the final four of the 2014 World Cup.
Villain of the Day
There were no obvious stand-outs in this category today. Netherlands winger Arjen Robben again infuriated with his tendency to treat defenders' legs like swimming pool springboards while Belgium winger Eden Hazard was so ineffectual that his next job might be as Trinidad and Tobago Police Commissioner.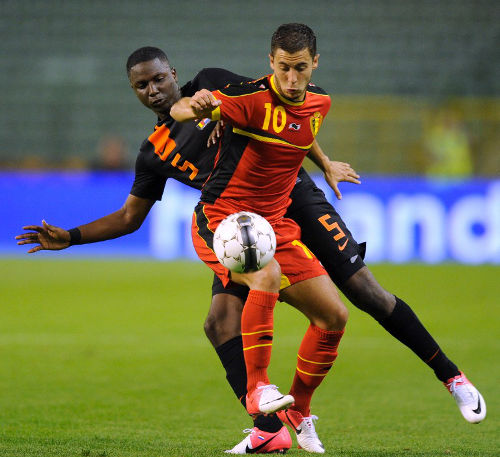 But Belgium coach Marc Wilmots gets the dubious honour today after bizarrely instructed his team to play for alley-oops in the final 25 minutes.
As the late legendary British coach Brian Clough once pointed out, if God meant for football to be played in the sky He would have planted grass there.