Chapter 2 Best of Friends: The Crime Boss and the Boss of World Football
(By Carolina Mazzi)
IT IS RIO'S WEDDING of the year. The father of the bride is Brazil's biggest gangster, racketeer and, they say, murderer of 50 rivals. He stays out of jail by paying off the city's politicians, judges and police. He owns a football club. The two most honoured guests, sit at his table. I'm looking at a photograph taken at the wedding banquet. One guest, to the right of frame, is tall, avuncular with a Roman nose and has the hardest eyes in the room. It's João and he controls world football.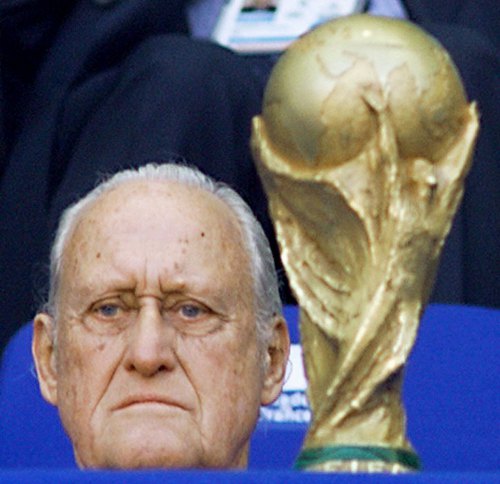 Between João and the gangster sits his son-in-law, the young man who in a few years' time will become boss of Brazilian football. Young Ricardo is beaming, exuberant, confident in the company of the gangster. Behind them stand two men, watchful, protective, not smiling. This photograph reveals how world football came under control of organised crime.
MY PEOPLE, WELCOME TO CARNIVAL! Dressed in shimmering white, suit, shoes, socks, Castor Andrade goes down on one knee in the middle of the Sambódromo, raises his arms in triumphant salute and beams at the adoring crowds in the stands. His commanding presence says, 'I bring you Carnival.'
And he does. The gangster is patron of the samba school that won the Rio Carnival title in 1979, 1985, 1990, 1991, and again in 1996 when he was out of jail, the year before he died. He has taken control of the Carnival business in Rio creating the Liga Independente das Escolas de Samba do Rio de Janeiro, publicly soaking up government grants and privately, a vehicle for laundering dirty money.
Castor completed his legal examinations in the early 1960s but joined the rackets founded by his grandmother and his father and never practiced law. He lets it be known that he is a good Catholic, making acts of devotion to Our Lady of Aparecida.
At the Carnival in 1993, he uses the occasion to shout an angry speech about what he called, 'the persecution of the bicheiros.' It was a mistake to flaunt his years of immunity. He was pushing his luck, taunting the special prosecutor investigating him.
(Jogo de bicheiros is an illegal gambling game similar to whe whe).
That's how Castor Andrade, the host at the wedding party, makes his millions, so liberally dispensed across the city. He runs the numbers rackets and the slots. Rumour says he plays in the white powder trade, that he is linked to Colombian, Italian and Israeli gangsters.
In 1964 the Generals roll their tanks onto the streets of Rio to govern Brazil for another 21 years. They leave Castor alone to operate his criminal networks. The General in charge of the Rio police is instructed to 'avoid problems with Castor de Andrade.'
He's big all over Brazil. His friendship with the Big Man at his table at the wedding banquet opens the door to high office in the nation's sport. Two years after the military coup Castor is bringing the dictatorship acclaim, leading the seleção to victory in the O'Higgins Cup in Chile and a year later at the Rio Branco Cup in Uruguay. He receives honours from the Football Federations of the States of Rio de Janeiro and Minas Gerais.
At the heart of football in Rio he is Patron of the Bangu club, handing out bundles of cash to the team. Under his leadership, the club has a special asset, a man to be feared by referees. In a game against America at the Mariana, he runs on to the pitch waving a revolver at the officials. Bangu are tying 2-2 but a surprise penalty decision gives them victory. Years later there is still a bronze bust of him in the Bangu lobby with the trophies he helped them win.
CASTOR IS PLAYING games again. He's accepted an invitation to be a guest on Jô Soares' top rated TV chat show. It is 1991 and the investigators are getting nowhere. So let's give them the finger, on network television. His vanity can't resist the invitation to sit in the chair where we've seen the most important personalities, politicians, artists and celebrities. Soares doesn't shy away from the question viewers want asked.
"What is the connection between your family and the Jogo do Bicho business? How did it all get started?"
Castor doesn't duck. Remember, he went to college, he is fluent when he lies, his Portuguese language is elegant, his voice soft and sweet.
"My grandmother, a widow, lived in Fonseca Street, in the Rio suburbs. To help run the house, she took bets from Jogo do Bicho. My father was a train driver. After he married my mother, her family influenced him to enter the Jogo do Bicho business."
Castor continues.
"But this was in the past. Today, there is no connection."
The audience laughs. Jô Soares laughs. Castor laughs. Everybody knows Castor is boss of the Jogo do Bicho. Everybody knows that, behind his respectable performance, sits a murderer and lifelong criminal.
He spoke about soccer and then, another of his jokes, he was chilling. Apparently a robber had broken into Castor's home.
"He was in the right place for jewellery and money. But, once they realised I lived there, they decided to leave immediately, scared."
He laughed, calmly.
"PLEASE PROTECT ME. Andrade will kill me. I'll tell you everything."
The honest detectives have found an informant. One of Castor's gang has walked through the door. He has pocketed gambling bets he should have handed over to the Boss. He's in trouble and only they can help him.
He gives the cops a valuable insight into Castor Andrade's gambling empire. It's a variation of the numbers racket—and Castor controls the numbers. The Jogo do Bicho, the animals game, is illegal but it's a tradition and while it stayed small, it was tolerated. Just a part of Rio's vibrant street life.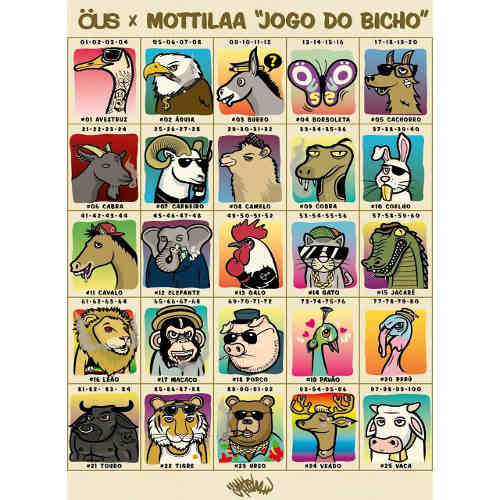 His grandmother Iaiá ran the games with her son Euzébio de Andrade Silva. Their racket was one of many scattered across the city. Punters select from a sheet of animal images—dogs, deer, many more—and bet on their favourites. Birthdays, superstition, everybody believes that one animal is their lucky one. The bicho operator makes the draw, in private, and the results are pasted on trees and lamp posts. The cops look away.
The informant keeps talking, lifting the curtain. Castor inherited the family rackets and went to work with his uncles. Violently, they eliminate their rivals, taking over more and more pontos on the street corners where the bets are collected. Castor's son Paulo joined the gang and in time they controlled the gambling in nine of the city's suburbs. The streets echo with the roar of motorcycle couriers collecting the cash and the betting slips.
The money is pouring in. Castor expands. He invests in slot machines and video games. He trades guns. His metal workshop does favours for the Generals when their military vehicles break down. He owns gas stations and a second hand car business.
The informant knows that Castor has bought fishing boats. They must be for bringing in the white powder from the North. There's a Sicilian mobster hiding in Castor's textile factory in Bangu. The police are filling their notebooks.
Castor smokes the biggest cigars. In public he is the good family man, married and faithful to Wilma. But we all know, don't ever speak it, Castor has mistresses in apartments around the city.
The informant doesn't know how widely Castor spreads his money. But they never have any trouble from the police. And then he goes off, back to the streets. He has discovered that Castor didn't notice the missing money.
But he has said enough.
ALL SEEMS QUIET so the man with the Uzi who protects the piles of cash steps outside to take lunch. In the rundown suburb of Bangu, the streets are full of shoppers buying bread and coffee.
Discreetly, the cops, six teams of them, sweating and nervous, climb out of their unmarked cars, make their move to the target house in Fonseca street. It is late March 1994. Every day Castor pays off police officers to protect his motorcycle couriers collecting the bets of thousands of Cariocas, gambling on corners, avenues and meeting places all over the city. But these visitors are different.
Mrs Rosana, Castor's secretary, hears the knocking, looks through the spyhole. She doesn't recognize the officers waiting at the door. Somebody says, "They are not our cops."
Castor skips out of the back door. He's gone. But look what he's left behind. The rows of tables, lined by men and women counting the cash. And the books. Here's the gangster's secret world of power and influence.
An urgent call to headquarters to Marcos Paes, in charge of this Military Police Special Operations team. He is told, "We've found two ledger books." He orders, "Nobody moves, nobody touches them but me."
"I was shocked when I saw who was being paid off by Andrade," remembers Paes, now chief of security at Rio's Legislative House. "There were police officers I knew and worked with, prosecutors, judges, and important politicians. We knew they corrupted people. But we could not have imagined how far Castor reached."
There's one name on the lists that everybody knows. He's known world-wide. The generous Castor, king of the Carnival, has presented the boss of world football with a special box to view the Carnival. Cost: $17,640. It was becoming a way of life for João Havelange: Taking secret payments from shady characters in return for favours.
"I HAD ARMED GUARDS for years. It was very dangerous to investigate the Jogo do Bicho. Death threats were common, to me, to my family," says Antonio Biscaia, the prosecutor commanding the investigation. The Andrade family were Rio's first mafia gang, he says, "One evening, as I was leaving a restaurant, a car with four men in it raced up and fired 15-20 shots. My guards threw me to the ground and I was unhurt. The gunmen got away.
"We had to do everything in secret because we knew about the involvement of the police and other levels of power with Castor. Not a lot of people were willing to arrest Andrade."
The books are taken to Biscaia's office. He makes two copies, they are locked in a safe. In the middle of the night, Biscaia receives a phone call: some officers just tried to break in and steal the books. Immediately, he moves them.
Twenty years later we meet him at his office in downtown Rio. A serious man of the middle size, short grey hair, rimless glasses, he smiles at some of his memories. Sparingly, he tells what he found in the ledgers. Yes, of course there was Havelange. And endless names and deals.
Castor records the financial transactions of his mafia family and associates, name after name, deal after deal. And what an insight into how Rio really works! Castor's is a life of social and important connections. Politicians, police, prosecutors, judges, governors, football officials, everybody benefiting from his rackets.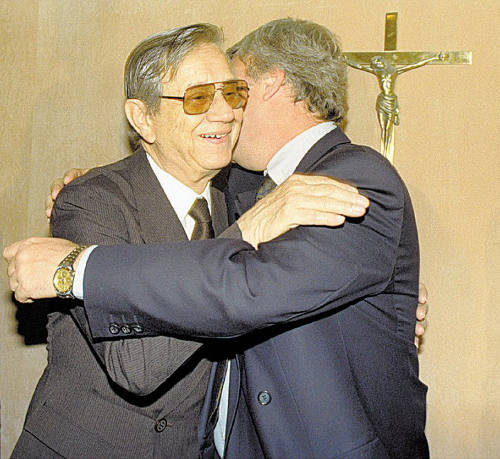 Biscaia ponders every question, cautiously. "It was scary, really," he remembers. The prosecutor closes his eyes to recall the details from those days. He doesn't stretch to long phrases.
Investigating Jogo do Bicho at that time was "difficult," he puts it.
"There was always something to discourage you. Castor's reach extended throughout the power circles. He was dangerous. He had this image of the guy next door, but he was an assassin, he would do everything to expand and continue to lead the mafia."
Again, Biscaia closes his eyes. There's more to tell.
João Havelange didn't only take from Castor Andrade; as we will see, he gave back.
"AS FAR AS I KNOW, they tried to kill me three times. It was scary to know how close they got to me and my family."
Denise Frossard was the judge who could not be bought. In 1993, she jailed Castor.
At the end of a sunny winter day Denise, dressed in gym clothes, meets me at the door of her house. She leads me to her second-floor office. She offers water and coffee, and I take the blue coffee capsule of a Nespresso machine. Then we face each other across a glass table.
"This guy was seen with important officers, with personalities and even with politicians. This sends a clear message to everybody else: look, I'm powerful, I have connections."
For her, Castor's bon vivant image was just another way of doing business. "I studied his personality carefully. He wasn't a soccer lover, a Carnival lover. He was pragmatic. The connections to these cultural icons was useful for him—and that's it. It was just business, nothing else. He was a dangerous criminal."
Denise, just over five feet tall, cannot sit still. She constantly moves her feet under the table and kneads a paper ball with her fingers. Sitting on a black leather sofa, she sways from side to side, front to back and speaks quickly, mixing languages and philosophy to make her point.
Her apartment, the last in a long uphill cobbled stone street in an upscale neighbourhood of Rio de Janeiro, seems to have been chosen as a hiding place. She is far from Bangu. Through her window she sees a breathtaking postcard of Rio. Mountains intertwined with the sea and the sunset at the famous Lagoa Rodrigo de Freitas. Her office is spacious and tastefully decorated, her books spread along the white walls, carefully cleaned by a lady who leaves shortly after my arrival.
Denise laughs constantly during our conversation. Her eyes and face are focused on me, but every now and then she turns her attention to something outside the window. The view is indeed mesmerising, but she doesn't pay attention to anything in particular. These are the only moments where Denise seems to loose herself in thought.
Remembering the attacks at the time of the investigation and conviction of Castor de Andrade doesn't seem easy for her, even 20 years later.
"It was hard, very difficult," she breathes slowly and touches her forehead as if it was possible to erase the episode from her past. This is the only vulnerable moment of this 63-year-old Federal Judge. Born in the state of Minas Gerais, she moved to Rio in 1970. "You know, they, Castor and his colleagues, were not playing, they were not here for fun. Never have been. They were dangerous."
Denise highlights that "part of the respect he got from the other criminals was because of the image he had of acceptance by the powerful." Accusations of homicide and torture against him are common, but never proved and, you may suspect, never investigated.
Before giving me a ride back home, she reinforces the image of Castor as a violent man. "There was no passion, there was no compassion when we speak of the heads of Jogo do Bicho. It was all business: carnival, football, religion, everything was built; all of Castor's social relations in these environments were built with the goal of raising money, power and influence. Nothing was passion there. Castor was a cold, pragmatic and cruel person."
THE DEFIANT SPEECH that Castor delivered at the Sambódromo in early 1993, attacking 'the persecution of the bicheiros' was a fatal mistake. He could not be allowed to get away with it any longer. His immunity must be ended. The investigations gained pace.
Later in 1993 Castor Andrade is brought before Judge Denise Frossard. She jails him for six years along with two of his capos and his son-in-law Fernando Iggnácio.
Castor's account books and ledgers are made public. The list of pay-offs astounds. Among them, former president Fernando Collor de Mello, Rio governor Nilo Batista, Rio mayor Cesar Maia, seven businessmen, three judges, 12 congressmen and seven assemblymen, 25 police commissioners and 100 police officers.
Further afield there's São Paulo mayor and colossal thief of public money Paulo Maluf. His close associate fellow São Paulo politician José Maria Marin in the pro-military Arena party, will one day replace the disgraced Teixeira at the top of Brazilian football. Nothing seems to change in Brazilian football.
"CASTOR DE ANDRADE is respected and admired by his friends, for his education, his politeness and his accomplishments. I also know that Castor de Andrade provides selfless services to many philanthropic entities, protecting under-privileged children in Bangu and to organisations assisting paraplegics."
This astonishing letter, "To Whom it May Concern," was found attached to Castor's criminal file, planted by corrupt policemen. It was written for him six years earlier by João Havelange, world-famous boss of FIFA, when Castor was coming under scrutiny by Rio prosecutors. It's a year after the wedding banquet, the cops are sniffing and Havelange's letter is his best attempt to protect his gangster associate.
"I authorise Castor de Andrade to use this declaration at his convenience. Castor de Andrade, controversial man of great character is a loveable person, who is pleasant to be around and who knows how to win over friends through one of his predominant personal qualities: his loyalty.
"This I have noted during more than thirty years, many times in the fierce competitive struggles in the sport governing bodies. Castor de Andrade is a good head of family, a dedicated friend, is admired as a sporting and 'samba school' director. Furthermore he is a self-sacrificing protector of the associations of senior citizen homes and of under-age children in need."
Havelange's begging letter lists Castor's achievements in football and his services to his country. Havelange stresses, "I am president of FIFA and Castor is a recognisable figure of this sport in Rio."
The signal is clear; Havelange is a powerful world figure—don't mess with his friend.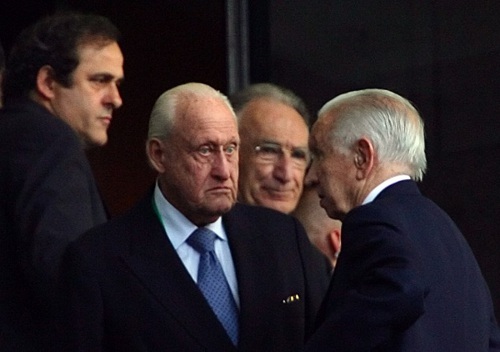 He continues, "Those who attack Castor are perhaps ignoring these positive traits of his personality.
"I've known Castor Gonçalves de Andrade Silva for more than thirty years. Before that, I knew and was a friend of his father, Euzébio de Andrade Silva. I can give a testament that portrays him in many aspects of his life. I know he is married to Mrs Wilma de Andrade Silva for almost forty years and they have two children: Paulo Roberto, a 36-year old civil engineer and Carmen Lucia, 21, in her third year studying Law at Estácio de Sá University. Castor and Mrs Wilma have three grandchildren.
"I authorise Castor de Andrade to use this declaration at his convenience."
João Havelange, Rio de Janeiro, 2 October 1987
Did João Havelange forget his old friend and mentor Castor Andrade after he was jailed in 1993? Not at all. The President of FIFA continued to show solidarity: He visited this criminal scumbag in prison.
SINCE CASTOR'S DEATH, the fight for power and money within the clan left a trail of blood from dozens of murders committed in the past decade in Rio. The dispute between Rogério Andrade and Fernando Iggnácio, involved at least 50 civilians and military officers. One of them was Rogério´s son, 17-year-old Diogo, mistakenly killed in the bombing in 2010. Fernando Iggnácio and Rogério de Andrade are still the big chiefs of Jogo do Bicho all over the country. Another major mafia figure controls a large part of the Rio Carnival. Policemen again turn their eyes away from the gambling bets being collected on the street. Again, they and the politicians continue accepting bribes.
Some years before, Rogério Andrade had already ordered the assassination of his cousin, Paulinho (Castor's son), to take over his share of the Jogo do Bicho.
"You kill your family, friends, doesn't matter. Everything is acceptable for power. There's nothing romantic about the practice of Jogo do Bicho," Denise says.
My thanks to Carolina Mazzi for her research & co-authoring this chapter
Editor's Note: Click HERE to read Chapter One of Omertà: Sepp Blatter's FIFA Organised Crime Family. 
Wired868 has been authorised to publish excerpts from Omertà for readers. We urge you to purchase an online version of the book for just £8 at http://www.transparencybooks.com/