I was, as a young boy, obsessed with cricket. Up until age nine, I was still an only child and had learned to occupy myself for hours on end by imagining entire Test series played out in the backyard of my grandparents' house. 
I knew by heart the rosters and batting orders of every Test-playing nation, starting of course with the West Indies; and I spent my days and evenings after school devising strategies to undermine those other teams in the matches against ours.
Silly mid-off was a pile of gravel, square leg a clump of razor grass; the sugarcane patch stood at deep mid-wicket while the rubbish pile where Grandpa burned garbage was the slip cordon.
Of course, in my games the West Indies always won; in those days, the mid-seventies when the West Indies boasted Clive Lloyd, IVA Richards, Gordon Greenidge, Alvin Kallicharran, Andy Roberts and Michael Holding, it didn't take wild imagination to make it so.
A terrifying cadre of fast bowlers was changing the way cricket understood itself and an ascendant crew of African West Indians (and one or two Indian West Indians) was making itself part of the global Black Power movement, symbolically—and in our minds, actually—by dominating the colonial masters in the sport they had brought here, among other reasons, presumably to assist in our movement from savagery to civilisation.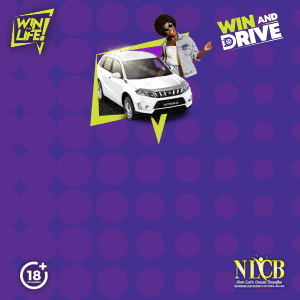 To us, the team was a source of unending pride and, as I approached secondary school, the team's dominance intensified.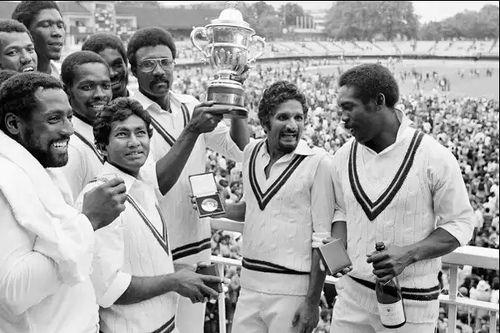 As the universe would ordain it, I went to Queen's Royal College, almost literally a stone's throw from the Queen's Park Oval; and so began a long and complex relationship between West Indies cricket, Queen's Royal College and myself.
Let me here, as it were, break the theatrical fourth wall.
This essay is about identity, about how I came to know who I was and the role that cricket and blackness played in that.  So let's go back a little bit lest this pride in blackness and cricket coming from the mind of a nine-year-old, be seen as a grown man's revisionist understanding of himself.
My mother taught me my alphabet from a book called the Weusi Alphabeti.  Eschewing the age-old A for apple, B for bat, C for cat charts posted in every elementary school's kindergarten classrooms, this book said 'A is for Africa, B is for Black, C is for Culture and that's where it's at'.
My mother, who went to university in Montreal and spent her summers in New York in the 60s at the height of the American Civil Rights Movement, was determined to raise a child who did not suffer from the (still) pervasive idea of lighter-skinned as beautiful, soft hair as good and whiteness as virtue and beauty.
Although not a sports fan per se, she allowed me to stay up late to watch every Muhammad Ali fight, explaining to me why it was important that he was fighting and winning and talking—though perhaps not in that order.
She stoked this fire in me too whenever the West Indies were on the go, whenever Viv Richards decided he was not simply taking the fight to the other squad but disdainfully so. He was all muscle, swagger, style and skill.
Holding was speed, rage, brilliant hostility; and the blackest of them all, Clive Lloyd, was a cunning captain, the field general who marshalled all those wonderful weapons and stepped into the batting breach when necessary.
My mother taught me then that when she said black people she also meant our Indian brethren, even the ones who would disdain being thought of as such. In the larger world she countenanced, it was all the same to the white people, the British, the Australians, the New Zealanders, the South Africans.
We're all niggers, she explained, explaining too how necessary it was for me to seek heroes who looked like me, to understand that people who looked like me did great things in the world. And then she unleashed me, at age 11, on Queen's Royal College and the streets of Port-of-Spain.
I first started breaking biche in Third Form, I believe. Three or four of us would usually decide to go. At first, we only broke biche for cricket, such was our reverence for the West Indies team.
There were occasions on which we got to go legitimately, as QRC cricketers manned the scoreboard and QRC scouts the dressing rooms. It was in this way that I once got the autographs of the entire WI team.
But there were days when I wasn't part of the group selected to go and I had to pick my spots. On the odd occasion, I climbed, solo, over the fence just beyond the Science Building and headed off to the match.
There was one day when I broke biche early, in time to see the first ball bowled. The opponents were India but the West Indies were to have first strike. In quick time, the unspeakable had occurred. Greenidge, Desmond Haynes and Richards were all back in the pavilion with just one run on the board.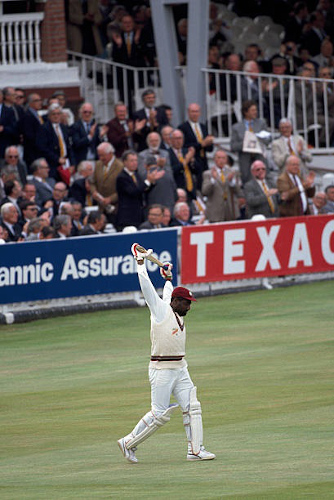 Kapil Dev and Balwinder Singh Sandhu, I believe, were getting the wildest movement out of the pitch and we were in turmoil; but the really odd thing was happening not out in the middle but in the stands beyond the boundary. The Indians were rejoicing.
Not the Indian fans who had come along from India but the Indo-Trinidadian fans; and one could hear as much cheering for India as for the home team.
Larry Gomes was in and skipper Lloyd joined him and the two left-handers slowly, gradually forced the Indian attack onto the defensive. Steadily, the pair began to build a partnership and the longer they batted, the quieter the Indians became.
Lloyd and Gomes eventually put on something just short of 250 runs for the fourth wicket, but that is unimportant to my story. What is is that that afternoon I had my first real questions raised about the complexity of who I am and to where I belong.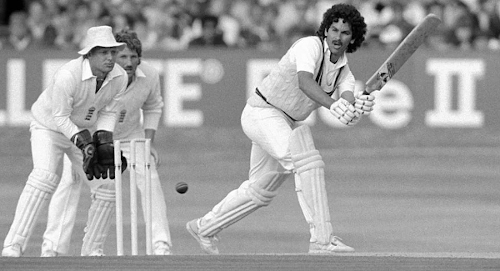 It is, of course, a question which, having migrated to the United States, I am having to consider constantly, especially when thinking about cricket, about which there are few here with whom to discourse.
But even then as a 13 or 14-year-old, I perceived that it wasn't that complicated.  The Indians on the field looked more like the Indo-Trinis who were cheering for them than this West Indian team looked—by then Kallicharran had been banned for touring South Africa and, although I don't recall exactly but I'm almost sure there were no Indo-West Indians on the squad at the time.
Furthermore, many Indians in Trinidad could very well still have had at home a grandfather or great-grandmother who had come over from India. Many still spoke their language of origin and, of course, many practised Hinduism.
It was not hard to see why they could feel more emotionally connected to the visitors than to the home team; why Indo-Trinidadians cheering for India and Pakistan was not as huge a betrayal as many Afro-Trinidadians took it to be.
After all, the cricket teams of all three countries had been culled from the same source—population of colour colonised and dominated and now rising up to challenge the coloniser and, occasionally, one another.
Of course, the West Indies team had had brilliant Indians on the squad. There'd been Sonny Ramadhin, the mystery spinner of the 1950's, in the 60's, Rohan Kanhai, wielder of a magically inventive bat and latterly Kallicharran, the left-handed version of the Babu.
But up to then, there had been no huge Indo presence on this largely Afro team.
No one needs reminding that long gone are those heady days of West Indian dominance. The once mighty WI side now struggles to climb out of the cellar ranking in international cricket.
Like the teams of the past, the style and approach to the game we now adopt is a microcosm of the wider society. A once massive world has been shrunken by television, US cultural influence and the Internet.
It is hard to understand a national identity now that isn't in some way in apposition to the larger, shinier American culture of which, it seems, our own cultures are mere satellites. Political Independence long achieved, it may be argued that we here in the islands aren't exactly sure what we're fighting for.
It's for survival surely, and it's for an ameliorated standard of living. We want things now, in a way that isn't connected to who we know we are; we want things a dominant culture is telling us to want. We celebrate Halloween now, and Thanksgiving and sometimes we're not exactly sure what cultural playground we're romping in; what's been folded into ours and what is swallowing us up.
And for the last two decades almost, we've batted like it, we've bowled like it. Our cricket has appeared aimless, even as we send up talent after talent to the big side.
In recent times, more West Indian Indians have also made it on to the squad. Shivnarine Chanderpaul and Ramnaresh Sarwan are the names that come first to mind. Would that we could have them both in the order these days but the confusion about who we are extends to the governing body so that players and administrators can't saddle horses.
Moreover, those players from the glory years can't understand the seeming lack of focus; they, naturally, are frustrated. They built something that they thought would never be torn down; they gave us something to aspire towards; a reason to bat and batsmen who looked like us to look up to.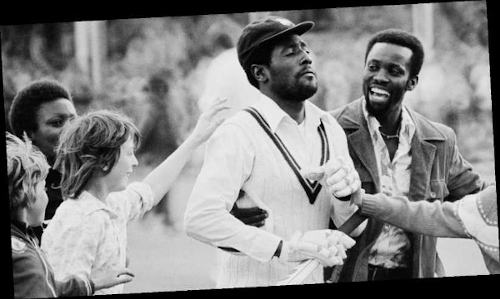 It had been happening for a while; starting perhaps with 'Massa George' Headley through the days of the three Ws, to Gary Sobers; and there were Charlie Griffith and Wes Hall to anchor the bowling. And it all came to a crest with that 70s/80s side which lit up my days and nights.
The legends, as they are sometimes called, cannot understand this lack of identity and purpose in strokeplay, in line and length, in fielding.
Of course, what they don't quite understand is that the Chanderpauls and Bravos, the Bests and Rampauls of this era have to find their own reasons. They have to anchor themselves to an identity that is unshakeable and have that inform their purpose.
That 70s squad changed the game because they played it like… themselves! They didn't bat like the English or the Australians.
Gus Logie didn't field like any white man; Lloyd did not captain like anything but what he was, an African descendant of a slave brought to these shores many years ago, who was now firing back at the big house. The successful search for identity brought us Roberts and Holding to use the new ball, followed by Colin Croft and Joel Garner—no retreat, no surrender, no escape. Ever.
It is against this backdrop that we must understand the very complicated exchange between Richards, batting-legend-turned-commentator, and Denesh Ramdin, once promising talent but, for some time now, big disappointment.
Ramdin's bat has been erratic at best but he managed to play himself out of the team and back on to it. Critics have said that his work behind the stumps has deteriorated. So on the eve of a very important yardstick of a Test match in England, Viv criticises Ramdin's performance; refers to his lack of confidence and lack of form and exhorts him to galvanise himself.
The wicketkeeper responds with a century and, immediately upon reaching three figures, pulls a note from his pocket: 'Yeah Viv Talk Nah'.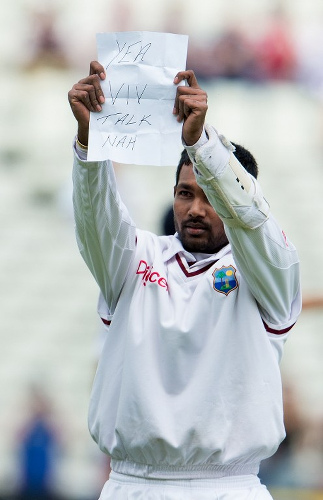 It becomes immediate cricket lore and a seemingly interminable series of debates begins about both the appropriateness or otherwise of Ramdin's response and what some saw as unnecessary harshness in Sir Viv's criticism.
Mixed up in the debates has been the impression by many Trinidadians that Richards and a few others of the old guard have a serious anti-Trinidad bias; that Trinidad players are criticised unfairly, that there is always an attempt to limit the number of Trinidadians who make the squad.
Mixed up somehow in that criticism is Trinidad and Tobago's oil dollars which has made the twin-island nation the region's economic giant—and envy!—for many years now.
Mixed in with what might be resentment is the history of a failed Federation; one from ten leaves nought, Trinidadians' willingness to remind other West Indians of where their loan money comes from.
Last and not least, we have the very Afro-centric Viv—who often during his playing days sported sweatbands with the red, gold and green of Rastafari and African empowerment and who once called the West Indies 'the only African Test-playing nation'—criticising one of the few Indians on the squad.
If you think that there isn't at least a racial undercurrent in all these arguments, then you're a massive, flightless Australian bird.
Here I open a brief parenthesis to return to the Test rivalry between India and the West Indies.
Even in that complicated colonial crucible, there was genuine admiration for each other's players. Up to today, I cannot begin to count the number of Indians I have come across in the United States who can name from memory that entire 1970s/80's West Indies team, just as I can name Kapil Dev, Mohinder Armanath, Gundappa Vishwanath, Dilip Vengsarkar, Ravi Shastri, Srinivasaraghavan Venkataraghavan and, the master of them all, Sunil Gavaskar, who gave the WI more than they could handle—four 100's and three 50's in eight innings!—on the 1971 tour.
One cricket-loving non-Indian calypsonian even dedicated a calypso to him, boasting—if that is the right word—that 'The real master (was) just like a wall; they (not 'we!') couldn't out Gavaskar at all…'
What more proof can one need of the existence of a cross-national solidarity and joy based on mutual understanding and respect?
Like Relator, we all knew that the reasons for wanting to beat the Indians and Pakistanis were completely different from the ones for wanting to thrash the English and the Aussies; among the latter their bold-faced tiefing when they didn't want to lose to those upstart blacks who didn't know their blasted place, not so Tony Greig?
To conclude, then, in this discussion, identity is a point of inquiry with which each player must engage.  It requires him to figure out not how to bat; but how to bat.
For him, who is in the right and who in the wrong is immaterial. Right or wrong, Chris Gayle has figured out how to bat because he knows who Chris Gayle is. And the bowlers know too and respect Gayle the batsman massively.
Gomes knew that he had to be the slow steady hand in that 70s/80s squad. Richards knew, and as such, he was all theatre and threat, so much so that the one word is contained in the other. It made him the anchor of a team that would not lose.
It simply refused that identity in the face of its supercilious colonisers. What Viv's criticism did was to centre Ramdin's identity for at least one innings.
At Edgbaston,  the 27-year-old knew why he was playing cricket and it meant he knew how to bat. Chanderpaul knows why he is playing and as such, unorthodox though he may be, he knows how Shivnarine must bat.
But bad mind as reason for performance cannot sustain our team. Ramdin, Dwayne Bravo, Tino Best et al must centre their identity for themselves; must know who they are as African, Indian, West Indian, Trinidadian, St Lucian, Barbadian, man, father, player, teammate. They must know what it means when they make their way out to the wicket, whether with bat or with ball in hand.
For what would the current team's identity become if it were to refuse to lose? How would each man identify himself and connect himself and understand his fortunes in relation to the men around him and the people who listen expectantly to their radios and glue their hopeful selves to their tee-vees?
That is all there is to it.  It's really quite simple. Denesh and the rest of the fellas already know how to bat, how to bowl, how to keep.
Now they must figure out why.