Pro League referees again found themselves under fire last night as the top four teams clashed in a double header at the Ato Boldon Stadium, Couva.
Present leader, DIRECTV W Connection came from behind to claim a 1-1 draw against North East Stars in a hotly contested affair while Central FC benefitted from a debatable call as the "Couva Sharks" eased past Point Fortin Civic 2-0. Today at the Larry Gomes Stadium in Malabar, Police FC closed off this weekend's action with a 3-0 win over San Juan Jabloteh.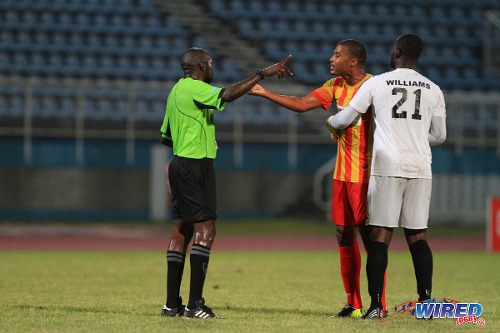 When the dust settled, Connection's lead had shrunk by another two points with bitter Couva rivals, Central, in hot pursuit.
Connection has 41 points from 19 matches while Central, Stars and Civic has 35, 33 and 32 points respectively. Defending champion club Defence Force, who is on Caribbean Club Championship duty in Jamaica, also remains in contention with 26 points and four games in hand.
But, with the Pro League's top two teams guaranteed of a Caribbean Club Championship spot next year, Stars coach Angus Eve was livid to fall two points behind Central on the back of another debatable penalty.
"The general consensus from most of the teams is that W Connection is getting the calls," Eve told Wired868. "That is my opinion too. If you look at the games, they are definitely getting the calls."
Eve's criticism mirrored complaints from Central coach Terry Fenwick last week after his playmaker Ataullah Guerra was ejected in a 3-0 win over Connection.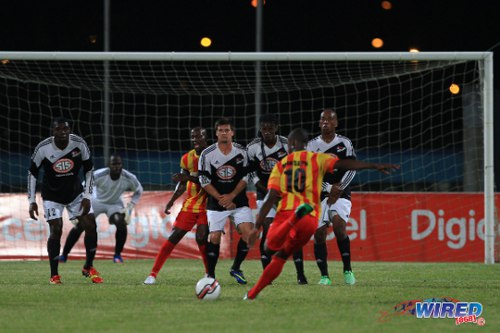 Yet, ironically, Central took advantage of a debatable call last night when Jamal Jack put the Sharks ahead in a clash between the second and third place Pro League teams.
Midfielder Jason Marcano launched a long free kick into the Civic area in the 32nd minute and Central defender Yohance Marshall tried to meet it with an unsuccessful acrobatic kick. Referee Gyasi McDonald ruled that it was not dangerous play and Jack belted in the rebound.
Civic was already seething about a disallowed item in the 24th minute after Central custodian and stand-in captain Jan-Michael Williams fended away a 30-yard Marcus Joseph rocket and striker Andre Alexis buried the loose ball. It did appear to be the correct call, though.
Three minutes after Jack's controversial item, Central doubled its advantage as Rundell Winchester ran on to a clever lobbed pass from midfielder Sean De Silva and hit past Civic goalkeeper Marvin Phillip.
It was Winchester's first league goal since his hattrick against Civic last October; 15 league games ago.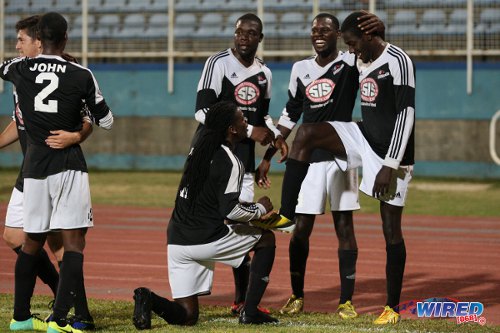 Veteran Civic attacker Andre Toussaint was a constant menace in central midfield but his team never looked like getting back into the game as Marshall and Elton John again expertly managed the Central backline while De Silva and Marcano hummed offensively.
Phillip kept the score respectable with a brilliant low save to deny Central striker Willis Plaza; although Civic substitute Kendell Davis should have hit the target after Andrei Pacheco played him through the opposing defence in stoppage time.
A minute later, Toussaint succumbed to frustration as he swept away the legs of young Central substitute Samuel Delice; and Toussaint and Pacheco had to be dragged away from McDonald as the official flashed red.
There was no physical confrontation in the opening fixture but Eve did not hide his disgust for referee Marvin Pierre's interpretation of the two major decisions in the match.
In the 27th minute, Connection defender Mekeil Williams lunged at Stars attacker Kennedy Hinkson and the sound of the contact echoed around the stadium.
The challenge sparked a melee between the two teams but, in the end, Pierre opted to show yellow to Williams as well as Connection defender Daneil Cyrus and Stars defender Aquil Selby.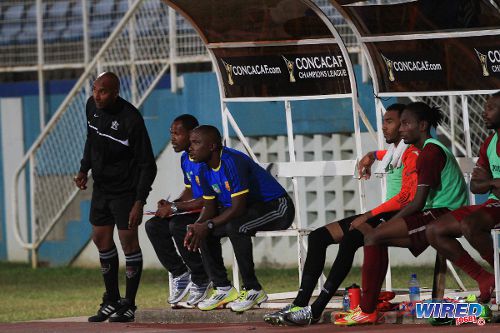 "I think Mekeil Williams went over the ball on Kennedy and that should have been a straight red card," said Eve.
Three minutes later, the mood lifted considerably as Stars striker Trevin Caesar put in a contender for the goal of the season with a flying scissors kick that sent the ball whistling past Connection goalkeeper Julani Archibald after an Elijah Manners cross.
"For me, right now Trevin is the best striker in the country without a doubt," said Eve. "I think he should not be playing in the Pro League; he is too good for here.
"Any striker in any league in the world would be happy with that goal."
But, two minutes later, Eve's delight turned to horror. Britto chased a long ball behind the Stars defence and headed overbar. But Pierre pointed to the penalty spot as the Connection forward was clattered, after he made contact with the ball, by retreating defender Aquil Selby.
"I cannot explain the call for the penalty," said Eve. "(Britto) missed the goal and our guy's momentum caused him to bump into him after. The ball was already sailing over the bar…"
Joevin Jones made no mistake from the spot to pull Connection level.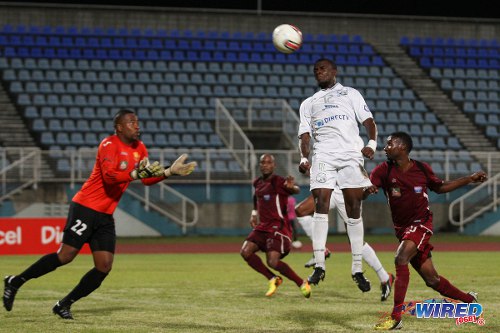 Connection coach Stuart Charles-Fevrier sympathised with Eve but insisted that McDonald had the prerogative to call back the play if he felt there was no advantage for the attacking team.
"It definitely was a foul," Fevrier told Wired868. "He crashed into (Britto). If I was in Angus' position, I would probably feel the same way though.
"If the referee decided not to call back the play, no one could have said anything. But he decided to call it back."
Jones might have put Connection ahead, three minutes later, but hit wide from 10 yards while Britto and Hashim Arcia also wasted presentable chances as Stars struggled to regain composure.
"This is four points we lost now in crucial games because we lost on a penalty against Central that should not have been given," said Eve. "And that would have kept us in the hunt and brought down Connection to within five points. The decisions these referees are making are hurting teams who are vying for Champions League positions…
"I think the Pro League has to take responsibility for having the most experienced referees appointed or even to get outside referees for the big games like this."
The Sangre Grande-based team regained momentum in the second half and, arguably, McDonald might have been less lenient with rough play by Connection captain Gerard Williams and Williams (M) on Caesar.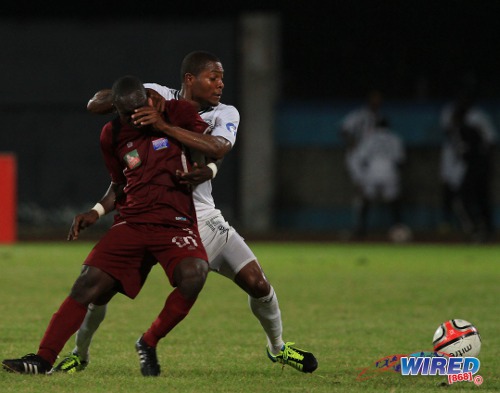 But Stars also escaped when captain and goalkeeper Cleon John scooped up a Keryn Navarro backpass without being penalised by the official.
Fevrier insisted that the recent criticism of referees was overblown and counter-productive.
"Which coach can tell you he never got bad decisions from the referee?" asked Fevrier, rhetorically. "It is part and parcel of the game because human beings are doing the games. Sometimes the referee makes a bad decision but your team misses three clear chances; so I will tell my players that if they scored those chances we would have won the game.
"I never like to give my team the excuse that the referee made us lose; but to each his own."
Connection had the final word yesterday as Britto beat Hinkson to a Kurt Frederick cross but headed against the upright. And, at the final whistle, Stars were fortunate to even have the one point.
It was little consolation to Eve, though.
For Connection, a 15-point lead has been reduced to five. Fevrier admitted that the loss of Brazilian right back Joao Ananias and several of his South American colleagues, whose loan spells ended in December, had affected his team's momentum.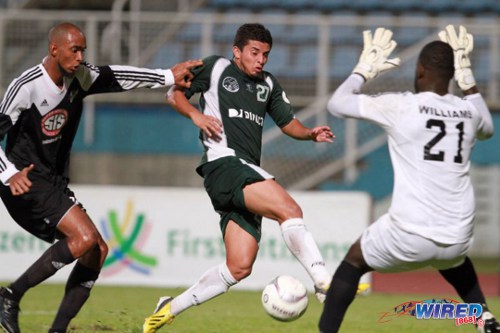 But the "Savonetta Boys" have no intention on conceding first place and the million dollar bounty that is up for grabs.
"We lost a lot of our players but we still have a team that is capable of winning the league," said Fevrier, "and that is what we intend to do."
(Teams)
North East Stars (4-2-2-2): 22.Cleon John (captain); 7.Elijah Manners, 5.Aquil Selby, 19.Glenton Wolfe, 25.Keryn Navarro; 6.Jeromie Williams (48.Jesus Perez 84), 12.Jayson Joseph; 15.Chike Sullivan (8.Keron Cummings 57), 18.Kaashif Thomas (41.Neveal Hackshaw 59); 23.Kennedy Hinkson, 20.Trevin Caesar.
Unused substitutes: 1.Stefan Berkeley (GK), 9.Akiel Guevara, 11.Lemuel Lyons, 16.Franz Husbands.
Coach: Angus Eve
W Connection (4-2-1-3): 18.Julani Archibald (GK); 39.Alvin Jones, 4.Daneil Cyrus, 15.Mekeil Williams, 2.Kurt Frederick; 3.Gerard Williams (captain), 11.Tremain Paul (7.Silvio Spann 67); 10.Joevin Jones; 65.Neil Benjamin, 14.Hasim Arcia (20.Stefano Rijssel 67), 12.Jerrel Britto (32.Dimitrie Apai 46).
Unused substitutes: 22.Aquelius Sylvester (GK), 13.Devaughn Elliot, 17.Jamal Clarence, 25.Christian Ocoro Viveros.
Coach: Terry Fenwick
Referee: Marvin Pierre
Pro League results
(Fri Mar 21)
W Connection 1 (Joevin Jones 32 pen), North East Stars 1 (Trevin Caesar 30) at Couva
Central FC 2 (Jamal Jack 32, Rundell Winchester 35), Point Fortin Civic 0 at Couva
(Sat Mar 22)
Police FC 3 (Joel Lewis 38, Kenaz Williams 50, Jameel Perry 58), San Juan Jabloteh 0 at Malabar
[standings league_id=2 template=extend logo=true]
Editor's Note: Scroll down to share your views on local refereeing and the Pro League million dollar race.