Lionel Messi might be the best player in the world but Carlos Tevez is still Argentina's most popular player. Not that this fact seems likely to get Tevez a ticket to the Brazil 2014 World Cup.
Plus Brazil coach Luis "Big Phil" Scolari looks set to rest his country's World Cup hopes on a Canada-based MLS player, why Nigeria is falling in love again with John Obi Mikel, England is giving Ashley Cole the cold shoulder, T&T coach Stephen Hart should be careful not to mess with his Iran counterpart and Italy coach is comforted by having "Super" Mario Balotelli around.
Carlos Tevez should be at his peak but is destined for World Cup despair
By Jonathan Wilson (The UK Guardian)
A vineyard near Mendoza, June 2011. The manager had just learned I was a journalist covering the Copa América and was determined to find out why I thought Argentina were underperforming—which is to say, she was determined to tell me why she thought they were underperforming.
I suggested there was a superabundance of attacking talent, that maybe Carlos Tevez and Lionel Messi couldn't usefully play together.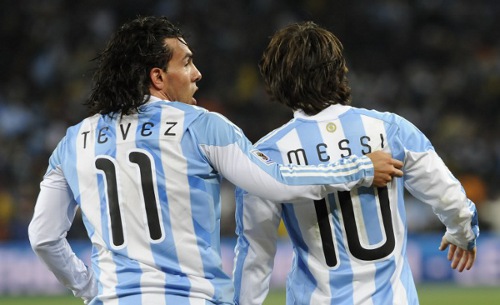 "Then we must drop Messi," she said.
She was absolutely serious, and she wasn't alone.
I began to put the case for Messi, but she cut me off.
"Maybe technically Messi is better," she said, "but Tevez …"
She patted her heart.
"Tevez has spirit, and in the biggest games you need spirit."
Yet the probability is that come the biggest games of all, Alejandro Sabella, the Argentina manager, will decide he doesn't need Tevez. The forward turned 30 on Wednesday and should be at his peak, but it looks increasingly unlikely that he will be included in Argentina's World Cup squad.
A few days earlier, I'd been in Santa Fe, in Messi's home province, for Argentina's game against Colombia. You approach the stadium down a long boulevard lined with stalls selling choripán and knock-off replica shirts.
Some had Messi's name on the back, but the most popular shirt by far was Tevez's.
When the pitchside announcer read out the teams, he called Messi el mejor jugador del mundo—the best player in the world—to which the crowd gave a muted cheer; he then described Tevez as el jugador del pueblo—the player of the people—which brought a great roar.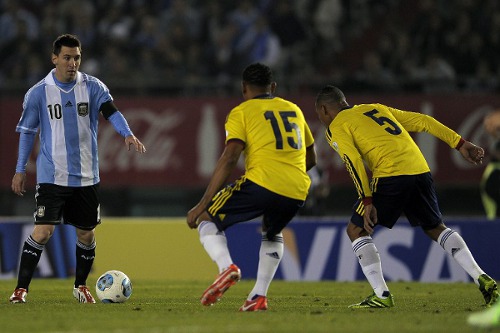 Messi had left Argentina early, had never fully captured local passions; with his fluffy hair and his clean-cut image, the perception was that he'd had it easy.
Tevez, by contrast, was an authentic pibe, the child of the slums identified by Borocotó, the editor of El Gráfico in 1928, as representing the authentic spirit of the Argentinian game.
When Borocotó wrote of his archetype as having "a dirty face, a mane of hair rebelling against the comb; with intelligent, roving, trickster and persuasive eyes and a sparkling gaze that seem to hint at a picaresque laugh that does not quite manage to form on his mouth, full of small teeth that might be worn down through eating yesterday's bread," he might have been describing Tevez (or indeed Diego Maradona, which only added to the general identification with Tevez).
Those few days in 2011 represented the height of Tevez mania.
Click here for more on Argentina's Tevez conundrum.
And here are some more intriguing reads:
Forget about Brazil's much discussed search for a "number nine"; will Julio Cesar, the old-timer at Toronto FC, really start in goal for the Selecao at the 2014 World Cup?
Click here to read more.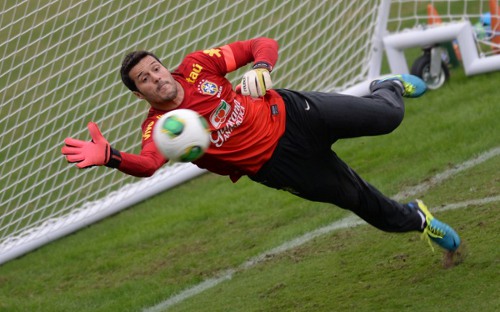 Nigerian fans wanted a new Okocha not a super-sized Makele; but "Super Eagle" fans are falling in love with John Obi Mikel all over again
Click here to read more.
England manager Ray Hodgson admits Ashley might be out in the Cole come Brazil 2014.
Click here to read.
And you thought President Ahmadinejad was eccentric?
Iran coach Carlos Quieroz has a history of physically and verbally confronting opposition. Maybe T&T coach Stephen Hart should enrol in self-defence courses.
Click here to read more.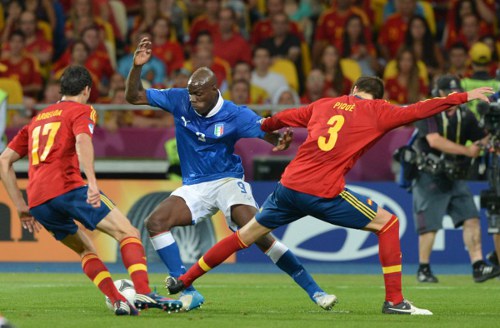 Italy coach Cesare Prandelli is more of a love guru. Prandelli admits the Azzurri is not the best anymore; but he still has Mario Balotelli. And he explains why that is a good thing!
Click here to read more.