What does the FIFA World Cup mean to you?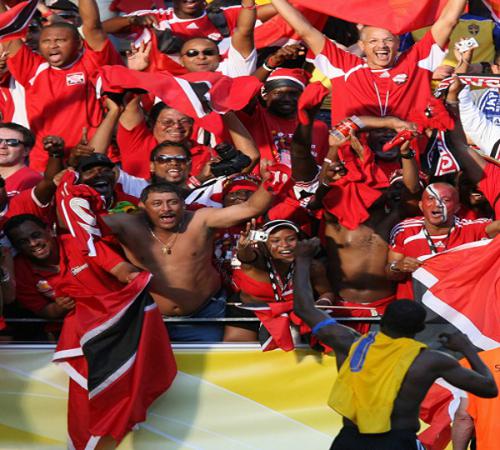 Wired868 asked some of our more illustrious football readers to share their memories of the greatest single sporting event on the planet. And we would like you to do the same.
There are three basic questions and, each week, we will take one answer from a different interviewee. So let's kick off week two:
My favourite World Cup memory
World Cup 2006 stand-out and former England Premier League goalkeeper Shaka Hislop is renowned as a cool customer. But Hislop, who is now employed as a commentator at ESPN, admitted that he can get quite worked up when the World Cup is in the air.
Shaka Hislop:
My favourite World Cup memory is an easy one. I've answered this question countless times, yet I never tire of telling it and it still raises the hairs on the back of my neck. It was hearing the Trinidad and Tobago National Anthem play in Dortmund on 10 June 2006.
I was a student at Howard University in 1989 when we fell at the final hurdle on November 19 and failed to qualify for Italia 1990. I shed tears that day. I honestly thought that I'd never see the day that T&T qualified for a World Cup.
I almost cried again on 16 November 2005, in Bahrain, when we did qualify. Almost! (That's my story and I'm sticking to it! :-))
Everyone knows that I wasn't actually carded to start our first game against Sweden. The late call up, and the occasion had me more focused than I think I ever had been. Still, hearing our National Anthem play for all the world to hear, was surreal.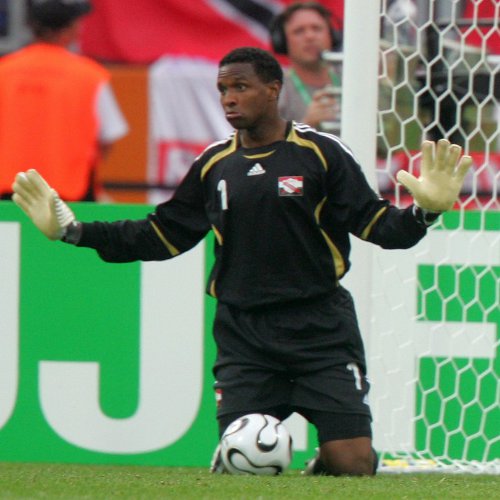 The way I see it is that I was a fan long before, and will be long after, I was a player. Being there, at football's highest stage, meant more to me than whatever was about to follow against Sweden.
My all-time favourite World Cup team and why    
Fazeer Mohammed is one of West Indies cricket's most esteemed commentators and columnists while he also hosts the Morning Edition on TV6 where he has put everyone from politicians to environmentalists and educators beneath the microscope.
But he is also a life-long football and Liverpool supporter and was willing to be interrogated by Wired868.
Fazeer Mohammed: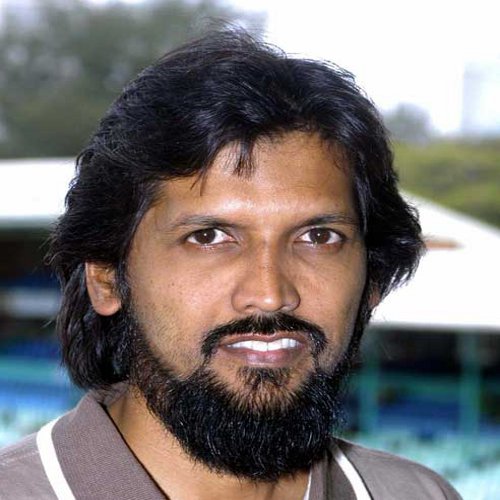 The 1982 French squad: style, flair, passion and unpredictability. Like the Brazilians of that year, this was a side that played football as it should be played, even if it meant squandering a 3-1 lead in extra-time against West Germany in the semi-finals.
The midfield of Michel Platini, Alain Giresse, Jean Tigana and Bernard Genghini must surely rank as one of the greatest of all time. Every game they played was a delight to watch, because it was all about playing delightful, attacking football from beginning to end.
What made it all the more tantalising to see them in action was that the back four of Marius Tresor (the captain), Maxime Bossis, Patrick Battiston and Manuel Amoros seemed to have as much of a challenge protecting their shaky goalkeeper Jean-Luc Ettori as feeding that magnificent midfield before service was provided to their strikers Didier Six and Dominique Rocheteau.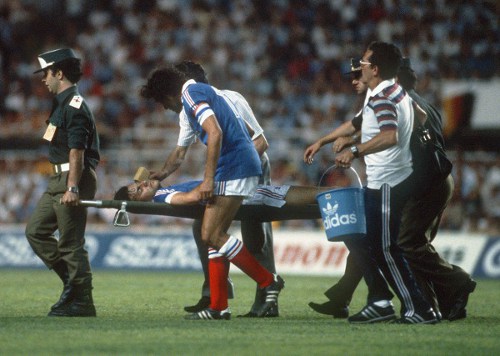 And yes, that last line was merely to show off that I can reel off the entire starting line-up 32 years later without having to resort to Google or any World Cup publication!
My favourite XI World Cup players of all-time in a 4-4-2 formation
Kelvin Jack was Trinidad and Tobago's first choice goalkeeper in its 2006 World Cup campaign although injury meant he only played in the final group match against Paraguay in Germany.
Jack has played professionally in Scotland and England and his no-nonsense approach is well known by former teammates.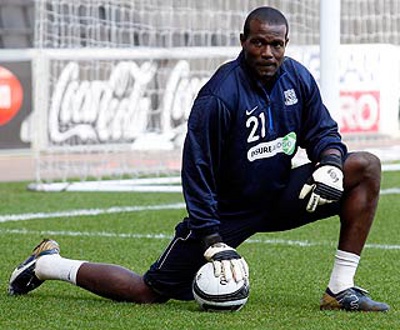 So what World Cup players impressed him most? He opted to ignore second-hand opinions and go with players he saw in action a lot.
Kelvin Jack XI:
Rinat Dassaev (Goalkeeper/ USSR)
To me he is one of the best of all time. I first saw him at the 1982 World cup in what was my first memory of the tournament. He could dominate his penalty area, was a superb shot stopper, his distribution was outstanding and he barked instructions to his defenders.
He had a terrific presence and was captain of USSR at the 1986 tournament. He never won a major tournament but was instrumental in leading the USSR to the 1988 European Championship Final against Holland. Top class keeper.
Julio Cesar (Centre back/ Brazil)
An intimidating presence and a mountain of a man who had a fantastic tournament in 1986. He could tackle, he could head it, his reading of the game was exemplary and he was a leader. He also had a fearsome shot. He enjoyed a wonderful club career as well at Borussia Dortmund.
Franco Baresi (Centre back/ Italy)
He was just class, pure class. You could just tell he commanded a huge amount of respect. He always looked in control and was a master at reading the game. He had a wonderful career at AC Milan and deserved to be a World Cup champion. A true great of the game.
Cafu (Right back/ Brazil)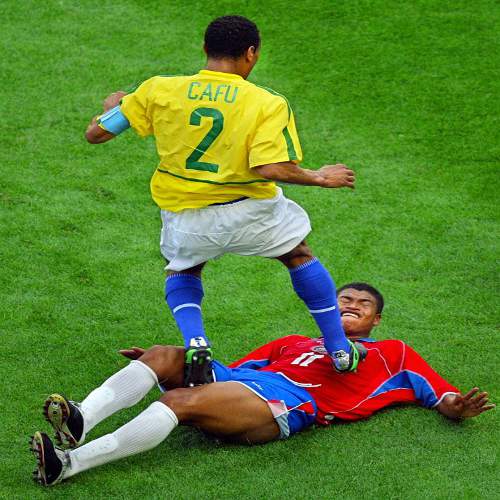 This is a player who epitomised discipline and desire and was technically and tactically outstanding. Although his attacking talents are legendary, his defending was also very, very good.
He also never seem to get tired. He surely must be the greatest right back to have played the game; a World Cup champion, World Cup captain and with over 100 caps for Brazil.
Andreas Brehme (Left Back/ Germany)
This was a toss-up between the remarkable Roberto Carlos and the German great Andreas Brehme. I've gone for Mr Brehme because he was a slightly better defender.
He could attack and he had the renown German discipline and tenacity. He took penalties as well and his two-footedness was a sight to behold; almost technically and tactically perfect.
He scored the winning penalty against Diego Maradona's Argentina in 1990. An exceptional defender.
Zinedine Zidane (Centre midfield/ France)
He demonstrated his supreme talent in helping France win the World Cup in 1998. His touch and vision was almost too good to be true; he willed France to their World title.
A strong character who summoned something extra to get France to the final in 2006 and one of the greatest players to play the game.
Lothar Matthäus (Centre midfield/ Germany)
This man could play midfield on his own; he dominated games. Matthäus played in two World cup finals and won one. He was an inspirational captain for Germany and his passing range and feel for the game was very good. He had a terrific shot with either foot; the perfect partner for Zidane.
Diego Maradona (Left midfield/ Argentina)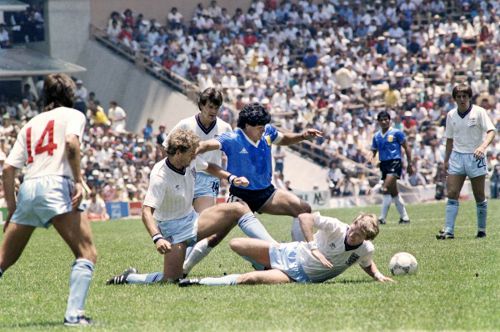 I know I put him in left midfield and he won't stay there; but he need not worry because Mr Brehme will defend for him!
He is the only man to win the World Cup on his own in 1986. His performances were imperious and he is without question the closest player to Pelé.
He had the greatest presence to step on a football pitch and an amazing talent that could not be contained. He was mentally strong and a true giant of the game. Peerless. (Click here for rarely seen footage of Maradona's most famous goal).
Garrincha (Right midfield/ Brazil)
This is a player I've seen videos of. He was the master of the dribble and could make any defender look useless.
If he played in today's game, he would be unstoppable with the amount of protection that players get now. One of the greatest players who ever stepped on a football pitch in my opinion.
Pelé (Striker/ Brazil)
A three-time World Cup champion and the greatest player to walk this planet. Over a 1000 goals? That statistic is almost science fiction.
He won the World Cup at 17 in 1958. He was not the tallest but he had a great leap, he could shoot with either foot, was fast, could dribble, take free kicks and was a team man. He was the perfect striker.
Ronaldo (Striker/ Brazil)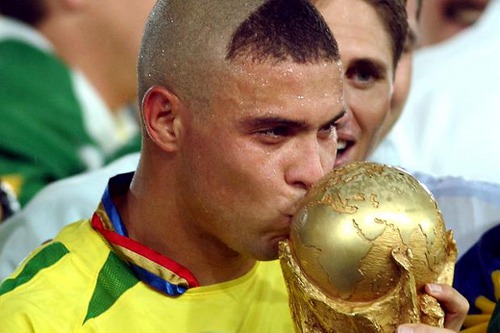 This wonderful Brazilian cannot be overlooked. His 15 World cup goals are the most in history and he defied injury to become world champion.
An immensely talented player and three-time World Player of the Year who would have been close to Pelé without injury.
World Cup Quote of the Day
Jorge Valdano, a 1986 World Cup winner, an ex-Real Madrid forward and coach and an esteemed football commentator, reflects on his legendary compatriot and former teammate Diego Maradona.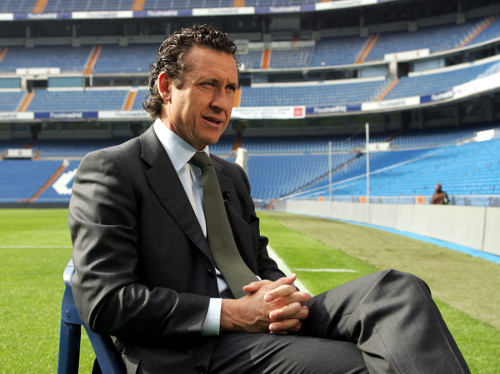 Jorge Valdano:
Diego Maradona was a technical leader: a guy who resolved all difficulties that may come up on the pitch.
Firstly, he was in charge of making the miracles happen, that's something that gives team-mates a lot of confidence.
Secondly, the scope of his celebrity was such that he absorbed all the pressures on behalf of his team-mates.
What I mean is: one slept soundly the night before a game not just because you knew you were playing next to Diego and Diego did things no other player in the world could do, but also because unconsciously we knew that if it was the case that we lost then Maradona would shoulder more of the burden, would be blamed more, than the rest of us.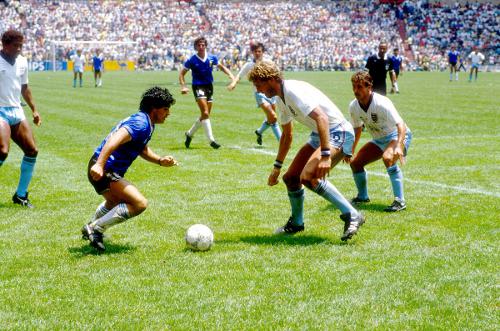 That was the kind of influence he exercised on the team – I would say it's more technical than social…
Through his volcanic personality, with that look of a poor man with money, with the language of an unpolished revolutionary, with that energy that seemed indestructible…
Editor's note: Share your favourite World Cup memories and players with us; and find more gripping reads about the upcoming 2014 World Cup and past tournaments here in our World Cup Watch.

Or click here to read the first installment in our World Cup Memory Lane.