If ever there was a game to recapture the imagination of Arima's football fans, this was not it.
At the final whistle, North East Stars had jumped three places from sixth to third spot in the 2013/14 Digicel Pro League standings but the unconvincing manner of its 1-0 win over an undermanned St Ann's Rangers team did not offer much confidence.
Rangers are bottom of the table at present and one certain way for the club to stay there is to release its best players. Conrod Smith, who was a CONCACAF Champions League player with Caledonia AIA just a year ago, has left the St Ann's team along with team captain Clevon McFee and defender Dwayne James while former playmaker Keron Cummings lined up with Stars today.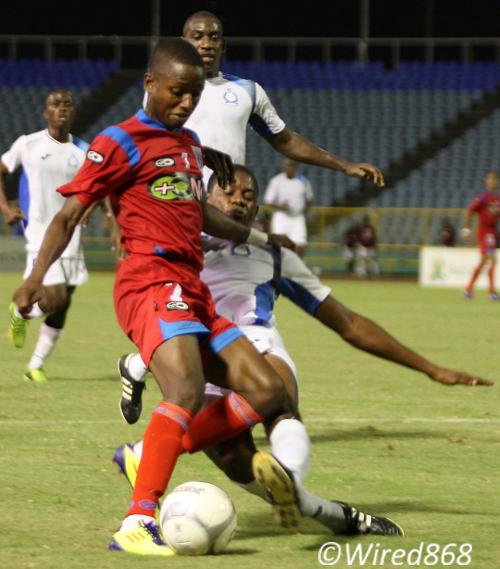 Former World Youth Cup attacker Qian Grosvenor has left for Europe on trial while Jemel Berot, Kadeem Corbin and Ebunoluwa Simeon are injured and Jumol Harewood has only just returned from abroad and will restart training next week.
In their absences, Rangers coach Gilbert Bateau had only 10 outfield players and two goalkeepers available yesterday who, combined, had an average of just 20.
It looked to be a suicide mission. But Stars are not in great shape either at present.
Coach Angus Eve has already let attacker Anthony Wolfe move to India in mid-season while defender Kareem Moses is set to move to Edmonton FC on a one-year deal that gives the A' League club an option to extend until 2016. Otherwise talented young wingers, Micah Lewis and Marcus Gomez, have both abandoned the club while Kevon Villaroel and Elijah Manners are injured.
In their places, Eve welcomed Chike Sullivan, a former World Youth Cup midfielder who spent the last four years in the US collegiate set-up, Cummings, a talented journeyman midfielder with a string of disciplinary misdemeanours, and towering striker Lemuel Lyons, who is on his third club in six months and was mostly restricted to substitute appearances at San Juan Jabloteh.
The rest of the Pro League will not be quaking in its boots at such unheralded reinforcement although the newcomers did help Stars to today's three-point haul.
Cummings slipped the ball through the Rangers defence for Lyons in the 36th minute and the latter's precise cross was headed home from close range by Trevin Caesar. It was Caesar's fourth league goal this season and his eighth in all competitions.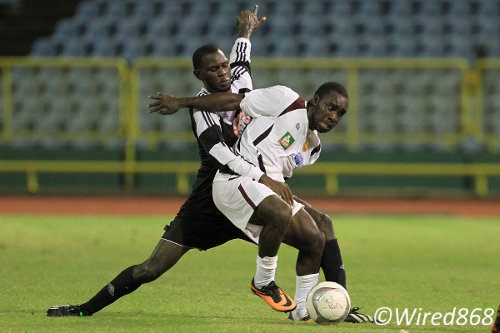 Michael Yaw Darko should have given Rangers a surprise equaliser, just before the halftime, but shot too close to Stars captain and custodian Cleon John.
Thereafter, it was a matter of how many more goals Stars would score. Sadly, for everyone but the beleaguered Rangers squad, the answer was none at all.
Caesar spurned two chances when alone with Rangers goalkeeper Terrence Clarke, Lyons was denied by Clarke in another one-on-one opportunity and Cummings scooped one effort off the upright and hit another into the side netting.
Defender Aquil Selby topped them with his own miss after Caesar headed a Cummings cross into his path. Alone and under no pressure with an empty net beckoning from eight yards, Selby miscued his half volley wide.
Stars were still good enough for three points by the end. That might be the only thing that Eve would want to remember about today's affair.
(Teams)
St Ann's Rangers (4-1-4-1): 25.Terrence Clarke (GK) (captain); 30.Rickyl Morris, 12.Tevin Gilkes, 13.Caleb Sturge, 21.Jair Edwards; 26.Josh Toussaint; 6.Kareem Davidson, 14.Michael Yaw Darko, 16.Kennedy Isles, 4.Jelani Peters; 5.Duran Dilworth.
Unused substitute: 1.Akel Clarke (GK).
Coach: Gilbert Bateau
North East Stars (4-2-3-1): 22.Cleon John (GK) (captain); 23.Kennedy Hinkson, 5.Aquil Selby, 19.Glenton Wolfe, 25.Keryn Navarro; 6.Jeromie Williams (4.Keithy Simpson 81), 15.Chike Sullivan; 18.Kaashif Thomas, 8.Keron Cummings, 11.Lemuel Lyons (12.Jayson Joseph 72), 20.Trevin Caesar (9.Akiel Guevara 84).
Unused substitutes: 1.Stefan Berkeley (GK), 16.Neil Mitchell, 41.Neveal Hackshaw, 47.Anthony Diaz.
Coach: Angus Eve
Referee: Rodphin Harris
Digicel Pro League results
(Fri December 3)
Caledonia AIA 2 (Jamal Gay 7, 63), Point Fortin Civic 1 (Kendall Davis 57) at Hasely Crawford
W Connection 1 (Jerrel Britto 48), Defence Force 1 (Kevon Carter 74) at Hasely Crawford
(Sat December 4)
North East Stars 1 (Trevin Caesar 36), St Ann's Rangers 0 at Larry Gomes
Upcoming Fixture
(Sun December 5)
San Juan Jabloteh v Central FC, 5 pm, Hasely Crawford Stadium.
[standings league_id=1 template=extend logo=true]