Pro League neighbours DIRECTV W Connection and Central FC will meet for the sixth time in this calendar year in the TTFA FA Trophy next Wednesday after the two football clubs came through their respective semifinal fixtures in contrasting styles last night.
Connection downed North East Stars 3-0 at the Ato Boldon Stadium in Couva while, in the earlier fixture of a double header, Central edged Super League club, Malabar FC, 3-2 on penalties after a 2-2 regulation score.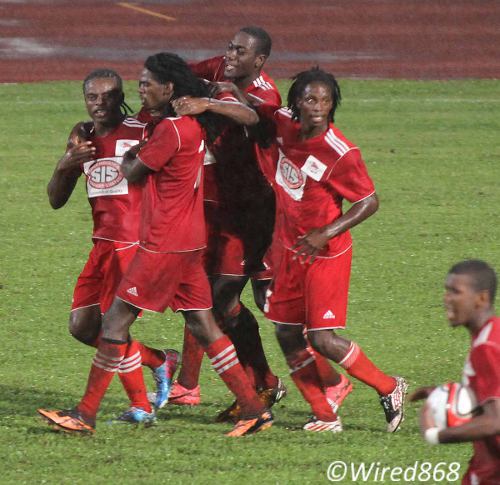 It set up the latest installment in what has so far been a feisty but, at the same time, one-sided rivalry between the two Couva-based clubs.
In five meetings, the "Couva Sharks" have never won in regulation time while Connection scored seven times and conceded just twice. The gap has narrowed over time but probably not enough for the liking of Central coach Terry Fenwick.
Central has not scored in either of its clashes with Connection this season although it only conceded one item and managed a penalty shootout win on October 4, after a goalless tie in regulation time, en route to lifting the First Citizens Cup title.

Still, Connection coach Stuart Charles-Fevrier and his men will start as favourites.
The Sharks are in a miserable run of form and have failed to win any of their last four games against Pro League opposition. And, last night, Central twice trailed the Super League's third best outfit, Malabar, before finally scraping through on penalties.
Twice, nippy striker Gorian "Ratty" Highley put Malabar ahead with a cool finish off a cross in the third minute and an accurate penalty kick in the 41st minute. And, although Johan Peltier kept Central in the match with a crisp finish from inside the 18-yard box in the 38th minute, the Super League might have extended its lead on three occasions in the second half.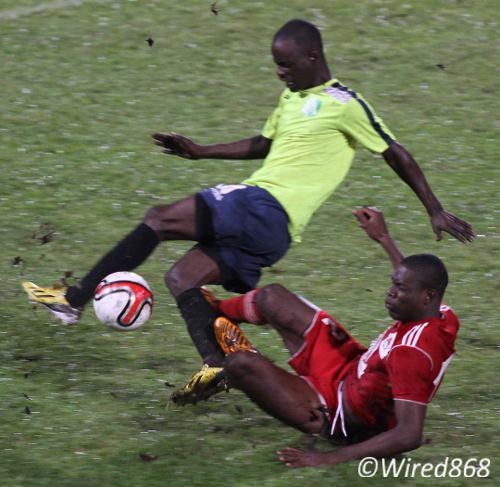 Malabar midfielder Hayden Tinto, who represented Central last season, evaded opposing goalkeeper Jan-Michael Williams in the 63rd minute but his chipped effort was headed away by retreating defender Elton John. Another ex-Central employee, Cyrano Glen, badly sliced his effort on goal in the 76th minute after Highley teed him up with a wonderful bit of skill that left John on his backside.
Central's last escape in the 82nd minute owed much to the brave and single-minded determination of its left back, Keion Goodridge.
Malabar midfielder Jesse Martinez picked off a poor pass from Central's Jason Marcano and immediately relayed the ball to Highley. Once more, Highley was too much for John and his shot squirmed away from Williams and headed towards goal.
Goodridge beat Malabar substitute Stevon Stoute in a foot race to the loose ball and, facing his own goal, twisted his body to execute an impressive goalline clearance before crashing into the upright. The Sharks, who had earlier lost veteran playmaker Marvin Oliver to a fractured arm and had already used their three changes, ended the match with 10 players as Goodridge left the venue in an ambulance. Medical examinations later revealed bruised rather than broken ribs.
His defensive partner, Jamal Jack, ensured that the sacrifice was not in vain as, four minutes later, he steered home on the half volley after the Malabar defence allowed a deep Williams free kick to drop in its own area.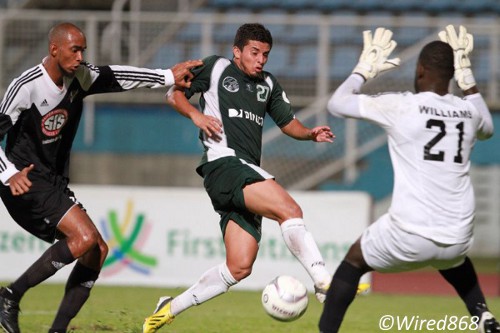 Williams, who is Trinidad and Tobago's number one custodian at present, saved one penalty from Norrel George while Highley and Nicholas Armstrong both struck the bar as Central clawed its way into a second Cup final this season.
Connection's subsequent 3-0 win over Stars might look resounding enough on paper. In truth, it was a forgettable match and spectators had to wait until the 67th minute for the first real effort on goal.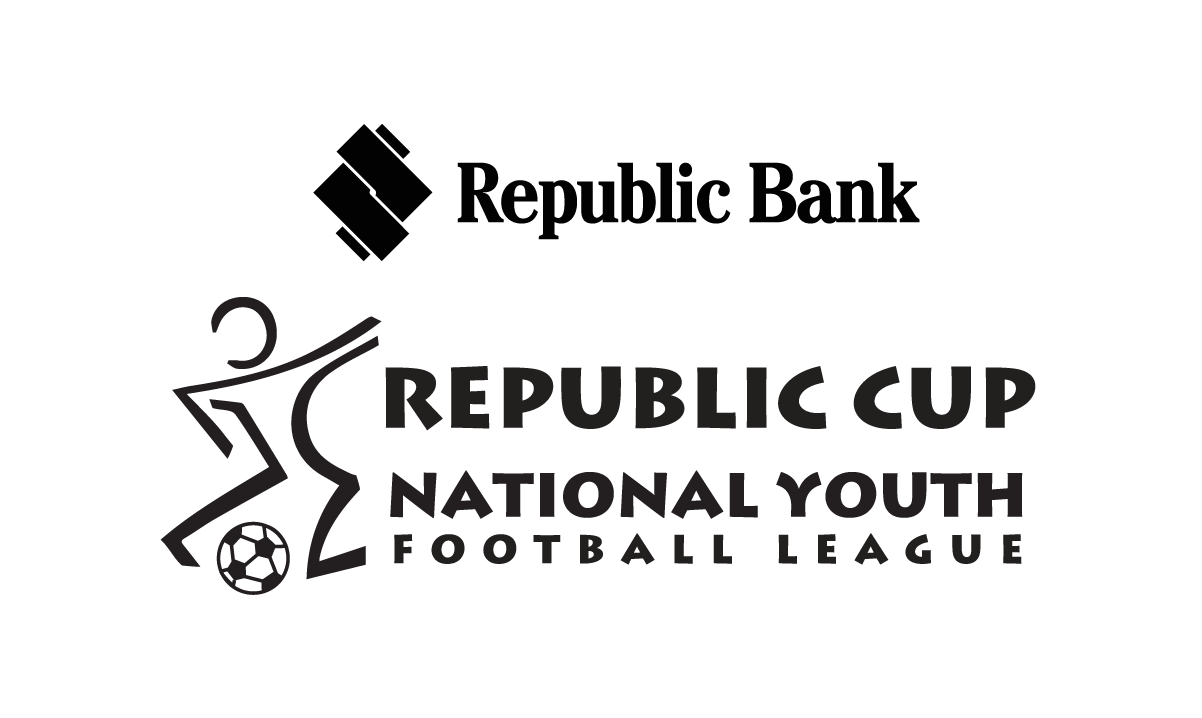 But what a strike it was.
Teenaged defender Alvin Jones, the younger brother of "Soca Warrior" and Connection playmaker Joevin Jones, crashed a 22-yard free kick with such ferocity that Stars captain Cleon John could not stop the ball from spinning into the back of his net, despite two desperate attempts.
The Stars team, which was without the injured Trevin Caesar and absent Anthony Wolfe, never really tested opposing goalkeeper Aquelius Sylvester an the largely second-string Connection team completed the demolition job in stoppage time.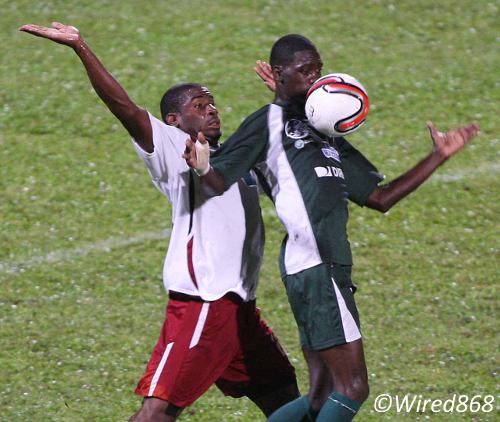 Connection substitute Hashim Arcia knocked home from close range after John fended an effort from Neil Benjamin into his path. North East had 10 players on the field at the time as Kareem Moses was being treated on the touchline.
And, three minutes later, Brazilian midfielder Celio Da Silva rubbed salt in the Sangre Grande team's wounds with a precise finish on the break after being released by Connection's Surinamese attacker Stefano Rijssel.
When Central edged Connection in the First Citizens Cup, Williams, a former Connection captain, said he was inspired to prove a point against Fevrier's foreign imports. In fact, Connection used eight locals in its semifinal triumph. But Central will need Williams to be in an especially defiant mood if it is to snatch a second Cup title this year.
(Teams)
Central FC (4-4-2): 21.Jan-Michael Williams (GK); 2.Elton John, 24.Akeem Benjamin (15.Kaydion Gabriel 63), 12.Jamal Jack, 3.Keion Goodridge; 6.Toric Robinson (11.Darren Mitchell 46), 10.Marvin Oliver (22.Keon Trim 34), 7.Jason Marcano, 13.Johan Peltier; 9.Dwight Quintero, 17.Rundell Winchester.
Unused substitutes: 25.Javon Sample (GK), 4.Omar Charles, 19.Dwight Pope, 23.Hector Sam.
Coach: Terry Fenwick
Malabar FC (4-4-2): 69.Zane Coker (GK); 15.Sherwayne Morris, 90.Nicholas Armstrong, 3.Keston Pierre, 44.Shemol Trimmingham; 17.Jamaeel Neptune (26.Norrel George 68), 9.Cyrano Glen (99.Stevon Stoute 79), 88.Jesse Martinez, 10.Hayden Tinto; 19.Kevon Woodley, 20.Gorian Highley.
Unused substitutes: 1.Shane Mattis (GK), 4.Avery Cabralis, 11.Dorian Daniel, 13.Calvin Shepherd, 80.Kion Joseph.
Coach: Julius Edwards
Referee: Gyasi McDonald
TTFA FA Trophy semifinals
(Wed Dec 11)
Central FC 2 (Johan Peltier 38, Jamal Jack 86), Malabar FC 2 (Gorian Highley 3, 41 pen) at Couva
*–Central wins 3-2 on penalties
W Connection 3 (Alvin Jones 67, Hashim Arcia 90+1, Celio Da Silva 90+3), North East Stars 0 at Couva
TTFA FA Trophy third place play-off
(Wed Dec 18)
North East Stars vs Malabar FC, 5 pm, Ato Boldon Stadium;
TTFA FA Trophy final
(Wed Dec 18)
W Connection vs Central FC, 7.30 pm, Ato Boldon Stadium.