As expected, India duly completed their win in the Second Testimonial in Mumbai on Saturday before the end of the third day. But on the occasion of the formal ascension of the latest member to join their pantheon, the gods of cricket were not in generous mood.
In the first innings, Sachin Tendulkar fell 26 runs short of the farewell century for which a billion of his devotees fervently hoped. And prayed.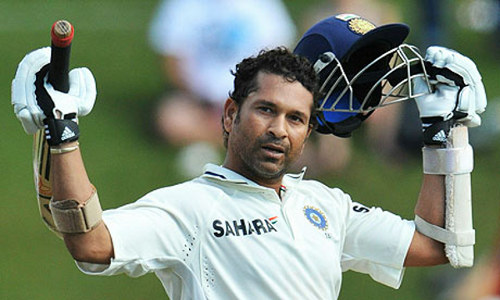 And the West Indian unit, specially selected, one feels, not to be good enough to make Mahendra Singh Dhoni's men bat twice, did not disappoint so that the 40-year-old Mumbai Master did not get a second turn at the crease.
Tendulkar did, however, use the occasion to make a marathon farewell address to the nation which had long ago elevated him to the status of a god. Like his batting, it distinguished itself not so much for its quality as for its quantity.
As he thanked everybody who's ever been associated his career—he omitted only the groundsmen and the taxi drivers—one could not help thinking of the sheer numbers associated with his 24 years of service to the Indian game: 200 Tests, 329 innings, 15,921 Test runs with 51 centuries at an average of 53.78 per innings, 463 ODIs yielding 18,426 runs with 49 centuries, including an unbeaten double century.
"He's carried Indian cricket on his shoulders for 21 years," Virat Kohli had memorably told the watching world when India won the World Cup in 2011, "it's time we carried him on ours."
His father, "the most important person in my life," his mother (present to see him bat for the first time), his uncle and aunt, ("I am like their son,") his brothers, Nitin and Ajit, ("who sacrificed his career for me,") his wife, Anjali, and her parents, "the most important thing they did was allowing me to marry Anjali," his 16-year-old daughter and 14-year-old son, Sara and Arjun, ("the two precious diamonds of my life,") his managers, late and current, his management team, Achrekar sir (who "has never ever said 'well played' to me because he thought I would get complacent"), his club, the Mumbai Cricket Association, the BCCI, his doctors, the physios, the trainers, his teammates, (especially "Rahul, Laxman, Sourav and Anil,") his friends, the media and the crowd were all carefully mentioned and ticked off as he proceeded meticulously down his long list, written so as to be sure "to remember all the names in case I forget someone."
And the tributes flowed in in the form of e-mails, tweets, text messages, placards, television images, the cricket commentary.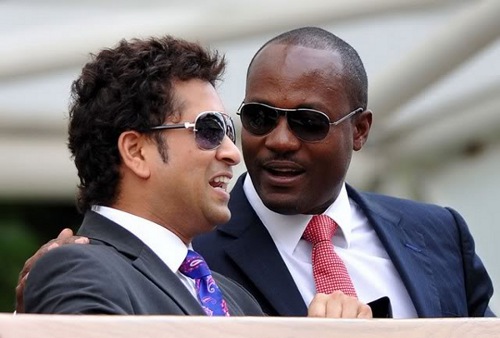 "He has never put himself above the side," Ravi Shastri said. "He's been a good man, Tendulkar, apart from being a great cricketer."
So good indeed that the media ("which have always supported me," he told the listening world in his post-match marathon) are prepared to take liberties with the truth.
A story in Thursday's Express with a Mumbai dateline notes that "Bradman's test average of 99.94 is nearly 40 runs ahead of any of his nearest rivals to have played at least 20 matches" but still calls Tendulkar "statistically the greatest batsman of all time."
You can't really argue with that, can you? The statistics will overwhelm you, shut you up, shut you down pretty quickly.
But the story continues thus: "All other major run-scoring records belong to Tendulkar who made his debut for India against Pakistan in Karachi in 1989 as a curly-haired 16-year-old."
"All other major run-scoring records?"
Really? Tendulkar, mostly efficiency, accumulation and quantity, went out yesterday in a blaze of glory, literally riding on the shoulders of his adoring teammates and with the West Indians witting accomplices in a staged consecration.
But travel with me back to 2007 and the retirement of another not-too-bad cricketer, not Indian but West Indian. The contrast is stark.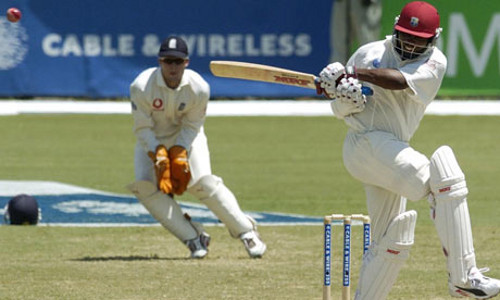 Brian Lara, all style and grace and flourish and quintessential quality, slunk ignominiously out through the back door, sent unceremoniously on his way by a, some say, conspiratorial teammate who called him for a quick single and then changed his mind. And, others add, by an ungrateful Board.
Perhaps that is not really surprising. After all, has not the Bard himself told us that "when beggars die there are no comets seen"?
And has Albert Camus not warned that we always get the Christ we deserve?
Lara, let us concede, can hardly be said to have put the side above himself and wasn't, perhaps, a good man, merely a great cricketer. So what did it matter that when he made his premature—forced!—departure from the international scene, he had scored more Test runs (11,953 with 34 centuries in 131 matches) than any other player in history, had claimed (375 vs England in Antigua in 1994), lost to Australia's Matthew Hayden, (380 vs Zimbabwe in Perth in 2003) and reclaimed (400 not out against England in Antigua in 2004) the world record for the highest single individual Test score?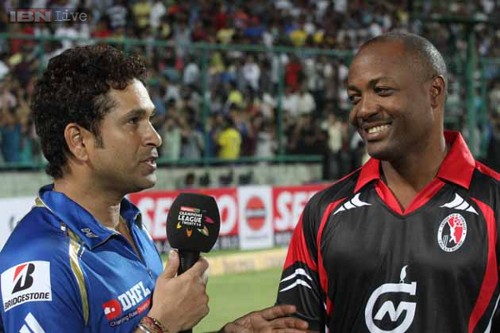 What did it matter that he was then and still is the only man in cricket history to have scored a single, double, triple and quadruple century in Test cricket and a quintuple century in first-class cricket into the bargain?
What's so special about that? Why should we have made a song and dance about his departure?
Has not Lara himself selflessly—foolishly, in my view—said that Tendulkar is the best batsman the world has seen, is to Test cricket what Muhammad Ali is to boxing?
Still, all other major run-scoring records? Please!
And the media didn't exactly put it into words but one senses their irritation. Who are all these wet blankets trying to remind us that in Mumbai Shivnarine Chanderpaul was playing his 150th Test?
Who the hell is Chanderpaul? Who cares?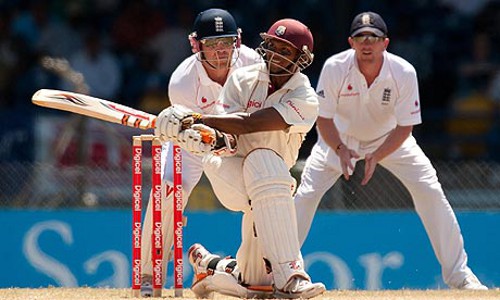 Well, the West Indies Board apparently doesn't but I care; and so do Sir Everton Weekes, Rohan Kanhai and Desmond Haynes (Page 14, Express, Thursday November 14).
We West Indians should all care as S. Rajesh makes clear in a splendid piece on the Guyanese left-hander with the unconventional stance which Cricinfo headlined "Older, fitter, stronger, better."
Here are two arresting tidbits: "In the 48 Tests he has played after Lara's retirement, Chanderpaul has averaged 70.52, scoring 14 hundreds, which is as many as he scored in 101 Tests before this period."
And "while Chanderpaul has averaged 70 since Lara's retirement, the rest of the West Indian top order has been consistently disappointing during this period: they've averaged 31.77, which is less than half the average that Chanderpaul has maintained."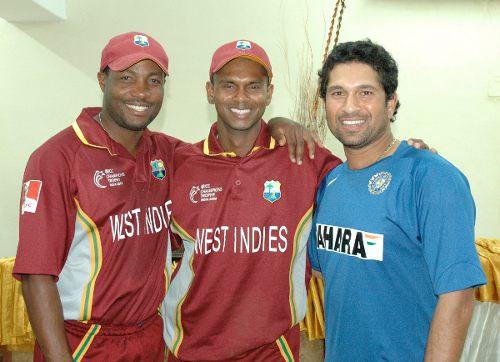 By the way, despite a fighting 7th wicket partnership of 68 between Denesh Ramdin (53) and Chanderpaul (41), India won by an innings and 126 runs to make it two three-day innings defeats in two matches.
And in his post-match contribution, Darren Sammy felt the need to concede that, six straight Test wins notwithstanding, his West Indian side is out of its depth against the top-ranked teams.
Do the WICB officials responsible for the hurriedly arranged two-Testimonial series care? Perhaps.
More than likely they were all crying all the way to the bank.