The Trinidad and Tobago national football team made a case for the resumption of corporal punishment last night as two second half strokes from Ataullah Guerra and Kenwyne Jones tamed the rambunctious Jamaican "Reggae Boyz" as the "Soca Warriors" cruised to a comfortable 2-0 friendly international win at the Hasely Crawford Stadium in Port of Spain.
It had been 12 years since Trinidad and Tobago last defeated Jamaica, 14 years since there were two Warrior victories over the Boyz in the same calendar year and 61 years since a triumph was recorded on Jamaican soil.
National coach Stephen Hart recorded all three feats, over the past five days, with what appeared to be the minimum of fuss.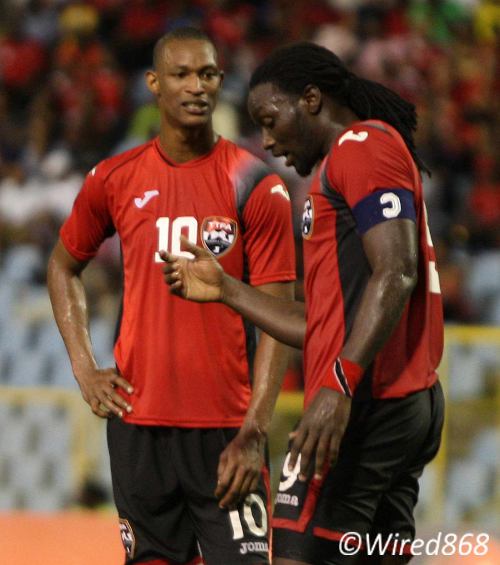 For once, the Warriors' San Fernando-born, Canada-based coach dared to blow his team's trumpet.
"I wanted the players to put two solid halves together and they did that," said Hart, after the match. "Once again, another clean sheet; we pushed the ball forward a little bit quicker; we had penetration on both sides… It is very difficult to ask more of the players."
But he could not resist another note of caution.
"I know in Trinidad it's feast or famine," he added.
If and when Hart plays mas on Carnival Tuesday, he probably keeps an eye out for traffic, just in case.
Yet, there is no question that his level-headed approach is reaping dividends within a squad that went six successive games without scoring before his arrival; but has since netted 13 times from nine outings, of which only two were in regulation time defeats.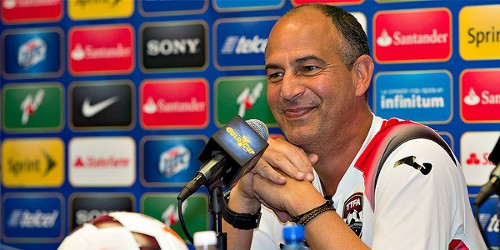 The sharp witted team captain Kenwyne Jones described the result as a fitting end to a good year while midfielder Chris Birchall, one of the key components of the Warriors' historic 2006 World Cup qualifying campaign, was thrilled to retire on a high.
Yet, with all due respect to the other cast members, it was the shy Guerra that probably deserved the serenity of a good result more than anyone.
On Carnival Sunday, Guerra's 33-year-old brother, Marvin Guerra, accompanied him to the Piarco International Airport as the Caledonia AIA player left to join Finland Premier League club, RoPS.
Two weeks later, Marvin was murdered after, according to the police, the John John resident just happened to be on St Paul's Street at the wrong time during the height of a borderline dispute between rival gangs.
"(Marvin) was my role model in football growing up," said Guerra, who lived with his brother and siblings in John John. "He played Intercol (football) with Malick and I used to watch him and wanted to be even better than he was and he wanted me to be better too…
"He wanted me to always strive for greatness and not settle for what I have and to be the best that I can be. I play with my heart and soul every day to try to make my brother and family proud."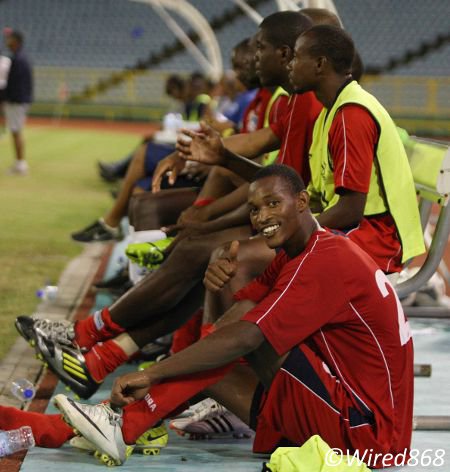 Three months later in May 2013, Guerra's 38-year-old sister-in-law Beverly Nurse, the widow of slain gang leader Mark Guerra, was also gunned down.
Then, in June, a still unexplained administrative cock-up robbed Guerra of the chance to play at the 2013 CONCACAF Gold Cup as the Warriors' technical staff failed to apply for his United States visa in time.
It would have been his biggest international tournament to date and Guerra had helped the Warriors to qualify with some gutsy performances during the 2012 Caribbean Cup.
"It wasn't one of my best seasons," said Guerra, in a typical 'footballer-speak' understatement. "But I did my best. There are always ups and downs in your careers…"
Public speaking is not Guerra's thing but he is getting better. He used to speak in whispers; but the 26-year-old is more assertive now, although his head still bobs nervously from side to side and his grammar needs improving.
He is growing up, on and off the field; football is the making of him.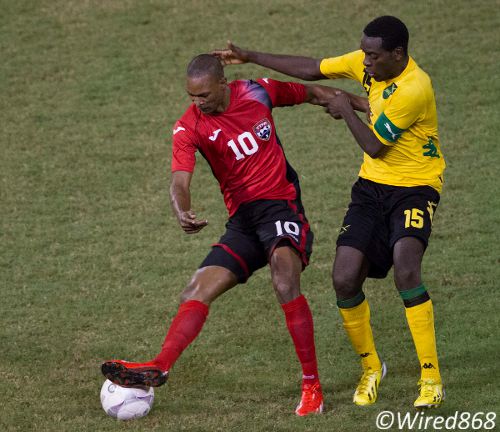 Last night, Guerra gave something back to his growing fan base with a wonderful opening goal that lifted around 7,000 spectators on to their feet and banished any lingering feelings of inferiority against a bitter Caribbean rival.
It was Guerra too that scored the lone goal in Montego Bay last Friday as the Warriors beat Jamaica away for the first time since Independence. But there were many heroes in red, black and white gear last night.
Jones, the giant Stoke City striker, has been the lightning rod for so much of the criticism directed towards the Warriors ever since Stern John's retirement. But, again, he led the line well last night and lent belief to his teammates.
Jamaica's German coach Winfried Schafer, a 2002 Africa Cup of Nations winner with Cameroon, said it was Hart's job to discuss the Warriors' performance. But he jumped at the chance to discuss Jones' hold up play and the way he brought his teammates into the game.
"He is a fantastic striker; not only the best in the Caribbean," said Schafer.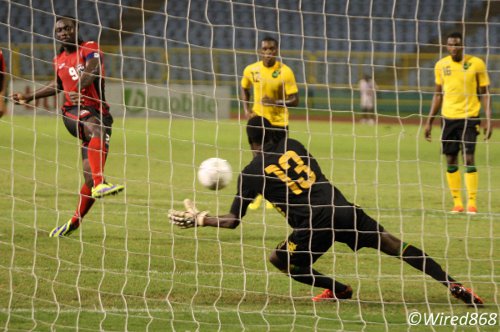 Daneil Cyrus and Carlyle Mitchell, a promising central defensive duo under the joint stewardship of Jamaal Shabazz and Hutson Charles, were re-united last night to the detriment of the Jamaican attack.
By the end of the 90 minutes, Schafer had used five different attackers without success while the Boyz' highly rated striker, Darren Mattocks, limped off the field after some rugged treatment from Mitchell.
Mitchell and Mattocks both play for Major League Soccer (MLS) team Vancouver Whitecaps and the Canada-based club should probably have counsellors ready for its next training session.
Aubrey David made the most of his outing at left back while Joevin Jones, who was the first choice left back at the Gold Cup, finally showed glimpses of what he can do at international level in an attacking midfield role.
For all that, it was a nervy start for the Warriors last night.
Birchall was presented with an autographed shirt by Trinidad and Tobago president Anthony Carmona before kick-off but there was no fuss for Carlos Edwards who made it clear that, contrary to belief, he is not ready to quit the international team yet.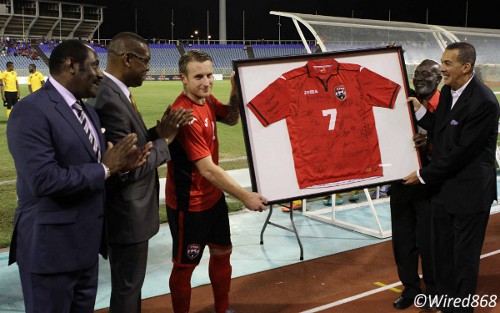 Perhaps the ambiguity about his trip home had unsettled Edwards. He was not at his best against Jamaica and, uncharacteristically, was twice stripped of possession on the outskirts of his own penalty area.
There was a scary moment too as Jones landed, boot first, on the neck of teammate Lester Peltier while Trinidad and Tobago attacked a corner.
Peltier wanted to play on but Hart was adamant that it wasn't worth the risk; and the winger, who had started brighter than anybody, was replaced by Rundell Winchester after just 25 minutes.
Jamaican goalkeeper Richard McCallum tipped over a trademark Birchall rocket in the 38th minute while Boyz striker Deshorn Brown and Jones (K) both had decent shouts for a penalty before Guerra put the Warriors ahead in some style.
The former Caledonia AIA playmaker glided in from the left, stuttered his run and then smashed a low, powerful effort past McCallum at his near post to send the Warrior fans into uproar.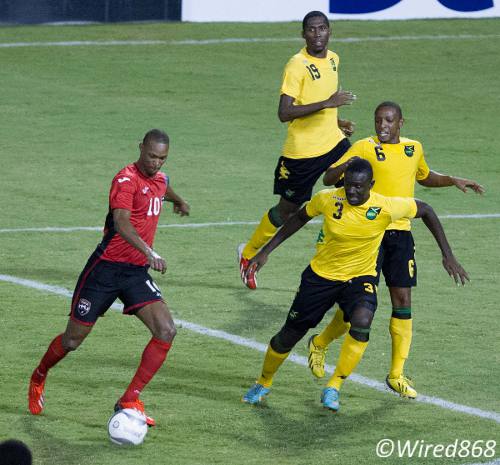 Hart replaced Birchall with the combative young midfielder, Kevan George, in the 69th minute and the Hasely Crawford got to its feet to thank "Me Mum" for his service.
The Jamaican coaches stood up too and asked their substitutes to follow; but only three of the six Boyz reserves were gracious enough to do so.
Jones (K) penalized their petulance from the spot, seconds later, after Jamaica sweeper Alvas Powell tripped Winchester in the penalty box.
It was the sixth international goal for the Premiership striker from nine outings under Hart. To put that into better context, Jones' last 50 international appearances yielded just seven goals.
"We were quietly confident of our abilities (yesterday)," said Jones. "It brings the year to a good end for us."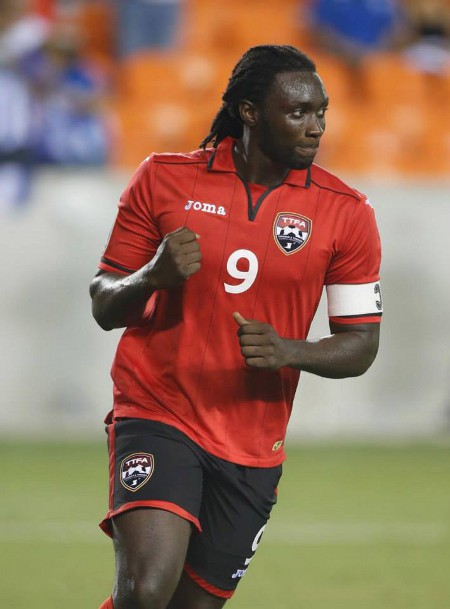 Jones' form mirrors the rosy outlook for his team at present and there can be nothing better than that for a captain.
Steady custodian Jan-Michael Williams, another who has used football to slay personal demons after his fiancée Candice Worrell was subjected to a brutal robbery last year, took over the captaincy when Trevin Caesar replaced Jones for the final 11 minutes.
But it was Guerra's night.
Over a decade ago, there was nationwide outrage as then Prime Minister Patrick Manning met with his brother and gang leader, Mark Guerra. And the young Warrior spoke of the adulation he felt when he saw his brother host not only the Prime Minister but personalities like Jamaican dancehall artist, Ninja Man.
But Mark's lifestyle was not sustainable; and he met his end in a hail of bullets.
Yesterday in Port of Spain, just 10 minutes' drive from John John, Guerra shook president Carmona's hand before kick-off; and it was the Jamaican dons who bowed to him as he scored his fourth international goal for the Warriors.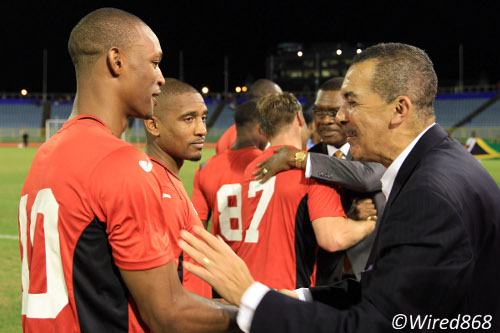 In the words of one of football's greatest managers and former Manchester United boss Sir Alex Ferguson: "Football. Bloody hell!"
(Teams)
Trinidad and Tobago (4-2-3-1): 21.Jan-Michael Williams (GK) (vice-captain); 11.Carlos Edwards (16.Curtis Gonzales 87), 12.Daneil Cyrus, 19.Carlyle Mitchell (6.Radanfah Abu Bakr 73), 2.Aubrey David; 7.Chris Birchall (5.Kevan George 69), 14.Andre Boucaud (18.Densill Theobald 82); 11.Lester Peltier (13.Rundell Winchester 25), 10.Ataulla Guerra, 8.Joevin Jones; 9. Kenwyne Jones (captain) (15.Trevin Caesar 78).
Unused substitute: 1.Cleon John (GK).
Coach: Stephen Hart
Jamaica (3-1-4-2): 13.Richard McCallum (GK); 19.Adrian Reid, 5.Alvas Powell, 2.Upston Edwards (3.Dicoy Williams 46); 15.JeVaughn Watson (captain); 9.Jason Johnson, 6.Jermaine Woozencroft, 16.Omar Daley, 20.Kemar Lawrence, 8.Michael Seaton (11.Darren Mattocks 46 [18.Jermaine Anderson 58]), 17.Deshorn Brown (14.Andrew Vanzie 84).
Unused substitutes: 23.Gariece McPherson (GK), 12.Brian Brown, 4.Phinn Montrose.
Coach: Winfried Schafer
Referee: Enrico Rinjgaarde (Suriname)
International friendly results
(Tue Nov 19)
Trinidad and Tobago 2 (Ataullah Guerra 48, Kenwyne Jones 71 pen), Jamaica 0 at Port of Spain
(Fri Nov 15)
Trinidad and Tobago 1 (Ataullah Guerra 11), Jamaica 0 at Montego Bay