Central FC became the first team to qualify for the semifinal of the 2013/14 First Citizens Cup last night as the "Couva Sharks" held off fellow Pro League outfit North East Stars to claim a 2-1 win at the Hasely Crawford Stadium in Port of Spain.
The Sharks are now scheduled to face the winner of today's clash between DIRECTV W Connection and Point Fortin Civic FC, which kicks off from 3.30 pm at the Mahaica Oval in Point Fortin.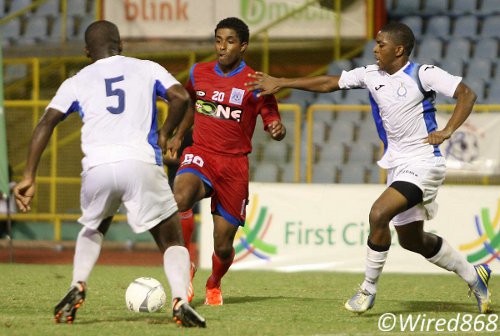 In yesterday's other fixture in Port of Spain, St Ann's Rangers pulled off a minor upset over Police FC with a penalty shootout triumph that sees the former team advance to the quarterfinal round.
Rangers will play San Juan Jabloteh from 6 pm on Monday at the Marvin Lee Stadium in the first game of a Macoya double header. Rangers lost to Jabloteh in an eye-watering 6-5 avalanche of goals earlier this month. Their rematch will be followed by a contest between defending Cup champions Caledonia AIA and last year's beaten finalist, Defence Force.
Police was expected to be too much for Rangers last night and the "Lawmen" initially lived up to that billing as captain Todd Ryan opened the scoring with a clever free kick in the 15th minute.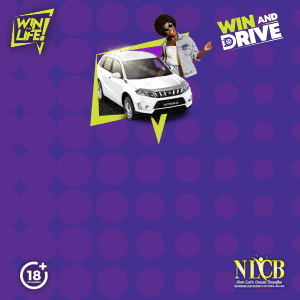 Former Trinidad and Tobago international standout Trent Noel shaped to hit the dead ball towards goal but tapped the ball to his left instead where Ryan timed his run sweetly to connect with a firm right footer that flew to the left of Rangers goalkeeper Terrence Lewis.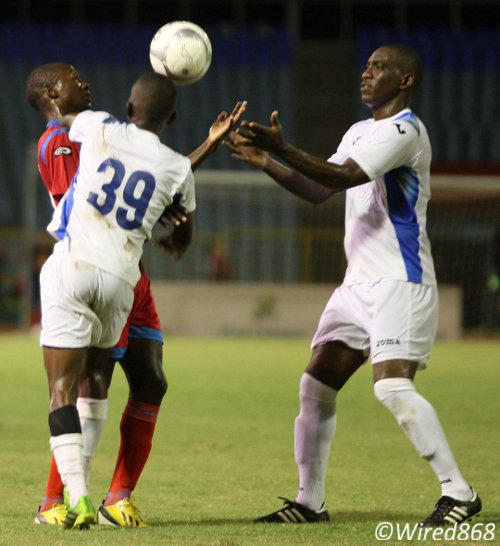 Lewis, incidentally, was wearing Akel Clarke's number one jersey rather than the 25 that is registered to him. Such administrative mix-ups are not uncommon in the local top flight and might have been in character with Rangers' shambolic start to the season.
Only 14 Rangers players turned up yesterday for the Cup too. But it was enough to give Police a good game.
Kennedy Isles wriggled past two defenders but was denied by Police goalkeeper Adrian Foncette in the 24th minute while, eight minutes later, Jemel Berot hit the Police upright.
Rangers finally got the equaliser in the 63rd minute as Foncette got both hands behind a speculative Qian Grosvenor effort but only managed to push it into the far corner.
Ryan hit the post for Police but neither team scored again and, in the shootout, Lewis stole the plaudits as he saved Noel's weak penalty to assure Rangers' progress.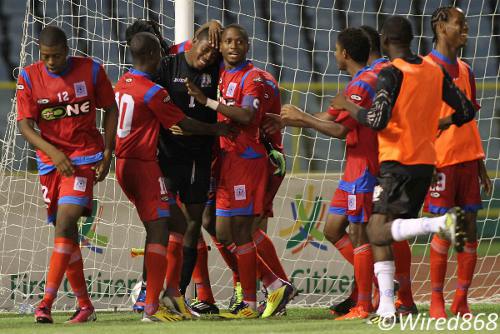 The second match was expected to be a tense, niggly affair between two former colleagues that probably don't send each other Christmas cards any more.
Terry Fenwick signed Angus Eve to Jabloteh as a player and then made him his assistant coach. But their relationship has cooled considerably since and their meetings these days, as Central and Stars coach respectively, tends to pass with the two visibly ignoring each other while their players kick each other to pieces.
In the first half yesterday, referee Keon Young could have easily flashed red once or twice as Central attacker Johan Peltier was late and hard on Keithy Simpson, Stars midfield enforcer Jeromie "Butters" Williams went over the ball to land a crunching tackle on opposing playmaker Marvin Oliver and Simpson flattened Central forward Rundell Winchester off the ball. Peltier and Williams were both cautioned while Simpson escaped.
But, if Stars relished the physical side of the contest, Central remembered there was a game to be won and was comfortably ahead by the interval.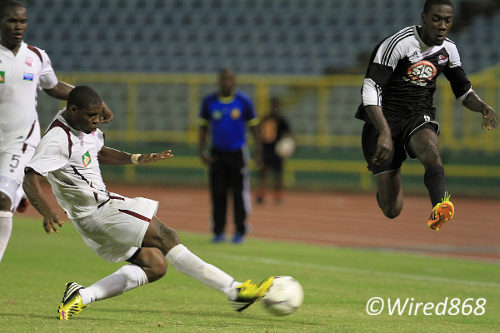 Veteran forward Hector Sam, who was deployed as a false number 10, put Central ahead with a rocket in the 20th minute while Winchester doubled the advantage as he surprised Stars captain and custodian Cleon John with a long ranged effort in the 32nd minute.
There should have been a third too as Central captain Jason Marcano cleverly backheeled to Darren Mitchell in space but the bustling winger failed to beat John.
Fenwick, a former hardnosed England and Tottenham defender, is known for putting out athletic and combative teams. Perhaps he should get more credit for tactical nous too.
Earlier this year, Central added a curious twist to its 4-4-2 system as Fenwick's two forwards play as inverted wingers dashing towards the penalty area from either flank. His midfield four is built into a diamond formation with the player at the offensive tip starting off as an old-fashioned "number 10" but really being expected to sneak forward into a centre-forward position.
Last season, Fenwick rotated Hayden Tinto, Oliver, Marcano and Mitchell in that key offensive midfield role with none proving to be a runaway success. At 35, Sam could hardly be seen as a long term solution but he did show the lurking menace behind the position as he surprised the Stars defence with a smashing opener that flew in off the underside of the bar.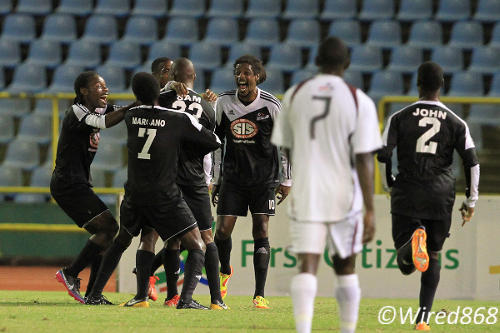 Eve responded at the half by introducing ex-national under-23 forward Trevin Caesar and Stars immediately became a more mobile and dangerous outfit. But the goal came too late.
Again, Caesar seemed to be operating on his own like a renegade agent. The lively, diminutive striker pawed at Central defender Akeem Benjamin before accelerating around him down the left channel from where he surprised Trinidad and Tobago goalkeeper Jan-Michael Williams with an angled blast that beat him at his near post.
Still, there might have been a stoppage time equaliser as Central defender Jamal Jack unwisely tried to screen out a ball that was creeping to the goalline and the Stars pair of Anthony Wolfe and Kareem Moses pounced to dispossess him.
Young generously whistled for an infringement although if anyone was trying to play the ball it certainly was not the Central defender. Eve almost fell over with rage at the touchline.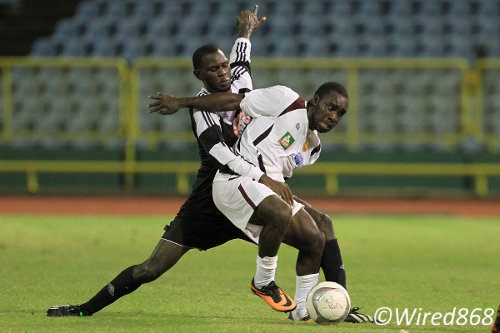 But it was enough to see Central scrape through to the next round.
(Teams)
Central FC (4-3-1-2): 21.Jan-Michael Williams (GK); 2.Elton John, 24.Akeem Benjamin, 12.Jamal Jack, 3.Keion Goodridge; 7.Jason Marcano (captain) (6.Toric Robinson 81), 10.Marvin Oliver (vice-captain), 11.Darren Mitchell; 23.Hector Sam (15.Kaydion Gabriel 86); 13.Johan Peltier, 17.Rundell Winchester.
Unused substitutes: 16.Javon Sample (GK), 4.Omar Charles, 14.Darryl Trim, 19.Dwight Pope, 26.Akil De Freitas.
Coach: Terry Fenwick
North East Stars (4-4-2): 22.Cleon John (GK) (captain); 25.Keryn Navarro, 5.Aquil Selby, 2.Kareem Moses, 19.Glenton Wolfe; 7.Elijah Manners (20.Trevin Caesar 46), 4.Keithy Simpson (12.Jayson Joseph 46), 6.Jeromie Williams (8.Micah Lewis 77), 23.Kennedy Hinkson; 24.Marcus Gomez, 11.Anthony Wolfe.
Unused substitutes: 1.Stefan Berkeley (GK), 9.Akiel Guevara, 17.Andres Cabrero, 18.Kaashif Thomas.
Coach: Angus Eve
Referee: Keon Young
First Citizens Cup
(Fri 27 September)
St Ann's Rangers 1 (Qian Grosvenor 63), Police FC 1 (Todd Ryan 15) at Port of Spain
*–Rangers won 5-4 on penalties
Central FC 2 (Hector Sam 20, Rundell Winchester 32), North East Stars 1 (Trevin Caesar 87) at Port of Spain
(Sat 28 September)
Point Fortin Civic v W Connection, 3.30 pm, Mahaica Oval
(Mon 30 September)
San Juan Jabloteh v St Ann's Rangers, 6 pm, Marvin Lee Stadium,
Caledonia AIA v Defence Force, 8 pm, Marvin Lee Stadium