The Hasely Crawford Stadium in Port of Spain was the latest venue for a Digicel Pro League Civic forum last night; and one gets the feeling there is a lot more to come from the rookie team out of Point Fortin and its boisterous fans this season.
Last week, on Friday 13, Point Fortin Civic FC made its Pro League debut with a 4-1 stroll against Police FC in front of over 2,000 supporters at the Ato Boldon Stadium in Couva. But, last night, Civic showed it could scrap for a result too with a last gasp 1-0 win over a solid North East Stars team.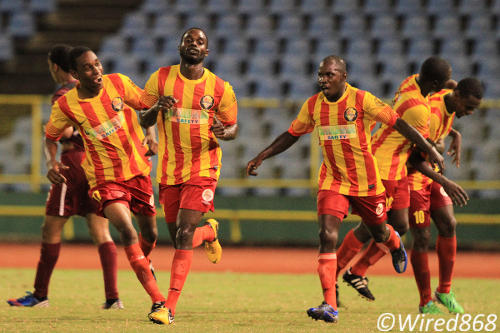 And, just as crucially, the Point supporters showed that it would take more than a long weeknight drive to separate them from their heroes.
It is a two-hour drive from Port of Spain to Point Fortin and Civic's Pro League engagement on Friday ended at about 9.47 pm. But none of the southern supporters, which numbered over 1,200, were rushing to the exits as they soaked in a stunning finale against a dangerous Stars outfit.
Ninety minutes had already elapsed and the game was in stoppage time when Stars left back Kevon Villaroel swung a free kick into the opposing penalty area. Anthony Wolfe, a former Trinidad and Tobago World Cup 2006 squad player, stuck his boot to claim the ball and then, at full stretch, flicked his left foot to send the sphere low to the left of Civic custodian Marvin Phillip.
And then, something extraordinary happened.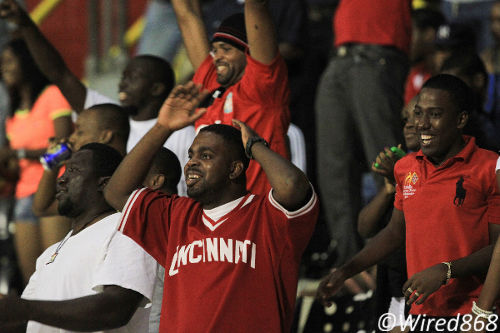 It had been a bizarre evening at the Hasely Crawford Stadium in truth. Roughly two hours earlier, San Juan Jabloteh played its part in an entertaining double header with a farcical yet remarkable recovery against St Ann's Rangers to win its season opener 6-5.
The "San Juan Kings" missed last year's Pro League action due to financial issues and only satisfied the criteria to return to the top flight at the start of September. New Jabloteh coach Keith Jeffrey held his first training session just 10 days ago.
Fate seemed to smile on Jabloteh when Rangers was listed as its first opponent. The St Ann's based outfit was mauled 7-0 by DIRECTV W Connection last weekend.
There were relieved smiles all around too when skipper and former standout Kerry Baptiste opened the scoring for Jabloteh in the 11th minute after being teed up by another experienced journeyman, Rennie Britto. The good feeling did not last long.
By halftime, Rangers was 4-1 up and cruising.
Rangers captain Clevon McFee scored a natural hattrick in just 16 minutes while the lively Kennedy Isles grabbed another as the Jabloteh defence looked as easy to manoeuvre as an automatic door.
Jeffrey sent on lumbering striker Lemuel Lyons, an acquisition from Club Sando, and he headed over the Rangers defence for Baptiste to run clear and cut the deficit to 4-2 in the 51st minute. And three powerful blasts, two from Britto and one from Baptiste, saw the lead change hands by the 81st minute in front of a stunned audience.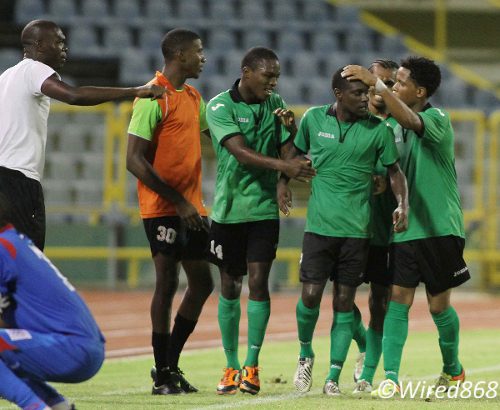 Shane Hospedales curled in a free kick for Jabloteh in the 85th minute before Rangers set up a nervous close to the match with a sharp Jelani Peters finish in the 89th minute.
The Point Fortin supporters, who were just taking their seats, must have wondered if they had walked into a 20/20 cricket match by accident.
The closing game of the double header did not have nearly as much goalmouth action. But then North East Stars, under pragmatic coach Angus Eve, does not do open football.
The only action of the first half comprised of full blooded tackles from either side. Stars played with a five-man defence guarded by snarling midfielder Jeromie Williams, who is built like a nightclub bouncer.
By the 65th minute, Civic coach Reynold Carrington had swapped his two forwards, Andre Toussaint and Andrei Pacheco, and attacking winger, Matthew Bartholomew, as he tried in vain to get a peep at Stars goalkeeper Cleon John.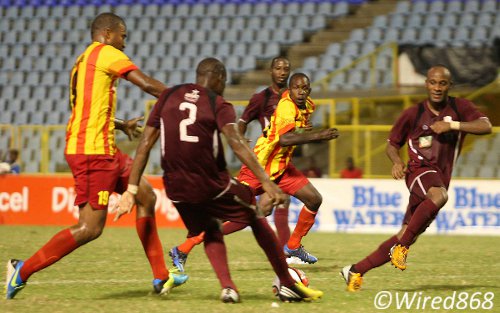 But it was Stars that grew stronger as time went on. Civic defender Andre Ettienne, roared on by the Point supporters, was playing at his full capacity to subdue Wolfe. But it looked to be a matter of when rather than if the Sangre Grande-based team would get the winner.
"North East… we want a goal!" sang the Stars supporters, who used to be the most vociferous in the Pro League before Point Fortin showed up.
Then came the key moment; Wolfe flicked goalward from inside the penalty area and both sets of supporters stood on their feet in anticipation.
Marvin Phillip, the Trinidad and Tobago custodian, pulled off a low reflex save to his left and someone hooked the ball clear of the crowded penalty area. And it fell to Point playmaker Marcus Joseph.
At the moment when Civic should have been defending for their lives, the rookie team had left three players high up to the field and now they were in possession with only two Stars defenders for company.
Joseph, who had been anonymous for much of the 90 minutes, played the ball to attacker Sylvester Teesdale, who might have attempted a charge through the heart of the Stars defence but opted to pass for fellow substitute Bevon Bass to his right instead.
Teesdale's pass roll obligingly for his former T&TEC FC teammate and, as calmly as if he were on the training ground, Bass hit a firm but controlled drive into the far corner.
And the stands went berserk.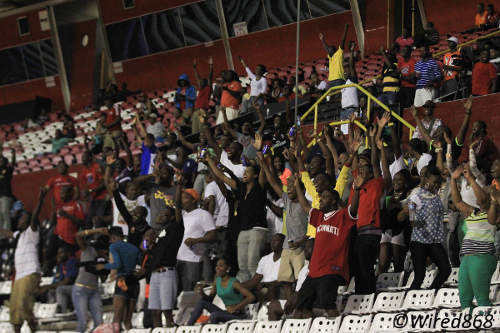 At the final whistle, Point Fortin supporters cheekily serenaded their vanquished opponents.
"North East… we want a goal!" they sang, with wide, mischievous grins.
The Pro League is not going to be the same this season.
(Teams)
North East Stars (5-3-2): 22.Cleon John (captain) (GK); 23.Kennedy Hinkson, 2.Kareem Moses, 5.Aquil Selby, 25.Keryn Navarro, 3.Kevon Villaroel; 18.Kaashif Thomas (17.Andres Cabrero 64), 6.Jeromie Williams (12.Jayson Joseph 82), 8.Micah Lewis; 11.Anthony Wolfe, 20.Trevin Caesar (36.Marcus Gomez 59).
Unused substitutes: 1.Stefan Berkeley, 7.Elijah Manners, 9.Akiel Guevara, 19.Glenton Wolfe.
Coach: Angus Eve
Point Fortin Civic (4-4-2): 1.Marvin Phillip (GK); 2.Garyl Doldron, 4.Wesley John, 5.Andre Ettienne, 3.Lyndon Diaz; 10.Marcus Joseph, 6.Kelvin Modeste, 17.Glen Sutton, 9.Matthew Bartholomew (14.Bevon Bass 65); 19.Andrei Pacheco (20.Sylvester Teesdale 59), 11.Andre Toussaint (15.Keron Neptune 57).
Unused substitutes: 22.Akini Adams (GK), 8.Steven Joseph, 18.Akeem Redhead, 21.Andre Alexis, 29.Kevin Rouse.
Coach: Reynold Carrington
Pro League results
(Fri Sep 20)
San Juan Jabloteh 6 (Kerry Baptiste 11, 51, 71, Rennie Britto 67, 81, Shane Hospedales 85 FK), St Ann's Rangers 5 (Clevon McFee 14 FK, 23, 30, Kennedy Isles 43, Jelani Peters 89) at Port of Spain
Point Fortin Civic 1 (Bevon Bass 90), North East Stars 0 at Port of Spain
(Sat Sep 21)
DIRECTV W Connection vs Police FC, 5 pm, Ato Boldon Stadium, Couva
Caledonia AIA vs Central FC, 7 pm, Ato Boldon Stadium, Couva
[standings league_id=1 template=extend logo=true]