DIRECTV W Connection followed Caledonia AIA out of the 2013/14 CONCACAF Champions League last night as the "Savonetta Boys" were eliminated from the confederation's showpiece club competition in the group stage.
There was, arguably, some consolation in the manner of Connection's exit as they produced a lively performance that was not reflected in the 2-0 result enjoyed by Panamanian club, Arabe Unido, at the Hasely Crawford Stadium, Port of Spain.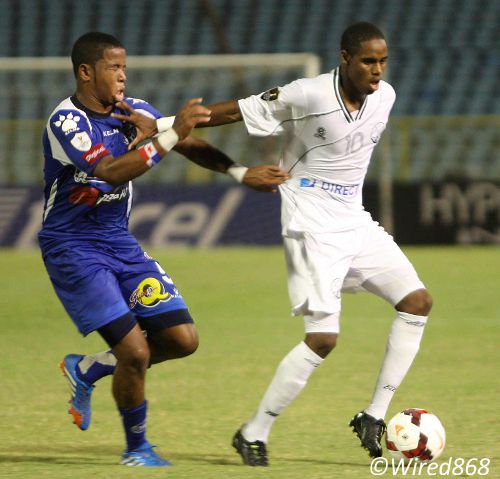 Caledonia was slapped around on its home ground by Guatemala's CSD Comunicaciones and Mexico's Deportivo Toluca who collectively scored eight goals to one conceded against the "Eastern Stallions" in Port of Spain.
In contrast, Connection created more scoring opportunities than Houston Dynamo in a goalless draw in August and, last night, in defeat to Arabe. But they wasted every chance. It is a recurring theme.
Since age caught up with gifted St Lucian striker Earl Jean, the Savonetta Boys only once has a Connection striker cross the 20 goal mark. And, crucially, Connection managed just one league title since its pure number 9 called it a day, six years ago.

The bustling, diminutive Dominican Republic international Jonathan Fana managed 26 goals in all competitions in 2009. But coach Stuart Charles-Fevrier has been unable to develop or poach a player with that predatory instinct ever since.
Fevrier must have gazed longingly towards Jean, who is now his assistant coach, last night as Connection created a handful of good scoring opportunities within the first 15 minutes.
Twice, Jerrel Britto dragged his shot wide while captain Joevin Jones delayed and was closed down by the Arabe defence.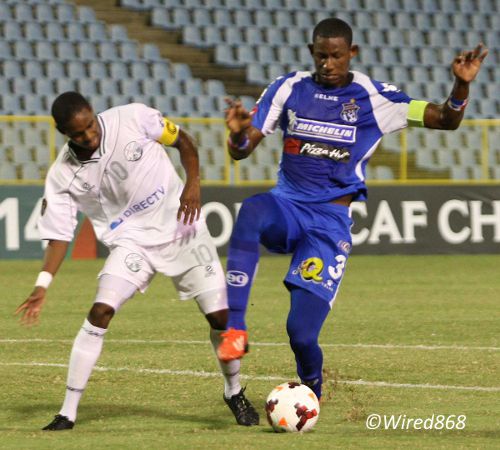 At times, it seemed as though Connection was using four strikers. Jones, who plays left back for Trinidad and Tobago, is nominally the club's offensive midfielder but he has a tendency to push right alongside Connection's three attackers and then take his sweet time getting back to the engine room.
Gradually, more Connection players seemed to be sucked into offensive positions in a vain effort to help find that goal, which their neat passing and attacking movement deserved.
And, just as the Savonetta Boys seemed more dangerous than ever, Arabe scored.
Luis Fraiz, Arabe's left wing back, burst into acres of free room down the flank and surprised goalkeeper Alejandro Figueroa with a spanking, angled drive into the far corner in the 28th minute.
Connection's Brazilian right back Joao Ananais was so far removed from his defensive duties at the time that he might as well have been enjoying a drink in the VIP lounge.
Connection should have equalised, seconds into the second half, as Surinamese winger Stefano Rijssel failed to make true contact with a low, raking right side Britto cross. Then Hashim Arcia missed the best opportunity of the night as he leaned back and launched his volley overbar from 10 yards after Britto cushioned a header into his path.
And, 15 minutes after the resumption, Arabe got its insurance item as striker Abdiel Arroyo got away from Connection defender Leslie Russell on the break and rounded Figueroa to score.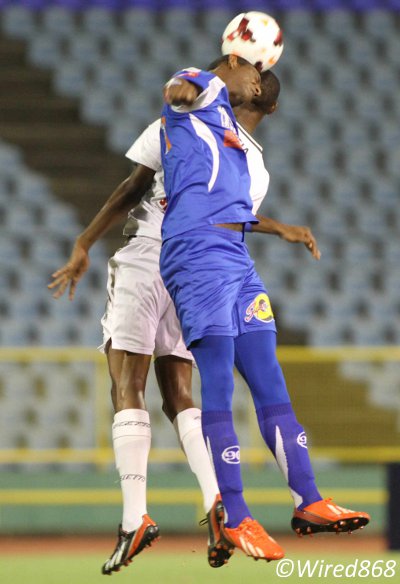 It might have been three too as Humberto Ward danced away from a challenge and sent fellow substitute Enrico Small clear, in the closing minutes, but Small lifted his effort over the Connection goalkeeper but against the base of the far post.
Connection has released Italian striker Mirko Delia due to persistent knee problems while Fevrier appears skeptical of Colombian attacker Yefer Lozano's nerve and physique in such testing conditions. The club's other attacking options, Yhon Reyes and Camilo Ortega (both Colombian), have barely featured this season and Andrei Pacheco jumped ship for Point Fortin Civic FC.
Fevrier sent on 24-year-old Juma Clarence, who is back from an unsuccessful spell with Turkish club Hacettepe, and 18-year-old Neil Benjamin. Both are former Trinidad and Tobago national youth players. But Benjamin was a peripheral figure and although Clarence managed one decent effort on the turn, it was wide of the target.
"Clarence has barely played over the last three years," said Fevrier. "So he is bit rusty. We have to give him time."
Connection's bid to advance to the knockout stage of the Champions League was out of time, though. In the five year history of the revamped CONCACAF competition, no Pro League team has ever advanced from its group.
Defence Force and Caledonia will hope for better luck in the next edition of the Champions League in 2014.
(Teams)
W Connection (4-1-1-1-3): 21.Alejandro Figueroa (GK); 24.Joao Ananais, 19.Leslie Russell (17.Juma Clarence 64), 4.Daneil Cyrus, 2.Kurt Frederick; 3.Gerard Williams; 6.Celio Da Silva; 10.Joevin Jones; 31.Jerrel Britto, 14.Hashim Arcia (65.Neil Benjamin 68), 26.Stefano Rijssel (40.Jomal Williams 56).
Unused substitutes: 18.Julani Archibald (GK), 7.Silvio Spann, 15.Mekeil Williams, 25.Christian Ocoro Viveros.
Coach: Stuart Charles-Fevrier
Arabe Unido (3-4-1-2): 1.Miguel Lloyd (GK); 30.Harold Cummings, 3.Fidel Caesar (captain), 6.Rigoberto Nino; 8.Angel Patrick, 5.Paul Roderick (21.David Daniels 84), 88.Alejandro Velez, 4.Luiz Frais; 12.Jose Gonzalez; 10.Orlando Rodriguez (14.Humberto Ward 53), 9.Abdiel Arroyo (11.Enrico Small 87).
Unused substitutes: 13.Alexander Andreve (GK), 2.Reynaldo Anderson, 15.Brayan Flores, 26.Felix Gondola.
Coach: Jair Palacios
CONCACAF Champions League
(Thu Sep 19)
W Connection 0, Arabe Unido 2 (Luis Fraiz 28, Abdiel Arroyo 61) at Port of Spain