A two goal blast from Kenwyne Jones within the opening five minutes of today's 2013 OSN Cup third place playoff contest lifted the "Soca Warriors" to an impressive 3-1 win over host nation, Saudi Arabia, at the King Fahd International Stadium in Riyadh.
Jones was replaced after 38 minutes and left the technical area on a stretcher with an ice pack strapped to his leg. The giant attacker and his club boss Mark Hughes will both hope the Warrior is available for England Premier League action on Saturday when Stoke City hosts Manchester City.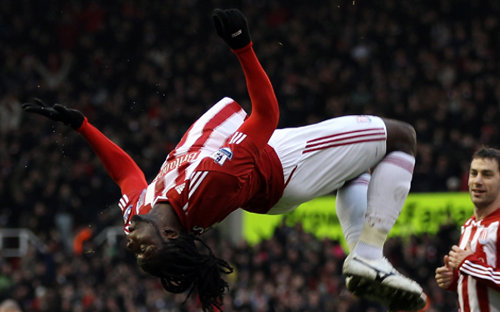 Jones has already scored three times for Stoke this season and played for 90 minutes in his team's last fixture away to West Ham.
Yet, Stoke fans ought not to be too crossed about his mishap on international duty. Because it is with the Trinidad and Tobago team and, in particular, its new coach Stephen Hart that Jones' form has really taken off this year.
In the last ten years, starting with his first national senior team appearance against Finland as an 18-year-old in January 2003, Jones scored seven times for Trinidad and Tobago. But, since Hart took over as head coach in June, Jones has banged in five goals in six games with just two penalties amongst them.
"I couldn't believe the amount of criticism Kenwyne got," Hart told Wired868, after the July Gold Cup. "One of the first things I did was to have a long chat with him and try to take the pressure off."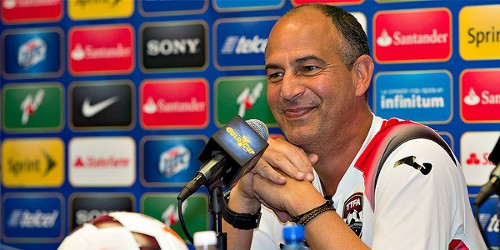 Hart declined to reveal the details of their discussion. But there was more evidence of the fruit of that psychological intervention today as Jones, who has also been installed as national captain, knocked the wind out of the Saudi Arabian team within minutes of the opening whistle.
A neat exchange of passes led to Kevin Molino releasing left back Robert Primus and the Kazakhastan-based defender teed up Jones for a relatively straightforward finish in the fourth minute.
It was Primus' second assist of the OSN Cup as the rugged ex-San Juan Jabloteh defender is proving to be a more versatile character than initially thought.
Jones too showed a side to his game that he is rarely credited for; alertness and guile.
A loose pass by the Saudi Arabia left back was spotted by the giant striker and, from more than 30 yards out, Jones shot first time to beat opposing goalkeeper Abdullah Al Maiouf with a clever looping finish in the fifth minute.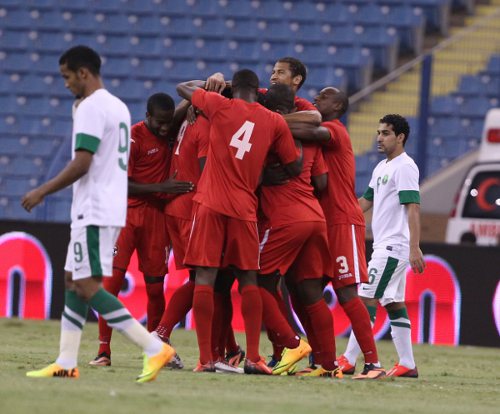 Jones could not make it to the halftime interval though and he was replaced by Point Fortin Civic Centre's attacking midfielder Marcus Joseph in the 38th minute.
Saudi Arabia halved the deficit, one minute into the second half, as Naif Hazazi snuck behind Warriors defender Sheldon Bateau to score with a firm downward header off a deep free kick.
It was the second time on this two-match tour that Trinidad and Tobago conceded from a set piece.
Stand-in captain and custodian Marvin Phillip, who made his first outing under Hart today, kept the Warriors alive with a few flying saves as the Arab team tested Trinidad and Tobago from distance.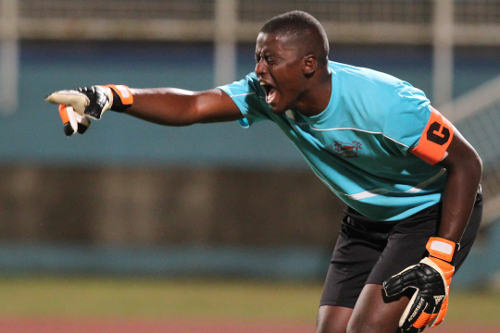 But the introduction of veteran Caledonia AIA midfielder Densill Theobald, who made his 95th full international cap today, helped the Warriors regain their composure before the visitors struck an unlikely third from an unusual source in an even more unfamiliar fashion.
Midfield hardman Andre Boucaud, who plays in England's League One, collected possession from 40-yards out and charged forward towards goal. As Saudi Arabia players tried to pick up runners in anticipation of a pass, Boucaud kept going and dragged the ball inside one player before hitting a precise left footed effort into the far corner from the edge of the penalty box.
It was Boucaud's first international goal after 12 appearances and effectively assured Trinidad and Tobago of third place in the invitational tournament.
Hart admitted that he had "mixed feelings" about the game and scolded his players for making the game harder for themselves by conceding a soft goal so early in the second half.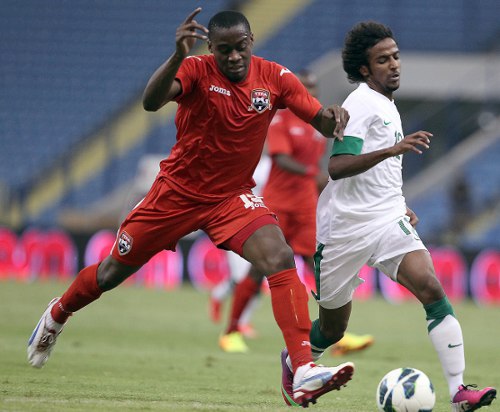 "We played some really nice stuff early, moving the ball and penetrating well," Hart told the TTFA Media. "But mentally we seemed to just lose concentration and our ball possession was poor at times as well as our decision making was rushed.
"We made too many errors because we were trying too hard to win a game that we were already supposed to be in control of. But overall it's a really good result for us moving forward."
Joseph almost hit home a fourth anyway with a rasping long distance free kick that slammed against the top of the bar while another Trinidad and Tobago substitute, Ataullah Guerra, was crudely hacked to the ground on a promising counter attack.
But, at the final whistle, the Warriors had defeated Saudi Arabia for the first time after three successive friendly defeats.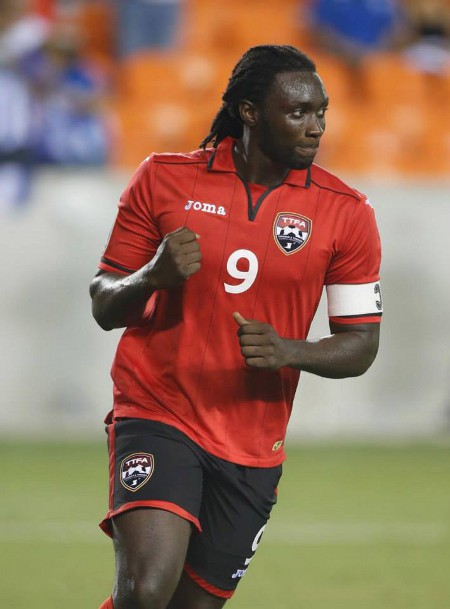 "I thought we did well as a team to grind out a result," said Jones. "We got a good start with the two early goals but the game was never an easy one especially as the officials decided that they would make life harder for us on the night.
"But I'm happy with the way we stuck together and we've shown some really good progress as a team. Hopefully we can continue to build on this because we want to see the country's football progress and we will continue to do our part on the pitch."
After a quarterfinal finish at the Gold Cup, Hart maintained his flying start at the helm for the Warriors in Saudi Arabia. Jones helped make sure of that.
(Team)
Trinidad and Tobago (4-2-3-1): 1.Marvin Phillip; 3.Justin Hoyte, 4.Sheldon Bateau, 6.Radanfah Abu Bakr, 12.Robert Primus; 14.Andre Boucaud, 8.Khaleem Hyland (18.Densill Theobald 74); 19.Lester Peltier (5.Kevan George 86), 11.Willis Plaza (7.Ataullah Guerra 81), 10.Kevin Molino, 9.Kenwyne Jones (captain) (16.Marcus Joseph 38).
Unused substitutes: 21.Jan-Michael Williams, 22.Glenroy Samuel, 17.Mekeil Williams.
Injured: 2.Aubrey David, 15.Curtis Gonzales
Coach: Stephen Hart
2013 OSN Cup
(Third place play off)
Trinidad and Tobago 3 (Kenwyne Jones 4, 5, Andre Boucaud 85), Saudi Arabia 1 (Naif Hazizi 47) at Riyadh