DIRECTV W Connection kicked off the 2013/14 Pro League season with an avalanche of goals last night as the "Savonetta Boys" romped to a 4-2 triumph over Pro League defending champions, Defence Force, in the Digicel Charity Shield at the Hasely Crawford Stadium.
The season will kick off properly next week and the Connection team, which is already two games into its CONCACAF Champions League campaign, is expected to be more match fit than its opponents in the opening weeks.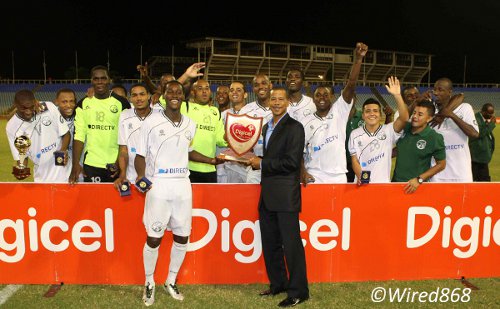 The army/coast guard combination was also without talismanic striker Devorn Jorsling, pacey winger Jemel Sebro and its rugged midfield partnership of Keston Williams and Curtis Gonzales, who is in Saudi Arabia with the "Soca Warriors."
Yet, coach Ross Russell could hardly be impressed with his team's flat tempo as the defending champions were outclassed last night.
There is likely to be a head count of Trinidad and Tobago nationals whenever Connection plays this season after chairman David John Williams brought his tally of foreign players up to 17 in the pre-season.

There were five Trinis in Connection's starting line-up and three on the field at the final whistle. But it was familiar faces that got the goals last night as Hashim Arcia scored twice and Silvio Spann and Surinamese winger Stefano Rijssel got the other items.
Richard Roy and substitute Adrian Welsh netted for Defence Force while all six goals came in the second half.
Connection, who rested team captain and Warriors utility player Joevin Jones should have gone ahead as early as early as the 14th minute. But Spann drove his penalty kick off an upright after Defence Force stopper Rodell Elcock had tripped Brazilian right back Joao Ananias in the box.
Elcock's illegal challenge was one of numerous testy tackles from the regiment team last night and Colombian attacker Yefer Lozano was one casualty as he was stretchered off the field after 33 minutes following a crunching challenge from Sean Narcis.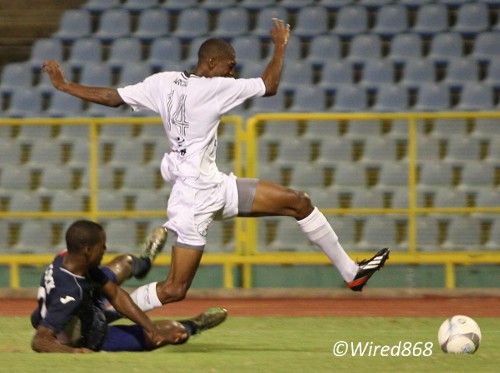 Still, the "Teteron Boys" might have opened the scoring themselves in the 36th minute as a brilliant right side Kerry Joseph cross picked out Roy with time and space; but the striker's header clipped the top of the bar.
Both teams were more clinical after the interval.
Arcia, who represented the Warriors in the Caribbean Cup semifinal round last year, ran on to a Celio Da Silva pass in the 46th minute and skilfully stepped inside a defender before wrongfooting Defence Force goalie Sheldon Clarke with a cool finish at his near post.
Seven minutes later, Spann doubled Connection's lead with a fine free kick from just outside the penalty area that went over the defensive wall then dropped like to a stone to comprehensively beat Clarke.
The defending champions did answer in the 56th minute as Joseph, the League's most consistent crosser, whipped in another precise delivery and, this time, Roy buried the free header. It was not the sort of defensive focus that augers well for Connection's CONCACAF ambitions.
In the 86th minute, Joseph produced another encore and under-21 substitute Adrian Welch was on spot to tap home from close range as the Connection defence was again caught napping.
Talented 22-year-old Trinidad and Tobago defender Daneil Cyrus, who missed two flights to Saudi Arabia earlier this week, didn't seem especially bothered about crosses last night either and Fevrier will hope he puts a miserable week behind him very quickly.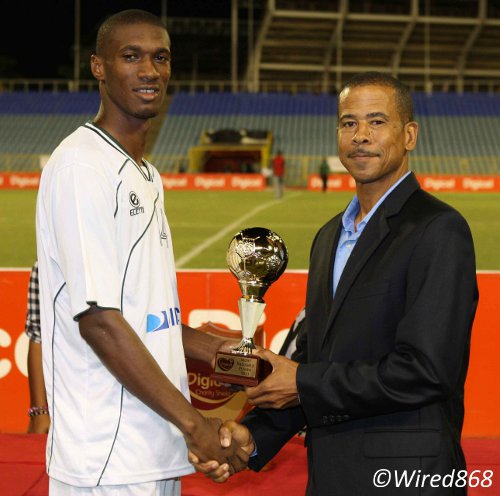 Connection's other two items came in the 70th and 74th minutes as Arcia converted a penalty after another clumsy tackle by Elcock while Rijssel burst through the centre of the opposing defence and squeezed an effort below Clarke's body and into the back of the net.
The Pro League's most successful club, Connection, starts the season with a trophy. But both coaches should be anxious to get to the training ground after sloppy defensive showings.
(Teams)
Defence Force (4-2-3-1): 25.Sheldon Clarke; 14.Cory Rivers (captain), 5.Devin Jordan, 20.Rodell Elcock (2.Glynn Franklyn 79), 21.Aklie Edwards (4.Marvin Jones 48), 18.Sean Narcis (32.Samuel Delice 62), 15.Jerwyn Balthazar (81.Adrian Welch 68), 16.Kerry Joseph, 11.Kevon Carter, 17.Ross Russell Jr (12.Josimar Belgrave 79), 9.Richard Roy (34.Kurtly Dodds 79).
Unused substitute: 1.Kevin Graham.
Coach: Ross Russell
W Connection (4-3-3): 21.Alejandro Figueroa (18.Julani Archibald 79); 24.Joao Ananias (35.Alvin Jones 75), 19.Leslie Russell (25.Christian Orosco Viveros 71), 4.Daneil Cyrus, 2.Kurt Frederick; 3.Gerard Williams, 6.Celio Da Silva, 7.Silvio Spann (captain) (11.Tremain Paul 71), 14.Hashim Arcia (28.Yhon Lopez 75), 27.Yefer Lozano (26.Stefano Riijssel 33), 31.Jerrel Britto (65.Neil Benjamin Jr 68).
Coach: Stuart Charles-Fevrier
Referee: Neal Brizan
Digicel Charity Shield
W Connection 4 (Hashim Arcia 46, 70 pen, Silvio Spann 53, Stefano Rijssel 74), Defence Force 2 (Richard Roy 58, Adrian Welch 86) at Hasely Crawford Stadium