After settling a seven-year financial dispute with Trinidad and Tobago's 2006 World Cup players, Trinidad and Tobago Football Federation (TTFF) president Raymond Tim Kee is attempting another stunning blast from the past.
Famous Dutch coach Leo Beenhakker, the only man to lead Trinidad and Tobago to a senior World Cup tournament, was at the Romania National Arena today in Bucharest to watch the "Soca Warriors" in action.
More pertinently, the 70-year-old Beenhakker is understood to be mulling over an offer to return to Trinidad and Tobago's football.
Wired868 understands that Tim Kee, through general secretary Sheldon Phillips, has approached Beenhakker for help in a technical capacity rather than as head coach. However a return to run the bench, at least in the short term, has not been ruled out by either party.
At present, Beenhakker works as a football consultant but is not known to have had steady employment since he left Hungarian outfit, Ujpest FC, in 2011.
Beenhakker, who was nicknamed "Don Leo" in Spain due to his fondness for cigars and dry wit, coached his first team in 1965 and has built up an enviable CV and a wealth of knowledge since.
Apart from his success with the Warriors, Beenhakker led Poland to the European Champions for the first time in 2008 and booked Saudi Arabia's first World Cup berth in 1994 while he also led Holland at the 1990 World Cup and coached Real Madrid, Ajax and Feyenood twice each.
Arguably, Beenhakker did his best work at the world's most successful club as, in three successive seasons between 1986 and 1989, he steered Real Madrid to three La Liga titles, two Spanish Super Cups and one Copa Del Rey.
He would be in no illusions about the scale of his task if he does agree to rejoin the Warriors.
Collectively, Trinidad and Tobago was poor today and managed one real attempt at goal in a 4-0 loss to Romania.
At present, former "Strike Squad" stand-out Hutson "Barber" Charles and Neal and Massy Caledonia AIA coach Jamaal Shabazz are operating as joint head coaches although they do not have contracts from the TTFF and work on a game-by-game basis. Last year, Charles and Shabazz led Trinidad and Tobago to second place at the 2012 Caribbean Cup and, in the process, booked the nation's first CONCACAF Gold Cup berth since 2007.
The present TTFF technical director, Anton Corneal, worked as an assistant coach under Beenhakker at the 2006 World Cup.
Present national midfielders Densill Theobald and Chris Birchall, striker Cornell Glen and goalkeeper Jan-Michael Williams all played under Beenhakker during his last spell as well as Stoke City forward Kenwyne Jones, who was not selected for this tour.
The Warriors were a pragmatic bunch under the Dutchman's watch and more renowned for solid defensive work than flair. Beenhakker famously kept the ageing Russell "Little Magician" Latapy on the bench for all but 30 minutes at the Germany World Cup while his most celebrated result of the final was a goalless draw against Sweden.
However, Beenhakker never lost a match in Trinidad where the Warriors managed wins over Bermuda (twice), Guatemala, Panama and Mexico and draws against Bahrain and Peru. There were two famous road victories too as Trinidad and Tobago beat Panama 1-0 away before decisively defeating Bahrain in a World Cup play-off in Manama.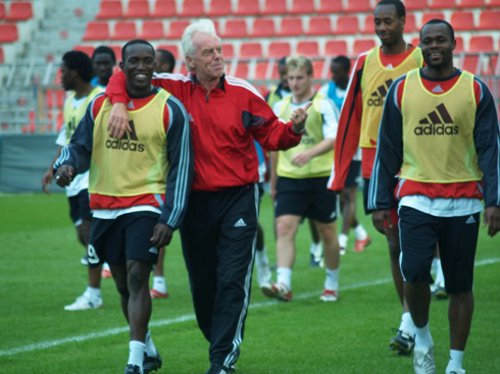 Beenhakker's Gold Cup record is patchier. Trinidad and Tobago drew against Honduras and Panama at the 2005 Gold Cup before a 2-0 loss to Colombia eliminated the Warriors at the group stage.
There is a possibility that Beenhakker might be back to set that right in the immediate future. At 71, he is still a year younger than Sir Alex Ferguson was when he won his last England Premier League title with Manchester United. Ferguson will continue to work at United as a club director.
Tim Kee certainly hopes "Don Leo" has received an offer he cannot refuse and that the veteran coach would once more share his knowledge with the TTFF.
Editor's Note: Within two hours of the Wired868 exclusive on the TTFF's approach to former head coach Leo Beenhakker, a Trinidad and Tobago football fan started a petition to bring the Dutchman back to the helm of the local game. Click here to see the petition.