Neal & Massy Caledonia AIA defender Aubrey David had an eventful 2012, which saw him represent Trinidad and Tobago and Guyana at national senior level.
The versatile Guyana born full back learned his trade in Trinidad where he played in two World Youth Cups for Trinidad and Tobago before being tempted by an invitation to join Guyana as the "Golden Jaguars" made a historic appearance in the CONCACAF 2014 World Cup qualifying semi-final round.
David turned out for Guyana in friendlies against Jamaica, Panama and Colombia while he waited for FIFA to grant him international clearance to play in competitive fixtures. But then he had a change of heart and instead helped the "Soca Warriors" to a second place finish at the 2012 Caribbean Cup and a 2013 CONCACAF Gold Cup place.
"It was the toughest decision I had to make in my life so far," he said. "I sought advice and asked God to guide me. I am grateful and I appreciated my time there."
A former DIRECTV W Connection and T&TEC player, David followed then Guyana coach Jamaal Shabazz to Caledonia where his dashing sprints have been key to the offence and defense of the "Eastern Stallions."

David made his Caledonia debut in a CONCACAF Champions League match against Seattle Sounders last August. Tomorrow, he will do his utmost to get the Morvant/Laventille-based club back at that stage.
"It was a great feeling to debut in the tournament," said David. "I am thankful to God for giving me that opportunity."
David Profile
Full Name: Aubrey Robert David
Nickname: Kiki
DOB: 11 October 1990
Hometown: Georgetown, Guyana
School: Vessigny Secondary
Position: Left/Right back
Favorite Player: Dani Alves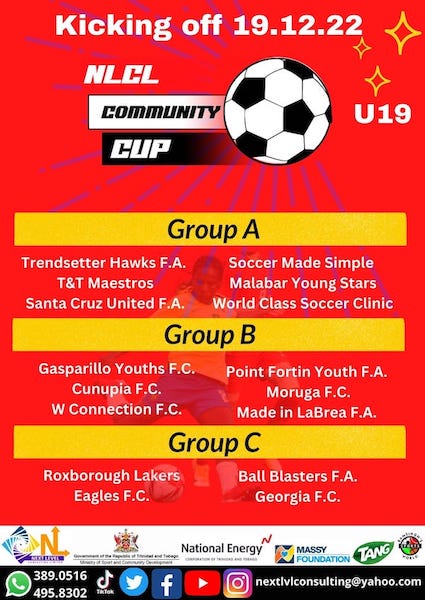 Toughest opponent: Jefferson Farfan
Best advice received: "Put God first in everything and be humble" from Pastor Dominic Maitland
Q&A
Q: When and where did you learn the basics of the game? And who taught you?
A: It was at Point Fortin Civic Centre. The coach and person that taught me the basics was Neville Fredericks, he was my first coach. I was 11 years old at the time and I left Point Fortin Civic Centre at around age 16.
Q: What would you like to achieve in the game before your career is over?
A: I would like to play in Europe; nowhere in particular. I also want to make a good contribution to Trinidad and Tobago's football.
Q: Do you prefer the left-back or the right-back position?
A: Actually, I am comfortable with both feet so I am comfortable in either position. I started out as a right-footer but, due to an injury, I started using my left more and now I am comfortable with both.
Q: Can you tell us something about that you that most people or fans would not know?
A: I am a very shy person, and also a God-fearing Christian.
Q: What do you do in your free time?
A: Relax. I also spend time with my friends and my nieces.
Q: If not for football, what profession would you be in?
A: I think I would have been a fireman. It was a passion from young but it went away when I started playing football. I give God all the glory for all the things he has done for me.
Editor's Note: Aubrey David and Neal & Massy Caledonia AIA face Jamaican club Portmore United in a decisive CONCACAF Champions League qualifier from 6 pm on Monday 20 May at the Hasely Crawford Stadium and Wednesday 22 May at the Ato Boldon Stadium respectively.