Cuban attacker Marcel Hernandez lit the flame at the 2012 Caribbean Cup qualifying tournament tonight with an outstanding performance in a resounding 5-0 win for the Spanish-speaking islanders against Suriname at the Dwight Yorke Stadium in Bacolet, Tobago.
If communist Cuba espouses the importance of collectivism over individualism, Hernandez did not get the memo. Or maybe his exotic skills are just impossible to hide.
Either way, Cuban president Raúl Castro would be wise to give him an extra security detail. Scouts in the stands were salivating as the 23-year-old floated around the field and tore into the Suriname backline from all angles.
By the final whistle, Hernandez had scored four times and was also involved in the other item. He should have had a handful too.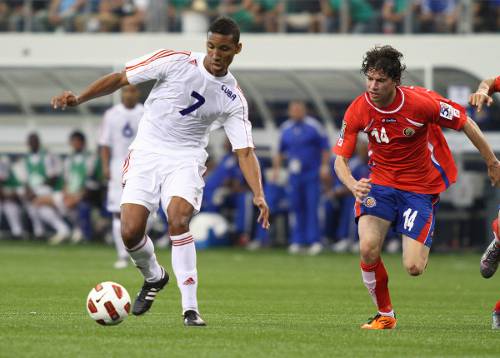 Four minutes into the game, Hernandez collected the ball 40-yards from goal and dribbled straight past Suriname's two holding midfielders and through a stunned defence to slot home. Inexplicably, Grenadian referee Valman Bedeau, on the advice of his assistant, ruled it out for offside.
Bedeau probably reasoned that Hernandez must have had help to execute such a dashing move.
No matter. Two minutes later, the Cuban maestro put the ball in the back of the net again with a crisp shot past Suriname goalkeeper and captain Ronny Aloema to open the score summary. And he doubled the advantage in the 36th minute with neat finish inside the opposing area after a right side corner kick.
The halftime interval brought only temporary relief. Hernandez dribbled Surinamese midfielder Stefan Baneti and bewitched two more defenders before delivering a raking left side cross that Aloema could only palm into the path of the onrushing Ariel Martinez. Martinez produced an assured finish for Cuba's third.
Hernandez produced the goal of the night so far in the 62nd minute as he ran to a through ball from forward Alexy Zuazanabal and startled the Surinamese goalkeeper with a chipped finish so delicate that it barely ruffled the net after bouncing softly over the line.
It was more than enough to settle the contest. But Hernandez has an insatiable appetite.
Four minutes from time, he grabbed a fourth after collecting a left side Martinez cross and ghosting past Suriname defender Joel Baja.
Cuba plays St Vincent and the Grenadines from 6 pm at the Dwight Yorke Stadium on Friday evening while the Trinidad and Tobago team, which meets St Vincent tonight, will tackle Suriname from 8 pm.
Let's just say it is worth coming out early to get a glimpse of Hernandez.
Suriname (4-2-3-1): 1.Ronny Aloema (capt); 2.Jurmen Vallei, 3.Furgill Ong A Fat (13.Joel Baja 55), 4.Jetro Fer, 5.Guno Kwasie; 6.Stefan Baneti, 8.Giovanni Alleyne (16.Romano Stekkel 46); 7.Giovanni Waal, 10.Emilio Limon, 11.Giovanni Drenthe; 9.Stefano Rijssel (12.Iwaan Pinas 60).
Unused subs: 22.Obrendo Huiswoud, 14.Evani Esperance, 15.Naldo Kwasie, 17. Wilfried Galimo.
Coach: Eugene Verwey
Cuba (4-4-1-1): 1.Odelin Molina; 14.Alianni Urgelles, 5.Jorge Clavelo (capt), 15.Renay Malblanche, 3.Jorge Corrales (22.Jose Cardenas 80); 20.Alberto Gomez, 2.Carlos Francisco, 8.Jaine Colome (18.Ruslan Batista 74), 11.Ariel Martinez; 7.Marcel Hernandez; 17.Alexy Zuazanabal (9.Yaudel Lahera 88).
Unused subs: 12.Julio Pichardo, 6.Yoel Colome, 13.Adonis Ramos.
Coach: Walter Benitez
2012 Caribbean Cup Semi-final group phase
Wednesday November 14
Cuba 5 (Marcel Hernandez 6, 36, 62, 89 Ariel Martinez 46), Suriname 0 at Bacolet
Editor's Note: Wired868's 2012 Caribbean Cup semi-final coverage is sponsored by DirecTV