"Isn't there a case of right or wrong?" I asked.
"Whoa!" came the response.
Jason Moyo Sylvester, the suspended Caribbean Football Union (CFU) official, stiffened and leaned backwards in his seat as though he was struck. He then grinned at the interviewer. We were at a bustling, coffee shop at the swanky West Mall in Westmoorings, Diego Martin.
Sylvester had agreed to discuss the bribery scandal that led to the expulsion of Asian Football Confederation (AFC) President and FIFA presidential nominee Mohamed Bin Hammam, the resignation of FIFA Vice-President and Trinidad and Tobago MP and Works Minister Jack Warner and the suspension of over half dozen CFU members—including Sylvester himself.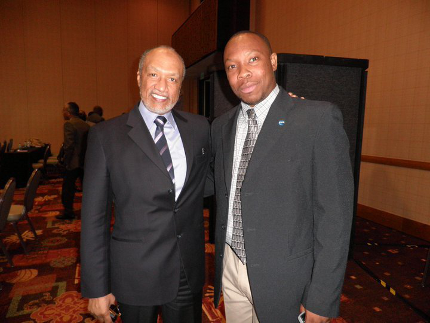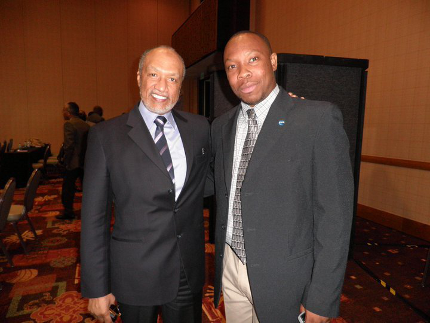 The 33-year-old Sylvester, along with the similarly suspended Debbie Minguell, were reportedly responsible for handing over envelopes stuffed with US$40,000 to the CFU delegates. CFU General Secretary Angenie Kanhai told FIFA's investigators that Warner gave her suitcase filled with the packets, which he supposedly received from Bin Hammam.

Sylvester reportedly distributed the bribes while Minguell kept a log. He was an unwitting accomplice; a low level employee caught out of his depth. Not in his retelling of the events of May 10, 2011, though.
He sees himself as neither victim nor villain but as someone playing a high stakes game that most people just don't understand.
"It depends on your philosophical views," said Sylvester, in a playful, almost mocking tone at the attempt to turn the bribery incident into a moral issue.
"And what is your philosophical view?" I asked.
"Mine is just not to take sides man," he replied. "I was an employee, you understand? I was given an instruction and I complied…"
Sylvester was polite and good humoured. He was also determined to shed as little light as possible on the events of May 10 and 11 at the Port of Spain's Hyatt Hotel, which brought Warner's controversial reign to a screeching halt.
Witness statements, photographic evidence and even video footage revealed an ill-fated attempt by Bin Hammam to influence the 2011 FIFA presidential elections through cash payments to the 24 CFU member associations present—Cuba did not send a representative.
Sylvester, the CFU Event Coordinator, and Minguell, Assistant General Secretary, facilitated the transaction, according to evidence accepted by FIFA.
"If that is what they said and it has been accepted by FIFA," said Sylvester, "then my denying it wouldn't do anything."
"But isn't there always one truth?" I asked.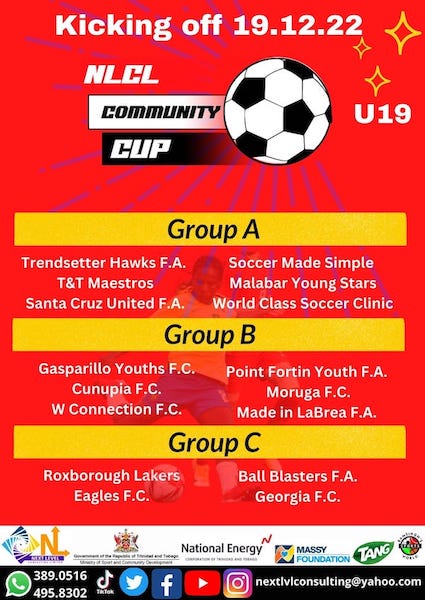 "How important is the truth?" he asked, rhetorically. "All I know is Miss Minguell and myself distributed laptops and projectors. Whatever else was involved, I don't know. I didn't pack anything.
"They said there were items in the board room for distribution and that it is what we did."
Do employees eventually adopt the characteristics of their bosses? Or do people seek out kindred spirits?
Sylvester was just three years old when Warner, then the Trinidad and Tobago Football Association (TTFA) General Secretary and history teacher at John Donaldson Technical Institute, ascended to the role of CFU President after the death of Surinamese administrator Andre Kamperveen—assassinated during an attempted coup in 1982.
Four years later, the two met for the first time. 
Sylvester's dad, Don Sylvester, is Deputy Chairman of the National Carnival Commission (NCC) and Regional Representative North of the United National Congress (UNC). Warner is Chairman of the UNC.
In 1986, though, Don Sylvester was a women's football administrator and Warner seemed to be the height of achievement for an official.
Sylvester was introduced to Warner by his father at a football event.
The seven year old boy was awestruck by the TTFA bigwig's aura.
Nothing if not ambitious, Warner climbed higher still to eventually serve as CONCACAF President and FIFA Vice-President.
"(Warner is) a man who has done a lot starting from humble beginnings," said Sylvester. "At one point, he was the second most important man in world football. He has done a lot of great things but he is a man and as a man he is flawed. It is inherently in our DNA."
Did power corrupt Warner or was his rise attributable to a lack of scruples in the first place?
"I am a realist," said Sylvester. "There is no perfect man. The last perfect man ended up on a cross."
Sylvester can remember the day his view on life hardened and he began on the path to cynicism.
He was 14 years old when his 10 year old brother, Jomo, had an asthma attack at their Diego Martin home. The family did not have a garage and his father, Don, often parked a few metres from the house.
Jomo died in his father's arms as he raced frantically towards his car.
"I thought about what happened and I felt that anything we did at that point probably wouldn't have helped him," said Sylvester. "There are some things in life that just aren't going to change. You by yourself can't change it.
"It needs a bigger group, a bigger body of people. Unless you get that you can be the greatest idealist in the world but you will just be a mad man with an idea…
"Some call me a cynic; some call me a lot of things. But to me it is just facing facts.
"This is the world we live in and it is flawed."
A utility player for Trinity College and semi-pro club, Rangers, Sylvester was never going to earn much of a living on the football field and he settled down at Republic Bank as a Sales Officer while playing for Copious Suns in his spare time.
He jumped at the chance to work as an administrator when he became aware of a vacancy within the CFU.
"The goal was to come into football and learn the business," he said. "I was tired of being on the sidelines and not knowing what was going on. I wanted to help Caribbean football go somewhere."
In some respects, there was a fresh wind blowing through the CFU office.
Warner's senior positions had traditionally been held by friends made as a teacher in Trinidad like Harold Taylor and Neville Ferguson. But they were pensioners now. So the FIFA Vice-President went full circle and sent for kids.
Kanhai was just 24 when she became General Secretary of the most powerful voting bloc in CONCACAF and one that has more than double the electoral strength of South American confdeeration, CONMEBOL. Sylvester was 29 when he joined.
Their youthful zest helped compensate for a woefully understaffed office. The pair, along with Minguell and a fourth fresh-faced Trinidadian, Hema Ramkissoon, set about revamping the CFU website and adding a sense of pride to mundane chores.
"People don't really understand how much goes into match day preparation for the game that we see on television," said Sylvester. "A lot of the Caribbean nations aren't really au courant with what is required."
He rambled on, proudly, about issues from the presentation of flags to the playing of the national anthems.
Arguably, there might be a more cynical reason why Warner's staff was so short of worldly experience. He may have been counting on their naivety.
For Sylvester, though, it is the onlookers who are lacking guile.
He admitted that the initial storm caught him unawares. But he swore that his decision to be uncooperative with FIFA investigators was not influenced by Warner.
"I felt that either way would end negatively for me," said Sylvester. "I knew that everything could have been solved behind closed doors and I wasn't going to be party to this nonsense…
"Before everybody was like this (he crossed his fingers). I wasn't going to be a part of that game. I saw it as just political meandering.
"When I came into football, my goal was to help Caribbean football. I didn't see myself as helping Caribbean football or FIFA by coming forward."
In September 2011, days after our meeting, Sylvester left Trinidad for Atlanta, Georgia and a job in party promotions with a cousin. However, he insisted that he will return to football at the earliest opportunity.
At the time of speaking, Sylvester was serving a one-year suspension and was barred from even entering the CFU office. At the turn of the New Year, the CFU abandoned its constitution and selected a FIFA-approved nine-member "Normalisation Committee" to handle the business of running regional football.
The Normalisation Committee became necessary as the sweeping suspensions from the bribery scandal left the CFU Executive without any hope of a quorum for at least a year and a half.
The Committee is entrusted with the responsibility of resuscitating the Caribbean game and implementing a structure that never existed under its prior leadership—Warner's CFU was not properly registered, had no independent auditor and cannot even locate its bank account without the help of its disgraced President.
Kanhai too resigned in December citing "emotional, psychological and physical" stress after a tumultuous year, which means that, for the first time, there is no Trinidad and Tobago representative in the CFU's strategy room.
Still, Sylvester hopes to find a place in the future of Caribbean football. Warner apart, there is little evidence of significant reform within FIFA or the CFU.
Sylvester had completed his FIFA Match Commissioner's course just before his suspension and plans to re-apply for the post in July.
One senses that Sylvester is more than a little pleased with his response to the scandal and is optimistic of reward for his display of loyalty, composure and defiance—supposedly on Caribbean football's behalf—in the face of FIFA's investigators.
He insisted that he would have no problem working with whoever took up the reign of power; even if it were CONCACAF Chuck Blazer, the former CONCACAF General Secretary and another whistle blower who fell on his sword.
"Nobody did me anything personally and I have no animosity towards anyone," he said. "The way I see it, people made the choices they saw fit and they felt they needed to make. I can't be angry with a man for making his choice.
"Football is my life. I will try to get back in the game soon. It is what I know."
He dismissed any suggestion that the fall-out would harm CFU's position within CONCACAF and the "FIFA family".
"The Caribbean has enough members in CONCACAF to still make a return no matter what is done," said Sylvester, "and to still ensure that the President of CONCACAF is a Caribbean man too. Unity is the key.
"If the Caribbean stays together we can do anything, which was the message all along but, you know…"
He discussed several options available to the Caribbean including forming a separate Confederation under FIFA. In full flight, it did not seem unthinkable for Sylvester to picture himself in the throne vacated by Warner.
"Yeah, why not?" He retorted.
And, with that, he set off to pack for his new adventure in the United States.
He hopes it will be just a temporary fix until he returns to his real love; football politics.