Trendsetter Hawks weren't even supposed to be in the semifinal of the NLCL Under-15 Community Cup. Now, they will play a familiar opponent in FC Ginga in the grand finale, scheduled for Saturday at the Diego Martin Sporting Complex from 3.45pm.
Hawks and Ginga advanced to the title match after wins over Point Fortin Youth Football Academy (PFYFA) and Cox Football Academy respectively. The latter two teams will play in the third-place playoff from 2pm at the same venue.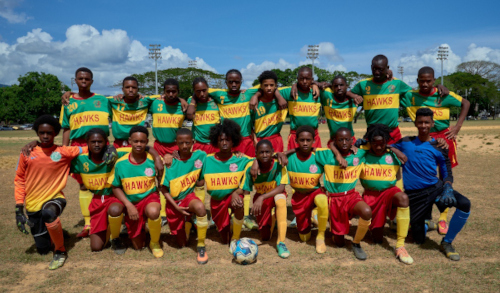 The Hawks were late replacements for Group C winners Jaric Titans of Tobago, who opted against the trip to Trinidad for last weekend's semifinals.
Brian Jordan, chairman of tournament organisers Next Level Consulting Limited, told Wired868 that parents of about seven players objected to the air travel arrangements and decided at the last minute to withdraw from the match.
Jordan said NLCL was unable to replace Titans with another team from Tobago at such short notice and was fortunate to have Trendsetter Hawks fill the gap.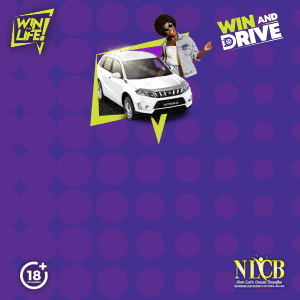 Trendsetter Hawks made good on their opportunity. But it took kicks from the penalty spot after a goalless full time result to see them advance past a very timid Group B runners-up, PFYFA, in the opening match of a double-header at the Larry Gomes Stadium in Malabar.
The second fixture eclipsed the first in every imaginable way.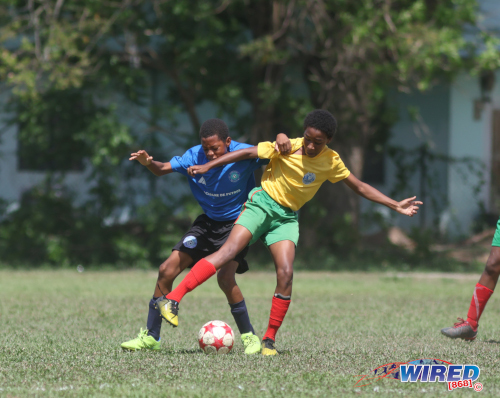 FC Ginga were exquisite in their 3-0 victory over Cox Football Academy, who, like their South Zone counterparts PFYFA, were a far cry from their commanding best.
Despite handing Cox their first loss of the tournament after six wins and two draws in the group stage, Ginga's head coach Stefon Pierre was grounded in his assessment of his team's performance.
And even though his team found a breakthrough via a sublime strike from midfielder Antwun Louison in just the eighth minute and bossed the match well into the latter stages to add a second and third goal, Pierre felt his team could have done more.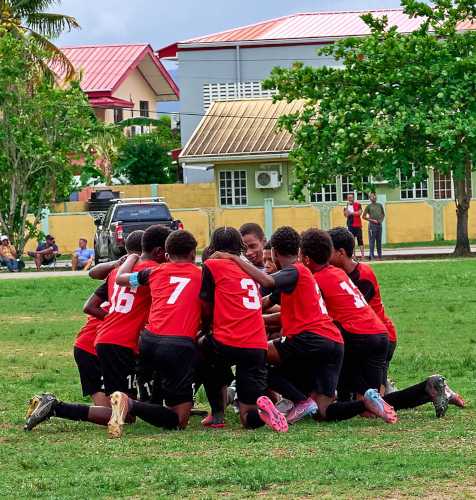 "I can't [say I] expected the scoreline but Cox [are] a good team with very good players—I expected them to go out there and give their best," Pierre told Wired868. "We worked on a lot, especially the second goal. We tried to penetrate down the wings and flood the box and it paid off nicely for me."
But, he added, the overall game plan was not executed precisely.
"The youths have a lot to learn," Pierre said. "The performance wasn't perfect. They still need to use their football brains and some of them need to work on their positioning and communication.
"They have the talent but there's a long way to go."
The titillating encounter saw no fewer than half a dozen National Under-15 players represented across both teams, including three goalkeepers—all of whom featured.
Ginga's players within the current national pool included midfielder Criston "CJ" Gomez, keeper Marcelo Phillip (son of TT international goalkeeper Marvin Phillip), team captain and winger Elijah Diaz, and frontman Elisha Neils, who was a livewire throughout.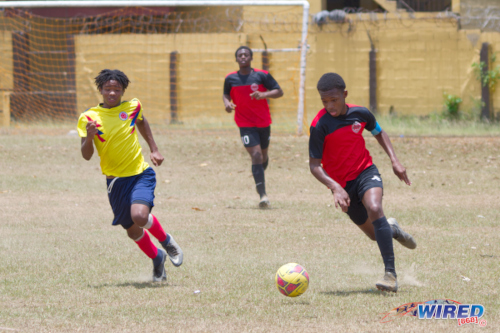 Neils, a 15-year-old forward, effectively settled the match in the second half by initiating a counter attack that he finished off himself. The busy forward threaded the needle with a brilliant though pass to flanker Mikel Murray who cut back close to the goalline and squared for Neils.
And Neils, with great composure, controlled with his left foot before slotting past opposing goalkeeper Tevez Houlder with his right. Houlder, a national youth goalkeeper, had replaced another national goalkeeper Mikhail Clement just moments before.
Not to be outdone, Ginga gave fans another gift with a solo effort from fan favourite Gomez, who had just come off the bench. Gomez collected the ball just beyond the half-way line and dribbled past one Cox defender before slotting past Houlder with his left foot.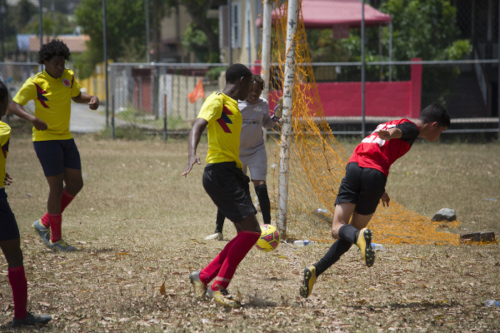 Cox were a far cry from a team that entered having scored 29 goals in eight group stage matches—eight more than the second highest scoring team.
"Coach inspired us to win all our games," Neils told Wired868. "The first goal Antwun scored inspired us more because we know [Cox] wasn't coming here to die.
"[My performance] was very good. Our attacking was really impressive."
Pierre and Ginga will face a familiar Trendsetter Hawks in the final. The two teams already met twice in the group stage, with a 1-1 tie in their first match before Ginga won the second 1-nil.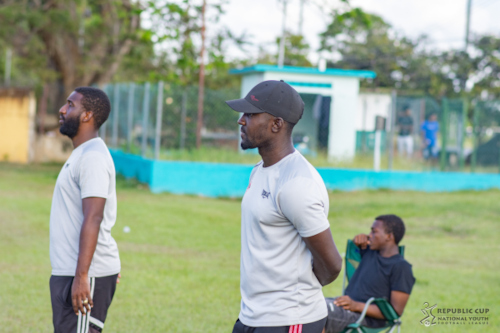 "We are accustomed playing against them," said Pierre. "They are a team we have a good relationship [with]. They had a bad game [against Point Fortin]. But if it's any team they're coming to give their all against [on Saturday], it's us."
Head coach Anthony "Dada" Wickham was happy to take the result for the Hawks, whose players and fans spilled onto the pitch following their win.
Hawks were the far superior team in the first half and effectively prevented PFYFC from making substantial headway. But there were no clear cut chances for either team throughout the 70-minute contest, outside of a very late chance from PFYFC substitute Kemal Taitt, who shot overbar.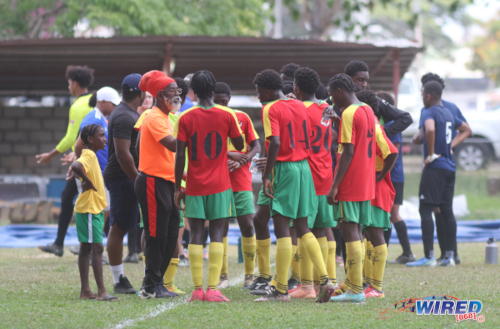 Though opportunities were at a premium, Hawks' winger Makai Simmons was clinical with his deliveries, particularly from the left flank.
He will hope to help Trendsetter Hawks conjure up a goal next weekend, against a strong Ginga outfit.
(Teams)
Trendsetter Hawks (4-5-1): 13.Joshua Cumberbatch (GK); 17.Joshua Jackson, 7.Kewenis Saunders, 12.Keysan Haynes, 10.Jaquan Phillip; 11.Kadeem Morrison (2.Jerrell Dyett 67), 31.Obama Hospedales (32.Kymani Thomas 50), 19.Eran McLeod, 8.Gershom Chase (captain), 30.Makai Simmons; 29.Jahseem Pierre.
Unused substitutes: 5.Jordan Grant, 28.Agyei Jones, 6.Aiden Archibald, Jevonte De Four.
Point Fortin Youth Academy (4-3-3): 00.Armani Constantine (GK); 16.Khaliq Ashton, 5.Jayden Phillips, (9.Kighlon Neptune 36th) 3.Jimally Renne, 15.Isaiah Lawrence; 17.Elijah David (13.Tewelde Charles 47); 6.Kymani Aberdeen, 8.Jordan Bernard; 7.Malik Charles, 11.Isiah Lam Jr (12.Kemal Taitt 64) 10.Tsean Simon (captain).
Unused substitutes: 2.Jayden McMeo, 4.Mickhine Alexis, Tearez King, 22.Makhail Hope.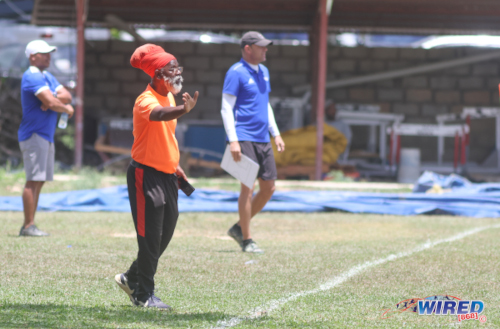 Cox Football Academy (4-3-3): 1.Mikhail Clement (GK) (22.Tevez Houlder [GK] 48); 4.Justin Tom (67.Javon Smith 42), 15.Adasa Richardson (Makiah Peters 37), 47.Jaydon Caprietta (49.Ryan Wharwood), 18.Jaylon Forbes (41.Shakeem Phillip 46); 7.Donovan Drayton, 94.Kaliq Perez (24.Elijah La Fleur 54), 76.Darrion Patterson; 46.Akel Vesprey, 11.Adam Pierre (captain), 9.Sebastien James.
Unused substitutes: 88.Aiden Mathura, 37.Makiah Peters.
FC Ginga (4-3-3): 1.Marcelo Phillip (GK); 22.Orlian Carrion (17.Zwade Alleyne 38), 5.Jordan Bullen, 6.Elijah Edwards, 12.Aaden Maharaj; 16.Antwun Louison, 4.Jamari Barker, 8.Darren De Four (10.Criston Gomez 64); 7.Elijah Diaz (captain), 11.Elisha Neils, 19.Mikel Murray (9.Ky-Mani Hazel 64).
Unused substitutes: 13.Giovanni St Clair, 14.Aiden Bernard, 15.Keon Kissoon, 3.Jareem Jackson, 18.Ky-Mani Morson, 2.Caleb Singh.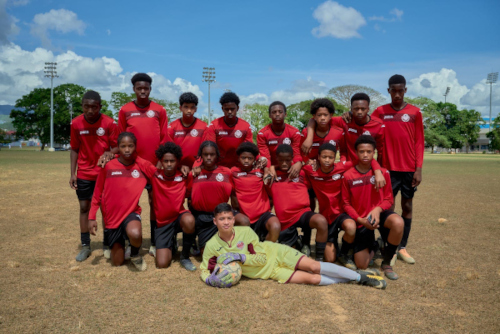 NLCL U15 Community Cup Semifinals
(10 June 2023 at Larry Gomes Stadium)
Trendsetter Hawks 0, Point Fortin Youth Football Academy 0
*–Trendsetter Hawks won 5-4 via kicks from the penalty spot.
FC Ginga 3 (Antwun Louison 8, Elisha Neils 58, Criston Gome 69), Cox Football Academy 0