On another sweltering, hot weekend in the Republic Cup National Youth Football League (NYFL), Pro Series kept their fire lit in the North Zone Under-17 division as they rattled off a sixth straight win in the 2023 season to maintain their perfect record and book a spot through to the knockout phase of the tournament.
Pro Series coach Kerdyn Moe said they aren't quite certain of their opponents in the National quarterfinals just yet, as the knockout brackets had not been sorted before this past weekend's action.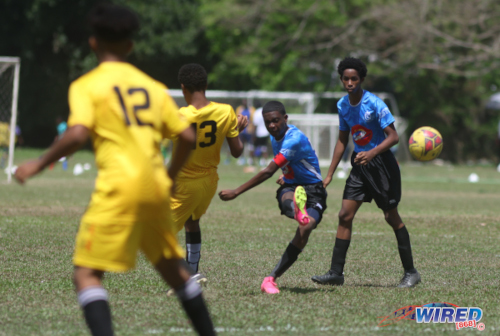 However, Moe and his charges could sit back on their high horse and watch the chaos unfold below them in the North Under-17 group, as Trendsetter Hawks and QPCC (both 10 points), as well as Police FC (nine points) battle for the remaining knockout spot(s).
On Saturday, Moe started with most of his regular players on the bench at St Mary's College Grounds in St Clair—inclusive of National Under-17 midfielder Tau Lamsee—and his troops got a right battle from cellar-placed AC Port of Spain.
Coached by current St Mary's College coach and Secondary Schools Football League (SSFL) coaching legend, Michael Grayson, AC POS entered the affair with a five game losing streak. However, Grayson's players fought and scrapped at the Serpentine Road venue like their lives depended on it.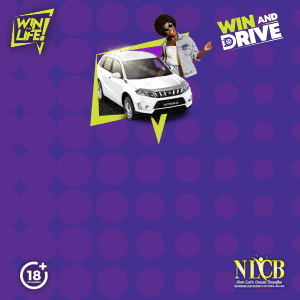 After a goalless first half and some stern warnings from Moe, Pro Series just about eked out three points in the dying embers of the game, as the silky Thomas Decle scored with a deft left-footer into the far corner to give his team a well-earned 2-1 win.
Just minutes before that, former Pro Series stopper Darius Humphrey equalised for AC POS with a peach of a free kick from about 24 yards that arrowed into the top corner and left the Pro Series goalkeeper clutching at straws.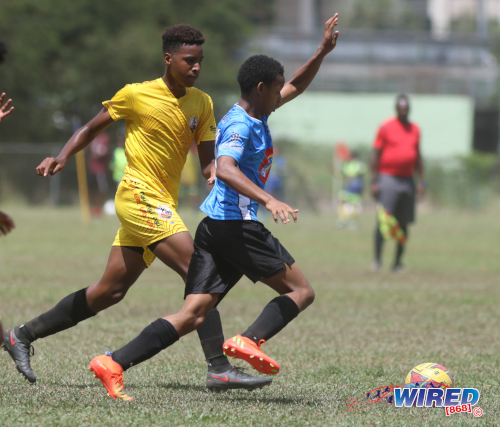 Humphrey raced to the sidelines on the eastern end of the ground to celebrate with his teammates and technical staff, while the wily Grayson remained as cool as a cucumber on a terribly humid day.
Prior to Humphrey's expertly-struck free kick, Grayson was having a tough time keeping spirits up. AC's lone striker Davoure Thomas was mightily disgruntled about being subbed in the second half.
"I good with this team dey boy! That's it for me dey," muttered Thomas, as he stormed through the AC POS tent after putting in a tireless shift up top. "How come I is [sic] always the one to get sub?"
Grayson tried to get the young man to calm down, but Thomas didn't let up.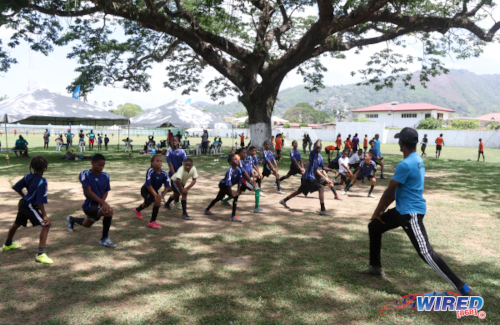 "Thank you for the effort," said Grayson. "Stay with that attitude. We will see how far it takes you."
Humphrey's wonder strike against his old teammates transformed the mood of Grayson's squad. However, that changed again in the blink of an eye—after Decle's touch of magic inside the penalty area.

The slender Decle was one of five halftime subs by Moe, which included Lamsee and the attacking trio of Jahaem "Yellows" Bailey, Micha'el John and Arron Raymond.
The improvement in quality was almost immediate, as Decle and Lamsee dictated the pace of the game from deep, while Yellows was more than a handful down the left flank and John was an ever-willing runner up top.
"I think this North division is a very difficult one," Moe told Wired868. "Because we had the five wins so far, we kinda wanted to give some of the fringe players and the reserves an opportunity to play and keep their fitness levels up—because we'll probably need them if we make it to the knockout rounds.
"I tried to give everybody a chance to play to get some minutes under their legs."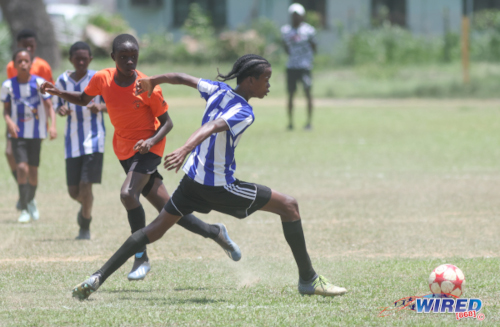 Moe would have loved for his "fringe" players to get the job done against the feisty AC POS outfit, but in the end, Decle and company were required to take care of business.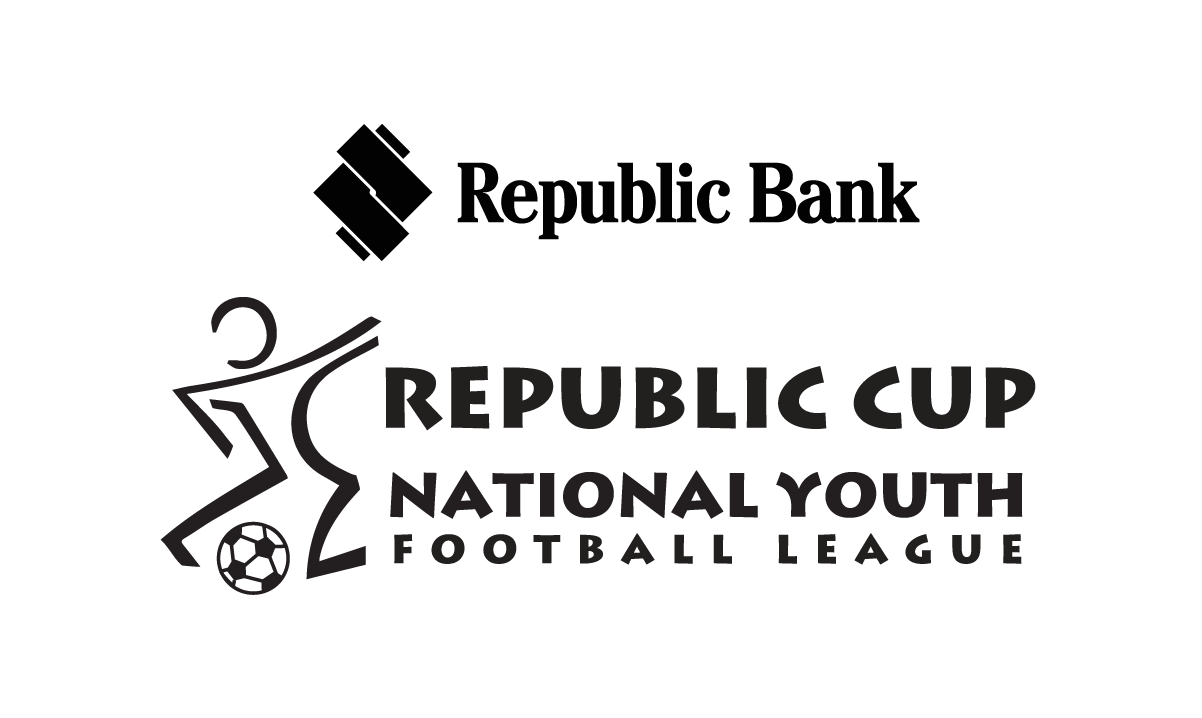 "I think in the first half we were definitely trying to force it a little too much," Moe said. "In the second half, we put down the ball a bit more to play. We were a bit more direct and a bit more aggressive in the second half."
It was telling that Moe's halftime substitutions were heavily involved in Pro Series' two items.
For their first goal in the 54th minute, Decle and Bailey mesmerized the AC POS defence with a sweet exchange down the left flank, before John spun away from his marker to rifle in a sharp left-footed shot past opposing goalkeeper Josiah Morris at his first post.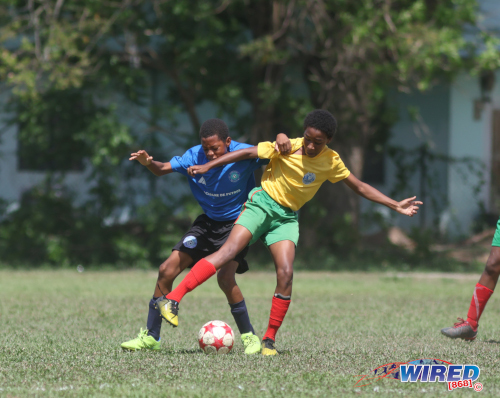 And after Humphrey looked to be giving AC POS a share of the points with his wicked, late set piece, the North Under-17 table-toppers responded almost instantly.
"Darius' free kick definitely made them raise their game and go for the winner after that," Moe said. "I'm sure they saw that their old teammate scored and wanted to get back at him in the dying moments of the game."
John's left-footed hit was all about brute force and power. However, Decle's touch was the epitome of finesse as he seemed to pass his shot into the far corner after Raymond took on the AC POS left back and slipped a short pass into the area.
Moe still felt as though there was room for improvement from his charges, but it was another thorough display by the unbeaten Pro Series team.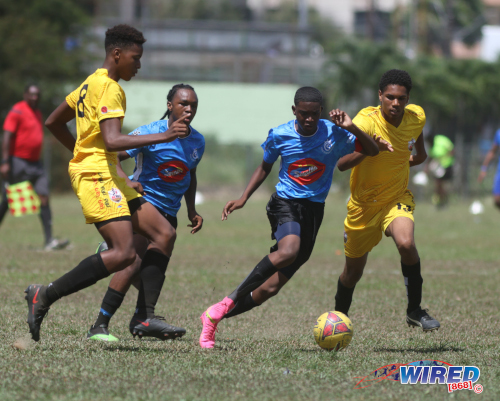 "I still wasn't 100% pleased with how we played but that's what you get with youth players and developing players," he said. "Sometimes they take their foot off the gas when they're atop the table."
In Saturday's marquee North Under-17 matchup between QPCC and Trendsetter, which was changed from 8am to noon—much to the surprise of Wired868 and interested onlookers—neither team could afford to let off as they tried to lock down second place.
With both teams level on nine points and Trendsetter just edging QPCC on goal difference, the Serpentine Road stage was set for an epic matchup.
With the sounds of sweet soca music and rapturous applause echoing in the background from the TTPS' Centennial Sports Day event nearby, QPCC and Trendsetter put on a grand show of their own as they exchanged hefty blows in a pulsating match that eventually finished 2-2.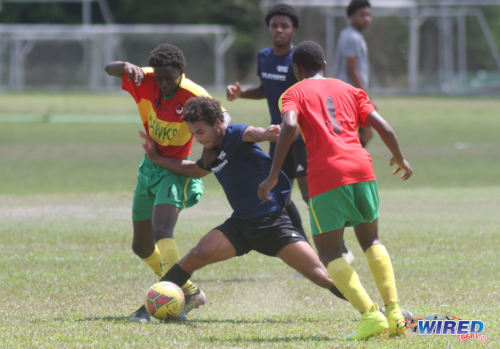 The midday showdown at St Mary's Grounds had everything. There was a stunning volley, a well-taken free kick, a last-gasp equalizer and at least seven minutes of second half stoppage-time, which saw one Trendsetter player just inches away from being his team's hero.
Oh, and there was also some controversy surrounding Trendsetter's go-ahead item in the second half.
What's football these days without a little on-field or off-field drama involving referees? QPCC would have hoped for some VAR intervention at that time though.
Even before the clash, Trendsetter founder Anthony "Dada" Wickham relayed the importance of the match with respect to the fate of his team's 2023 NYFL season. With uncertainty about the number of North Zone teams qualifying for the next round, Dada stressed that a win would be the only suitable result for Trendsetter.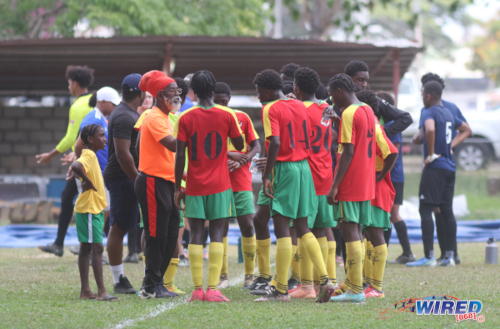 "If we don't win this game, we don't advance to the knockout [round]," said Dada, as the Trendsetter team gathered under their tent. "Aye! Confidence is the name of the game."
The boys in blue had the first say in this contest though, as left back Darius Jordan beat Trendsetter goalkeeper Zyan Sylvan with a low free kick in the 17th minute, which he bent around the wall from the edge of the area after a foul on busy forward Michael Chaves.
Jordan's left-footed free kick was a thing of beauty, but it was still second best to the next goal in the encounter—a truly spectacular volley by Trendsetter winger Andell Fraser.
Ryan Radallent bombed down Trendsetter's left flank before putting in a sweet cross. Fraser ran on to the lofted service and, before the ball could hit the Serpentine Road grass, he uncorked a scrumptious volley which flew into the net and gave QPCC goalie Michael-Peter Hadad absolutely no chance.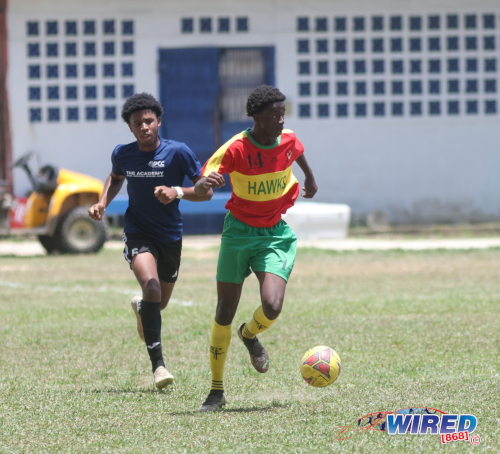 It was a strike that midfield technicians like Kevin De Bruyne and Martin Odegaard would have been proud of.
At the half-hour mark, Sylvan had his blushes spared as a QPCC attacker prodded into the net after an awful spill by the Hawks custodian, only for the assistant referee to flag for offside.
As fate would have it, the assistant's flag stayed down in the 66th minute as Fraser suspiciously ghosted in behind the QPCC defence and put a defender on his backside before slotting a left-footer past substitute keeper Jaden Ottley.
During the second half hydration break, QPCC coach Christian Uhre made his way onto the field to complain.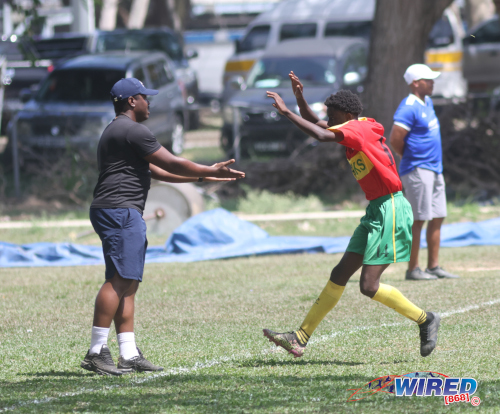 "That offside, that's the easiest call in life," said Uhre. "You're the referee; take charge!"
Sylvan further frustrated the "Parkites" with a brave save at the feet of the increasingly influential QPCC attacker Micah Nelson in the 67th minute.
Nelson, a member of the Soccer Made Simple (SMS) team that won the 2022/23 NLCL Under-19 Community Cup, showed opposing centre back Russell "Boyo" Francois a clean pair of heels down the right flank in the 86th minute, only for his cut-back to narrowly miss his teammates.
The sprinkling of QPCC fans marvelled at Nelson's delivery in the 89th minute though, as his precise right-sided corner was met by a brute of a header from central defender Matthew Barrington that bulged the old onion bag.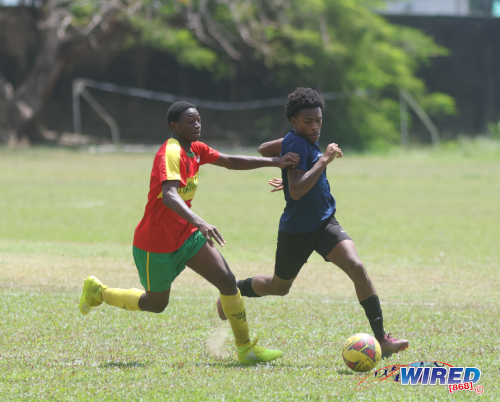 "We switched off on that corner and QPCC capitalized and it was 2-2," Trendsetter coach Mashama Baptiste told Wired868. "We knew QPCC were going to come and play a hold-the-ball style and try to get us tired. We tried to play a kind of hustle football. It worked as they were uncomfortable. We can't really fault the boys too much.
"We went out there, fought hard and at the end of the day it's asking a lot of the guys in the midday sun, so we're pleased with their efforts."
Even after conceding to Barrington's bullet header, Trendsetter could have walked away from St Clair with all three points, as substitute Maalik Jarvis just kissed a volley off the wrong side of the crossbar in the seventh minute of stoppage time—after some miscommunication between Ottley and his QPCC defenders.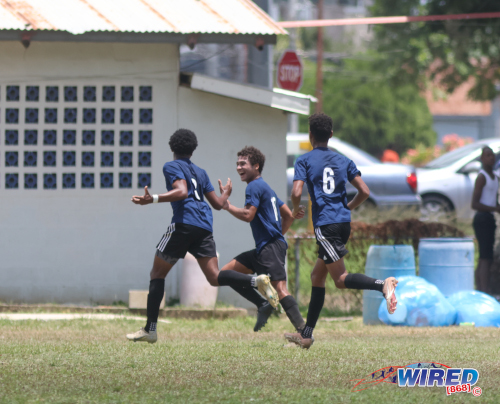 After conceding Faser's controversial second item, QPCC might feel they deserved that stroke of luck at the death.
"The game ended as a draw so we just have to go back to the drawing board and try and get maximum points from these next two games and see if we could qualify for the next round," said Baptiste, even as he reminded his players that their NYFL season was still well and truly alive.
With two more games to come against Boyce Sports Coaching School (seven points) and Santa Cruz United (one point), Trendsetter would feel they are well-positioned to do just that.
Fourth-placed Police FC are also in the hunt for a qualifying spot, and their matchup with QPCC this Saturday could be pivotal for both teams.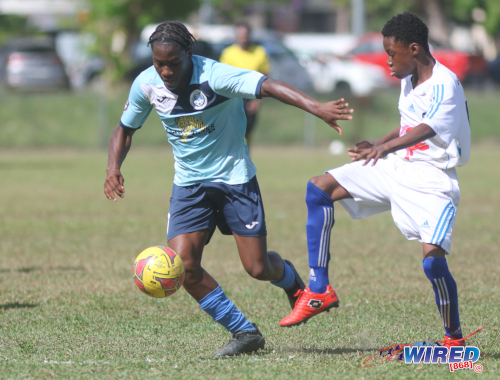 This past weekend, the Police youngsters exercised the use of force policy to its fullest as they hammered Laventille United 12-1, with both Stephano Christopher and Jemon Gulston registering hat-tricks.
There was also a goal for National Under-17 utility player Aydon Caruth who stepped up from the back to calmly dispatch a 40th minute penalty, as Police waltzed through the game with the ease of a practice session.
Police would hope they have some firepower left, when they face a stern QPCC test this weekend.
(Teams)
Laventille Utd: 3.Tikeem Pasqual, 4.Joemiah Phillips, 5.Jonathan Pope, 6.Tyrik Romeo, 7.Nicolai Parkinson, 8.Shakeem Felix, 9.Isaiah Lewis, 10.Mickel Martin, 11.Teung Burnley, 12.Ade Kerr, 13.Michael Murrell, 14.Rodney Patron, 15.Kymani Mayers, 16.Josiah Rochard, 19.Daniel Sandy, 20.Emmanuel Fernandez, 21.Adrian Joseph, 24.Alpha Benjamin, 26.Daniel Hazlewood.
Coach: Cedric Hazlewood
Police FC: 5.Obadiah Eyeadelrosiyhia, 8.Abdull-Jaleel John, 10.Stephano Christopher, 11.Jemon Gulston, 13.Kaylon Tuckett, 14.Aydon Caruth, 16.Tyrese Bartholomew, 19.Stephan James, 20.Tyrese Manswell, 21.Jeremiah Gabriel, 25.Mansel Huskerson.
Substitutes: 1.Micaiah Thomas (GK), 2.Anest De Silva, 9.Jamarli Mootoo, 12.Jermaine Edwards, 18.Khaleen Campbell, 22.Shabani Thompson, 23.NcKosi Rudder.
Coach: Garfield Ambrose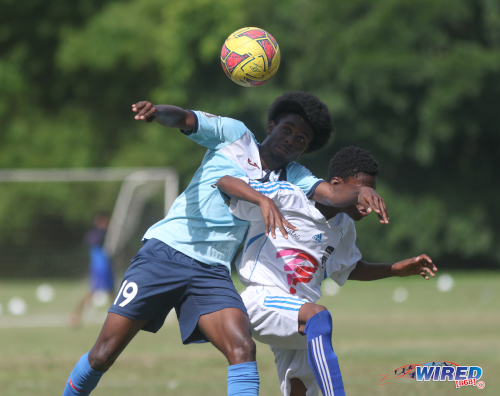 Pro Series: 4.Jaquan Aguillera, 5.Musaddiq Mohammed, 17.Jedaiah King, 29.Josiah Fernandes, 35.Joshua Cochrane, 41.Sylvon Theophilus, 45.Akil Henry, 46.Hasheem Hill, 48.Nieem Taylor, 50.Kerry Baptiste Jr (captain), 55.Shem Charles.
Substitutes: 1.Shemuel Cassimy (GK), 6.Tau Lamsee, 9.Micha'el John, 10.Thomas Decle, 11.Jahaem Bailey, 22.Amari Dunbar, 32.Arron Raymond, 51.Josante Duncan, 99.Aidan Browne.
Coach: Kerdyn Moe
AC Port of Spain: 1.Josiah Morris (GK); 3.Akeem Harewood, 5.Joshua Lutchman, 6.Darius Humphrey, 7.Khelun Hernandez, 8.Jaiden Nunez, 9.Davoure Thomas, 11.Kierron Herbert, 12.Gerard Le Gendre, 13.Zidane Skinner, 17.Simon Kirk.
Substitutes: 4.Allister Noriega, 14.Hezekiah Charles, 15.Jalano Straker, 16.Dwight Reuben.
Coach: Michael Grayson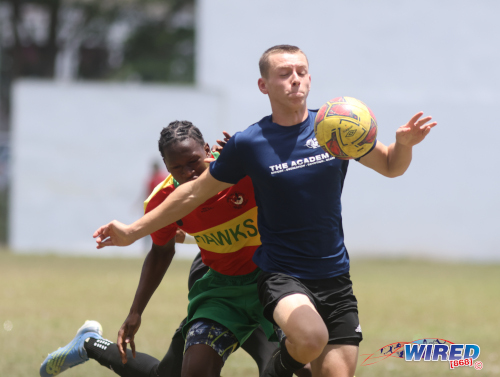 QPCC (4-2-3-1): 22.Michael Hadad (GK) (1.Jaden Ottley [GK]); 2.Yohance Atherton (13.David Hospedales halftime), 5.Matthew Barrington, 4.Logan Maingot, 3.Darius Jordan; 6.Steven Griffith, 8.Kade Collier; 11.Micah Nelson, 10.Luke Correia (17.Malik Addley 90), 7.Jadiel Joseph (20.Jaeden Bobb 60); 9.Michael Chaves.
Unused substitutes: 12.Christian Moses, 14.Ayden Wong, 15.Josiah Connell, 16.Luke King, 18.Micaiah Leach, 19.Seth Hadeed.
Coach: Christian Uhre
Trendsetter Hawks (4-1-4-1): 1.Zyan Sylvan (GK); 18.Keion Dottin (9.Maalik Jarvis 58), 5.Russell Francois, 4.Malachi Henry (captain), 26.Jahim Ayres; 20.Jammal Jemmot; 14.Andell Fraser, 17.Jahime Joseph, 8.Jadon McShine, 10.Ryan Radallent (12.Andwelle Glasgow 90); 7.Zion Harley.
Unused substitutes: 15.Jakiel Chandler, 27.Christon Williamson.
Coach: Mashama Baptiste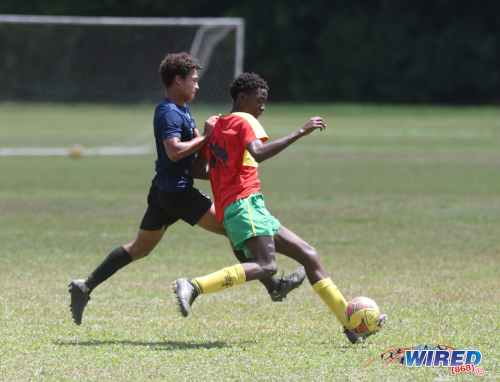 Republic Cup NYFL Results
East Zone
Under-13
(Saturday 13 May)
San Juan Jabloteh 2, Hillview College FC 2 (Dimitri Hajaree [2])
Trincity Nationals 2 (Eli-akim Nelson, Kimani Joshua), FC Santa Rosa 0
Elton John YA 4, Ultimate Unisons 0
Under-15
(Sunday 14 May)
Seed of Greatness 0, FC Ginga 3
*—Ginga awarded win by default
Arima Araucans Academy 3, San Juan Jabloteh 0
*—Araucans awarded win by default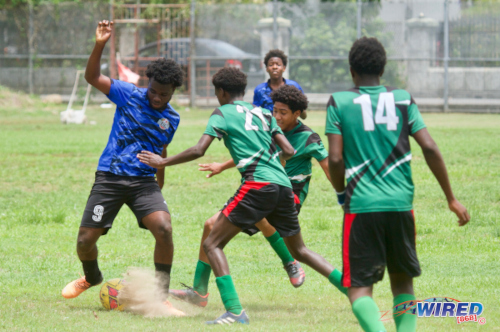 Under-17
(Saturday 13 May)
FC Ginga 2 (Isaiah Neptune 13, Jadon Highley 90), Eastern Jaguars 2 (Jordan Ferdinand 19, Kyle Moreno 23)
Hayden Tinto FA 6 (Keisean Spence 26, Tyrell Capleton 44, Shannon Metivier 48, Kyle Williams 52, Jamarlie Clarke 70, Zaylon Debisette 90+2), FC Santa Rosa 1 (Christiano Kurbanali 88)
Beatnix SC 5 (Daniel Votor [3], Khalid Jones, Giovanni Hospedales), San Juan Jabloteh 1
Athletic International Academy 5 (Tristan Gomez 27, 62, Desailly Bastien-Cowan 29, 34, Isaiah Isaac 70), Ultimate Unisons 1
Hillview College FA 2 (Christian Aaron, Juninho La Fleur), Trincity Nationals 3 (Khaleem Prince [2], Randon Baptiste)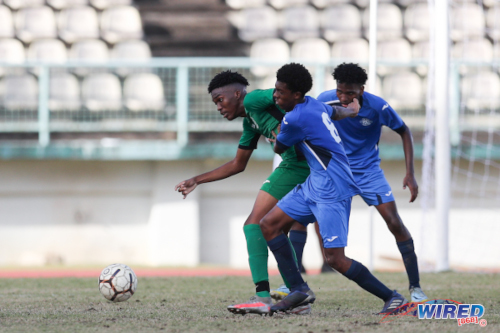 Under-20
(Sunday 14 May)
Athletic International Academy 4 (Jean-Marc Thomas [3], Gabriel Nash), Trincity Nationals 1 (Khaleem Prince)
Malabar Young Stars 1 (Jadon Durity), Eastern Jaguars 1 (Jamell Cooper)
Maracas United 1, Cooper's Coaching Academy 5 (Christopher Syms [3], Joshua Mitchell 2)
Defence Force 0, San Juan Jabloteh 1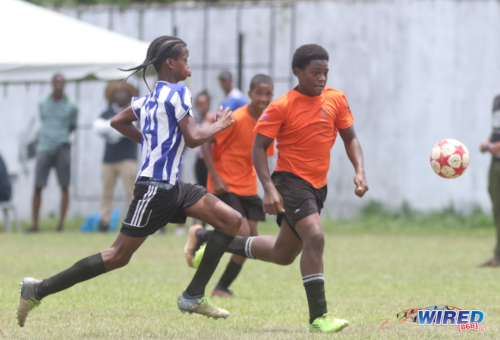 North Zone
Under-13
(Saturday 13 May)
Cardinals FA 2 (Jaylon Roberts), Santa Cruz United 2
Trendsetter Hawks 1 (Jonathan Smith pen), Academia De Futbol Excelencia 0
QPCC v IATF Academy
*—game postponed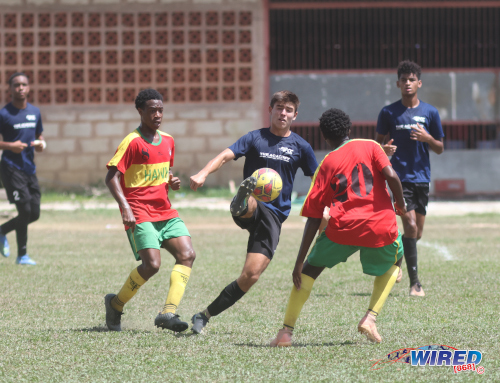 Under-17
(Saturday 13 May)
Laventille Utd 1 (Kymani Mayers 51), Police FC 12 (Jemon Gulston 7, 14, 45, Stephano Christopher 9, 70, 80, Stephan James 20, Josiah Rochard 28 [OG] Tyrese Manswell 31, Aydon Caruth 40 pen, Khaleem Campbell 62, Nkosi Rudder 85);
Pro Series 2 (Micha'el John 54, Thomas Decle 88), AC Port of Spain 1 (Darius Humphrey 85);
QPCC 2 (Darius Jordan 17, Matthew Barrington 89), Trendsetter Hawks 2 (Andell Fraser 22, 66);
Boyce Sport Coaching School 2, Santa Cruz United 2
Under-20
(Sunday 14 May)
Trendsetter Hawks 4 (Andell Fraser [2], Jadon McShine [2]), Boyce Sport Coaching School 1
Malick Blue Lions 2, QPCC 4 (Aidan De Gannes [2], Michael Chaves, Joshua Mason)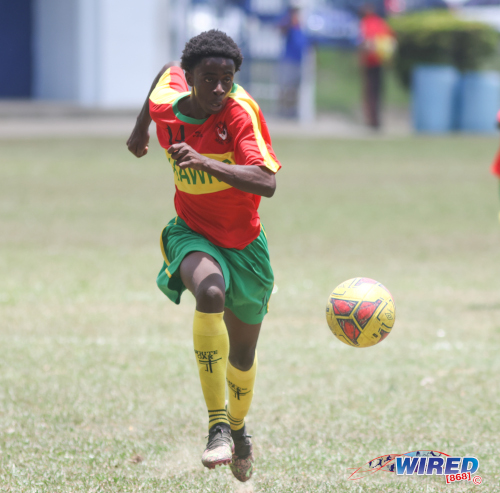 South Zone
Under-13
(Saturday 13 May)
Union Hall FC 1, Cox Coaching School 4
San Fernando Academy 0, Point Fortin YA 6
Under-15
(Sunday 14 May)
Union Hall FC 3, Smart Football Academy 0
*—Union Hall awarded win by default
Under-17
(Saturday 13 May)
San Fernando Academy 0, Union Hall FC 4
Cox Coaching School 1, Premier SC 2 (Malachi Webb, Jabari Rodriguez)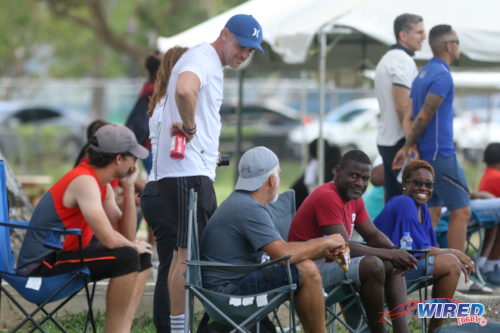 Tobago Zone
Saturday 13 May
(Under-13)
Jaric Titans 2, Brother Ry FA 1
Georgia FC 0, TJ Soccer School 3
*—TJ Soccer School awarded win by default
Lambeau 1, Ball Blasters YA 10 (Jaeden Anthony [4], Kyen Anderson [2], Ackim Duncan, Izea Phillips, Zaire McMillan, Kaeron Alfred)
Roxborough Lakers 0, St Clair Coaching School 1
(Under-17)
Jaric Titans 0, Speyside Youths 3
*—Speyside awarded win by default
Eagles FC 1, Ball Blasters YA 5 (Kyle James [2], Malik Wilson, Ja Corey Julien, Kaylon James)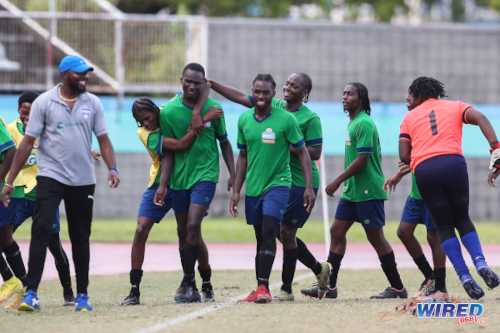 Girls
Under-20
San Juan Jabloteh 1, Crown Trace 2