There were 10 minutes left on the clock and East Zone Under-17 leaders Beatnix Sports Club were three goals clear in their top of the table Republic Cup National Youth Football (NYFL) outing at the St Augustine Secondary school on Saturday afternoon.
Beatnix should have been leading 4-0. It could easily have been 5-0 too.
And then, before you could say "Arima Semi-Pro Blasters Youth Academy", it was 3-3—with substitute Malachi Noreiga grabbing a stoppage time equaliser for Blasters. Football, bloody hell.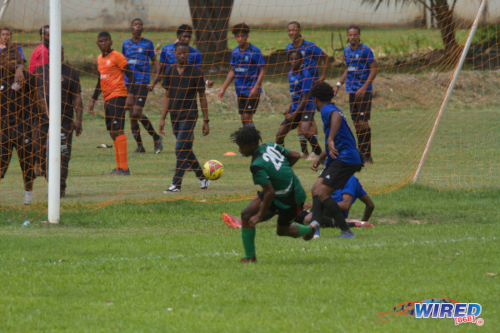 At the sideline, Beatnix head coach Brando Reyes tried to make sense of the affair.
"It was a thrilling fixture for the fans that came out," Reyes told Wired868. "But for me and my team, it was hard on us to lose a three goal advantage."

Beatnix had a goal disallowed while substitute Israel George missed a sitter. But Blasters were not exactly standing on their hands either—and, if anything, it was a surprise that they waited so long to get on referee Anil Joseph's score sheet.
"I can't be happy about the draw to be honest," said Blasters coach Andre Morales. "In the first half, we probably had eight corners and numerous chances to score while they had no corners. This game could have been long gone…"
Perhaps it says something about the ambition of both teams that each viewed the result as two dropped points.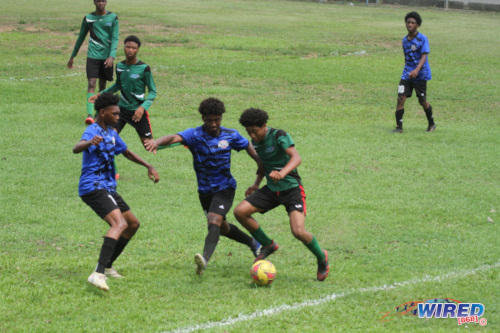 Earlier this year, Morales steered World Class Soccer Clinic all the way to the final of the NLCL U19 Community Cup tournament—with Blasters U-17 playmaker Quamy Waithe and attacker Kendall Castle featuring prominently.
While, in 2022, Beatnix advanced to the knockout rounds of the Republic Cup Under-15 seven-a-side competition. And the Arouca-based players are hungry to box outside of their zone.
"We are just hoping to finish strong, stay on top of the table, go to the nationals (knockout stage) and compete with the big teams in town," said Reyes, "because all we are hearing is about those teams from the west side like Trendsetter Hawks, QPCC and Pro Series."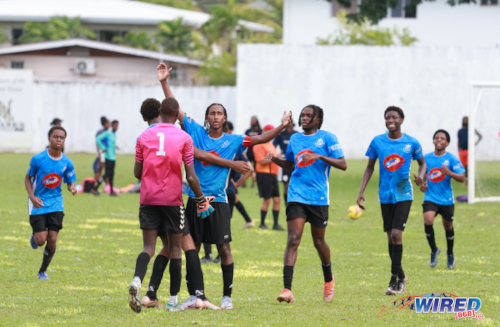 Beatnix had as much as they could handle right there in St Augustine over the opening 45 minutes on Saturday, though—as both teams traded blows in the East Zone fixture.
Kerdell Richards might have drawn first blood in the eighth minute, as he failed to beat Blasters goalkeeper John-Paul Aaron after being sent clear of the opposing defence. But, two minutes later, Richards atoned with an ice-cold penalty kick after Blasters midfielder Tony "German" Figuera tripped overlapping opposing right back Ezekiel Ramdialsingh in the penalty area.
Incidentally, Figuera and Ramdialsingh are both Arima North Secondary students—and intra-school squabbles proved unavoidable on the day. Beatnix had three Arima schoolboys in their starting team, Blasters had five on their matchday squad.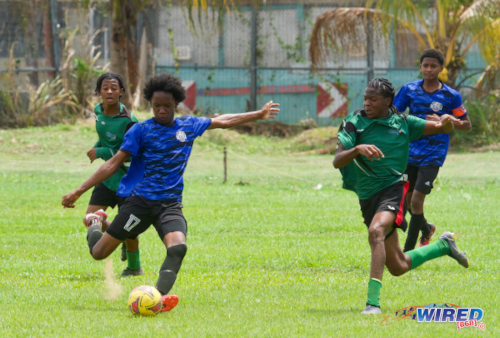 Figuera retorted quickly with a dipped shoulder and skittle between two opponents before being tripped by Tyrese Andrews in the box. Only for Blasters left back Jeremy Joseph, also of Arima, to slam the resulting penalty off the bar.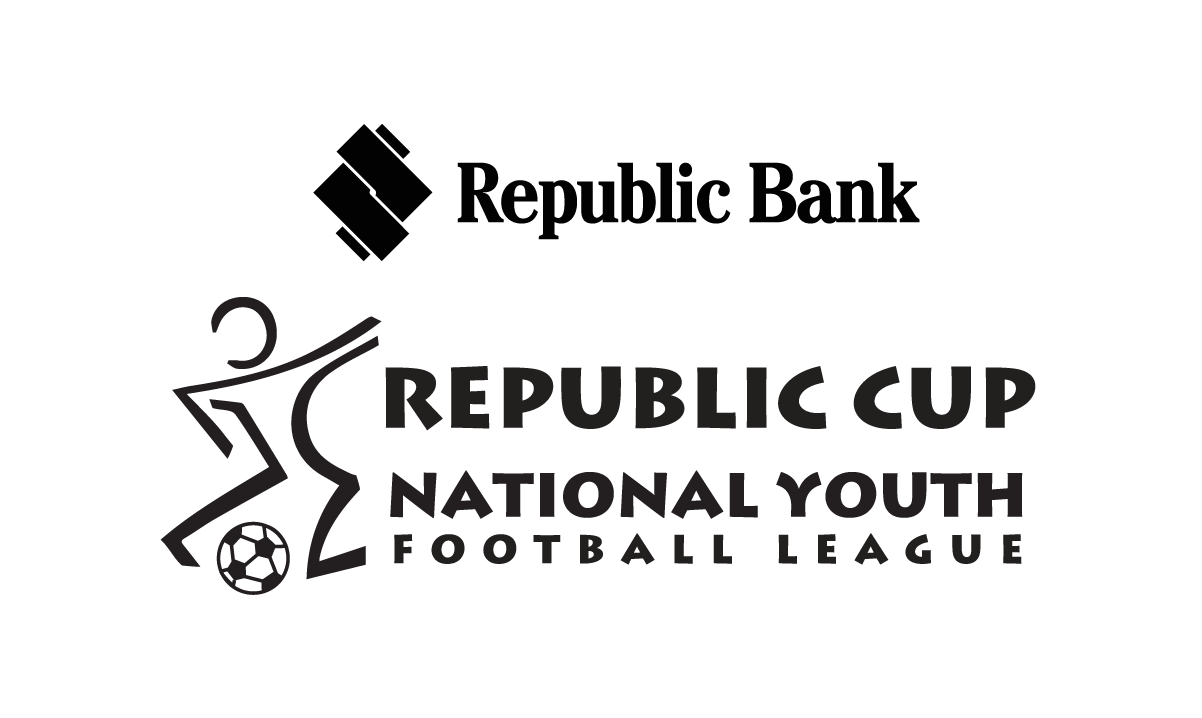 Richards just missed the far post with a free header for Beatnix while Blasters winger Mark Thomas—yes, from Arima—was inches wide with a stinging volley off a Figuera pass.
And, somehow, Beatnix retained their slender advantage until the interval.
"Blasters […] have a good coach and they always play attacking football," said Reyes. "It was an even game in the first half I would say."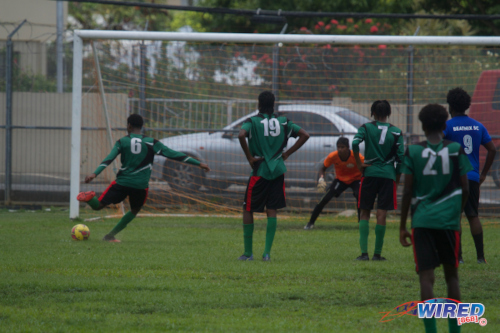 Missed chances apart, Morales felt his troops were conceding space in central midfield and pointed the finger at his lively "German".
"On numerous occasions, they were straying to the side [of the field]," said Morales, "and I think Beatnix capitalised on that—realising the middle was free."
If Figuera did not fulfil his positional obligations without the ball at times, it is worth noting that he was the instigator for most of Blasters' best attacking moves.
His intuitive dribbles, precise passing and energetic contributions arguably represented the best and worst of his team then—thrilling yet loose, simultaneously.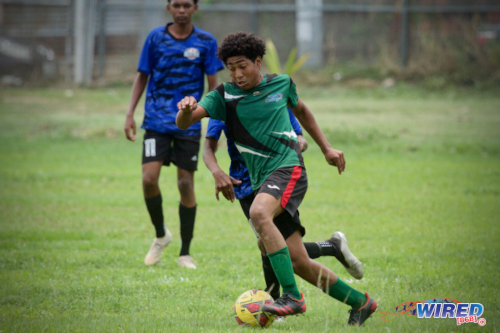 Blasters, led by head coach Roger Maloney, sought to exert more dominance in central midfield by introducing the solid, versatile Marcell Valentine for Jonathan Lee Fai. But this game defied control and, instead, it was Beatnix who doubled their lead with an outrageous goal in the 60th minute.
There did not seem to be anything on when Beatnix captain and central defender Deishawn Plaza nipped ahead of an opponent to win possession in the centre circle. But Plaza made fools of everyone—and especially the opposing goalkeeper.
Aaron was off his goal line and Plaza's dipping volley from 40 yards was inch perfect, as it beat the burly goalkeeper's outstretched hand to drop just below the bar to put the leaders up 2-0.
It might have been 3-0 to Beatnix in the 69th minute, as substitute Israel George found the back of the net after a scrimmage in the area—only for his celebratory dance moves to be halted by assistant referee Joel Davidson's flag.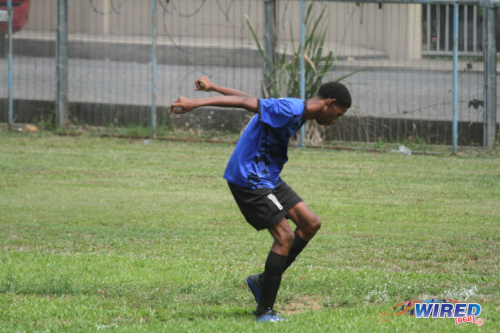 A rash challenge by Blasters captain and central defender Ability Hazel on tricky Beatnix winger Giovanni Hospedales gave the leaders a free kick just outside the box. And not even the two minute water break, taken between the awarding of the set piece and the execution of it, broke the concentration of the eventual kicker: Plaza.
Blasters pulled players back to the goal line to defend against Plaza's free kick. But the Trinity College East student got his angles right to find the corner anyway, with a precise finish that seemed to cross the line in slow motion.
Beatnix, whose tally of 33 goals scored from just seven matches is miles ahead of their zonal rivals, seemed home and dry.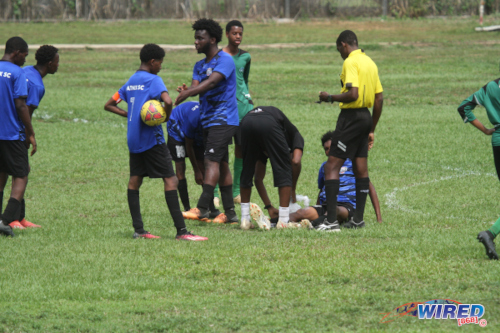 It should have been 4-0 in the 74th minute, as Hazel made an uncharacteristic error at the back with a swing and a miss at a cross. The ball fell for George, who could finally get his goal.
Inexplicably, the attacker hit the post.
Still, as the match entered the final 10 minutes, Reyes would have felt that Beatnix had done enough for the three points.
"We haven't lost a game thus far," said Reyes. "And the reason we are on top of the table is because the kids work hard in training and we have a good backline as well. There is some maturity there and they help see us through most of our games."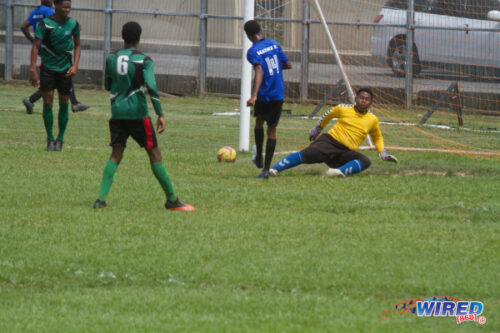 Up until that point, Beatnix's central defensive pairing of Plaza and Mathias Cruickshank (another Arima student) looked fairly comfortable—as Cruickshank dominated in the air while Plaza kept Castle contained on the ground.
Thomas was always a problem for Beatnix though and, in the 80th minute, the flanker finally put Blasters on the score sheet as he pounced on a momentary hesitation between opposing left back Keon Roach and goalkeeper Micaial Samaroo.
Maloney responded by replacing Castle upfront with substitute Malachi Noreiga (yes, you know the school) in the 82nd minute.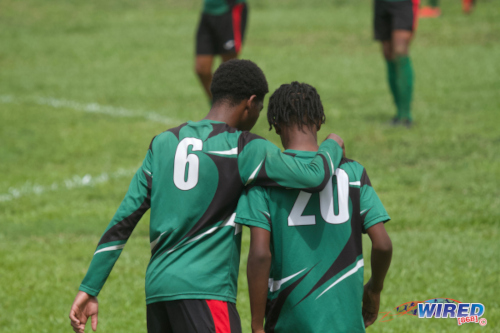 "Noreiga's instructions were to just go and try to finish, because I knew he would get chances," said Morales. "The guys were not playing bad. They were moving around the ball [and] winning the first and second balls. It's just that the strikers were not finishing."
For Reyes, the turning point actually came in the 87th minute. Somehow, Samaroo hurt his back while dealing with a tame Figuera free kick and had to be replaced by back-up goalkeeper Josiah Superville.
"He had a back injury—he landed badly and it caused some swelling," said the Beatnix coach.
Samaroo did not immediately fall to the ground and request medical treatment, though. He did not boot the ball into touch either.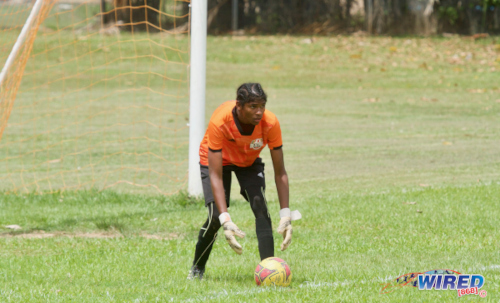 Instead, he got up holding the ball, dropped it to his feet, then picked it up again. The referee had no choice but to signal for an indirect free kick. And Joseph teed up Figuera to blast past Superville to reduce Beatnix's lead to a single item.
Two minutes from time, Valentine swung a free kick into the box and this time Superville got both hands to the ball but, inexplicably, failed to hold on and dropped it off his own post.
There was blood in the water and Blasters did not need a second invitation.
Two minutes into stoppage time, Thomas scampered into his favourite hunting ground again—between the opposing left back and central defender.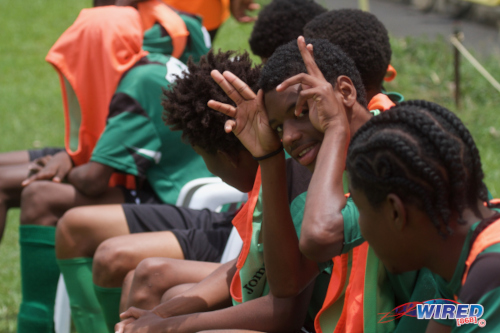 Superville, to his credit, dived at the winger's feet to push the ball away. But Thomas got the rebound and his low cross, backward of square, found Noreiga at the far post.
And Noreiga made the finish look easy, as he kept his composure to send the ground crazy with excitement at the stunning comeback.
"Well, it ended well," said Morales.
It did indeed—at least for the neutrals and, deep down, the Blasters faithful must surely concede that they got themselves out of trouble.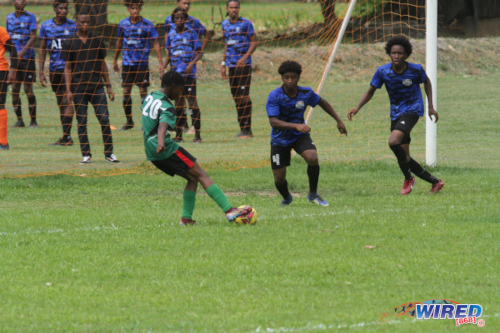 "We are still on top of the table," said Reyes.
Beatnix have 17 points from seven games. FC Santa Rosa leapfrogged Blasters to joint second place with 13 points from six matches, after their 1-0 win over Trincity Nationals on Saturday evening.
FC Ginga also have 13 points from six matches, after their 4-1 thumping of Ultimate Unisons.
The weekend results saw Blasters slip to fourth, with 11 points from five matches. Should Hazel and company win their games in hand, the East Zone could be a photo finish—with four teams straining for potentially two spots.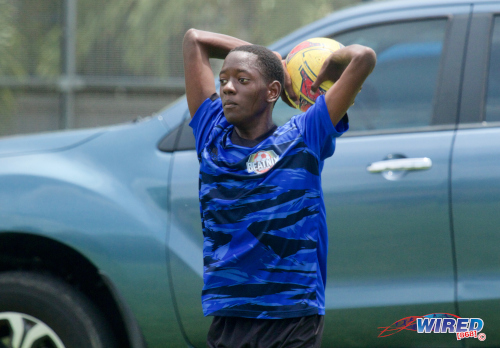 (Curiously, tournament organisers, Gateway Athletics International, are yet to confirm how many teams from each zone advance to the knockout stage.)
"We have Santa Rosa on Wednesday," said Morales. "I saw them play a couple of times and they move around the ball, they have a good unit. So I know that will be a challenge also. I think after that it should be smooth sailing for the boys. So we should be able to make it in the top two.
"The target is to try and win the group [and] I think our team is good enough to win the group. And I think Beatnix may drop some points, [as] they were not that good today to be honest."
Challenge offered—and, almost certainly, accepted.
(Teams)
Beatnix SC (4-2-3-1): 1.Micaial Samaroo (GK) (22.Josiah Superville 87 [GK]); 4.Ezekiel Ramdialsingh, 17.Mathias Cruickshank, 7.Deishawn Plaza (captain), 12.Keon Roach; 6.Tyrese Andrews, 8.Christian Baptiste; 10.Kanye Eastman (14.Israel George 65), 16.Kerdell Richards (19.Chad Nicholas 83), 11.Giovanni Hospedales; 9.Daniel Votor (191.Kanye Glasgow 74)
Unused substitutes: 5.Essien Thomas, 18.Oyinde Jackson.
Coach: Brandon Reyes
Arima Semi-Pro Blasters YA (4-2-3-1): 22.John-Paul Aaron (GK); 21.Stephen Ollivierre, 14.Malike Smith (18.Daniel George 54), 16.Ability Hazel (captain), 6.Jeremy Joseph; 4.Jonathan Lee Fai (2.Marcell Valentine 46), 10.Quamy Waithe (36.Amari Howe 82); 19.Mark Thomas, 11.Tony Figuera, 31.Jahmarley Caleb (8.Cameron Nelson 54); 7.Kendall Castle (20.Malachi Noreiga 82)
Unused substitutes: 15.Naeem Crichlow, 26.Adam Francis, 29.Rayshawn Brown.
Coach: Roger Maloney
Referee: Anil Joseph
Wired868's Man of the Match: Mark Thomas (Arima Blasters)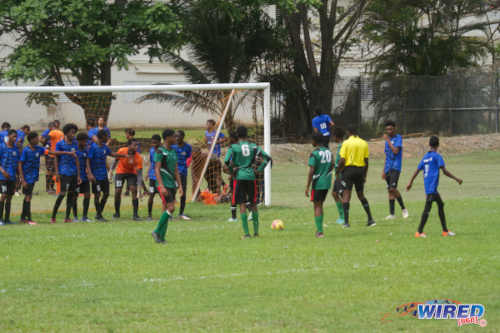 Republic Cup National Youth Football League results
Central Zone
Under-13
(Saturday 6 May)
Crown Trace FC 5 (Teshaun Carrington [3], Zion Joseph, Jesse Daniel), Evolution FA 2
Under-15
(Sunday 7 May)
Waterloo Institute 0, Evolution FC 3
*—Evolution awarded win by default
Under-17
(Saturday 6 May)
Crown Trace FC 3 (Israel Outar, Malik Charles, Dexter Taylor), Kamillionaire FC 1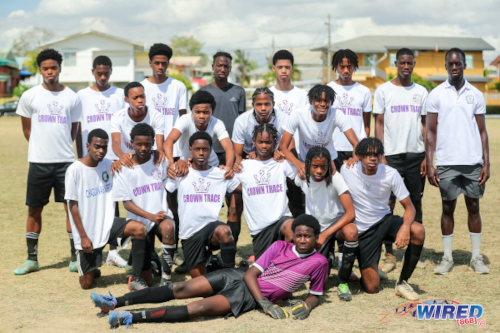 East Zone
Under-13
(Saturday 6 May)
Elton John YA 1, FC Ginga 5 (Jiair Nanton [2], Jeremai Nanton, Evan Ross, Luis Sebastian de Sanabria)
Under-15
(Sunday 7 May)
Hillview College FA 0, Arima Blasters 5 (Stephen Ollivierre [4], Jalani Valentine)
San Juan Jabloteh 0, Hayden Tinto FA 6
Seed of Greatness 0, Eastern Jaguars 3
*—Jaguars awarded win by default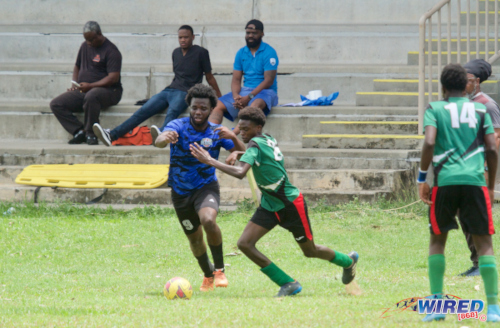 Under-17
(Saturday 6 May)
Beatnix SC 3 (Kerdell Richards 10 pen, Deishawn Plaza 60, 73), Arima Blasters 3 (Mark Thomas 80, Tony Figuera 88, Malachi Noreiga 90+2)
Trincity Nationals 0, FC Santa Rosa 1 (Aaron Kong)
Hillview College FC 0, Eastern Jaguars 2 (Naeem Whiskey, Kyle Moreno)
Ultimate Unisons 1, FC Ginga 4 (Jadon Highley [2], Elijah Baptiste, Jaydon Blake)
Hayden Tinto FA 5, Elton John YA 0
Athletic International Academy 3 (Jayden Critchlow, Desailly Bastien-Cowan, Tristan Gomez), San Juan Jabloteh 1 (Kerheim St Rose)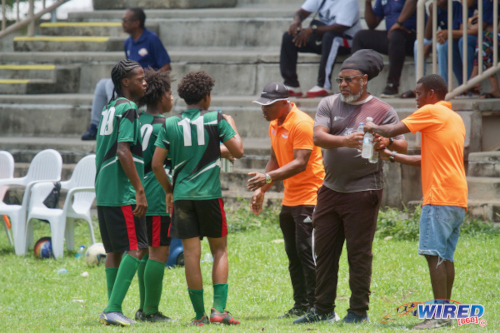 Under-20
(Sunday 7 May)
San Juan Jabloteh 3, Maracas United 0
*—Jabloteh awarded win by default
Cooper's Coaching Academy 0, Malabar Young Stars 1
Eastern Jaguars 0, Athletic International Academy 0
Trincity Nationals 3 (Thassius Devenish, Khaleem Prince, Hirshil Parks), FC Ginga 1 (Reshaun Gulston)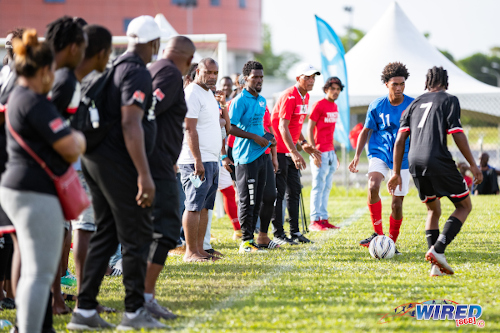 Eastern Counties
Under-13
Seed of Greatness 0, Duranta FC 3
*—Duranta awarded win by default
Under-20
Eastern County Utd 3, Toco Police Youth Club 0
*—Duranta awarded win by default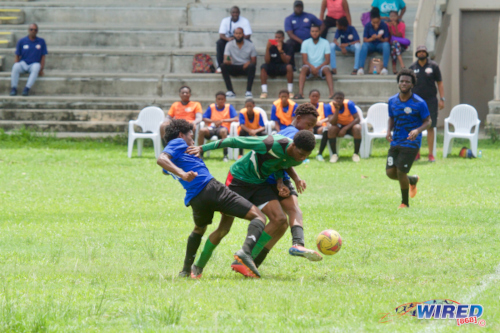 North Zone
Under-13
(Saturday 6 May)
QPCC 0, Santa Cruz United 0
Trendsetter Hawks 1 (Aaron Lewis), Pro Series 0
IATF Academy 2, Academia De Futbol Excelencia 0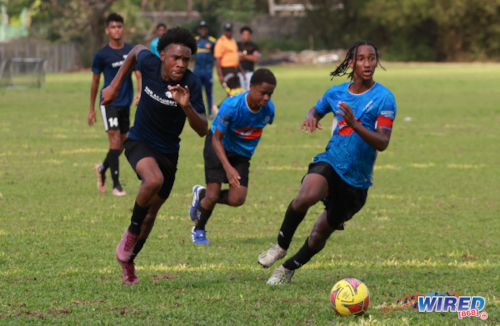 Under-17
(Saturday 6 May)
QPCC 11 (Michael Chaves [4], Luke Correia [3], David Hospedales, Josiah Connell, Micah Nelson, Seth Hadeed), Santa Cruz United 0
Police FC 4 (Jamarli Mootoo [2], Stephano Christopher, Tyrese Manswell), AC Port of Spain 1
Pro Series 3 (Amari Dunbar, Jediah King, Musadiqq Mohammed), Trendsetter Hawks 1 (Maalik Jarvis)
Boyce Sport 6, Laventille United 2
Under-20
(Sunday 7 May)
Trendsetter Hawks 1 (Jusiah Isaac), Malick Blue Lions 5
Boyce Sport 2, Santa Cruz United 3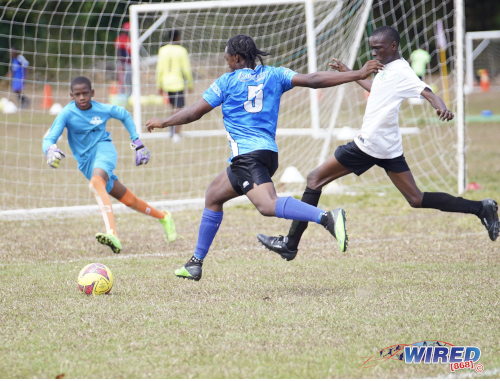 Tobago
Under-13
(Saturday 6 May)
Lambeau 2, Georgia FC 0
Roxborough Lakers 0, Brother Ry's FA 3
Jaric Titans 4, TF Soccer School 1
St Clair Coaching School 0, Ball Blasters Youth Academy 17 (Ackim Duncan [4], Jahmiah Gibbs [4], Zaire McMillan [2], Jaden Anthony [2], Michael James, Kaeron Alfred, Jaysean Felix, Kashif Small, Izea Phillips)
Under-15
(Sunday 7 May)
Jaric Titans 4, TJ Soccer School 0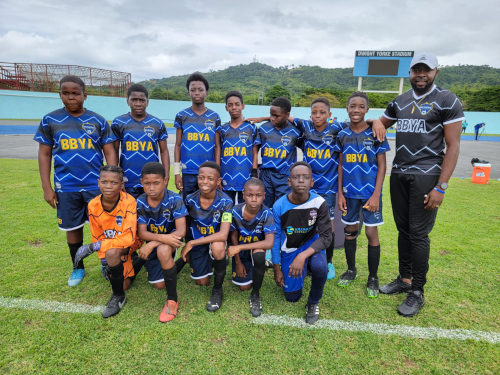 Under-17
(Saturday 6 May)
Jaric Titans 0, Bethel United 8
Brother Ry's FA 0, Eagles FC 0
Under-20
(Sunday 7 May)
Roxborough Lakers 2, St Clair Coaching School 1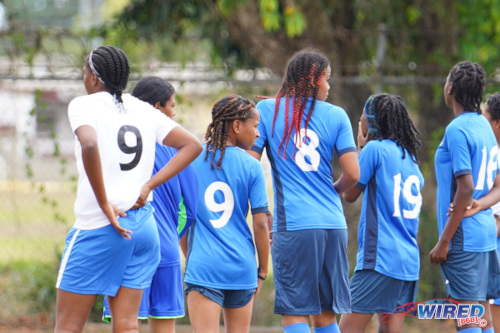 Girls
Under-16
San Juan Jabloteh 1, Curtis Orr Football Academy 4
Black Panthers WSC 0, Jewel Sports Club 3
*—Jewels awarded win by default
Under-20
St Augustine FC 9, Crown Trace 0