Two clubs, a free-scoring Trendsetter Hawks and a disciplined Pro Series, set the tone for a juicy upcoming top-of-the-table Under-17 division clash in the Republic Cup National Youth Football League (NYFL) after both secured their third wins of the North Zone competition on Saturday.
Both teams triumphed over previously unbeaten opponents at St Mary's College Ground on Serpentine Road, St Clair, which was the venue for Saturday's Under-13 and Under-17 fixtures.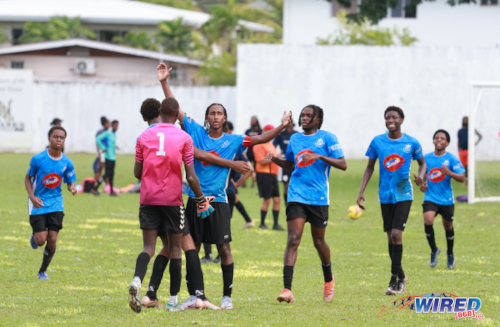 A clash of schedules due to a cricket match that evening saw event organisers, Gateway Athletics, shorten the duration of Under-13 matches to three 15-minute periods.
It did not put off Cardinals FC, though, as they closed the day's football agenda with an impressive 1-0 win over a stubborn Pro Series to remain perfect and on course for the North Zone Under-13 crown with four wins from as many matches.
Utility player Deron Blackman, who played primarily in defensive positions, scored the winner within three minutes of kick off, as he initiated and finished a counter-attack—despite playing as a central defender at the time

Blackman, a form one student at St Mary's College, intercepted a lobbed pass from an opponent and worked a one-two with a Cardinals forward before finishing in sublime fashion.
Yet, apart from Blackman's solo effort, there was little to separate the two teams in an enthralling tactical encounter—hardly expected of that age group.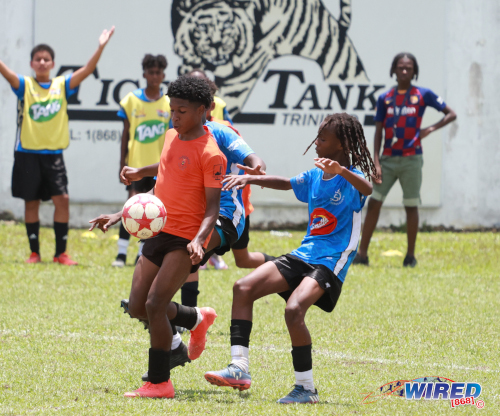 Cardinals coach Michael Tinto heaped praises on their match-winner and credited his team's composure for the result. Paul Decle, Men's National Under-23 Futsal coach and Pro Series founder, also credited his opponents.
"[Cardinals] got that early goal and, in fairness to them, they did well to hold on to the lead," Decle told Wired868. "We also did well because the players showed that mentality, of not wanting to give up."
For Decle, though, the result of Pro Series' earlier U-17 clash carried more significance.
"For my part, at [the Under-13] level, it's a lot about the development—we're looking at the characteristics of the players, their technical ability and decision-making," he said. "It's a way for us to look at [these] areas and continuously [help them to improve].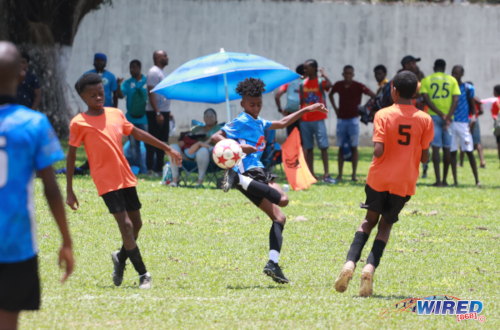 "The result is not our main focus. We're looking at the foundational stuff, but we want to encourage them while they're in the game to keep playing and stay positive."
Earlier on Saturday, the Pro Series Under-17 team enjoyed a satisfying come-from-behind 2-1 win over QPCC in one of two North Zone games that involved unbeaten teams—the other involved Trendsetter Hawks and Police FC.
Steven Griffith took a half chance from a poor Pro Series defensive clearance to give QPCC the lead near the end of the first half, as he scored with a rocket of a left-footed effort from outside the penalty area.
But the composed Pro Series team crawled back into the match and eventually forced a 58th equaliser when a hefty shot by National Under-17 midfielder Tau Lamsee went through the gloves of goalkeeper Jaden Ottley.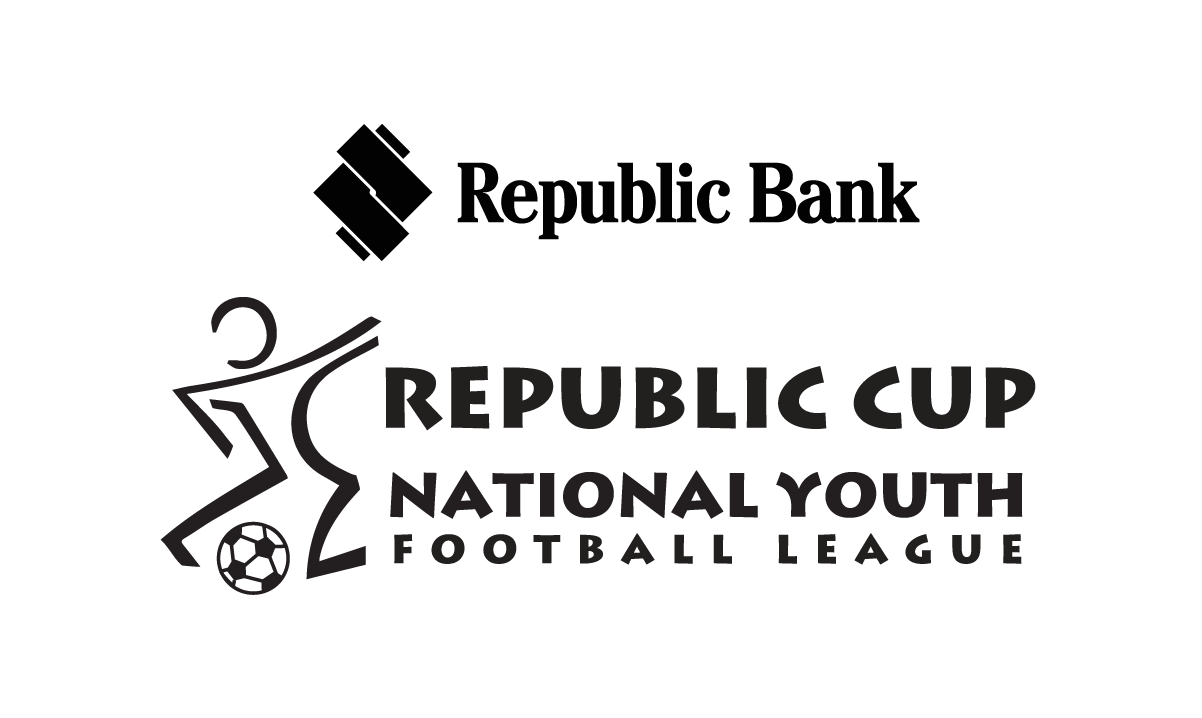 Just moments later, Lamsee, the Pro Series captain, got his second via a penalty kick after the referee called for a foul on lively forward Micha'el John.
QPCC coach Jason Sheppard lauded Pro Series' frontline for causing his team problems.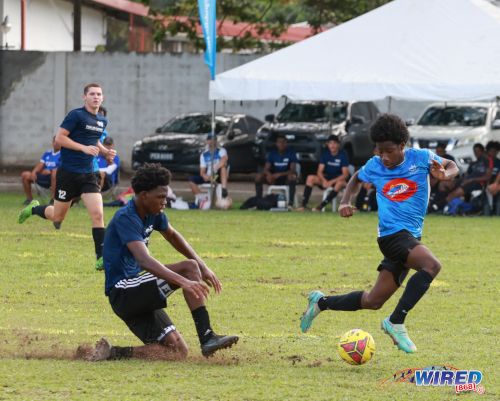 "They were very mobile and made a lot of great runs off the ball," said Sheppard. "Otherwise, it was a good, challenging match for us despite the loss."
Pro Series' clear lead in the U-17 standings lasted under two hours, though, as Trendsetter Hawks crushed Police 7-2 to overtake their title challengers on goal-difference.
Already ahead 3-1 at halftime, Hawks got two second half goals each by Andell Fraser and Zion Harley as a comprehensive win turned into a rout.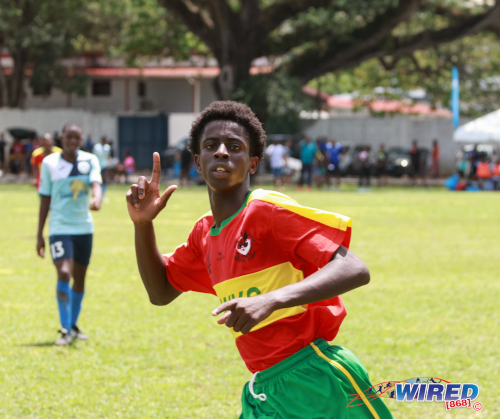 Pro Series and Trendsetter Hawks have nine points each after three matches, followed by QPCC in third with six points.
Both Laventille United and Boyce Sports moved off the bottom of the table yesterday, with their first wins of the campaign over Santa Cruz United and AC Port of Spain respectively.
QPCC did enjoy a crushing victory in the Under-13 division, as they swamped Academia de Futbol Excelencia 11-0 to stay second—three points behind Cardinals.
Forward Lucas Shaw opened the drubbing in the first minute and ended with a hattrick while Matthew Lee Young scored a brace and Jaden Chase, Adam Hospedales, Xavi Sankar, Mason Joel, Brandon Chin Sang and Reagan Rowe all contributed to the lopsided scoreline.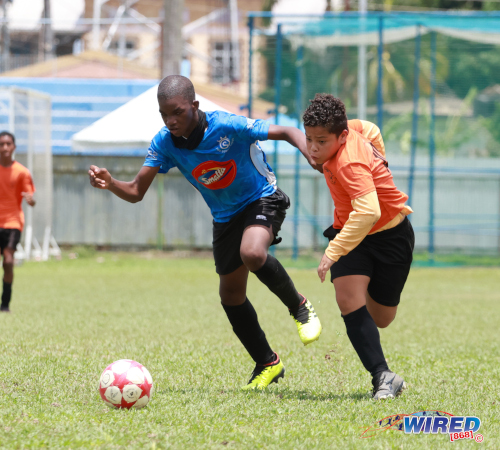 Decle, who also holds an administrative post within the TTFA's National Under-15 set-up, said it is tricky to assess the current stand of Trinidad and Tobago's youth football as many teams are just rebuilding after the lengthy disruptions caused by the Covid-19 pandemic.
"There were some teams that were stronger than others," said Decle. "The positive side is that football is [being played] again. I think some of the games I've seen have been pretty good.
"Even though we're a year after sports [have restarted], there's still that period where some clubs are still picking up the pieces. Putting it in that context, we would expect different levels of competition."
QPCC coach Jason Sheppard feels the current Republic Cup tournament offers less match experience than he hoped.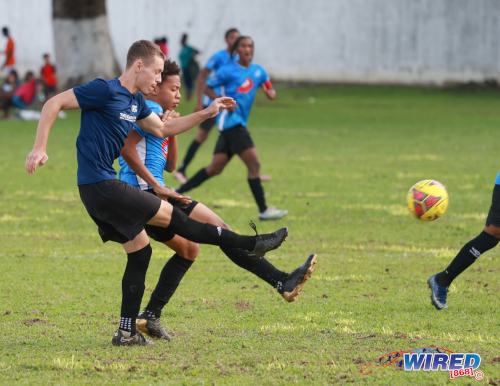 "They're been training all this time for four games," he said. "These types of competitive environments and matches are what's needed for the players to really test themselves as part of the development process.
"Landslide victories and blowouts may be nice in the moment but they don't do their development justice."
Republic Cup National Youth Football League (NYFL) results
Match Day Six
Central Zone
Under-13
(Sat 29 April)
Crown Trace 3, Waterloo Institute 0
*—Crown Trace won by default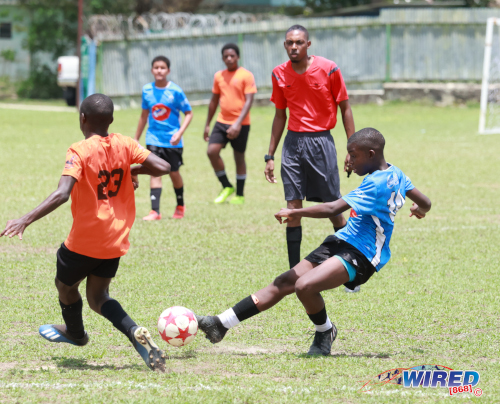 Under-17
(Sat 29 April)
Talent & Energy FC 0, Gasparillo Youths 6
Evolution FC 1, Crown Trace 3 (Israel Outar [2], Josiah Samuel)
East Zone
Under-13
(Saturday 29 April)
San Juan Jabloteh 1, Trincity Nationals 3 (Armani Durant [2], El akim Nelson)
Elton John YA 0, FC Santa Rosa 0
Ultimate Unison 2, Hillview College FC 2 (Matthew Beharry, Dimitri Hajaree)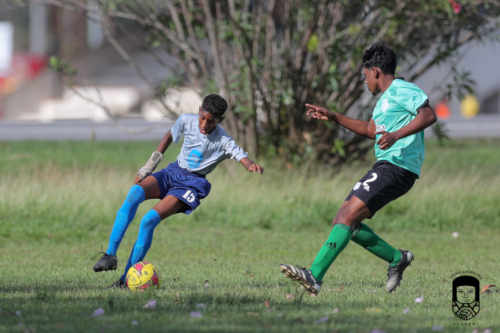 Under-15
(Sunday 30 April)
Arima Araucans Academy 1 (Ilano Knights 15), Eastern Jaguars 1 (Josiah Thompson 59)
Hayden Tinto FA 3, Seed of Greatness 0
*—Tinto FA win by default
Hillview College FA 5 (Javier Estrada [3], Matthew Beharry, Ky'mani Prieto), San Juan Jabloteh 1
Arima Blasters 2 (Marcell Valentine [2]), FC Ginga 3 (Criston Gomez, Jamari Barker, Ky-mani Hazel)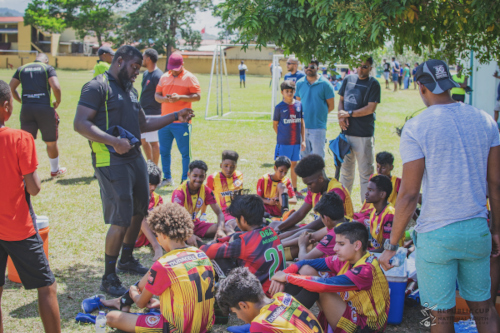 Under-17
(Wed 26 April)
Beatnix FC 4, Hillview College FC 1 (Juninho La Fleur pen)
(Sat 29 April)
Arima Semi-Pro Blasters 5 (Tony Figuerra [2], Cameron Gulston, Cameron Nelson, Jeremy Joseph), Ultimate Unison 1
FC Ginga 1 (Justin Harford), Hillview College FC 0
Beatnix FC 1, Trincity Nationals 1 (Khaleem Prince)
Eastern Jaguars 4 (Kyle Moreno [2], Naeem Whiskey, Jonathan Gadjadar), Elton John YA 0
FC Santa Rosa 2 (Keslon Pierre, OG), San Juan Jabloteh 2
Hayden Tinto FA 1, Athletic International Academy 0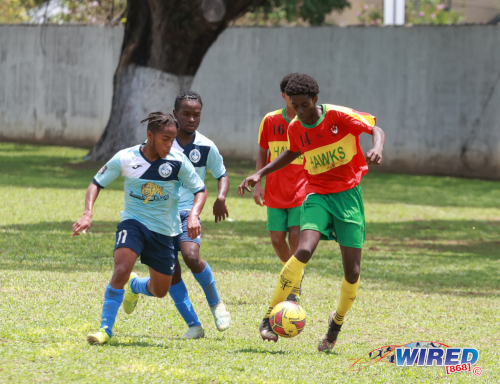 Under-20
(Sun 30 April)
Eastern Jaguars 3, Maracas Utd FC 0
*—Jaguars won by default
FC Ginga 1 (Kyle Dwarika), Athletic International Academy 2 (Andrew Nicome 27, Hakim Lorde 82)
San Juan Jabloteh 4, Malabar Young Stars 1
Cooper's Coaching Academy 1 (Josiah Gobin), Defence Force Youth Team 3 (Larry Noel [2], Jaheim Granderson)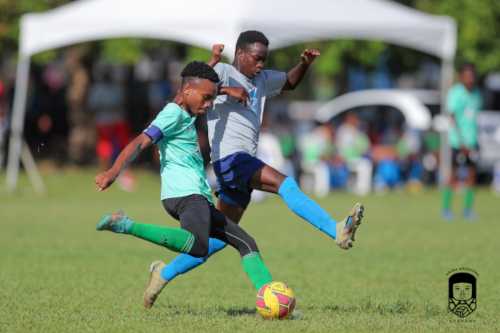 North Zone
Under-13
(Sat 29 April)
Santa Cruz Utd 1 (Raheem Quammie 27), Trendsetter Hawks 3 (Malique Marshall 6, 10, Andell Khan 59)
QPCC FC 11 (Lucas Shaw 1, 20, 23, Matthew Lee Young 17, 24, Jaden Chase 29, Adam Hospedales 30, Xavi Sankar 34, Mason Joel 37, Brandon Chin Sang 55, Reagan Rowe 59), Academia De Futbol Excelencia 0
Cardinals FA 1 (Deron Blackman 3), Pro Series 0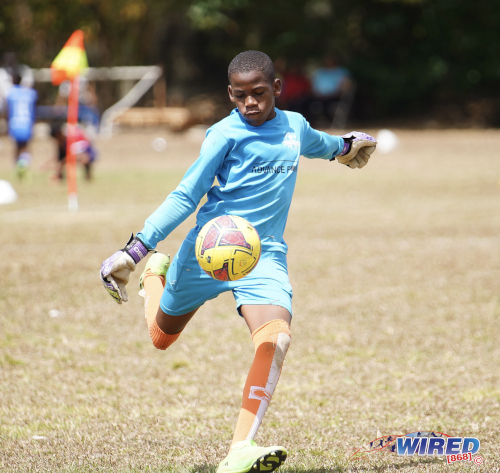 Under-15
(Sun 30 April)
Pro Series 5 (Ale Harper [2], Jonathan Mason, Jake Barclay, Jaeden Samuel), QPCC FC 2
Trendsetter Hawks 2 (Jaquan Phillip, Keanu Romain), Cardinals FA 0
Under-17
(Sat 29 April)
AC POS 1 (Jelano Straker 70), Boyce Sports 2 (Kwanie Jack 57, Akeem Aaron 82)
Trendsetter Hawks 7 (Jadon McShine 21, Maalik Jarvis 23, Russell Francois 43, Andell Fraser 51, 65, Zion Harley 54, 67), Police FC 2 (Stephano Christopher 38, Tyrese Manswell 84)
Laventille United 2 (Shakeem Felix 33, Daniel Hazelwood 43), Santa Cruz Utd 1 (Malachi Roach 35)
Pro Series 2 (Tau Lamsee 58, 60), QPCC FC 1 (Steven Griffith 42)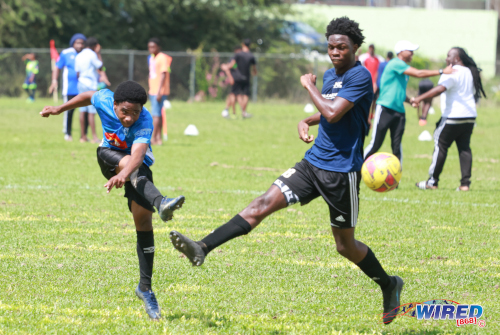 Under-20
(Sun 30 April)
Trendsetter Hawks 6 (Zion Harley [2], Jusiah Isaac [2], Andell Fraser, Jivon Collier), Santa Cruz FA 0
Boyce Sport 3, Seekers FC 1
South Zone
Under-13
(Sat 29 April)
Point Fortin YA 2, GDD Generation Next 0
San Fernando Academy 0, Cox Coaching School 9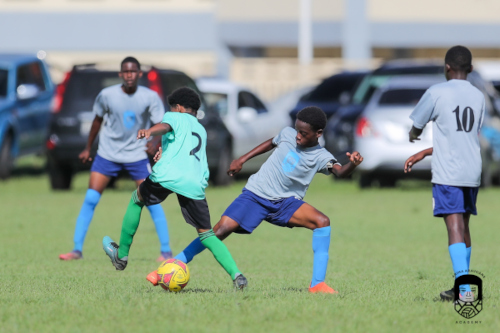 Under-15
(Sun 30 April)
Cox Coaching School 0, Union Hall FC 0
South Stars Sports 4, Smart Football Academy 0
Under-17
(Sat 29 April)
Premier SC 12 (Malachi Webb [3], Joshua Friday [3], Raheem Nelson [2], Zachary Seecharan, Chaz Forde, Quincy Thomas, Emmanuel Harrington), San Fernando Academy 0
Club Sando FC 0, Union Hall FC 0
Under-20
(Sun 30 April)
South Stars 0, San Fernando Academy 2
Tobago
Under-13
(Sat 29 April)
TJ Soccer School 2, St Clair Coaching School 0
Ball Blasters YA 10 (Ackim Duncan [2], Jaeden Anthony [2], Zaire McMillan, Ozil James, Michkel James, Izea Phillips, Jaden Marcelle, Kaeron Alfred), Roxborough Lakers 0
Brother Ry's FA 0, Lambeau 2
Georgia FC 0, Jaric Titans 3
*—Titans won by default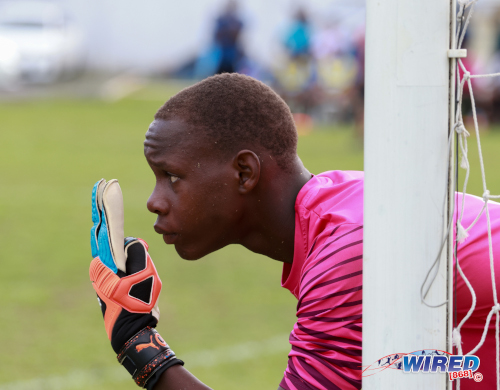 Under-17
(Sat 29 April)
Ball Blasters YA 7 (Kaieem Lewis [2], Kyle James [2], Malik Wilson [2], Jaden Richardson), Brother Ry's FA 2
Bethel United 1, Speyside Youths 7
Under-20
(Sun 30 April)
St Clair Coaching School 1, Carnabee/Mt Pleasant 0
Georgia FC 1, Speyside Youths 1
Eagles FC 3, Roxborough Lakers 2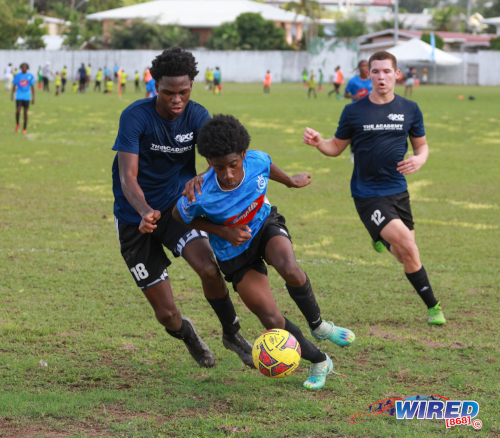 Girls
Under-16
Cox Coaching School 5, San Juan Jabloteh 2
South Stars P/Town 3, Curtis Orr FA 4
Jewels SC 0, Black Panthers WSC 0
Under-20
St Augustine FC 5, San Juan Jabloteh 1