"[…] Triston Hodge, by nature, is not as attacking a full back as Keston Julien. In a situation where we need to win and a draw and a loss equate to the same thing, why are we taking off one of our more attacking threats?
"From where I sat (admittedly far from the field of action in the last row of the press box), I thought Julien's issue was where he was receiving the ball as opposed to him not having a good game.
"He is at his best further up the pitch as an attacking wing back, but by going long repeatedly we never gave our players—far less our full backs—a chance to consistently take up residence in areas of the field where their mere presence would be a bother for Nicaragua…"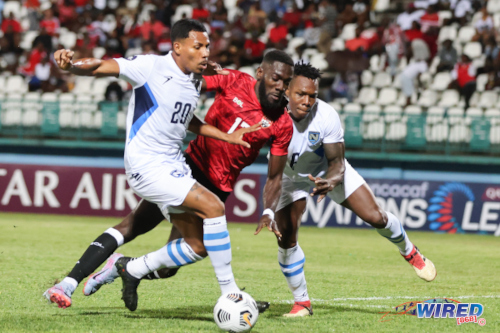 The following tactical commentary on Monday's Concacaf Nations League B contest between Trinidad and Tobago and Nicaragua was submitted by QPCC FC and Arima North Secondary football coach Wayne "Barney" Sheppard:
Trinidad and Tobago faced Nicaragua in a Concacaf Nations League B game at the Dwight Yorke Stadium in Bacolet that was virtually a final, with promotion to the top tier of Concacaf's football and automatic qualification to the 2023 Gold Cup on the line.
Trinidad and Tobago needed a win whilst the Nicaraguans knew that a draw was sufficient to see them progress.
Knowing these permutations, I thought that Trinidad and Tobago would have attempted to take the game to Nicaragua, who in turn would attempt to play in a low block and invite us on while looking to hit on the counter.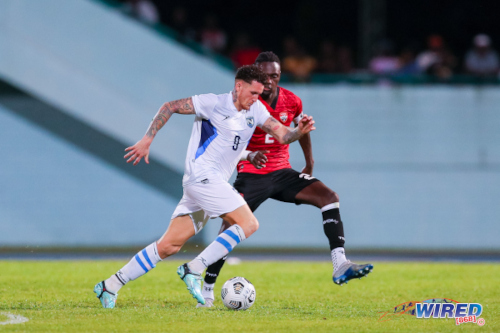 Instead, we had a game where Nicaragua gave as good as they got—if not better—and used the time wasting tactics that is standard from all Latin American teams.
The Soca Warriors lined up in coach Angus Eve's tried and trusted 4-2-3-1 formation with Rundell Winchester as the lone striker and captain Joevin Jones playing in "the hole" as the "number 10" behind him.
On either side of the captain were the enterprising Kailé Auvray, playing inverted on the left flank (more on this in a bit) and the bustling Ryan Telfer on the right.
Behind this line of three sat holding midfielders Michel Poon-Angeron and Andre Rampersad—both talented ball handlers who I have had the opportunity to coach against (and, in Poon-Angeron's case, coached for a couple sessions) at school and Super League level respectively.
The back four comprised two attacking full backs in Keston Julien and Shannon Gomez, whilst stalwart Aubrey David and recent goal scorer Kareem Moses were the centre back pairing.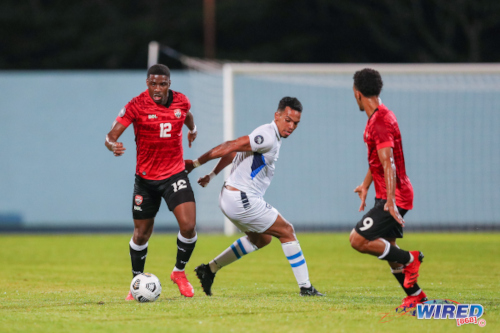 The visitors lined up in what appeared to be a 4-1-3-2 formation when they were forced deep, although it morphed into a 3-5-2 when they were in attack. This is a distinct change from the 4-3-3 formation that they used in our first meeting.
I am not sure of the reasons for the change but one thing that jumped out at me during the night's proceedings was the problems their two centre forwards caused our centre back pairing.
There were a couple of times when our covering in central areas was either too close or non-existent. Thankfully, we got in a number of timely challenges to avert the danger and/or the Nicaraguans, after gaining the upper hand, shot wide.
Auvray is a fantastic little player and a great find for our Men's Team. Having personally known his grandfather and cousins for many years, I know the pride they take in him representing the Red, White and Black.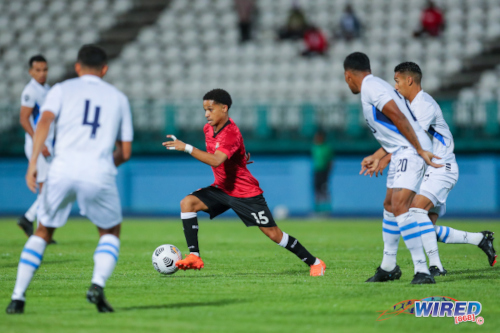 His performance last night would have only increased their pride as well as his stock amongst local fans.
In the 13th minute, he drifted off of the flank and picked up a position to the inner part of the left half-space and, as if on cue, Julien advanced from his left back position into the space that Auvray's movement off the line created.
Auvray fed a well-weighted pass through the gap created by the opposing right back, who was unsure of whether to stay "connected" to the centre back closest to him or to get closer to Julien, who was motoring down the flank.
Julien ran on to this gem of a ball and cut a low cross back to Rundell Winchester, who made a run to the first post. Winchester's resulting effort was off target—but the blueprint was there.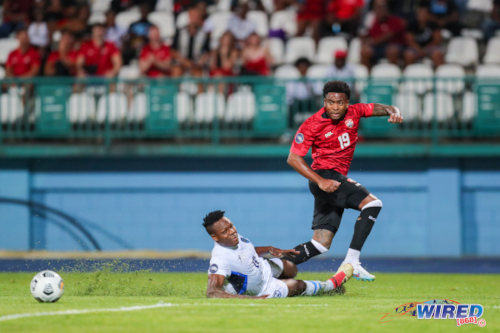 This is how we had to break Nicaragua down.
The lateral movement of Auvray and, to a lesser extent, Telfer off the lines and into the half-spaces (between the opposing central defender and full back on either side) would allow for our full backs to advance and take up positions from which they could exploit spaces out wide; or get on to balls played through the aforementioned channel, as a result of opposing full backs overcompensating.
Unfortunately, this was to be the one and only successful play of its kind.
The selection of Julien—who not only played at left back for club and country but was also trusted enough by his FC Sheriff employers to come on as a wide attacker against Real Madrid in the Champions League group stage—suggested to me that our full backs would be an integral part of our attack.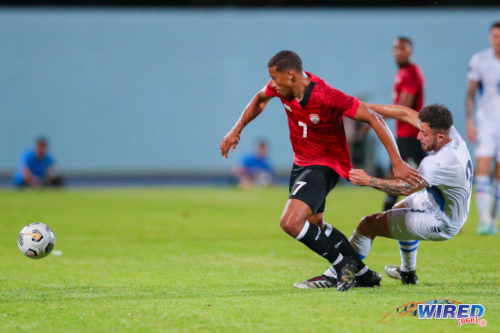 Instead we seemed to attack with six while our four defenders "stayed at home" for much of the game. When our full backs did go forward, they were often the ones on the ball and running with it. This was, by and large, ineffective on the night.
Because of Auvray's natural inclination to be virtually a 10 that starts in a wide position rather than a conventional winger, I thought it was necessary to get Julien going forward off the ball as often as possible.
As an advanced wide option, Julien could get on the end of third man runs—when the opposing defence is distracted by an exchange between a pair of players, as was the case when Auvray released him on that one occasion.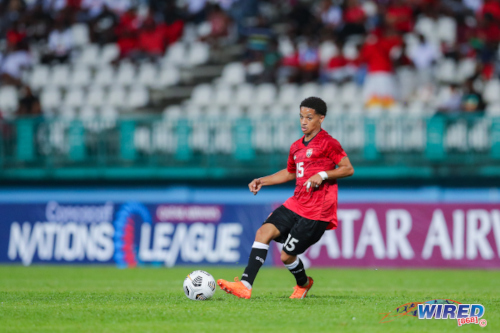 If this was Eve's plan, it didn't materialise.
Winchester is a "number 9" who will never be described as silky, nor is he a hold-up player in the mould of Kenwyne Jones or Stern John. He is a striker who always wants the ball played to him in space to run on to, as his speed and strength are the assets he wants to use to his advantage.
Winchester's selection as our centre forward with Jones playing as our 10 would not have been many pundits' first choice. But the coaching staff work with the players and would have had a clear idea of the relationship they wanted from the pair—in terms of their positioning and tactics.
Based on Winchester's desire to chase the ball in space beyond the opposing defence, I wondered if the plan was to have the forward stretch the opposing defence.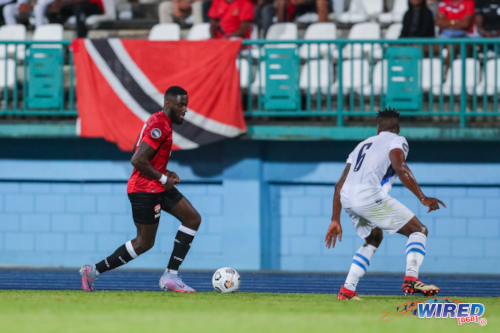 As the Nicaraguan defenders react to his runs, it would create a larger horizontal channel between their lines of midfield and defence for Jones and Auvray to play.
So Winchester would serve as a decoy. Instead, we repeatedly went long in search of Winchester, which led to the forward constantly running away from his midfield and, as an ironic result, stretching our team shape.
(By which I mean that the distance between our defensive line and our centre forward became so wide that our players were not in advantageous positions to contest the loose balls and false touches of the opponent.)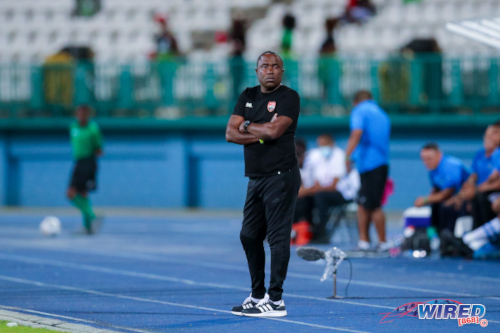 I think coach Eve saw this was happening, hence the halftime change with the introduction of Reon Moore.
Almost hand in hand with this issue in the first half was another that persisted for almost the entire game.
I mentioned previously that both our holding midfielders are talented ball handlers, who looked very comfortable in possession and spent a good portion of the first half patiently moving the ball laterally across the park before finding a channel to play the ball forward.
The problem I saw with them was not a technical one but positional. Poon-Angeron and Rampersad were more or less always side-by-side when supporting the attack.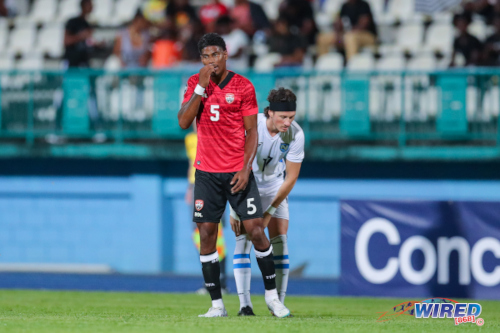 Ideally when playing with a double pivot, their movement when in possession is that one on the strong side (the side of the field that the ball is on) joins the offence as the last attacker whilst the other is positioned diagonally deeper to act as support.
In taking up this diagonal position to each other, the compactness between the lines of the team, even in attack, is maintained and players are well positioned to immediately apply pressure when possession is lost.
Instead, the movement by Poon-Angeron and Rampersad created a disconnection from their centre backs—an issue that was magnified by how we tried to use Winchester and the impact it had on our shape.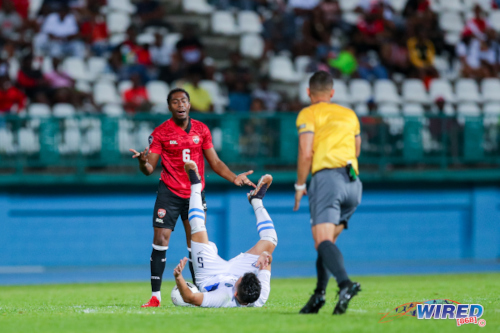 The resulting gaps between our lines played into Nicaragua's hands, as our players were forced into desperate tackles that allowed our opponents to play act and take up valuable time while breaking the rhythm of the game.
Nicaragua's goal came from one such play when a turnover found us stretched. We were then punished for not dealing decisively with the first attempted clearance (again the loose ball fell to a Nicaraguan) and failing to contest the second crossed ball.
The sight of Nicaragua forward Ariagner Smith jumping uncontested to head home would have been a severe disappointment to the staff, especially as Aubrey David is usually a dominant defender in that area.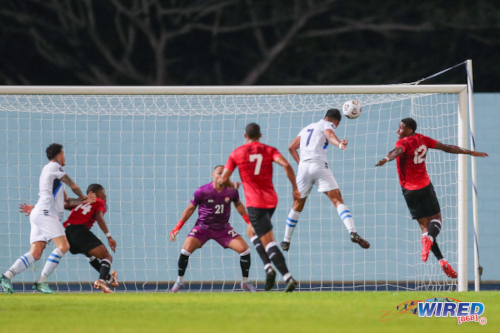 The penalty we won, as the industrious Telfer took advantage of an ill-advised tackle by the opposing left back, was our only real shot on target for the night.
Nicaragua coach Marco Figueroa pulled another surprise at half-time as he seemed to change his formation to 4-2-3-1. Did he do this to match up with our system? Or was there something else he was looking to exploit?
These are the questions I would have loved to put to him.
Coach Eve introduced Moore, who is a different type of player to Winchester and can play across the line.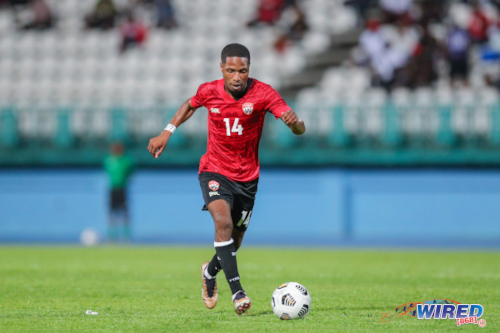 The second half saw Gomez advance with the ball from his right back position on a couple occasions, but twice hit high crosses that picked out no one while he was also caught in possession and almost made to pay for it.
Julien almost had the same problem and, after back-to-back turnovers (one of which gave Nicaragua a great opportunity to retake the lead), was replaced by Triston Hodge.
This was a strange event to me. Hodge, by nature, is not as attacking a full back as Julien. In a situation where we need to win and a draw and a loss equate to the same thing, why are we taking off one of our more attacking threats?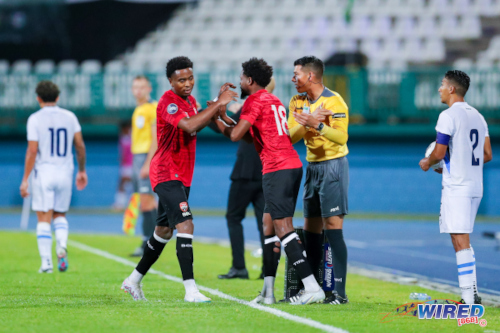 From where I sat (admittedly far from the field of action in the last row of the press box), I thought Julien's issue was where he was receiving the ball as opposed to him not having a good game.
He is at his best further up the pitch as an attacking wing back, but by going long repeatedly we never gave our players—far less our full backs—a chance to consistently take up residence in areas of the field where their mere presence would be a bother for Nicaragua.
At this point, I would say that the Nicaraguan scouts did their homework. They started with two full backs on the right side of their formation to supposedly deal with the threat of Auvray and Julien in tandem. But, beyond that 13th minute link up, that threat never really materialised.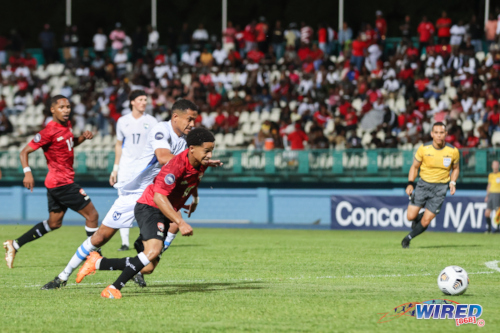 One of our brightest moments in the second half came when Auvray left two defenders for dead with a faked shot and chop back on to his left. His low centre of gravity and acceleration over the first 5 to 10 yards allowed him to provide a dangerous low cross that Nicaragua goalkeeper Miguel Rodriguez was forced to deal with, as Trinidad and Tobago forwards looked to latch on.
Auvray was the brightest of our attackers and when he was substituted, followed by Jones, it felt as though our chance to unlock the Nicaraguan defence in calculated moves during open play had gone.
Truth be told, I saw Auvray was visibly tiring. But in a winner take all game like this, maybe we could have asked him for five more minutes of effort before considering a change.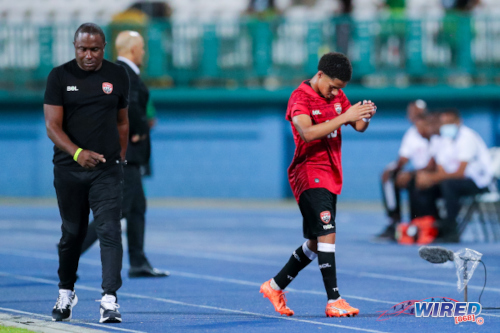 Maybe that was done. But I did not see any signals from the bench directed at the young man.
With Auvray and Jones gone, our reliance on the long, direct ball increased while our "success" at winning the second ball did not.
I want to point out here that I think we are blessed in our goalkeeping department at the moment. All three of our keepers are worthy number ones to me. But, in Nicklas Frenderup, we have a keeper who is very good with his feet and exceptional with his distribution.
So it was very disappointing to see him continually go long with balls that presented 50/50 opportunities at best, when he has the sidekick technique common to South American keepers that allows him to accurately find players in mid-range.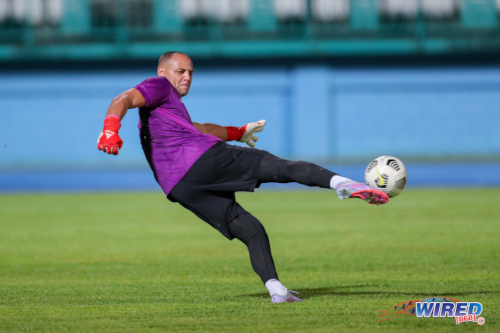 If he was instructed to use this, it would have helped us to retain possession and build our attacks from there.
By going long, we made every ball a chance for Nicaragua to not only win possession but to also feign injury. And they did the latter repeatedly.
I thought our plan should have been to be patient in possession and get our entire team camped in Nicaragua's half with our full backs in advanced positions and our 9 pinning their backline, while we moved the ball laterally and even backwards to "unhinge" or separate their midfield from the backline.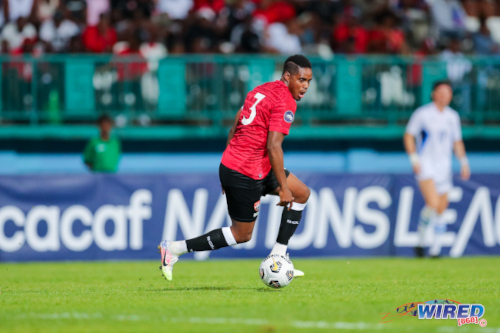 That way, we could destroy the compact, defensive block that all teams seek to present.
By going direct, especially in the second half, we made it easier for Nicaragua and gave them the chance to kill time and our momentum.
Marcus Joseph was introduced late to lead the line as a centre forward. I personally think he is best suited to play facing the opposing goal as a second striker or 10—that way, he is more likely to be running on to balls so he can unload his cannon of a shot.
Unsurprisingly, coach Eve and his staff were disappointed about the result. The boys cannot be faulted for effort but I think tactically there were some lessons to learn from that game.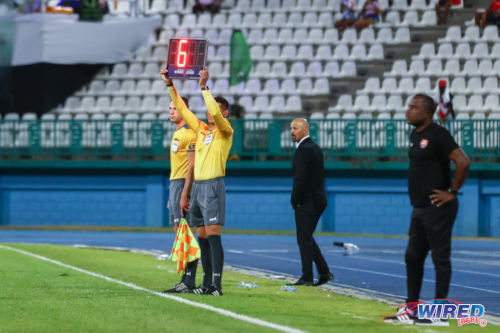 I do think we have the makings of a good team but certain areas need to be tightened.
Once we do the proper game analysis and look to improve—instead of the normal thin-skinned reaction to what has happened—we should be in good stead, no matter who we draw in the Gold Cup qualifiers.