East Zone action in the Under-20 division of the Republic Cup National Youth Football League (NYFL) got underway at the Eddie Hart Grounds in Tacarigua on Sunday, with entertaining, feisty football—albeit in dusty conditions brought on by a harsh dry season.
Four NYFL Under-20 matches were played in Tacarigua this weekend, with two sets of games occurring simultaneously on opposite sides of the Priority Bus Route (PBR).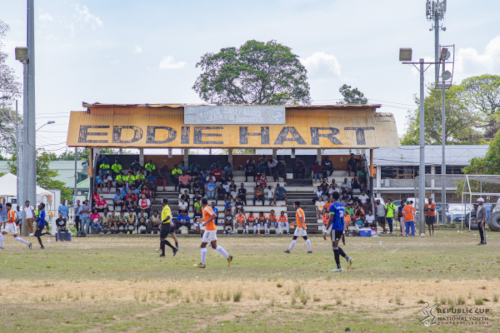 The designated League photographer had his work cut out for him, as he navigated red-band maxis while scooting back and forth across the PBR in search of that epic "money shot".
As a blistering hot day cooled considerably at around 6.15pm, San Juan North Secondary schoolboy Larry Noel delivered a memorable shot of his own as he thumped an angled right-footer into the roof of the net to give Defence Force a 3-2 comeback win over Eastern Jaguars.
Noel's last-gasp goal was his second in the encounter and complemented an earlier effort by impressive left back Tyrell Inniss. Just two weeks ago, Inniss was named the NLCL Under-19 Community Cup MVP, while Noel finished as the top goal scorer as Soccer Made Simple (SMS) won for the second straight season.

In the 2023 NYFL competition, SMS are competing under the banner of the Defence Force. Thus far, the results are just as good—as coach Stephen "Bison" Williams and his coaching staff helped their young brigade to pull off something of a coup in Tacarigua.
"Allyuh scrape a win dey coach," teased this reporter, to a member of the Defence Force technical staff.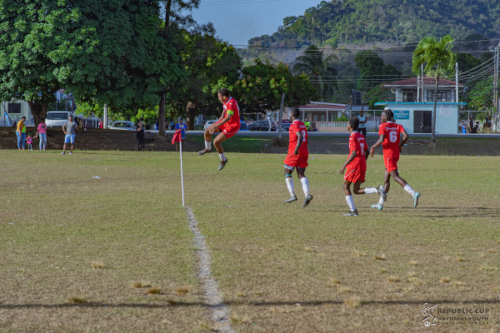 "That's nothing—a win is a win," the technical staff member retorted. "That's most important."
Williams and Gateway Athletics managing director Shem Alexander discussed the dusty conditions after the affair and the Defence Force coach suggested that the substitute benches—or chairs, in this instance—be moved from the western side of the ground to the eastern end, to avoid the worst of the gusts of dust.
"We have to do something about this," Williams said. "If we go on like this, in a few weeks some of these boys will get sick. I'm telling you."
Jaguars coach Jason Spence may have already been feeling sick to the stomach for an entirely different reason, as they allowed a great opportunity to grab three points to fall by the wayside.
Just before the topsy-turvy clash between Defence Force and the Jaguars in the Eddie Hart dust, a real eastern battle unfolded across the PBR as Ginga FC and Malabar Young Stars squared off—quite literally.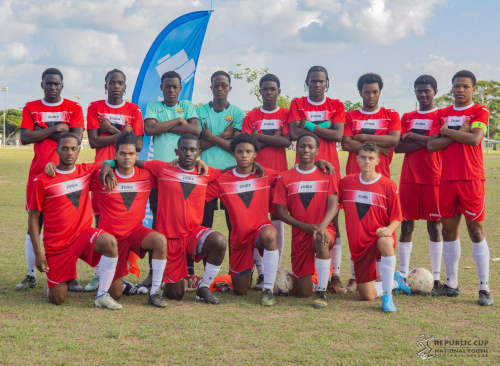 In a frenetic game, which was shortened to 40 minutes-a-half, there were three straight red cards issued for dissent or violent conduct, two penalty goals for Malabar, and one stunning free kick by Ginga.
To paraphrase calypsonian Roderick "Chuck" Gordon: was the Maths, Mathsing?
At the final whistle, Malabar emerged 2-1 victors with 10 players on the field opposed to Ginga's nine.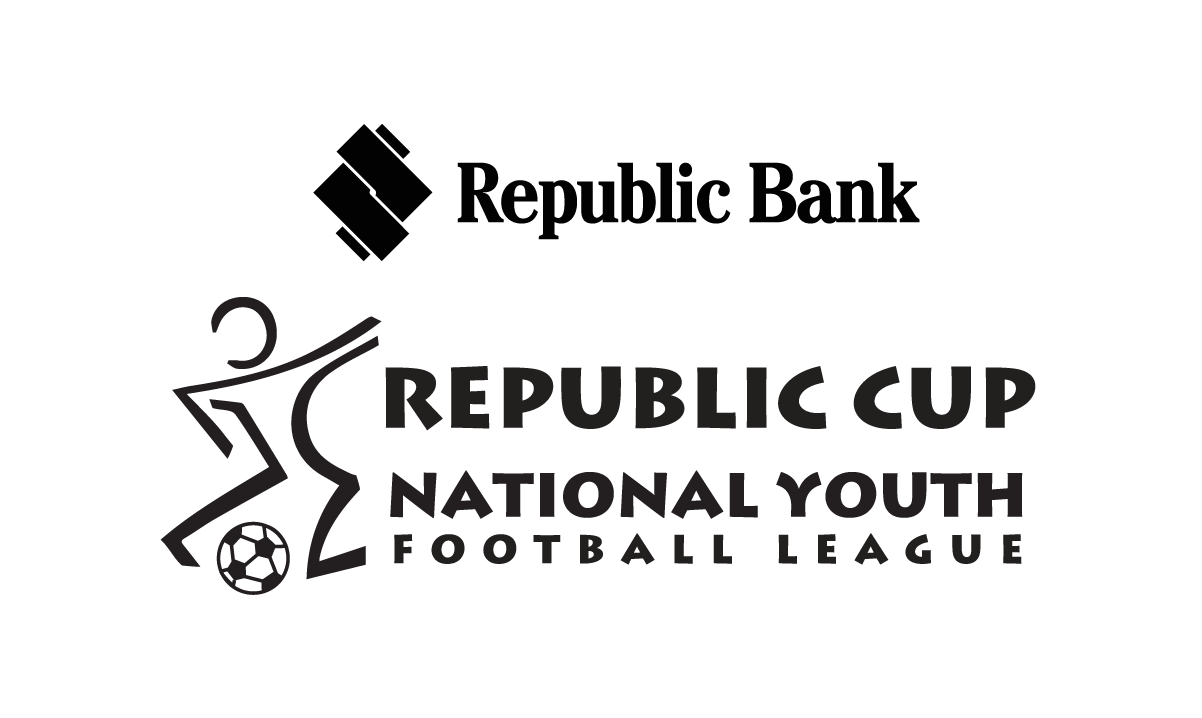 The game was boiling over from the opening whistle, as players squared up and shoved each other at virtually every physical coming together. And, in the Ginga camp, the emotions were still high after the final whistle as one technical staff member scolded his team's approach to the contest with explosive expletives.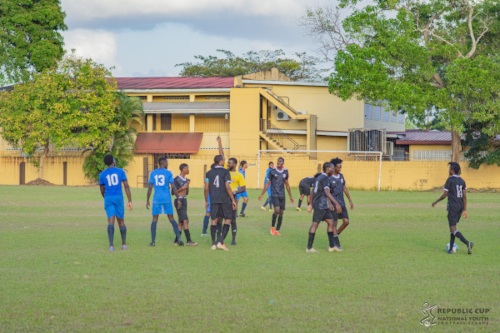 "Allyuh have some kinda discipline nah," the Ginga official shouted. "Allyuh f*#$ing embarrassing we boy. Over and over!"
When the tension was eased somewhat, Ginga coach Stefon Pierre tried to sum up a crazy hour-and-a-half in Tacarigua.
"The guys need to settle down and play the football—they need to play together and we need to work a little harder," a glum-looking Pierre told Wired868. "The love has to come from within both teams. We are lacking the love in the country.
"I believe we could fix it inno. Both teams have a talented bunch of players. The football itself wasn't that bad."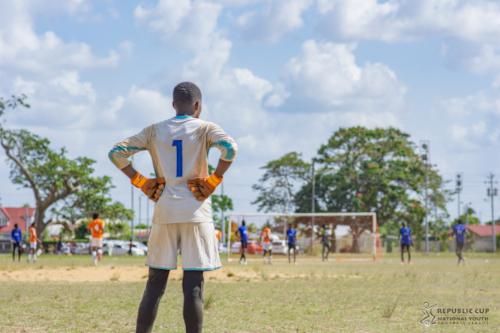 Indeed, there was some quality on display and slender Ginga midfielder Jervaughn Drakes slammed his team into the lead after just nine minutes. Drakes' wicked free kick arrowed into the bottom corner of Isaiah Villaroel's goal from just outside the area.
It didn't take long before things turned ugly though.
Several World Class Soccer Clinic players, who finished as runners-up in the recently-concluded NLCL tournament, faced off on opposite sides yesterday. And the saying that familiarity breeds contempt couldn't be more evident, as Ginga and Malabar fought for three points.
Two World Class players, Akido Crichlow and Anthony Samuel, were sent off for Ginga yesterday. Even more curious was Crichlow's connection to a third club.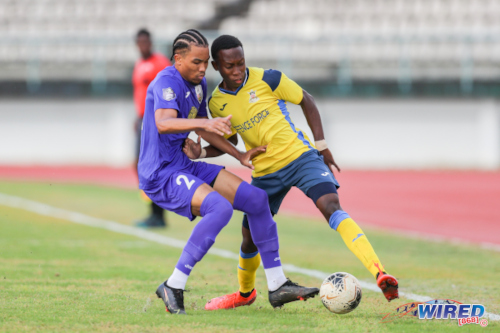 On Saturday, the teenager played for 90 minutes at right back for AC Port of Spain against Defence Force in a TT Premier Football League affair.
Only, on Saturday, Akido's surname was submitted as "Weeks" in the TTPFL—while, in Sunday's NYFL match, it was listed as "Crichlow".
Imagine toppling the mighty Defence Force 3-0 in a professional encounter on Saturday, only to be red-carded after just 49 minutes in an Under-20 match the following day. What a weekend for the youngster!
In NYFL action yesterday, Akido and Malabar flanker Devin Seales were booked in the 16th minute for some silly "afters" near the sideline, following a disagreement over a throw-in decision. And in the first half water break, a few moments later, the referees urged both coaches to bring much-needed calm to the proceedings.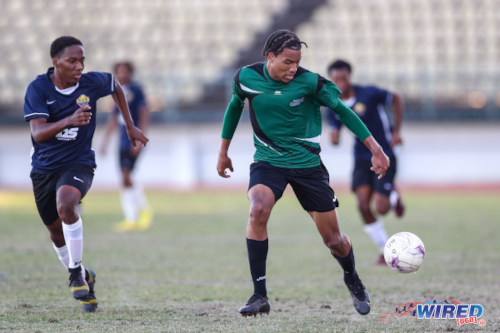 "You feel you are bigger than the game," an assistant told the simmering Akido.
By halftime, Akido appeared to have reached boiling point as he broke away from a team discussion while letting some expletives fly in the process.
And, a few minutes into the second half, the youngster's fall from grace was complete as he conceded a penalty and then received a straight red card after tossing the ball away.
"I don't understand how they could send him back out there," one Ginga supporter exclaimed. "That was a red card waiting to happen."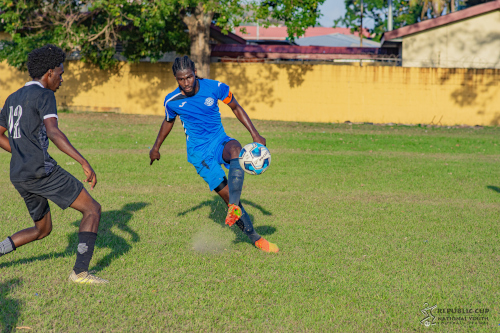 Nyron Dyer equalized from the spot for Malabar—but the on-field shenanigans were only just beginning.
Mere seconds after Dyer's cool penalty, former T&T Under-15 forward Ja-shawn Thomas lost his head and also received a straight red after he shoved Ginga defender Malachi Hazel, following a coming together between the two.
"Allyuh calm down nah—is football we come to watch inno," pleaded one dreadlocked fan. "Oh gosh boy. At least we back to square one now."
Pierre suggested the clashes were a byproduct of passion.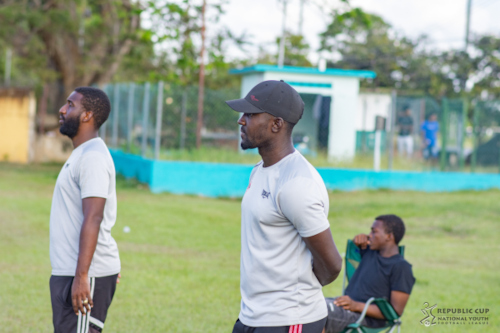 "Players were giving each other talk because they know each other," said Pierre. "Nobody wants to lose. Everybody was playing heart and soul and the little heart and soul is what took it way over the edge.
"It's a work in progress. We'll try to address it this week and come again next week."
Apart from their discipline issues, Ginga would want to work on their marking in the penalty area as well, as bullish Malabar midfielder Jeremiah Williams was upended in the box as he got goal-side of his marker—just as in their first penalty call.
With Dyer already substituted, Williams (J) dusted himself off to send a bullet of a left-footer into the top corner to seal the fighting 2-1 comeback win in the 74th minute.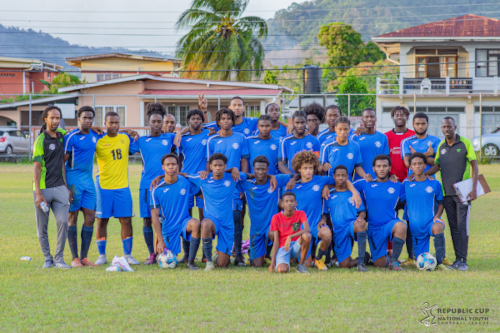 "The heat of the game is what really contributed to the scoreline," Pierre conceded. "We gave away two penalties and they capitalised."
The drama still wasn't done though. For the game's final act, Samuel became the third player to receive a straight red card as he charged at his former World Class teammate and captain, Keshawn Diaz, after being struck by an inadvertent arm.
The assistant referee was just about able to prevent Samuel from landing a retaliation blow on Diaz.
"We have to start with a meeting, we have to start with the love and we have to get it right," said Pierre, as he spoke about the ills within his Ginga team. "We have to hear what players' concerns are.
"At the end of the day, they are youths and we're getting a lot of that with all teams. The atmosphere is changing. All these youths are coming to the field with their problems. We have to deal with it in a better way than this."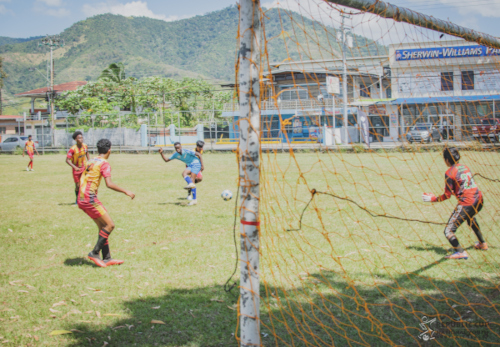 It was an ugly win in the end for Malabar, but coach Kevon Hall is confident that his squad has what it takes to qualify from the East Zone.
"Our goal is to come out of the East, which is the toughest zone, […] and we will take it from there," said Hall. "[…] It was a tough game. There were some crunching tackles that started off with the opposition. It continued in the second half and that's when the cards started to share.
"On the other hand, we had some new players coming into the team so the cohesion isn't really there as yet."
Thankfully, there weren't any red cards when Maracas Utd faced Trincity Nationals, although there were more than a few goals in that wild encounter.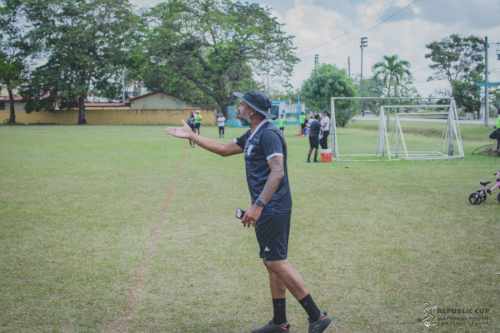 In the end, Trincity emerged with a handsome 5-2 win. Trinity College East schoolboy Khaleem Prince bagged a double for the winners—although his teammate Kedell Jones and opposing winger Daniel Best arguably scored the goals of the day.
With the teams locked at 1-1 at the half, Jones gave Trincity the lead with a scrumptious lob of Maracas goalkeeper Kareem Rodriguez in the 53rd minute—although he seemed to be aiming to pick out Prince and company in the box from the right flank.
Jaheim De Lecia put Trincity up 3-1 with a nice swivel and finish in the 63rd minute, paving the way for Best to bulge the old onion bag with an absolute cracker in the 72nd minute.
Almost out of thin air, Best drove a peach of a left-footed volley into the top corner with little to no back lift as Trincity failed to deal with a left side throw.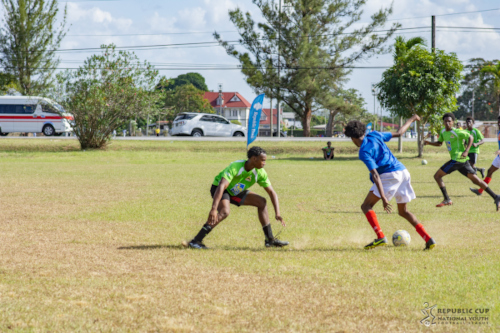 Best's strike was so stupendous that blushing Trincity coach Joel Warrick made a point of asking for the name of the scorer.
By full-time, Warrick was the one smiling from ear-to-ear though as further items by Prince and substitute Gideon Joseph added gloss to the scoreline for his Trincity team.
Having clinched the Under-19 title in last year's truncated Republic Cup season, Warrick and Trincity have set their sights on more silverware.
"We see ourselves as three-time champions," said Warrick, as he pointed to national titles in the Under-14 and Under-15 age groups—in 2018 and 2019—with this current Under-20 crop. "That's basically our mission. We want to go all the way. We would like to come out of this group by finishing in the top two.
"This is the toughest group because you have [Defence Force], Jabloteh and some of the big-name teams. Our plan is to come out and see if we could make it a four-peat."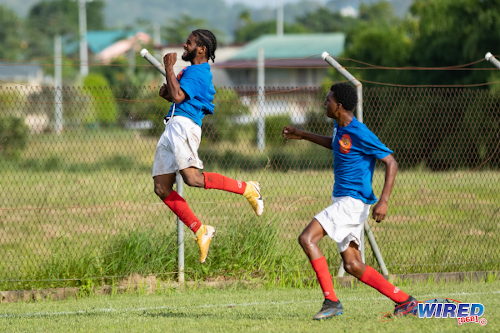 Trincity are off to a flying start on their quest for NYFL glory. But they can expect a serious fight from Defence Force and the feisty pair of Ginga and Malabar.
(Teams)
Malabar Young Stars (4-2-3-1): 1.Isaiah Villaroel (GK); 6.Kosi Charles (3.Ethan Friday 64), 2.Nathan Plaza, 4.Keshawn Diaz, 5.Josiah Shade (captain); 8.Tayshaun Cummings, 10.Jeremiah Williams; 7.Nyron Dyer (15.Odele Larrier 58), 11.Keston Simpson, 12.Devin Seales (13.Isaiah Edwards 62); 9.Ja-shawn Thomas [red card 51].
Unused substitutes: 14.Ezekiel La Rose, 15.Odele Larrier, 16.Keishawn Carter, 17.Anthony Wells, 18.Raymond Garras, 19.Devonte Gibbs, 20.Tyler Ayers, 21.Kanye John, 22.Terrell Latapy.
Coach: Kevon Hall
FC Ginga (4–3-3): 1.Da Jeon Collingwood (GK); 23.Akido Crichlow [red card 49], 4.Mikai Rochard (captain), 5.Zakari King (8.Andrew Charles 52), 9.Malachi Hazel; 14.Jervaughn Drakes, 6.Kyle Dwarika (25.Jaydon Gaston 76), 17.Anthony Samuel [red card 78]; 11.Reshaun Gulston (10.Darion Marfan halftime), 7.Ronaldo Rogers (26.Vanis Chai Hong 52), 12.Kyle Wladron (15.Jaquile Phillip 64).
Unused substitutes: 18.Nicholas Thompson, 21.Jonathan Pascall.
Coach: Stefon Pierre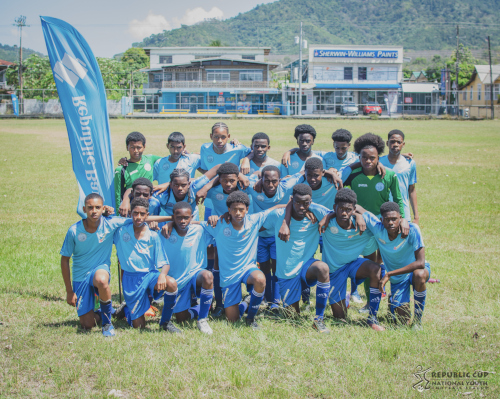 Trincity Nationals (4-2-3-1): 1.Leumas Neptune (GK); 13.Rafael Alexander (26.Brian Gonzales [16.Remyah Walcott 78]), 4.Nicholas Whiteman, 14.Jesus De Lecia, 15.Jersiah Rajkumar (3.Siddiq Damree 60); 6.Thassius Devenish (11.Mikael Rahim 71), 21.Harrison Parks (captain); 5.Khaleem Prince, 9.Kedell Jones (8.Omari Flanders 60 (18.Nathan Prowell 89), 10.Jovonn Gomes (12.Gideon Joseph 54); 19.Jaheim De Lecia.
Unused substitutes: 5.Jabari Francois, 24.Darian Smith.
Coach: Joel Warrick
Maracas Utd (4-1-3-2): 1.Kareem Rodriguez (GK); 9.Jamal Jupiter, 19.Adel Haynes, 2.Malachi Gordon, 18.Nathaniel Duncan; 8.Jaeron Eillis; 11.Christoff Walters, 7.Daniel Best, 14.Nathan Aguilla; 10.Tashuan Friday (6.Nickel Millington 60), 21.Matthew Lutchman.
Coach: Corey Selvon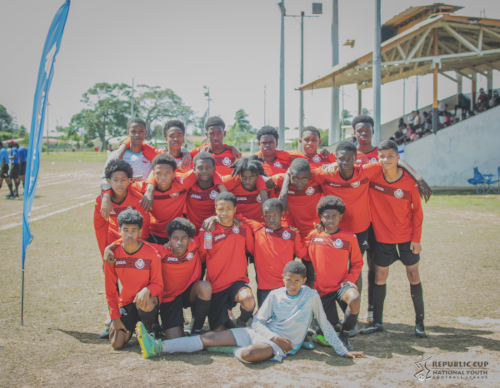 Republic Cup National Youth Football League
Under-20 category
(Sunday 12 March)
Trincity Nationals 5 (Khaleem Prince 14, 88, Kedell Jones 56, Jaheim De Lecia 63, Gideon Joseph 76), Maracas United 2 (Matthew Lutchman 39, Daniel Best 72);
Malabar Young Stars 2 (Nyron Dyer 50 pen, Jeremiah Williams 74 pen), Ginga FC 1 (Jervaughn Drakes 9);
Defence Force 3 (Larry Noel [2], Tyrell Inniss), Eastern Jaguars 2;
Athletic International Academy 3 (Angel Arogonis [2], Jean-Marc Thomas), Cooper's Coaching Academy 0;
(All played at Eddie Hart Grounds)