The exciting Terminix La Horquetta Rangers pair of Kadeem Corbin and Real Gill got their maiden goals for Trinidad and Tobago's Senior Men's team last night. But at the end of 90 minutes at the Hasely Crawford Stadium, the name on the lips of most neutrals was that of 18 year-old Saint Martin winger Kaïlé Auvray.
Born in Caen, France, Auvray is the son of Saint Martin coach and former Guadeloupe international Stéphane Auvray, while his mother is from Trinidad and Tobago.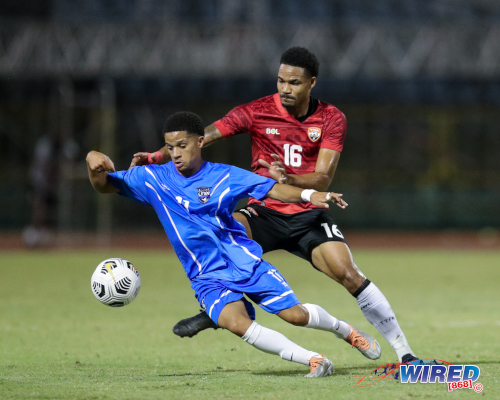 Last month, Trinidad and Tobago head coach Angus Eve had a look at Auvray (K) as he was involved in the Soca Warriors training camp. And last night, Eve got a front row view at what the Lille academy player could do.
Kaïlé's dribbling and decisive running were refreshing to observe, as he showed both opposing right back Alvin Jones and his replacement, Isaiah Garcia, a clean pair of heels.
Veteran Trinidad and Tobago captain and custodian Marvin Phillip was rarely worked by the French-speaking visitors, with his nerviest moments coming from awkward back passes by his defenders. However, Phillip's heart would have been in his mouth when Kaïlé wrapped a wicked long range shot off the bar in the second half—after going on one of his mazy runs through the midfield.

The spanking hit from the Saint Martin winger drew 'oohs' and 'ahhs' from the covered section of the Hasely Crawford Stadium venue, and Eve seemed pretty impressed by the work of the lively teenager who was recently released by Minnesota United FC 2.
As Eve lauded his team's ball retention, chance creation and compact defensive effort, his smile went from ear to ear when he spoke about the younger Auvray.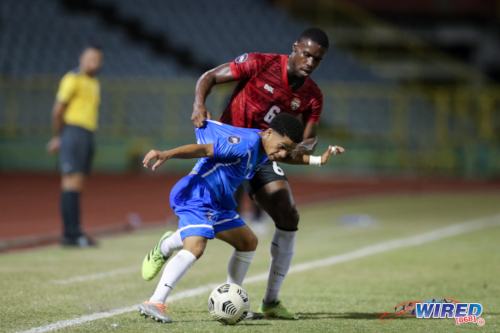 "He's Trinidadian," Eve said with a chuckle, during the post-match interview. "I told his dad, who's the coach of the opposition team, that I had him in training and I wanted to see him play. Saint Martin had the opportunity to play him in this game against us, so I knew I would have gotten the opportunity to see him play.
"I'm very impressed with Kaïlé. He picks up the ball and goes at people and goes past people. We would have loved to have him [for] the [Concacaf] Under-20 [Championships] if we had known about him before."
According to Eve, the senior Auvray wants Kaïlé to represent Trinidad and Tobago at international level. It could be a win-win situation for both parties too, as Saint Martin—a French colony—isn't recognized as a full Fifa member, clearing the way for Kaïlé to represent the land of steelband and calypso if he so desires.
Eve was definitely singing that tune aloud last night.
"Yes, the answer is yes," Eve said, of T&T's push to integrate Kaïlé into the Soca Warriors setup. "We're definitely in contact with him […] He is not tied to Saint Martin so we will be able to get him."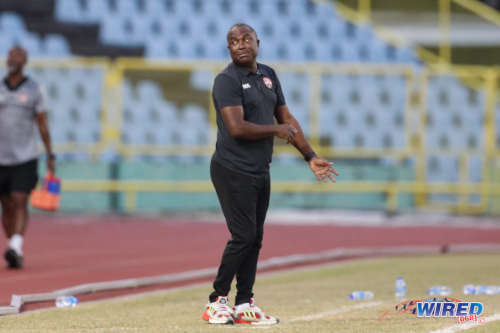 After spending many a Christmas season with his wife and two children in sweet T&T, it appears as though Stéphane Auvray has gift-wrapped a diamond in the rough for the Trinidad and Tobago management team. The proverbial ball, as they say, is now in the Trinidad and Tobago Football Association's (TTFA) court.
Not to be mistaken with the High Court of course.
While the 18 year-old Kaïlé got high marks on his audition, at the other end of the spectrum, the 40 year-old Wilfried Dalmat was no slouch either—as he tussled hard with the Warriors midfield trio of Nathaniel Garcia, Kevon Goddard and Neveal Hackshaw.
Dalmat, a former Champions League player with FC Nantes and Standard Liège, was strong in possession and picked decent passes, as he attempted to roll back the years. Unfortunately for Saint Martin, the former Ligue 1 winner was visibly exhausted by the hour mark and it was his challenge on Hackshaw that inadvertently presented Corbin with the opportunity for the opening goal in the 65th minute.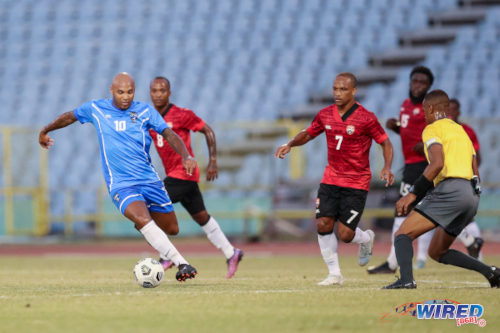 Once a teammate of Goddard and the red-hot Levi Garcia at National Under-20 level, the 26 year-old Corbin finally had his maiden goal at senior level, as he tricked his defender before squeezing a shot below substitute goalkeeper Jordan Etienne.
Mere moments after notching the opening goal, Corbin was substituted by his La Horquetta Rangers teammate, Gill, who had a lively cameo and could have easily had a double by the time referee Kwinsi Williams blew his final whistle.
Eve blamed his team's finishing—or lack thereof—on their lack of match fitness and he appeared relatively pleased that they created chances in the first place. With a crucial Concaaf Nations League fixture away to The Bahamas on 24 March, Eve felt that yesterday's exhibition was a step in the right direction for his squad.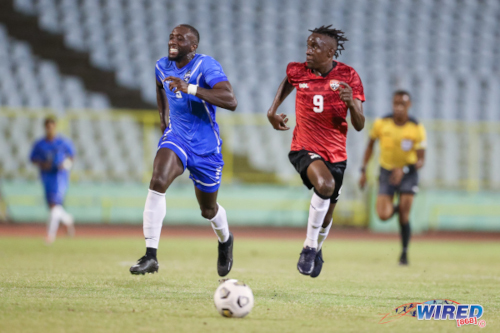 "Everything we do now is geared toward those two [Nations League] matches," said Eve. "Whatever we put out on the pitch, whichever team we put out will be in focus for those two matches. I thought it was a good exercise for the guys. We played a very organised Saint Martin team [and] I think we looked very positive in defence.
"We got a lot of chances. I thought we could have won by a little bit more but we'll take the win because we haven't played for so long."
After a largely uninspiring first half where T&T mainly sat off the ball and allowed the likes of Dalmat and his midfield partner Randy Gentes space and time to operate, the hosts grabbed the initiative in the second half after a triple change by Saint Martin at the interval played into the hosts' hands.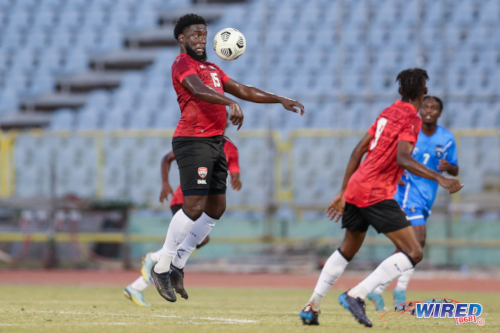 "My philosophy is if we keep the ball then the other team can't score," Auvray (S) said, highlighting that the players who featured in the second half ply their trade locally in Saint Martin. "After making those subs, we lost consistency in our play, discipline on defence, the ability to keep the ball and we saw a drop in terms of our possession.
"[…] You could tell the difference between the local players and the players playing abroad."
Saint Martin's drop in quality and assertiveness paved the way for Eve's own subs to make an impact, with Gill and John-Paul Rochford flying down the wings, Michel Poon-Angeron and Jesse Williams biting hard in the midfield, and Duane Muckette looking more inventive in the "number 10" role than Garcia (N) and the veteran Joevin Jones did earlier in the contest.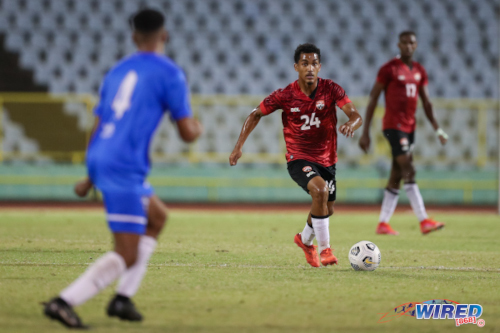 "In the first half the guys were a bit timid—these guys haven't played football since the Ascension League finished early last year," Eve said. "We analysed what [Saint Martin] were doing and why they were getting the ball deeper in midfield. We then put higher pressure on them in the second half and we raised the intensity and that's what enabled us to get the chances and try to take over the game a little bit more."
Gill, Muckette and Rochford all had presentable chances in the dying embers of the game, with Gill eventually making amends after woefully missing the target with the goal at his mercy.
Six points is the ultimate target in March when the Warriors face the Bahamas and table-toppers Nicaragua, as they attempt to gain promotion through to the top tier of the Concacaf Nations League.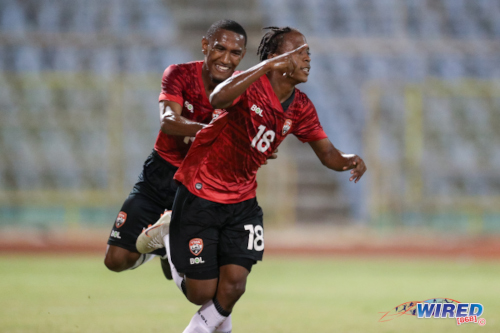 "Getting the chances and creating the opportunities is always good—I think we have a bit more in the tank," said Eve, naturally seeing the glass half-filled. "But we still want this group to do well because we have been working with the group for like a month and a half.
"They wouldn't be as fit as they should be but I thought that we got them up to a very good standard."
If Eve has his way, the T&T football public would soon be saying bonjour and beinvenue to young Kaïlé Auvray.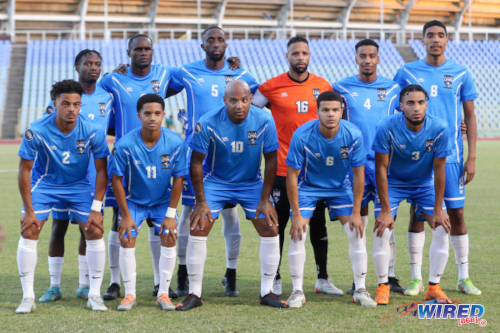 For now, it's à bientot.
Wired868 has provided readers with solid, independent journalism since 2012. If you appreciate our work, please contribute to our efforts.
Support Independent Journalism