The footballers from the Made in La Brea club had spectators talking about more than just the famed Pitch Lake yesterday, as they strolled to a comfortable 3-nil win over Moruga FC in Group B action of the NLCL Under-19 Community Cup at the Mannie Ramjohn Stadium in Marabella.
With seven matches played to date in Group B of the NLCL's 2022/23 edition, Made in La Brea (12 points) trail only W Connection FC (19 points) who sit pretty atop the South/Central group standings.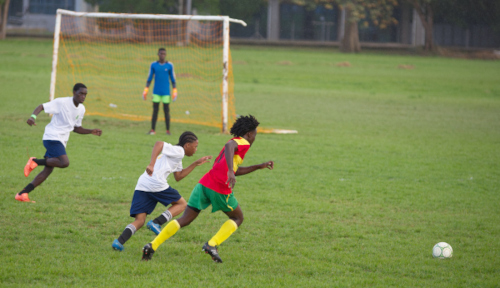 Three teams from Group B advance to the NLCL quarterfinals and, based on yesterday's evidence, there is no reason why the La Brea outfit shouldn't be in contention in the latter stages as well.
La Brea moved the ball around smoothly and effectively in the first half, and they led at the break through a scrumptious fifth minute half volley by their lanky forward Daniel Jones. Truth be told, Jones should have had a hat-trick by halftime, as he was neatly played through on goal by the diminutive midfielder Isaiah Robertson on two occasions, following his early item.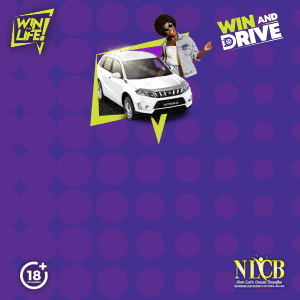 In the first instance, Jones blazed a left-footed shot wide of the mark in the 26th minute, after coming face-to-face with Moruga goalkeeper Jaden Turner. And, a few minutes later, a terrible touch in the opposing penalty area robbed him of another glorious chance.
"Watch Jonesy nah boy," said a frustrated spectator in the uncovered section of the Marabella venue. "That was to be a hat-trick dey!"
With five goals to show from La Brea's first six matches, perhaps Jones insists on pacing himself.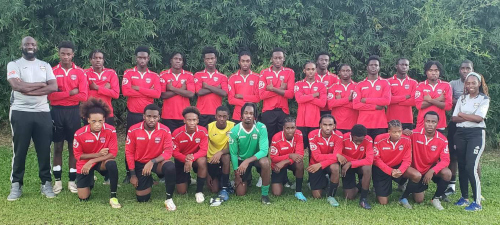 "If you check through our records you'd see that we are seldom scoring," Made in La Brea coach Callum Marshall told Wired868. "Today was one of the better days for scoring but we have to keep working on our execution because we were a little wasteful in front of goal. We will be working on that.
"We are proud of the defensive record so far. We are a work in progress as you can see and we want to keep continuing the work so we can go from strength to strength."
With the covered section of the Mannie Ramjohn venue deemed unsuitable for the public due to its deteriorating state, a sprinkling of NLCL fans gathered in the uncovered section where a few tents were pitched to cater to the supporters and the limited media personnel.
And though the sun posed a bit of a challenge, the atmosphere soon became a cozy one as fans interacted with each other and engaged in some light banter with the players as well.
National Under-20 midfielder Luke Phillip, who came on as a second half sub for lively La Brea winger Akiel Vesprey, got his share.
"That's Luke Phillip? You sure boy?" one quizzical supporter asked another. "Why he playing so?"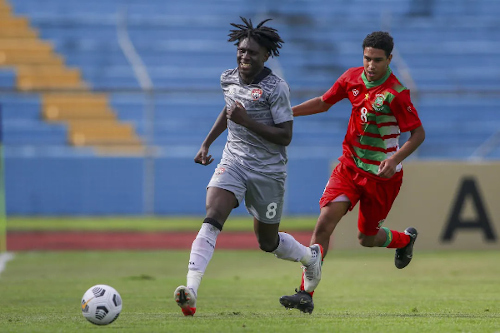 "Yes boy!" answered a young spectator. "Unless there is another Luke Phillip I don't know about."
Phillip assumed an attacking midfield role behind Jones. And while he came to life with the ball at his feet, spraying passes at will with his left boot, the talented youngster laboured while out of possession and hovered near the centre circle.
"There is no fitness issue or anything like that," said Marshall, as he sought to explain why a National Under-20 player was on his bench. "Yes, he's a regular starter—we just thought we would go with a different approach for this game. Every player on our team, we have full faith and confidence in them.
"[…] Today, based on what we were seeing, we went with Jones who scored a double and we also went with Xarion France [in] the number 10 position and it worked. Mr Phillip eventually came in to give the game a bit of a raise and that worked as well. It was just part of the plan."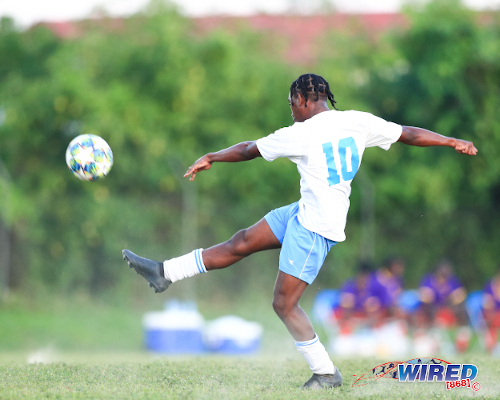 Talk about an abundance of riches for the La Brea team, who also have Naparima College playmaker Kanye Francis on their roster.
"Aye Luke!" shouted one female supporter. "Run in the people hot sun boy!"
Phillip replied with a smile: "Ah cyah make!"
By then, Jones had made amends for opportunities spurned as he doubled La Brea's lead in the 54th minute with a neat left-footed item, after more tireless work by Robertson in the midfield.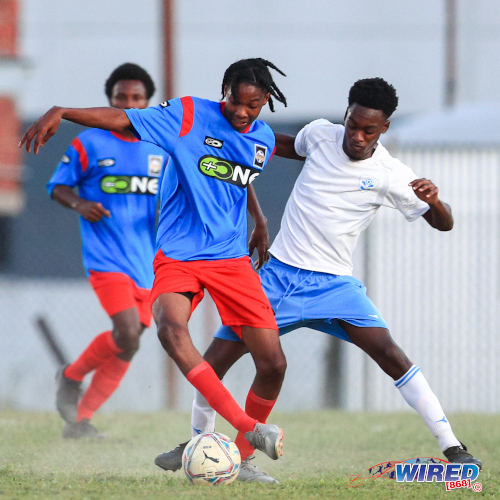 Moruga had chances to make it a contest in the second half, but lacked composure and assertiveness in front of goal. Lively attacker Jah-malee Barclay twice blazed over from close range when played through on goal.
And, in the dying embers of the game, Moruga substitute Ajani Fraser had supporters and even his own teammates laughing when he wildly swung a right-footed shot away from an unprotected goalmouth.
"That's all he does do inno," said one frustrated Moruga supporter. "I don't know why they does can't leave he home."
Opposing left back Jkwon Bailey showed Fraser and the Moruga contingent how to bulge the old onion bag though, as he scored with a delightful chip over Turner in the 81st minute—after a flowing La Brea move down the left flank that involved Phillip and his pint-sized namesake Ruben Phillip.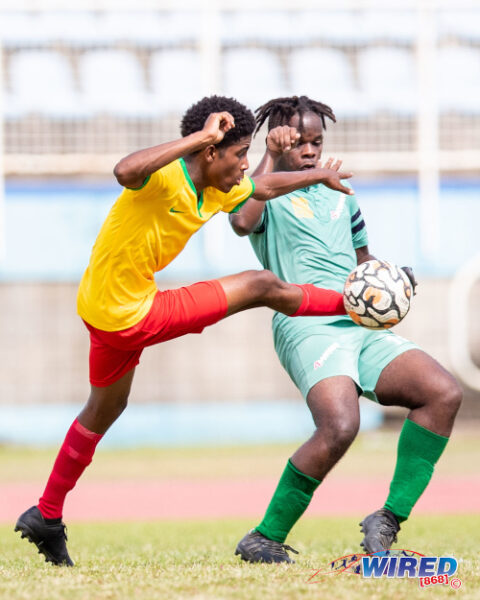 The two Phillips worked a pair of sweet wall passes down the left channel before Bailey literally took the ball off Ruben's toe to cheekily dink the goalie from an acute angle.
If it were a Fifa video game, the 3-0 scoreline would mean 'chromed' and Moruga would be forced to hand over the controller. Truth be told, it felt as though the Moruga team never arrived at the Marabella venue.
"Today, I think my team lacked composure on the ball and the ability to play the simple passes," Moruga coach Andy Smith told Wired868. "Also, we were missing a couple of the leaders on the pitch today through injury—with that, we lost our cutting edge. But we will work hard in training in the days to come to correct that."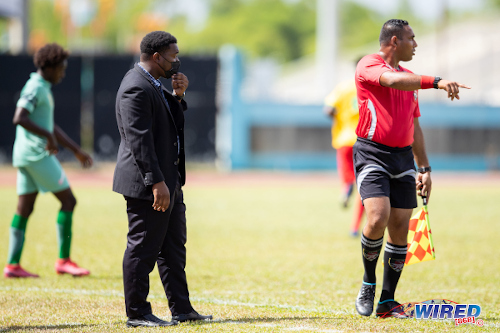 With yesterday's loss, Moruga are stuck on seven points through seven matches and would likely need at least two victories from their remaining three games, with Point Fortin Youth FA (seven points), Cunupia FC (six points) and Gasparillo Youths (five points) all still vying for a top three spot in Group B.
Yesterday, both Cunupia and Gasparillo missed the chance to climb the Group B table as they played to a 1-1 draw in the first game of the Mannie Ramjohn double-header.
Cunupia, who are led by the 2022 Secondary Schools Football League's (SSFL) Premier Division-winning coach Randolph Boyce, had the better of the play for much of the second half but wasted their chances.
The Cunupia team had a touch of St Benedict's College about it too, with schoolboys Nesean Alexander and Keanu Morean deployed at the back while Rayshawn Crichlow and striker Jaden Grant featured further afield.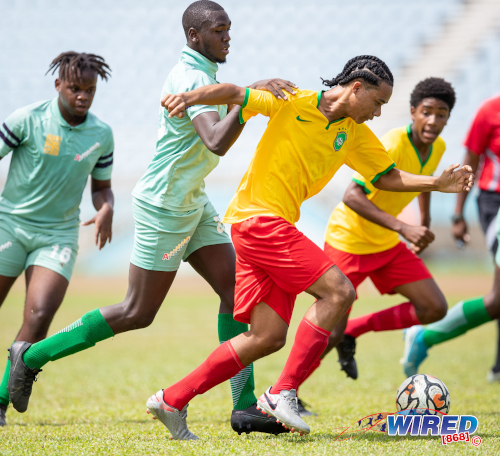 Largely against the run of play, Gasparillo took the lead in the 71st minute through their central defender Josiah Cooper who powerfully headed home a sweet right-sided corner by the impressive Ayche Allum Sanders.
Cunupia kept plugging away in search of an equaliser, with Grant and tidy playmaker Jordan Lara coming agonizingly close to scoring within seconds of each other.
If coach Callum Marshall's team is Made in La Brea, then Cunupia's 87th minute equalising goal was "Made in St Benedict's".
The tireless Crichlow made a bombing run down the left before crossing to Morean at the back stick. The right back then nonchalantly teed up a shot for Akini Ramsey with a first-time cushioned pass, and the attacker converted via a deflection off a Gasparillo defender.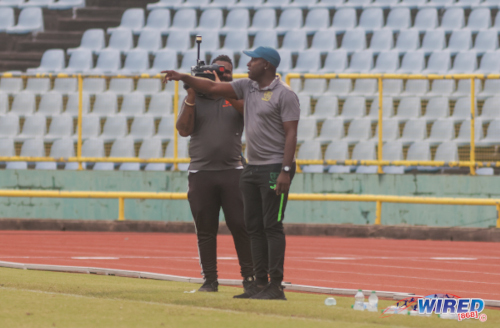 It may have felt like two points lost for Cunupia and Gasparillo. But there is plenty football left in the 2022/23 NLCL tournament.
(Teams)
Gasparillo Youths (4-2-3-1): 1.Jerelle Thorne (GK); 19.Darren Griffith, 6.Aaron Oudit, 5.Josiah Cooper, 18.Jaheim Abraham; 14.Daunte Julien, 17.Terrell Rajoon; 3.Jaden Alexander, 9.Malik Young, 10.Ayche Allum Sanders (4.Tyrell Joefield 78); 80.Ricardo Williams (captain).
Unused substitutes: 2.Jaden Joseph, 7.Abayomi George, 8.Mikhail Marryshow, 20.Hakeem Lange, 66.Judah Francis.
Coach: Jasandra Joseph
Cunupia FC (4-3-3): 1.Samuel Glasgow (GK); 4.Keanu Morean, 8.Jahel Lewis, 12.Nesean Alexander, 2.Joshua Phillip; 10.Jordan Lara, 20.Rayshawn Crichlow, 15.Jeremiah Joseph (3.Adam Pierre halftime); 21.Camron Burke (16.Jerell Griffith 66), 9.Jaden Grant (captain), 23.Akini Ramsey.
Unused substitutes: 13.Antonio Alexander (GK), 11.Thierry Ash, 18.Ankioh Medford, 19.Elijah George, 24.Josiah Barrow Jack, 26.Marsalon Watson.
Coach: Randolph Boyce
Referee: Andrew Samuel
Moruga FC (4-2-3-1): 22.Jaden Turner (GK); 19.Diego Phillip, 2.Dyrell Duntin, 6.Tyrel Pemberton (captain), 24.Nasir Dennis (7.Ajani Fraser 69): 8.Terrell Thompson, 14.Russell Lynch (17.Veron Gomez 59); 9.Jah-malee Barclay, 18.Jeremiah Ottway, 11.Santana Smith (23.Jase Ottway 59); 25.LeBron Williams (15.Renny Nicholas 59).
Unused substitutes: 1.Adriano Baptiste (GK).
Coach: Andy Smith
Made in La Brea (4-2-3-1): 1.Jobari Codrington (GK); 15.Devaughn Mauge, 5.Jaheimn Phillip, 25.Tyrese Francois (4.Tyriese Neptune 32), 2.Jkwon Bailey; 14.Isaiah Robertson (20.Tyrique Phillip 65), 16.Simon Modeste (captain) (3.Cunnelius Hannaway 65); 10.Akiel Vesprey (8.Luke Phillip 51), 12.Xarion France (9.Khalil Perez 78), 24.Ruben Phillip (19.Japhia Millington 82); 11.Daniel Jones.
Unused substitutes: 6.J'barie Wells, 7.Brandon Grant, 13.Christon Phillip, 22.Trellis Quammie.
Coach: Callum Marshall
Referee: Annas Mohammed
Wired868 Man of the Match: Daniel Jones (Made in La Brea)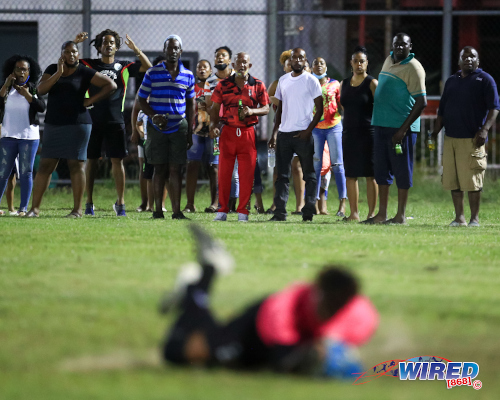 NLCL U-19 Community Cup
(Sunday 15 January)
Gasparillo Youths 1 (Josiah Cooper 71), Cunupia FC 1 (Akini Ramsey 87) at Marabella;
Moruga FC 0, Made in La Brea 3 (Daniel Jones 5, 54, Jkwon Bailey 81) at Marabella;
W Connection 3, Point Fortin Youth FA 1 at Edinburgh 500.