The final of the 2022 Secondary Schools Football League's (SSFL) National Intercol tournament is set and Fatima College and St Benedict's College will meet on Wednesday at the Hasely Crawford Stadium in what is a rematch of this year's Big 4 Final.
The SSFL Premier Division champs St Benedict's cruised to the Intercol finale, as they backed up a 6-nil trashing of Chaguanas North Secondary in the quarterfinals with an equally-facile 4-0 win over Tobago Intercol winners Signal Hill Secondary in yesterday's first semifinal at the Hasely Crawford Stadium.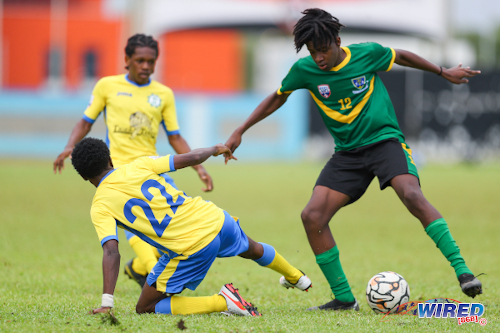 Versatile Benedict's midfielder Josiah Ochoa opened the scoring for the "Golden Lions" in just the ninth minute and went on to bag a double, while there were also goals for Nicholas Bobcombe and exciting winger Jeremiah Niles as the South Zone Intercol champions made light work of Signal Hill.
Again, coach Randolph Boyce did a juggling act for Benedict's as he seemed to manage resources and energy. Prolific front man and captain, Tarik Lee, came off midway through the first half after picking up a knock, while attacking midfielder Derrel "Zoom Zoom" Garcia was an unused substitute.
Still, St Benedict's team had enough to get by the spirited but outmatched Signal Hill, as Ochoa and Niles tormented the Tobagonians for much of the 90-minute contest in Port of Spain.
St Benedict's know they will be in a proper battle in the Intercol finale next week though, and the La Romaine schoolboys watched on as Fatima dramatically got by Trinity College East by a 4-2 margin in a penalty shootout, after an exciting 2-2 deadlock in regulation time.
To say Trinity punched above their weight would be a fair statement when the "Blue Hawks" stunned perennial East Intercol winners San Juan North Secondary to lift the first East Intercol trophy in the school's history.
However, the youngsters from Trincity held their own in this heavyweight class though. And after a slick second half double from Khaleem Prince, they looked set to be an unlikely Intercol challenger for Benedict's.
After trailing 1-0 at the break to a lovely lobbed item by Fatima captain Christian Bailey, Trinity stunned their northern opponents swiftly after the break. Prince slapped home a stylish double in the 49th and 53rd minutes, each a copy of the other, to give his team a 2-1 advantage.
Twice, Prince beat Fatima goalkeeper Tristan Edwards with wicked right-footed shots from the edge of the area that arrowed into the bottom corner and away to the goalkeeper's right.
The stage was set for the Prince of Trinity to claim his crown, but he fired wide of the post in the shootout as he aimed for Edwards' bottom corner once more.
It would be a cruel irony penalty for Trinity, as the awarding of a penalty for Fatima during regular time—a decision that didn't sit well with Trinity coach Dwayne Davis—compounded their eventual shootout loss.
Referee Cecile Hinds pointed to the spot after a right-side cross from the industrious Jose Attong awkwardly bounced up on Trinity East captain Andre Providence's arm. And Fatima defender Jaden Williams calmly slotted past 16-year-old Trinity East goalkeeper Brandon Dalrymple from the spot.
"I want to know what my defender is supposed to do with his arm," Davis told Wired868. "His arm is down at his side and the ball struck his thigh then hit his arm. What is he supposed to do?!
"I want consistency. If that's a penalty, then we should get a penalty on the other end too. The ball hit one of their defender's arm after it came off his foot but nothing was given."
The final 30 minutes were frenetic and refreshing for neutral supporters, as the teams went in search of an elusive third goal and the possible winner. Both had chances to win it in regular time too.
Trinity midfielder Jeremiah Frank-Williams misfired at the back stick in the 67th minute, after he was found with an intelligent header across the face of goal. And Trinity star attacker Jaheim Faustin nudged wide in the 79th minute after he and a teammate got in each other's way, following an Anderson Barnwell set piece.
Fatima were making the ball work with set pieces too. Enterprising left back Alijah Nunes fired just over bar with a rasping free kick in the 76th minute, while midfielder Aidan DeGannes followed suit with an acrobatic overhead attempt.
There was to be no last-gasp winner for either team though, as the game headed to the dreaded shootout after Hinds played a whopping nine minutes of stoppage time.
Davis and his charges rued their misses during regular time, while Fatima coach Hutson "Baba" Charles looked like the coolest man in Port of Spain.
"These boys have been scoring their penalties all season in training," said Charles. "I had no worries about them in this shootout."
Williams and Nunes stepped up and put away Fatima's first two kicks, and the former appeared to have some words for Dalrymple who tried to stare him down.
The shootout was level at 2-2 at that stage, and Prince then screwed his right-footer wide of Edwards' goal.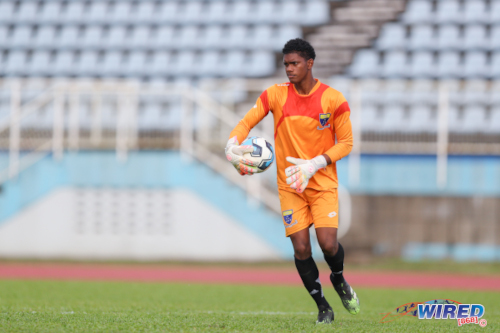 Fatima went up 3-2 through DeGannes, while Edwards saved Frank-Williams' unconvincing effort for Trinity with a sprawling dive to his left.
Faustin strode up to console his teammate but there was no way back for the eastern outfit, as Edwards dusted himself off to decisively put Fatima's fourth spot kick into the roof of the net to seal Fatima's 4-2 shootout win.
"Tristan could save," Charles said, with a chuckle.
Yesterday, Fatima and Trinidad and Tobago National Under-20 goalie showed that he was pretty handy from the spot too, as his penalty sent his school through to the National Intercol finale and a much-anticipated rematch with St Benedict's.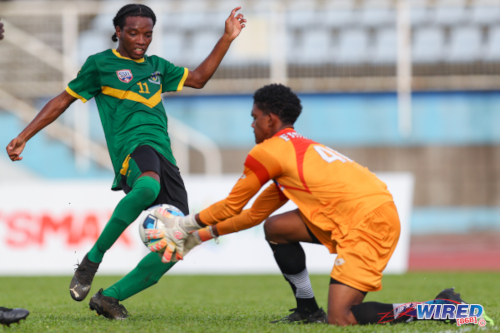 Whether he's flying through the air or nonchalantly dispatching spot kicks into the jep nest, Edwards should play a major role if Fatima are to turn the tables around on a gifted St Benedict's team and end the season as National Intercol winners.
(Teams)
Fatima College (4-3-3): 30.Tristan Edwards (GK); 3.Jesse Hospedales, 4.Yohance Atherton (5.Darius Jordan 90), 6.Jaden Williams, 2.Alijah Nunes; 10.Aidan DeGannes, 8.Justin Alcantara (14.Kade Collier), 17.Jose Attong (7.Khiba Romany 90+2); 33.Christian Bailey (captain), 15.Michael Chaves, 12.Chaim Williams (9.Joshua Mason 23).
Unused substitutes: 42.Tyrece Romain (GK), 11.Josiah Gobin, 16.Savio Yearwood.
Coach: Hutson Charles
Trinity College East (4-2-3-1): 1.Brandon Dalrymple (GK); 12.John-Michael Romero, 4.Nicholas Whiteman, 6.Andre Providence (captain), 3.Anderson Barnwell; 18.Joshua Figaro, 5.Dexter Croal; 20.Riley Hill (7.Seretse Browne 77), 14.Jeremiah Frank-Williams, 10.Khaleem Prince; 17.Jaheim Faustin.
Unused substitutes: 23.D'Andre Giddens (GK), 2.Josiah Daniel, 11.Jonathan Emrith, 13.Deisean Plaza, 16.Hasheem Hill, 21.Khaden Caraby.
Coach: Dwayne Davis
Referee: Cecile Hinds
Wired868 Man of the Match: Tristan Edwards
St Benedict's College (4-3-3): 1.Ja-ir Buckmire (GK); 4.Keanu Morean, 6.Nesean Alexander, 5.Joshua Demas, 19.Lyshawn Morris; 12.Josiah Ochoa, 15.Ephraim Brown, 7.Tarik Lee (captain) (18.Tyrique Lucas 27); 10.Nicholas Bobcombe (21.Malacai Webb 66), 9.Jaden Grant, 11.Jeremiah Niles.
Unused substitutes: 22.Thane Devenish (GK), 2.Joshua Phillip, 3.Anthony Williams, 8.Derrel Garcia, 20.Rayshawn Crichlow.
Coach: Randolph Boyce
Signal Hill Secondary (5-4-1): 1.Kareem Warner (GK) (captain); 2.Jaquon De Four, 5.Nickel Dublin (14.Joshua Melville 69), 16.Jediah Phillips, 4.Orlando Jack, 3.Khyllon Des Vignes; 11.Jaeden King (12.Shakeith Flemming 82), 6.Jaden Richardson, 8.Kaleb Christmas (15.Jermaine Gordon 55), 7.Israel Trim (9.Radean Martin 82); 10.D'Reem Taylor.
Unused substitutes: 13.Jariq Gordon, 17.Khaleem Trim.
Coach: Downie Marcelle
Referee: CJ O'Brien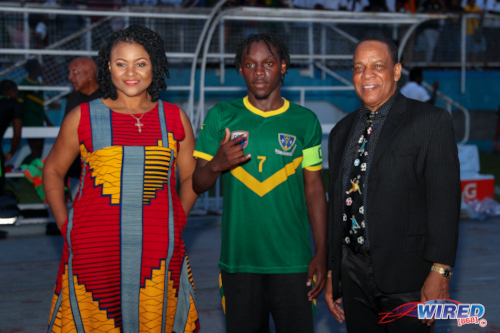 Intercol semifinal results
(Sat 4 December)
St Benedict's College 4 (Josiah Ochoa 12, 86, Nicholas Bobcombe 40, Jeremiah Niles 77), Signal Hill Secondary 0 at Hasely Crawford Stadium;
Fatima College 2 (Christian Bailey 43, Jaden Williams 60 pen), Trinity College East 2 (Khaleem Prince 49, 53) at Hasely Crawford Stadium;
*—Fatima won 4-2 on penalty kicks
National Final
(Wed 7 Dec)
St Benedict's College vs Fatima College, 4.30pm, Hasely Crawford Stadium.