West Indies batsman Nicholas Pooran has stepped down as white ball captain, in the wake of the team's humiliating group stage exit from the ICC Men's T20 2022 World Cup tournament.
Pooran took up the reins on 3 May 2022, after compatriot Kieron Pollard's sudden resignation as leader. However, West Indies won just two from nine limited over series contests under the Trinidadian with nine wins and 21 defeats—inclusive of the World Cup.
Pooran told CWI Media that he now believes he can serve the Maroon Men best by scoring runs, rather than leading the team.
"This is not me giving up—I remain ambitious and still view the captaincy of West Indies cricket as an honour that is bestowed upon you," said Pooran. "There is no doubt I remain fully committed to West Indies cricket and I look forward to providing my services as a senior player in a supportive role.
"By stepping down now as the West Indies white ball captain I believe it is in the best interests of the team and for me personally, as I need to concentrate on what I can deliver to the side as a player.

"I desperately want us to be successful and the most value I can give to the team is through fully focusing on the role of consistently scoring runs at crucial times."
The West Indies' white ball team do not play again until 16 March 2023, when they are due to face South Africa in the first of a three-match ODI affair away from home.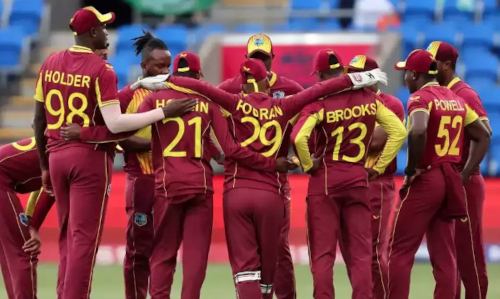 Pooran feels Cricket West Indies (CWI) should use this time to find his replacement and suggested that their run at the World Cup—when they were defeated by Scotland and Ireland—played a role in his decision.
If so, he is the second senior team member to hold his hand up after West Indies coach Phil Simmons stepped down in the wake of the tournament.
At present, a CWI committee that comprises Eastern Caribbean Supreme Court judge Patrick Thompson Jr, South African cricket coach Mickey Arthur and iconic West Indies batsman Brian Lara is charged with conducting a "comprehensive review" of West Indies' World Cup showing.
CWI president Ricky Skerritt did not reveal a deadline for the committee, which reports directly to the regional cricket board.
"I have given the captaincy a great deal of thought since the enormous disappointment of the T20 World Cup," said Pooran. "I took on the role with great pride and dedication and have given it absolutely everything over the past year.
"The T20 World Cup is something that must not define us and I will readily get involved in the upcoming reviews. And whilst it will be several months until we reconvene as a squad, I want to give CWI plenty of time to prepare for the matches against South Africa in March and beyond."
Pooran deputised at the West Indies helm in 2021 when West Indies thumped an under-strength Australia team 4-1 in St Lucia. So there was some optimism when he took over the mantle in May—after Pollard's sudden resignation.
But after an opening 3-0 One-Day International (ODI) series win away to the Netherlands, the Trinidadian wicketkeeper-batsman managed only one other series triumph—a 2-0 T20 International win over Bangladesh in the Caribbean.
In the ODI format, West Indies lost to Pakistan (0-3), Bangladesh (0-3), India (0-3) and New Zealand (1-2), while in the T20 game they fell to India (1-4), New Zealand (1-2) and Australia (0-2). And, at the World Cup, a win over Zimbabwe was sandwiched by defeats to Scotland and Ireland.
Combined, the Pooran-led West Indies had four ODI wins with 11 defeats and five T20I wins with 10 losses.
CWI director of cricket Jimmy Adams thanked Pooran "for his time leading our white ball teams" and suggested that the 27-year-old batsman remains a West Indies asset.
"Having spoken with him I know he remains fully committed to West Indies cricket," Adams told CWI Media, "and I am convinced he has a big role to play in our future."
Pooran said he was happy for the chance to serve.
"I am very thankful to CWI for the opportunity and faith shown in me," he said, "and for the support that I have received by our devoted fans since taking the role, and to my teammates who have worked so hard as well.
"I know we have it in us to carry West Indies cricket forward and be proud."