Manzanilla Secondary have been booted from the Secondary Schools Football League (SSFL) East Zone Championship Division, for fielding a player who is not a student in the second tier competition.
Midfielder Keshawn Diaz debuted for Manzanilla against Valencia Secondary on 23 September and played throughout the first and second rounds of the competition—contrary to a claim allegedly made by the player's father in a recent newspaper interview, which suggested he featured in just one Championship Division match.
However, Diaz, a wanna-be transfer student, was never enrolled at Manzanilla—although he purchased a school uniform and books and sat in sixth form classes.
Wired868 understands that Diaz did not attend orientation for sixth form students and repeaters on 27 September, despite the fact that he began representing the school's football team the previous week.
Manzanilla, who are led by the husband-wife duo of coach Gyasi McDonald and manager Allison Boney-McDonald, lost their first two league games of the 2022 season and were bottom of the table. But with Diaz included, they won three and drew three of their next eight matches to climb to third in the standings.

For much of that period, Manzanilla's acting principal Petula Belfon-Nedd was apparently unwell and absent from school.
However, two days after she resumed duties on 25 October, a teacher reported Diaz's curious appearances at the school to the principal and an internal investigation was launched. It was already a full week after Manzanilla's last league match, which was a 1-1 draw against Arima North Secondary at the Sangre Grande Recreation Ground on 18 October.
Wired868 understands that Mrs Belfon-Nedd reported the issue to the School Supervisor III and cooperated fully with the SSFL, once the discrepancy was uncovered.
Today, the SSFL's Disciplinary Committee ruled that Manzanilla fielded a player "who was not a bona-fide student of the school according to the existing rules and regulations of the Ministry of Education".
As a result, the Disciplinary Committee declared that "Manzanilla Secondary's Boys Championship team [have] been suspended with immediate effect from the League."
The decision sent an immediate ripple through the SSFL's East Zone Championship Division. For starters, Holy Cross were spared from the ignominy of relegation with Manzanilla taking their place through the trap door.
There was also a quick reshuffle of the East Intercol fixtures.
San Juan North Secondary will now face Holy Cross in the East quarterfinal rounds on Wednesday 9 November while, on the same day, Trinity College East tackle Five Rivers instead of Valencia. Valencia now replace Manzanilla as St Augustine Secondary's quarterfinal opponent.
The only unchanged East Intercol outing is a clash between the first and second placed teams of the East Zone Championship, which pits Arima North Secondary against El Dorado East Secondary.
The Dial Dynamos were declared East champions on 18 October, after a draw on the road against Manzanilla. However, the SSFL's decision to annul all results involving the latter school saw Arima North drop to level on points with El Dorado—although Arima have a better goal difference.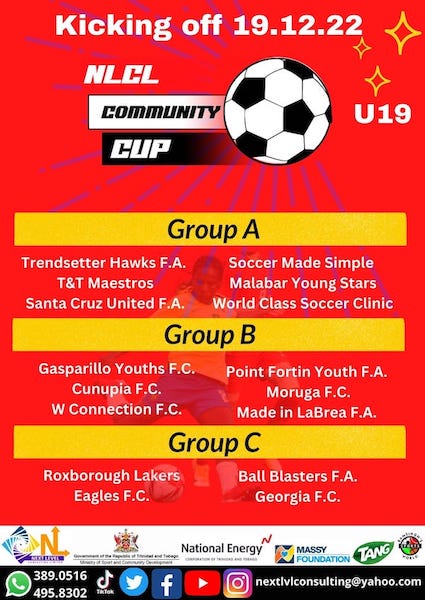 Arima's rescheduled home game against Holy Cross, postponed due to inadequate field markings, now carries real significance since a heavy defeat for the Dynamos could see them belatedly stripped of the East Zone crown.
Arima North defeated Holy Cross 2-1 in an earlier meeting at the Larry Gomes Stadium in Malabar on 23 September.
For the Manzanilla technical staff, the matter is not over just yet either as the Director of School Supervision is now required to investigate.
Head coach, McDonald, insisted that the Manzanilla Championship Division team tried to follow the rules.
"The SSFL have rules to be guided by," McDonald told Wired868, "the management and coaching staff at Manzanilla Secondary tried their best for things like this not to happen by following SSFL guidelines—but still here we are."
McDonald is a former top-flight referee while his wife and team manager, Boney-McDonald, was recently appointed by the Trinidad and Tobago Football Association's Referees Department as the East Zone Referees Appointments representative.
Boney-McDonald is also an agricultural teacher at Manzanilla.
Wired868 has provided readers with solid, independent journalism since 2012. If you appreciate our work, please contribute to our efforts.
Support Independent Journalism