It was muddy, sluggish and tense.
But most importantly, when referee Jordan Cox blew his whistle at the end of 90 minutes at the African Ground in Enterprise, Chaguanas North Secondary walked away with a crucial 1-0 win over Moruga Secondary to potentially save their status as a Secondary Schools Football League (SSFL) Premier Division team.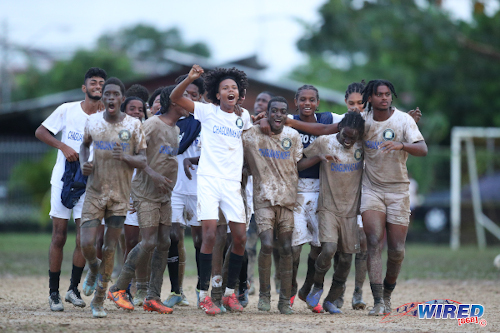 Coming into the game today, Chaguanas (4 points) and Moruga (1 point) occupied the bottom two spots in the Premier Division's Group B, with three points an absolute must for either team in Enterprise.
Inclement weather across the country over the past week took its toll on the African Ground, with the playing surface near the teams' respective technical areas turned into a virtual mud pit. 
Chaguanas North kicked off in an all-white kit, which turned to brown long before halftime. But the home team, led by coach Anson Raymond, adapted well to the conditions and displayed the same warrior-like spirit that earned them a dramatic 2-2 draw away to QRC earlier in the season.

They needed lots of grit too, after captain and central defender Lee Vann David was ejected in the 24th minute for a second bookable offence by Cox.
The Chaguanas defender knelt down, pleading with Cox to keep the red card in his pocket—but Cox's mind was made up.
The Central Zone outfit dug in, though, with central defender Alex Thomas and attacker-cum-stopper Justin Lewis forced into heroic performances, while substitute Jakwan Benjamin—who came on in the first half—also produced a solid shift in central midfield.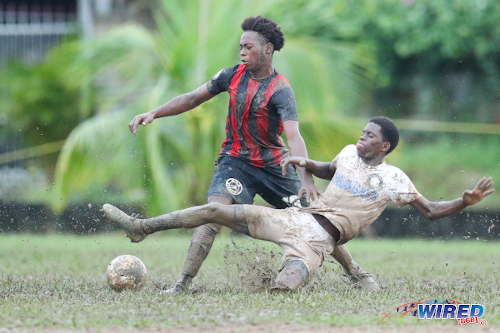 "[The message going into this game was the] same as against QRC, we wanted the boys to play with heart and play with passion," Raymond told Wired868. "[…] We had minimal training this week based on the weather. We more or less did online training for this week. They prepared well. We worked on certain tactics and played direct football and executed the plan well.
"The effort was great. For me, I think the [red card] was a bad call but the referee's decision is final. I thought that the boys rallied well. They composed themselves well in the second half to ensure that we came out with the win."
It helped that Moruga were a bit generous on the day. Chaguanas' lone item came off the boot of Moruga defender Justin Ochoa, who inadvertently sent the ball past his own goalkeeper, Jayden Turner, in the 15th minute—after Raymond's son, Arron, turned an effort towards goal.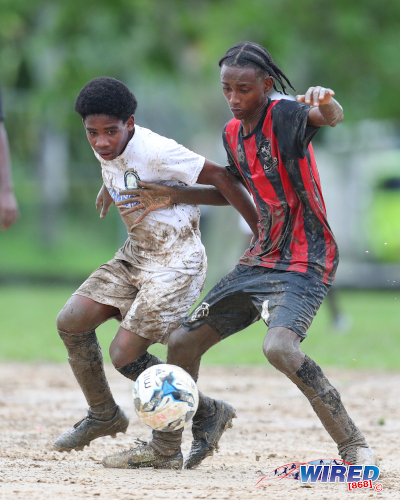 Again, the Raymond clan was right in the thick of the action for the Chaguanas team, with Anson full of nervous energy on the sidelines, while Arron and goalkeeper Aidan Raymond kept the hosts afloat at opposite ends of the pitch.
The pint-sized Arron, probably the smallest player on the field, displayed the right attributes for this dogfight: hustle, pace, tenacity and trickery! 
In the 28th minute, Arron used every inch of his diminutive frame to try and scramble home after Chaguanas' steady right back, Aimar Aqui, put in a dangerous floated cross from the right side. 
However, Moruga custodian Turner was equal to Arron's initial close range header and swiftly smothered the second attempt, as the Chaguanas attacker flung his body at the ball in an attempt to force it over the goal line.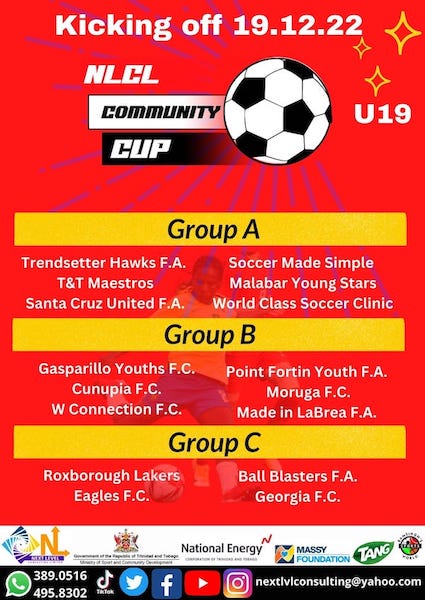 It was do-or-die stuff.
"Aye, this is war!" coach Anson reminded Chaguanas left flanker Nathan George, as he sprayed water in the player's face to do away with the muddy makeover. 
Although down to ten men, Chaguanas seemed to have a fair measure of the Moruga team whose only point came on the previous match day against Malick Secondary. 
"One of the instructions I gave to the boys was to play on the counter," said the Chaguanas North coach. "We were to keep a nice, flat back line and the three players on top together with one midfielder would have been in attack. We played as a unit and we played compact to make sure there was no penetration in the middle of the park. 
"As you could see, the middle of the park is heavy and Moruga tried a lot of times to come through the middle of the park." 
At the half-hour mark, Moruga wide man Brandon Collymore appeared to be through on goal, only for Thomas to come through with a scathing but fair tackle which would have pleased "hard-men" like Carlos Puyol and Nemanja Vidic.
"I must say Chaguanas played a great game in the conditions so they took advantage, although it was an own goal," Moruga coach Kempton Duval told Wired868. "We came out second best today […] we tried our very best. Unfortunately, we didn't get the goals for the victory." 
Perhaps, the severely sluggish surface didn't play into Moruga's hands. However, it was difficult to tell that they had the man advantage, as Thomas and Lewis dealt with most of the lofted balls in Chaguanas' defensive third while Aqui and the increasingly confident left back Tyrique Joseph put in solid shifts down the flank.
Meantime, Benjamin and Nikosi Foncette worked tirelessly in the midfield, with Arron making himself a nuisance up top. 
Through six Premier Division games, Moruga have managed just three goals. To put that into context, San Juan North Secondary captain Larry Noel blasted six goals past the Chaguanas North outfit in Round Two.
Oh how Duval could have done with a touch of Noel in front of goal for the visitors. 
In the 51st minute, Moruga fashioned what was possibly their best chance in Enterprise on the afternoon. 
Central midfielder Joshua Kesney, easily Moruga's most threatening player on the day, made some room for a right-footed shot outside the area that stung the palms of Chaguanas goalkeeper Aidan. Perhaps too casual in his save, Aidan spilled Kesney's effort and then knocked over opposing attacker Tyrel Pemberton as he ran on to the rebound. 
Tweet! 
Referee Cox blew his whistle; but it went against Moruga, as Pemberton was somehow deemed to have fouled the Chaguanas goalkeeper. 
To add insult to injury—or injury to insult—Pemberton stayed down after the collision, yelling in anguish.
"It looked like a bad injury so we'll have to do the assessment," Duval said. "[…] He got injured in the previous game against Malick, he came back today and got a little contact so that made it worse."
Pemberton received some heavy strapping on his right knee thereafter but, although he soldiered on bravely, his movements were clearly restricted and the Moruga attacker was eventually substituted in the 75th minute. 
Two minutes after Pemberton's exit, lively substitute Trevel Dover shot agonisingly wide of Aidan's goal from inside the area after an initial block by Thomas. And that was that. The final 1-0 loss almost certainly spells doom for their 2022 SSFL campaign.
"We put in their heads that three points were a must today," Duval said. "Since our last game, we said that this is a must-win. Unfortunately, it didn't go our way but that's how sports go. We'll dust ourselves off for our last game on Saturday versus QRC." 
Moruga still have a mathematical chance of avoiding automatic relegation but it would require a win over QRC by a six-goal margin plus a defeat for Malick Secondary against East Mucurapo Secondary next Saturday.
Malick were edged 2-1 by San Juan North this afternoon but still have a three-point advantage over Moruga, who might be seeing the writing on the wall now.
Despite the mud storm facing his team, Duval is still optimistic that Moruga can avoid the dreaded drop. 
"Up to this point, we are still confident of being in the Premier Division next season," Duval told Wired868. "It depends on the results of other games and also our performance come Saturday in our final game in the Premier Division this season." 
On the other side of the spectrum, the Chaguanas coach believes that his team has just done enough to stay afloat in the Premier Division for 2023. 
"I always believe in having a positive attitude and having passion in what you do," Anson said. "I look forward to [playing] Trinity East and bet your bottom dollar we're coming." 
A rescheduled game in Group A today carried similar relegation stakes for St Augustine Secondary and Pleasantville Secondary and the "Green Machine" were the ones left in anguish after a 3-0 defeat at Murray Street in St Augustine.
Three points from safety with as many games remaining, it is not curtains yet for St Augustine. However, their remaining fixtures—at home to leaders Fatima College and away to second place St Benedict's College and Speyside High—are not encouraging.
The Green Machine need a miracle now to avoid automatic relegation.
The second to last team in each group will meet in a do-or-die play-off to decide the third relegated team from the Premier Division. At present, those two schools are Pleasantville and Malick. They have just under two weeks to rewrite their fate.
(Teams)
Chaguanas North (4-2-3-1): 1.Aidan Raymond (GK); 3.Aimar Aqui, 4.Lee Vann David (captain) [red card], 5.Alex Thomas, 13.Tyriqye Joseph; 15.Nikosi Foncette, 6.Christian Richards (19.Jakwan Benjamin 28); 8.Hezekiah John (17.Yohannes Donatien 67), 9.Justin Lewis, 11.Nathan George; 7.Arron Raymond.
Unused substitutes: 2.Jaheim Sollayman, 10.Darius Gannes, 12.Zaidon James, 14.Issiah Howard, 18.Christopher Mohammed, 20.Marcus Lee Kim.
Coach: Anson Raymond
Moruga Secondary (4-2-3-1): 1.Jayden Turner (GK); 5.LeBron Williams, 4.Justin Ochoa, 8.Terrell Thompson (captain), 3.Diego Phillip; 10.Keieal Morales, 7.Joshua Kesney; 11.Brandon Collymore, 12.Santana Smith (13.Trevel Dover 59) 14.Russel Lynch; 6.Tyrel Pemberton (15.Angelo Molino 75).
Unused substitutes: 9.Malique Friday, 16.Like Davy, 17.Quacie Moore, 19.Anthony Arrindell, 32.Adriano Baptiste.
Coach: Kempton Duval
Referee: Jordan Cox
Wired868 Man of the Match: Alex Thomas (Chaguanas North Secondary)
Today's Premier Division matches
(Sat 8 October)
Group A
St Augustine Secondary 0, Pleasantville Secondary 3 (Jadon Dorset, J'Quan Edwards, Kelon Williams) at St Augustine.
Group B
Chaguanas North 1 (Justin Ochoa OG 15), Moruga Secondary 0 at African Grounds, Enterprise;
QRC 0, Presentation (San F'do) 2 (Daniel Quashie 27, OG 37) at QRC;
East Mucurapo 1 (Jemon Gulston), Trinity College East 2 (Desailly Bastien-Cowan, John-Michael Romero) at Fatima;
Malick Secondary 1 (Lendelle Baptiste), San Juan North 2 (Lindell Sween pen, Jadiel Joseph) at Serpentine Road.
Upcoming Premier Division fixtures
(Wed 12 October)
Group A
Fatima College vs Speyside High, 3.30pm, Fatima;
Naparima College vs St Anthony's College, 3.30pm, Lewis Street;
Pleasantville Secondary vs Carapichaima East, 3.30pm, Pleasantville;
St Benedict's College vs St Augustine Secondary, 3.30pm, TBA.