Nine of the very best! 
Reigning Secondary Schools Football League (SSFL) Premier Division champions Naparima College began the 2022 League season in stunning fashion yesterday, as they stormed to an absolutely thumping 9-1 win over the 'Green Machine' of St Augustine Secondary in St Augustine. 
'Naps', who surrendered the Tiger Tanks Cup to their South Zone rivals Presentation College (San Fernando) via a penalty shootout at the Ato Boldon Stadium last Friday, went behind after just six minutes against St Augustine yesterday.
Fourteen-year-old attacker Marcel Valentine pounced on a horrendous mixup at the back between Naparima goalkeeper Dajeon Collingwood and his defence and flicked the ball around the custodian before tapping into an empty net. It was probably deja vu for Naparima coach Travis Mulraine, after a similar mixup led to Presentation's lone goal from open play in the Tiger Tanks Cup. 
"When we scored first, I was elated that we actually could compete," said St Augustine coach Tacuma Jones, a mathematics and physics teacher at St Augustine who obtained his TTFA C License coaching badge during the July/August school holidays.
Jones, who previously served as Green Machine Premier Division team manager and youth team coach, made his Premier Division debut as head coach yesterday. Soon enough though, the maths teacher realised that the odds were woefully stacked against his team. 
"It's my first Premiership game—I have coached in other divisions but this is my first Premiership game," said Jones, who also coached at Success/Laventille Secondary. "The inexperience of the guys kinda cost us today… Firstly, this was my Under-16 team. A lot of the form six [students] recently got registered so they will be available for selection from the next game."
The average age of St Augustine's starting XI yesterday was 16, while their goalscorer Valentine turned 14 in March. In contrast, the average age of Naparima's starting team was 18. 
Jones said that this disparity translated to a gulf in class on the field of play.  
"I'm not worried—we basically played 14 year-olds […] against 19 year-olds," he said. "In terms of development, that's a gap. I had a 14 year-old who could have barely turned, whereas a 19 year-old would have the experience and knowledge of how to move."
Before Jones or the St Augustine faithful could spell out n-i-n-e-t-e-e-n, Naparima were back on level terms. In the 10th minute, central defender Josiah Cooper claimed a goal after his header deflected in off an opponent from a left side Jabari Forbes corner. 
The next 35 minutes must have felt like a horror scene on a loop, as Naps ran up a 6-1 scoreline.
"We sent out a message for [the players] to settle down," said Naparima coach Travis Mulraine, who explained that their loss to the 'Pres Lios' gave his players the appropriate kick up the backside. "Sometimes playing away from home can be a bit tricky with the conditions when you're not used to them… I think that's what caused the mix-up for the [opening St Augustine] goal." 
Long before halftime, Naparima players were strutting around St Augustine's Gordon Street venue as though they owned the place—utilising a 3-5-2 formation that often looked like 3-3-4. 
Wing-backs Forbes and Matthew Cooper tore up the flanks while the midfield pair of Kyrise Frontin and Terrell Rajoon worked tirelessly to win back loose balls for the guests and the lanky Kanye Francis dominated in the middle with his touch, poise and incisive passes. 
"We were playing a 4-2-3-1—we were playing on the counter," Jones said. "The formation worked when we scored the goal. But, as youngsters, they scored the goal and the discipline basically fell down [and] there was a loss in positional play. 
"It created a lot of gaps and Naps basically used that to their advantage."
Sensing the shifting momentum as Naparima upped the ante, Jones asked his central midfielder and captain, Tyrese Andrews, to step into central defence alongside Alex Piper and Kellan Williams to form a back five.
"We changed the system to adapt," said Jones.
Naparima were quite wasteful in the opening half hour, believe it or not, as defender Daimiel Mitchell and the strike duo of Nathaniel O'Garro and Omari Campbell missed presentable chances. 
But they eventually found their radar on what was a truly forgettable day for St Augustine's 15-year-old custodian Tyrese Sealey and his defence. 
In the 25th minute, Seales missed another left-side corner by Forbes and Campbell hit home from near the goal-line after a chaotic scramble in the six-yard box. 
Campbell notched a brace just before halftime, after being fed on a platter by his strike partner, O'Garro. And the latter forward bagged a predatory double for himself in the 33rd and 39th minutes. 
Francis got on the scoresheet as well in bizarre circumstances, as his neat through pass went straight into the net after O'Garro deceived Seales with a dummy. Naparima led 5-1 at that stage and it was too much for many of the St Augustine students who headed for the exits.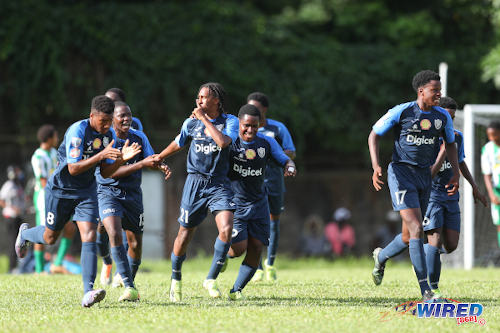 "I think that the Tiger Tanks Cup game was a blessing in disguise because complacency is the biggest thing with this group," said Mulraine. "Probably, had we won that game on Friday, we may have been struggling today to get it right. Sometimes, losing is good." 
Naparima, who are unbeaten over the past two seasons, seemed to be going through the motions at times in the second half and just waiting for referee Timothy Derry's final whistle. 
A risky pass by Collingwood across his own goal, with less complication options available, provoked Mulraine to fling his water bottle to the ground at one point.
"Modern-day football is a thing where goalkeepers have to be involved in the build-up play at times," said Mulraine. "You look at [Marc-Andre] Ter Stegen and [Manuel] Neuer and these guys are very good with their feet. Again, we want to aspire to those levels so we ask the keepers to do things they probably aren't accustomed to doing.
"[…] It's all about giving guys confidence to try and play the way we want to play."
Naparima were still good enough to add four unanswered goals. Rajoon, who missed their decisive spot pick against Pres last Friday, fittingly slammed home the ninth and final item in the 80th minute. It felt like a statement win.
"Definitely, it's a good psychological marker to start the season, but this League is very tricky," Mulraine said. "As I told them previously, you can go unbeaten for the League play and go into the semis or finals and lose a game, and your season is deemed a failure. 
"We have to guard against complacency and keep those guys' feet on the ground and their heads on their shoulders."
In the other technical area, Jones tried to find something cheery about the number "nine".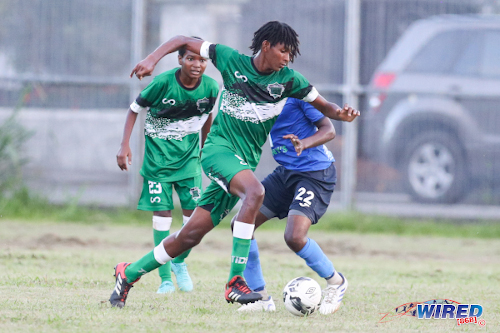 "This season I'm just looking for nine points [to stay up] mathematically, because you know I'm a teacher," he said.
St Augustine have six more league games to go, starting with Saturday's game against Pleasantville Secondary at the same venue.
Pleasantville lost 2-0 to St Anthony's College yesterday and will be just as anxious for their first points of the season. But Jones is confident that better is coming.
"It's a work in progress; the next game will be different," he said.
So far, so good for Naparima though. They travel to face Fatima College next—a team that Mulraine identified as potential threats before the start of the season.
Fatima drew 1-1 with St Benedict's College in Moruga yesterday.
But there was never any doubt that Naparima would be the early pacers, as they started their Group A campaign on cloud nine. Catch them if you can! 
(Teams)
St Augustine Secondary (4-2-3-1): 1.Tyrese Sealey (GK); 14.Adrian NgSaye, 4.Alex Piper, 3.Kellan Williams, 16.Rahim Romain; 6.Tyrese Andrews (captain) (23.Jahmarley Caleb 62), 17.Rahiem Modeste (12.Daniel George 73); 18.Jordan Ferdinand, 15.Israel Carter, 11.Giovanni Hospedales (8.Elijah Baptiste 49); 19.Marcel Valentine. 
Unused substitutes: 20.Andrew Delice. 
Coach: Tacuma Jones
Naparima College (3-5-2): 30.Dajeon Collingwood (GK); 12.Omari Asher (captain), 5.Josiah Cooper, 6.Daimiel Mitchell (16.Andres France 46); 22.Jabari Forbes, 10.Kanye Francis, 17.Kyrise Frontin (21.Zachary Seecharan 59), 8.Terrell Rajoon, 3.Matthew Cooper (24.Shabani Thompson 68); 9.Nathaniel O'Garro (18.Giovanni McKnight 61), 11.Omari Campbell (20.Israel Joseph 55). 
Unused substitutes: 25.Josiah Chandler (GK), 14.Josiah Bobb. 
Coach: Travis Mulraine 
Referee: Timothy Derry 
Premier Division results
(Wed 14 September)
Group A
St Augustine Secondary 1 (Marcel Valentine 6), Naparima College 9 (Josiah Cooper 10, Omari Campbell 25, 43, Nathaniel O'Garro 33, 37, Kanye Francis 36, Andres France 48, Israel Joseph 69, Terrell Rajoon 80) at St Augustine;
Carapichaima East 0, Speyside High 5 (Jarlon Toppin [2], Reyes Gray, Lenox Eastman, Milz Johnson) at Ato Boldon Stadium;
St Benedict's College 1 (Ephraim Brown), Fatima College 1 (Khiba Romany) at Moruga;
Pleasantville Secondary 0, St Anthony's College 2 (Joshua Miller 16, Mordecai Ford 45) at Mannie Ramjohn Training Ground.
Group B
San Juan North 5 (Larry Noel [4], Kedell Jones), QRC 1 (Tau Lamsee) at San Juan North;
Chaguanas North Sec 1 (Aaron Raymond), Malick Secondary 4 (Lendl Baptiste, J'lon Matthews, Jabari Bramble, Antonio Joseph) at African Grounds, Enterprise;
East Mucurapo Sec 5 (Maalik Jarvis [2], Mikel Toussaint, Zion Haley, Alkalipha Henry), Moruga Secondary 1 (Santana Smith) at Fatima College;
Trinity College East 0, Presentation (San F'do) 1 (Caleb Boyce) at Trinity College East.
Upcoming fixtures
(Saturday 17 September)
Group A
St Benedict's College vs Carapichaima East, 4pm, Ato Boldon Stadium;
Fatima College vs Naparima College, 4pm, Fatima College;
Speyside High vs St Anthony's College, 3pm, Speyside Recreation Ground;
St Augustine Secondary vs Pleasantville Secondary, 4pm, St Augustine.
Group B
Presentation (San F'do) vs Malick Secondary, 2pm, Ato Boldon Stadium;
QRC vs East Mucurapo Sec, 4pm, QRC;
San Juan North vs Chaguanas North, 4pm, Bourg Mulatresse;
Trinity College East vs Moruga Secondary, 4pm, Trincity.