Phew! 
The Secondary Schools Football League (SSFL) is back folks. 
After a three-year hiatus, which surely felt like an eternity to some, the popular secondary schools competition resumed at the Ato Boldon Stadium in Couva last Friday, as Presentation College (San Fernando) edged fierce rivals Naparima College to the Tiger Tanks Cup via kicks from the penalty mark. 
In 2019, Shawn Cooper led the "Pres Lions" to the National Intercol title while Angus Eve steered "Naps" to their second successive League title after going unbeaten in both years.
Cooper, the current Trinidad and Tobago Men's National Under-17 head coach, is still at the helm of Presentation College but Eve, the Men's National Senior Team coach, is gone—replaced by one-time assistant and fellow former national midfielder Travis Mulraine.
(The Trinidad and Tobago Football Association hires part-time national youth coaches, while the senior post is full-time.)
There are only a sprinkling of players with Premier Division experience too, as the Covid-19 pandemic effectively changed the League's landscape. So 2022 will see dozens of young footballers debut at once, without senior players at their side to help guide them.
The Premier Division season kicks off in earnest on Wednesday 14 September, with San Juan North Secondary and the 'Royalians' of QRC playing the first televised match from 4pm in Bourg Mulatresse.
San Juan North and QRC are in Group B, with the Division now split into two groups of eight teams. The two top sides from each group go on challenge for the crown in a Big Four knockout format, while the bottom team from either group is relegated and the second from bottom teams face a playoff from which the loser also goes down.
Before they lose their collective voices on the sidelines, Wired868 had a quick chat with the technical director at Speyside High School, as well as the coaches of Naps, Pres, San Juan and the promoted pair of Chaguanas North Secondary and Moruga Secondary on what lies ahead.
Wired868: What are your thoughts on the upcoming season? And what are your expectations? 
Shawn Cooper (Presentation College San F'do): We have a very young group and they are very inexperienced because we have lost all of our players from 2019. We have some who would have been in Upper 6 at this time but they have gone the way of trying to make a career out of being professional footballers—the likes of [Kassidy] Davidson and Dantaye Gilbert who is in Spain right now
[…] I expect [our current players] to get better as the season goes along, but this team will really be ready [to challenge] in 2023…
Kempton Duval (Moruga Secondary): I'm quite optimistic going into the new season. It's going to be a lot more challenging with the step up from the Championship Division into the Premier Division… We are up for it. 
Further to that, we probably have two or three players remaining from our team which gained promotion back in 2019—so that's another added plus for our team as well. These guys were in Forms 1 and 2 in 2019 so they are now looking to repeat.
As a newly-promoted team we are supposed to be thinking about survival. Because again, we are coming up against teams—although they have entire new teams—who are accustomed to being in the Premier Division. They know the rigours and what it takes in the Premier Division. 
We have to think about being able to maintain our position in the League. 
Jaeel Jeffrey (Chaguanas North Secondary): It's a good feeling for the kids to be back out playing football. It's a new era of talent to be exposed so we look forward to the season. With respect to the school, we plan to allow the guys to compete and not just participate. We don't want to gain promotion and just participate. We want to compete and put ourselves among some of the better schools or players in the country within the [SSFL]. 
Kerry Lynch (Speyside High School): I'm very happy that the youngsters could finally get back on the field of play in a meaningful and competitive manner and get the opportunity to express themselves in the field of football which they all love. Of course, some players would have left school but we have some upcoming youngsters who are coming up in the school and really looking forward to emulating their predecessors.
[…] They may not be really fit to face the full challenges and brunt of a season, so my expectations are that we will gradually reach full fitness by game three… My expectation is that we will maintain our status in the League and hopefully reach the Big 4. 
Jerry Moe (San Juan North Secondary): With the Covid situation, it's almost three years of not knowing whether we could play or not. Most of the boys would have left, so we are basically starting over from scratch—Larry Noel is the lone survivor from 2019, unless one or two get into form six. 
We expect that we will be organised, competitive, play to the best of our abilities and give 100%. 
Travis Mulraine (Naparima College): A lot of the guys are very excited. We have one survivor from the 2019 season: Omari Asher. For the vast majority of the team, this will be their first season in the Premier Division. I'm confident that the guys will do well. 
We are taking the games one at a time because this season can be unforgiving if you let complacency step in. Two groups and basically seven League games with the top two teams going through to the semifinals. You can find yourself winning six of your seven League games and then losing in the semifinal or final and basically, your season goes up in smoke. 
I think our main job will be to keep the guys focused and keep their feet on the ground. We'll do well once we are successful in doing that.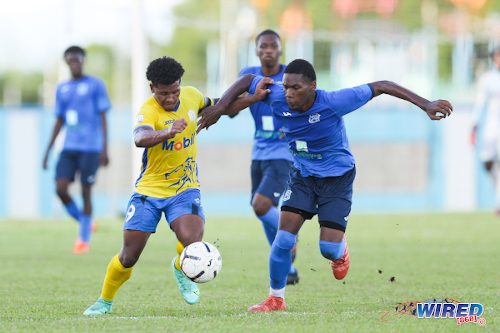 Wired868: How was your pre-season? 
Cooper: Pre-season had its ups and downs, because like most teams we were having problems with the rainy season where most of the fields were waterlogged. But ours was a bit more difficult to manage because the ground we normally train on in the school is undergoing major repairs… We have done most of our preparations on asphalt, so we took our time and do what we had to do in the car parks. 
Duval: The pre-season was pretty good. The weather was a bit challenging at times. That kinda hampered our pre-season a bit but other than that everything went pretty [smoothly].
Jeffrey: Fluctuating. There has been some good and there has been some bad. We were just hit with some results for some of the persons we were expecting to enlist in the squad. Probably about five to six players didn't get the desired exam results to qualify them for the squad.
We still have some tightening up to do and hopefully we'll be prepared in time for the first game and for the season ahead.
Lynch: Given the certain financial status of some of the guys, some of them had to work during the summer, so we had the same perennial problem of fluctuating attendance for training. I'd say the pre-season was a six out of ten. 
Moe: The pre-season was the typical pre-season for San Juan. We just worked a couple of days during the week and now that school has started we really plan to up the ante. 
Basically, we just tried to get in as many days as possible during the pre-season. On a scale of one to ten, I'd give the pre-season an eight or eight and a half. 
We played a couple of practice games against a couple of club teams. I don't want to go into too many details… It could have been better but we have to work with what we have. It was tricky because we weren't sure if the guys were getting back into the school or getting their subjects.
Mulraine: We had a good pre-season. We got a couple of wins against some quality teams, so we are fairly confident. We played against Prisons FC and we were lucky to get a game against the great Terminix La Horquetta Rangers. We lost 4-0 but the exercise was good, it was very beneficial. It was a kinda watershed moment for the guys because one of the things that was kinda missing was that grit and determination. After that game, the guys realised the level they have to step up their intensity to.
[…] We need to set a standard and we need to maintain that winning tradition. But I also want these guys to perform and play at a certain level where people would be looking out to come and see Naparima play. That's our goal for the season and seasons going forward. 
Wired868: What do you make of the new Premier Division format? 
Cooper: I could speak for myself being in Group B. There are a lot of north teams on our side of the draw so it will be different from when we were in the zones. 
We are going to take every game as it comes. It will be a shorter format and […] from the onset, you will have to be on your 'A' game.
Hopefully, the guys can live up to the expectations and finish top two in the group. 
Duval: Honestly, I wasn't told about the reason behind the [new format]. The Championship teams [in 2022] actually have more games than the Premier Division teams, so I don't know what the rationale was. It's a World Cup year so probably that's the reason why but I was all for how the Premier Division was run previously. I'm a bit disappointed but at the end of the day it is what it is and we're ready for whatever comes our way. 
You are also expecting that your home games is where you will be looking forward to get some points but now you practically have three games home and four away. It will be more of a challenge. 
[…] There was a [SSFL General Council] meeting and coming out of that, our manager Andy Joseph said that they are trying to rectify the [initial fixtures where Moruga played just once at home for the whole season].
[…] I don't know who came up with that but it was very unfair to us and the entire Moruga community was upset about that. But San Juan and Malick will now be coming down to Moruga as opposed to how it was originally scheduled. 
(Editor's Note: The initial 2022 Premier Division fixtures had double headers on each match day which meant teams were asked to play in the national stadia and Moruga had just one match on the school ground. That was since reversed.)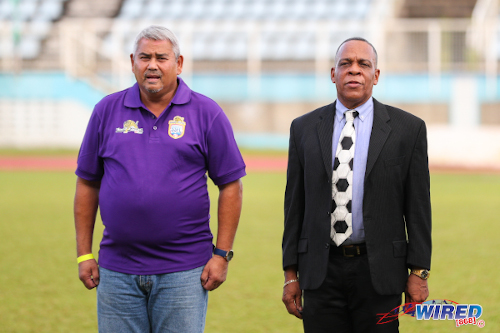 Jeffrey: I'm a bit disappointed because I thought everyone would have gotten some experience playing against each other and also get to travel the country and play against different styles of football. According to the performance level of teams in your group, you could be at a disadvantage with respect to moving forward in the League or being relegated. This is how it is and we have to put that behind us and try and work. 
Lynch: Honestly, it's business as usual for Speyside. This new format might be advantageous and it might be disadvantageous… Normally, you have about 15 games so if you get a bad start you could probably catch back yourself with a run in the middle to get points here and there. But now it's a limited opportunity to gain points here and there, so we really have to kick off very strong. 
We may have a bit of hindrance with traveling between Trinidad and Tobago because there is the new Tobago Carnival coming up. This is one of the things we are trying to put in place to get some bookings for the three games we have in Trinidad. This is what we're really working on in a serious manner at the moment. 
Moe: Well I think it's just for one year. The rules keep changing all the time but I think that's just something the SSFL was trying to put in place if Covid was still rampant. Hopefully, things are back to normal next year and we are back to a 15-game season. 
At one point in time, they were saying there would be no promotion and demotion but that has changed now. They are trying to restart sports in the schools and if football is the first thing then so be it. Young students need that variety in their life. It's one thing to study but you need some kinda avenue to release that extra energy, whether it's football, track and field or rugby. It's a step in the right direction. 
Mulraine: It's going to be very competitive because consistency may not be rewarded. You have a scenario where a team could win seven out of seven League games and get knocked out in the semis and their season is deemed a failure […] I can't understand how you are only playing nine games for the season in your top division.
It doesn't make sense only playing nine games. Your season is basically seven games then you go into a knockout and then another knockout which is the Intercol. 
Sometimes I wonder where the administrators get their ideas from—but it is what it is. I was kinda disappointed that the principals settled for that but it is what it is and we'll have to make the most out of the season.
Wired868: Who do you think your toughest opponent will be this season? 
Cooper: We will be up against one of our biggest rivals in San Juan North Secondary. They have always had ding-dong battles with us over the years. They are a well-coached team by Jerry Moe, so we will be expecting a very competitive game against them. 
Also, East Mucurapo Secondary at home on Fatima Grounds will be a difficult game. We are playing most of the North teams on their grounds so I'm expecting very tough games there. It's like a chess match every time I meet Jerry Moe so we are definitely looking forward to that. 
Duval: Mucurapo and Presentation College. I'm saying this based on past performances. Back in 2017, we played Mucurapo in the Champions of Champs and their structure has remained the same throughout—Presentation likewise. 
We play similarly so that will be a challenge. Also, those fixtures will be away from home as well. 
Jeffrey: If memory serves correct, both Presentation College and San Juan are in our group and over previous years they have constantly been in the top three or four teams. If that trend continues, those fixtures could be expected to be among the toughest. 
Moe: There are no easy games in football anymore, especially with technology. Technology has kinda nullified everything. Everybody has access now to technology, so I don't think there will be any easy teams. You basically have to try and run your own race to the best of your ability. I expect every game to be a tough one. 
We can't really focus on Pres alone as there are other teams in the group… The goal is to win every game we have to play and Presentation is one of those opponents, so we'll want to beat them because of that. 
Mulraine: People have been talking about Fatima College but I'm not taking any team for granted. Every game for me will be like a final and I will demand that from each player. 
Wired868: Any players to look out for?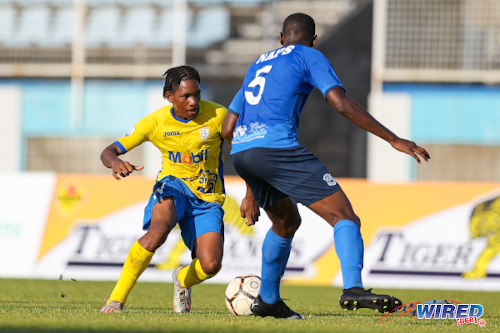 Cooper: Isaiah Jacob, the younger brother of Ackeel 'Hulk' Jacob, who was a member of Pres' Intercol-winning team in 2019. You saw him playing at age 14 in the Next Level Consultant Ltd (NLCL) Community Cup. He's one to watch. 
Duval: Joshua Kesney. He played in the Moruga FC team for the [NLCL Community Cup] alongside our captain Terrell Thompson and Tyrel Pemberton, who are also returning from our 2019 team. 
I believe Kesney was in form two in 2019 and he was a starter back then. Thompson plays in defensive midfield, while Pemberton plays as our stopper. 
Jeffrey: I don't think I should disclose any. There are no standout players, it's more of a team effort we are looking to push. It gives everyone a fair chance to show what they have and show their capability. 
Lynch: I would like you to look out for our winger Nickel Williams—he's the cousin of [star national women's forward] Kennya 'Yaya' Cordner. There's also Adriel Dalrymple (defender), Jarlon Toppin (striker) and Lennox Eastman (midfielder). 
Moe: There are a couple of young guns but right now they aren't consistent enough to say that they'll really be a threat. Basically, we are trying to be organised as a team and we are focusing on the group more than the individual. 
Mulraine: I prefer to keep my cards close to my chest. We have some good players who will definitely raise some eyebrows once they perform to their capabilities. 
Let the games begin! 
Wired868 has provided readers with solid, independent journalism since 2012.  If you appreciate our work, please contribute to our efforts. 
Support Independent Journalism