The Secondary Schools Football League (SSFL) will feature a raft of changes for its 2022 season—the first since the onset of the Covid-19 pandemic—as new president Merere Gonzales and his board respond to a late sponsorship deal, experiment with a new format and address the impact of departing sponsors.
First, the format: the 2022 Premier Division competition will see the SSFL's top 16 male teams split into two groups of eight with each team playing seven games. It is half the number of league matches played by top flight schools in 2019.
But why?
Gonzales said the groups were initially designed to "get less movement by the footballing population of the SSFL by confining [games] to three or four venues with more double headers"—so as to be a mitigating factor against the spread of Covid-19.
However, the league persevered with the format after the lifting of most restrictions with the only significant adjustment being the move away from double headers.
Several school teams were less than impressed at being asked to play away from home to permit double headers, with newly promoted Moruga Secondary and Chaguanas North Secondary initially offered just one home game each for their entire league campaigns.
A late timetable alteration addressed that issue, as most doubleheaders were scrapped. However, with a seven game league season, some schools (like Moruga, Fatima College and reigning National Intercol champions Presentation College, San Fernando and Premier Division champs Naparima College) will get three home games while others (like Carapichaima East Secondary, Speyside High and Trinity College East) have four.
In the end, the groups were not drawn up based on geographic location either but on the school's placement in the 2019 season.
Group A is headed by champs Naparima College and also includes St Augustine Secondary, Carapichaima East, St Benedict's College, Speyside, Fatima, Pleasantville Secondary and St Anthony's College.
Group B comprises: Presentation College (San Fernando), San Juan North Secondary,  Chaguanas North, Queen's Royal College (QRC), Malick Secondary, East Mucurapo Secondary, Moruga and Trinity East.
The winner and runner-up from each group enters a knockout competition to determine the 2022 Premier Division champion while the bottom team in each group will be demoted, along with the loser of a match between the second from last team in each bracket.
The three relegated schools will be replaced by the top three schools from the Big 5 competition, which is contested by the winners of each Championship Division zone.
Gonzales also announced the creation of a Girls Under-13 competition, which is an adjustment from a Form One/U-13 Division. The new competition caters for under-13 girls regardless of their form in school.
Arguably, the biggest news was a new SSFL sponsor as Tiger Tanks, headed by Denis Latiff, replaced SportsMax as the competition's title sponsor.
Tiger Tanks offered TT$1m to the SSFL along with television production, which was a significant upgrade to SportsMax's proposal of US$20,000 plus television coverage.
Gonzales suggested that SportsMax's alleged insistence of exclusive coverage of the SSFL, particularly when it would cover only a fraction of the competitions, did not go over well.
"We felt it would not be prudent or beneficial to the Secondary Schools League, especially when Sportsmax did not make a clear pronouncement that they would be covering the Championship Division live or delayed," said Gonzales, "but would only have covered some of the Premier Division. 
"We felt it was not in good taste—we did not appreciate that. The integrity, the sanctity of the league needs to be protected and the value of it needed to be recognised."
Still, SportsMax will continue to broadcast games through Tiger Tanks while Flow and Rodeo will also get a chance to broadcast from the SSFL. And Gonzales expressed gratitude to the Jamaica-headquartered company for its previous work in highlighting the local school competition.
Apart from Tiger Tanks, the other SSFL sponsors this season are Ascension, First Citizens Bank and Coca Cola. The first two promised TT$150,000 to the league while Coca Cola provides TT$100,000 in cash and as much in product.
There is also the matter of the SportsMax logo emblazoned on the chest of old team jerseys, which, ironically, caused a massive row in 2019 with Tiger Tanks-sponsored teams Naparima and St Benedict's.
Gonzales said teams will not be allowed to wear uniforms with sponsors that are no longer affiliated to the competition. However, he claimed that the late agreement of terms with Tiger Tanks meant there was insufficient time to get new kit for all schools that would be clean of previous sponsors and/or include the SSFL's new commercial partner-in-chief.
As a compromise of sorts, Gonzales said Latiff offered to remove the Digicel, SportsMax and Shell logos and replace them with his own—free of charge.
"In cases where [former] sponsors are still on jerseys, they will have to be removed and Tiger Tanks will have to be printed on them," said Gonzales. "[…] Any team that wishes for [previous logos] to be removed, they just submit the jersey and it will be done by Mr Latif, who has the equipment to do so. 
"[Latiff] is not particular as to where the Tiger Tanks logo goes on the jersey, whether on the back, front or side."
There are likely to be some new venues used for the 2022 SSFL competition too, as organisers look for more stadia with functioning lights—so as to avoid too many games with 1.30pm kickoffs.
Gonzales said the Diego Martin Sporting Complex and the La Horquetta Recreation Ground are both available to the zones and are likely to host Intercol matches.
In terms of the registration of players, the SSFL undoubtedly took a step backwards, though, as Gonzales confirmed that registration will be done with physical forms rather than online ones.
The schools president said the previous system had technical issues and, in the three years since the 2019 season, no virtual replacement was found.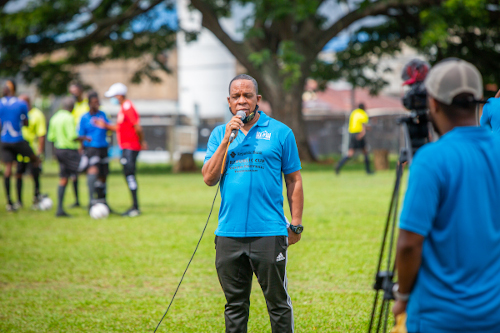 "In all the uncertainness due to the pandemic, online registration didn't take precedence at that point in time," said Gonzales, who vowed to return to online registration in time for the 2023 term.
And measures specifically for the novel coronavirus?
Gonzales recommended sanitisation and temperature checks at venues, although neither are mandated. There was no specific rule to address a Covid-19 outbreak within a team—beyond general guidelines from the Ministries of Education and Health.
"You have about 30 players you can register to a team," said Gonzales, "so you will just pick from the remaining players on your list."
The SSFL's 2022 season kicks off on Friday 9 September when southern rivals Presentation College and Naparima College clash in the Tiger Tanks Cup, which kicks off at 4pm at the Ato Boldon Stadium in Couva.