Trinidad and Tobago will not participate at the Concacaf Girls Under-15 Championship, which kicks off in Tampa, Florida on 31 July. The players and their parents received the bad news on Saturday by a member of the team's staff.
The Girls Team and the Boys National Under-14 Team have both been in limbo for weeks, with the Trinidad and Tobago Football Association (TTFA) unable to fund their respective trips.
The Boys are due to play in the Caribbean Football Union (CFU) Boys Challenge Series, which kicks off on 11 August in the Dominican Republic. TTFA technical director Anton Corneal is still hopeful that the local football body can raise money to cover costs—Fifa-appointed normalisation committee chairman Robert Hadad approached the Ministry of Sport for funding.
However, the added complication of visas made the Concacaf Girls competition a non-starter.
"There were so many little issues with the visas and it was not for not trying," said Corneal, who credited team manager and former Women's National Senior Team midfielder Ricarda Nelson for her 'tireless efforts'. "[…] We were not the only ones with that problem and it seems a couple other countries didn't go for the same reasons."
Although the TTFA knew for months that the Concacaf tournament would be held in the United States during the July/August period, they waited until the confederation confirmed the dates on 6 June to seek funding.
Even then, the team did not have a selected pool of players confirmed at the time to approach the US Embassy for visas.
In contrast, Gateway Athletics, which is run by Adrian Romain and Shem Alexander, applied on 23 June for visas for a 18-member contingent and successfully got expedited appointments from the Embassy on 30 June, 1 July and 8 July.
Their party left earlier this week for a residential camp in Virginia.
The Trinidad and Tobago Girls Under-15 Team were due to compete against Guyana, St Kitts and Nevis and Honduras in the second tier of the Concacaf competition.
"By not going, what they miss out on is the exposure which allows them to be able to see where they are and serves as a yardstick of where they are in terms of who they are competing against," Corneal told Wired868. "They will be able to see the growth needed to get to the next level. That's not something a coach can tell them—they have to see it for themselves, and that is something they will miss.
"The better teams get the opportunity to play, travel, and compete in a different environment to their usual environment. That is not something a coach can replicate in any meeting or practice session."
Corneal revealed that there is still hope for an overseas excursion for the girls, though. A few Caribbean nations that also missed out on visas are trying to arrange a competition in Antigua. Apart from the hosts, it should include St Vincent and the Grenadines and Grenada.
The Antigua and Barbuda Football Association (ABFA), according to the technical director, promised to cover some of the costs for accommodation and meals.
"I think the cost is somewhere in the vicinity of US$15,000, which is not a lot of money when you consider that it's a team," said Corneal.
Ironically, a travel agent quoted the price of a return ticket to Tampa at US$1,300 (which is a hike of US$350 since the start of the month) while a similar ticket to Antigua costs US$949. The difference between the two prospective tournaments is Concacaf foots the costs for all teams in Tampa.
It is possible that it will cost local football more money to go to the makeshift tournament in Antigua than it would for the actual Concacaf competition.
Corneal noted the importance of prioritising developmental teams though and stressed that it is vital to give the current Girls team some exposure.
"It is a good group of girls and, where they are right now, they are on par to do well in a few years," he said. "They have the right work attitude and intensity and passion in their play. Of course there is room for them to grow but they are at the age to grow and the exposure will be good for them.
"[…] It is difficult to see a young group working so hard and the opportunity comes and they cannot afford it. You want them to have a positive experience… We need to make sure that we put the finances together to continue to support them. 
"In a year or two, these girls will be our National Under-17 Team. In four years, they will be our National Under-20 Team and, in six to eight years, they will be our National Senior Team."
At present, the Girls National Under-15 Team remains in training.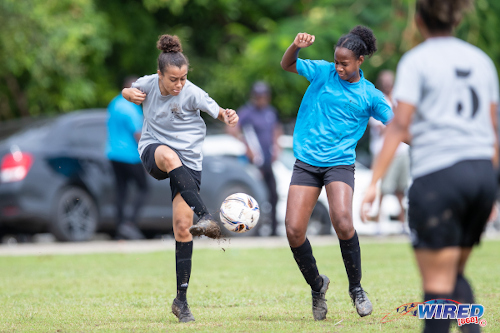 Corneal, a former two-time World Youth Cup coach, stressed that the TTFA and local football stakeholders must "prioritise how our money is being spent". 
"The day and age where we can just spend money is gone […] and development cannot be placed on the back burner," said Corneal. "A lot of administrators have not prioritised it but that is where we can really lift our game. We have to invest in our young players—there is no magic formula. 
"It is something I will continue to say because it will continue to affect us, if we don't."
At present, the staff for the girls team are: Marlon Charles (head coach), Ayanna Russell (assistant coach), Afiyah Matthias (assistant coach), Lisa-Jo Ramkissoon (goalkeeper coach), Natalie Harper (equipment manager), Kiren Johnson (physio), and Ricarda Nelson (team manager).
The boys team staff includes: Anton Corneal (technical director), Gilbert Bateau (assistant coach), Densill Theobald (assistant coach), Trevor Nottingham (goalkeeper coach), Paul Decle (logistics).
Corneal said the national under-14 and under-15 teams will be treated as developmental outfits and will not have official technical staffs like older age groups.