The Power to Make a Difference and the Right Start All-Star teams got the green light to showcase their talents at the Valsayn South Recreation Grounds on Sunday, as the 2022 edition of the Republic Bank youth football competition—powered by Gateway Athletics—hosted its All-Star event for boys and girls. 
This year, the Republic Cup used a 7-a-side format with truncated 20-minute matches. For the All-Star game though, the traditional 11-a-side, 90-minute format was used, as players strutted their stuff before coaches from at least five United States universities: Eastern Oregon University, Edmonds College, Lipscomb University, Point Park University and the University of South Carolina.
Former Trinidad and Tobago Women's National Senior Team head coach and current Haiti Men's Under-20 Team assistant coach Stephan De Four was among the keen onlookers in Valsayn, and it's fair to say that he was impressed with some of the talent on display. 
"My role is to […] look at student-athletes to try and help them get scholarships into the US schools," De Four told Wired868. "Yesterday at the skills camp, what I saw was a lot of enthusiasm and they were basically wanting this. 
"I think what Republic Bank is doing here is what is needed for the youths of this country in pushing them where they could be motivated to get involved in sport—moreso the game of soccer."

The All-Star games saw players from the Under-14 through to the Under-19 age groups all competing against each other. And after roughly four hours of entertaining football in sluggish conditions at Valsayn, a shy 13-year-old girl and a feisty 15-year-old boy lifted the respective All-Star MVP trophies. 
"Most of the quality players we saw out there today are under the age of 15 and we should be producing a quality Under-15 girls team here with the talent we have," De Four said. "It's just about making sure that they get the right resources to keep them training properly [to get to] where they need to be. The future is looking well in terms of the younger players I've seen here. 
"Going forward, the future should be bright for our women's football."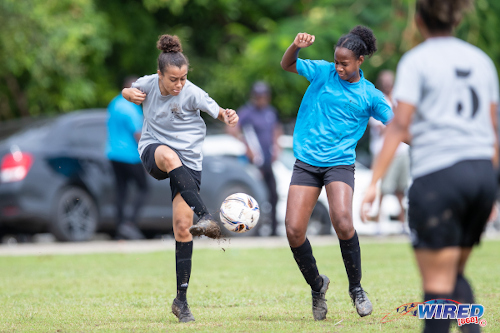 Jason Spence, the head coach of the Trinidad and Tobago National Under-17 and Under-20 Women's teams, concurred. On Sunday, Spence coached the Girls Right Start team which lost 6-2 to the Make A Difference XI outfit led by 13 year-old MVP Orielle Martin and 14-year-old hat-trick hero Rasheda Archer.
At present, it is uncertain whether those young ladies will get the chance to show their worth at the 2022 Concacaf Girls Under-15 Championship, which kicks off on 31 July. 
The Trinidad and Tobago Football Association (TTFA) declared yesterday that it is on the verge of withdrawing from that competition, along with the Caribbean Football Union (CFU) Boys Under-14 Challenge Series.
Martin, the Power to Make a Difference captain, showed what Trinidad and Tobago football fans are in danger of missing with an inventive display, which she capped with a goal and assist. 
Archer was a constant threat as well for Power to Make a Difference—coached by Desiree Sarjeant—while Cherina Steele, Kaitlyn Darwent and Daneelyah Salandy showed poise and nous, with Anastasia O'Brien serving as an industrious worker. All, incidentally, represented the Score for Cancer team in the Republic Cup Youth Football Tournament.
For Spence's Right Start team, crowd favourite Breanna "Mama" Smith, another Score for Cancer player, cut a frustrated and isolated figure in attack but slender attacker Nikita Gosine was a bright spark and made her presence felt with a double.
"You can't give her a sniff in front of goal, man," said De Four, as he remarked to a colleague that the Cox Football Academy had better be in the Girls Under-15 setup.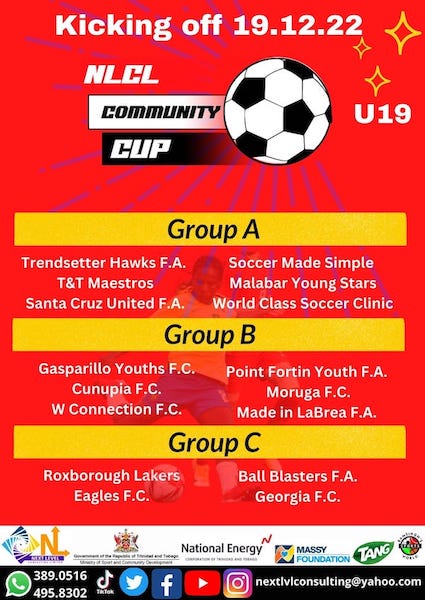 He urged the Trinidad and Tobago Football Association (TTFA) to keep its national youth teams in training and provide them with as much playing opportunities as possible.
"Even if it's against younger boys teams, they need to have games," De Four told Wired868, "so they could build that cohesiveness to prepare and play against teams abroad who play 10 and 15 games before they go to any tournament. 
"We need to get these girls staying together and training together and playing more games together."
Power to Make a Difference had things go their way in the girls' showpiece, as they ran away handsome winners. But their male counterparts did not enjoy things nearly as much.
The Right Start All-Star Boys XI strolled to a thumping 5-0 win—under the watchful eye of coach Downie Marcelle, who led Tobago's Ball Blasters Youth Academy to first and second place finishes respectively in the Tobago Division's Under-16 and Under-14 age groups.
"Hey coach, you gotta protect that 'Marcelle' name you know!" Edmonds College (USA) coach and former T&T Women's National Senior Team assistant Darrel Marcelle jokingly told Downie, prior to the start of the Boys' All-Star clash. 
Darrel had nothing to worry about. With the composed Jaden Richardson and lanky Jabari Ahing providing a solid base in midfield for the Right Start All-Star Boys XI, while Jeremiah Daniel and Andre Providence offered good coverage at the back, the tricky pair of Derrel 'Zoom' Garcia and Jeremiah Niles were able to freely express themselves further afield. 
The 15-year-old Garcia, who will enter second form at St Benedict's College in September, was a member of the Cox Football Academy team which finished as losing finalists in the recently-concluded Next Level Consultant Ltd (NLCL) Under-19 Community Cup. 
Garcia's club team finished as runners-up in the Republic Youth Cup too, but he was able to cop the big individual prize yesterday. And he showed an almost telepathic understanding with Niles, a Point Fortin Youth Academy attacker, for the Right Start team.
In the 12th minute, Niles scored a beautiful looping header after Garcia checked inside his marker before spreading a peach of a diagonal cross with his left boot. Niles evaded his teammates and jogged across the field before celebrating for the Republic cameras as he made the shape of a heart with his fingers. 
There was a lot to like about the approach play of the Right Start XI, and Garcia and Niles again combined in the 22nd minute with the latter player skilfully sending an overhead kick into the path of Desailly Cowan, who nonchalantly passed into the back of the net from close range. 
By halftime, the Boys' All-Star game was virtually a no-contest as the Right Start XI led 4-nil, as Stephano Christopher and Isaiah Jacob also got on the scoresheet. 
There was some debate about who would cop the All-Star MVP trophy, with both Garcia and Niles having excellent games while 19 year-old goalkeeper Mikel Alfonso was a nuisance between the uprights for the Right Start XI. 
"Was [Alfonso] at the skills camp yesterday?" Asked some coaches at the sidelines, as Alfonso used all of his big frame to snuff out one-on-one chances with Power to Make a Difference attacker Jamel Hargreaves. 
Switched over to the left flank for the second half, 'Zoom' Garcia settled the MVP debate with some lovely skill on the touchline and a thunderbolt of a free kick which crashed against the bar from a tight angle on the left side in the 77th minute.
Angel Aragones converted the rebound while the Power to Make a Difference substitute goalie seemed to be checking if his goalpost was still intact. 
De Four suggested that college scouts will keep tabs on youngsters like Garcia, who aren't eligible for college just yet. For the older players, he said most "fall in the category of junior college".
"There are tons of junior college schools out there, so they just have to want it and apply themselves with their schoolwork first and foremost," said De Four.
Gateway Athletics managing director Shem Alexander said the 2022 Republic Cup season will close with a 'Champion of Champions' showdown on 3 August, with the winners across the various Republic Cup age groups in Trinidad squaring off against the first and second-placed teams from Tobago. 
Alexander also confirmed that, although he enjoyed the 7-a-side format, the tournament will revert to the traditional 11-a-side game next year.
"For me personally, I like the [7-v-7] format—I think it allows a lot of touches in the game [and] it's a fast pace," said Alexander. "But realistically, the 11-v-11 format would be the better one for the overall development of youth football in Trinidad and Tobago.
"[…] If we are able to do both that would be perfect. But for the long-term development of youth football, I think the 11-v-11 format will be better."
Downie Marcelle admitted that he will be sad to say goodbye to the shorter version of the game.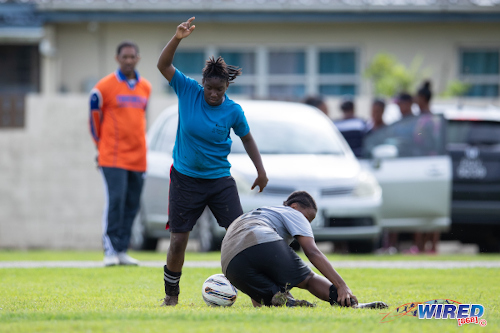 "Seven-a-side with the hockey posts, that's what I know—it's more intense and of course, it shows a different level," said the Ball Blasters coach. "You get to see if the kids can play off the ball more because there is a lot more movement to create chances to score because it's so tight… The majority of what we do here is 11-a-side but 7-a-side requires skill and a lot of technique.
"[…] I enjoyed the Republic Cup this year. This is the first major tournament for the kids after Covid-19 and for an outcome like this—where Republic Bank, along with Gateway Athletics create the avenue for scouts to come—that's phenomenal."
(Girls All-Star Teams)
Power to Make a Difference XI: 1.Mikaela Yearwood (GK), 3.Anastasia O'Brien, 5.Cherina Steele, 6.Akilah Gomez, 7.Rasheda Archer, 9.Sherice Nickie, 10.Orielle Martin (captain), 11.Mariah Williams, 12.Kimora Mitchell, 13.Daneelyah Salandy, 16.Kaitlyn Darwent. 
Substitutes: 8.Shania Edwards, 15.Makayla Fournillier, Sheleza Mungal. 
Coach: Desiree Sarjeant 
Right Start XI: 1.Rayniah Rennie (GK), 3.Faith Alexander, 4.Angel Berot (captain), 5.Kayla Francis, 6.Amanda Nannan, 7.Aaliyah Hudlin, 8.Jessica Harrigan, 11.Nikita Gosine, 13.Tayeann Wylie, 14.Breanna Smith, 16.Priscilla Frasier. 
Substitutes: 10.Natalia Gosine, Janike Ramoutar. 
Coach: Jason Spence
(Boys All-Star Teams)
Power to Make a Difference XI: Joshua Alexander (GK), 3.Ferron Dhyllon, 4.Jamel Hargreaves, 5.Dante Cooper, 7.Jemaul Ashing, 8.Deshawn Brown, 10.Andrew Nicome, 11.Jovonn Gomes, 12.Jerrique Cruickshank, 13.Kylon Cayenne, 14.Amaree Toney. 
Substitutes: 2.David Charles, 6.Lyshaun Morris, 9.Seth Hadeed. 
Coach: Anthony Selby
Right Start XI: 1.Mickelle Alfonso (GK), 2.Harrison Parks, 5.Jaydon Critchlow, 6.Andre Providence, 7.Desailly Cowan, 8.Jabari Ahing, 9.Derrel Garcia, 10.Xarion France, 11.Jeremiah Niles, 13.Jeremiah Daniel, 14.Hakim Lorde. 
Substitutes: 3.Stephano Christopher, 4.Isaiah Jacob, 12.Angel Aragones, 15.Jaden Richardson. 
Coach: Downie Marcelle 
Republic Cup Girls All-Star Game Result 
Power to Make a Difference XI 6 (Rasheda Archer 25, 43, 57, Makayla Fournillier 31, Orielle Martin 47, Daneelyah Salandy 65), Right Start XI 2 (Nikita Gosine 39, 68) at the Valsayn South Recreation Ground;
Republic Cup Boys All-Star Game Result
Power to Make a Difference XI 0, Right Start XI 5 (Jeremiah Niles 12, Desailly Cowan 22, Stephano Christopher 38, Isaiah Jacob 42, Angel Aragones 77) at the Valsayn South Recreation Ground.