Trinidad and Tobago still have an excellent chance to advance to the knockout stages of the 2022 Concacaf Under-20 Championship, but first they must shake off the effects of an arduous night at the Estadio Morazán in San Pedro Sula, Honduras.
Pitted against a talented Mexico outfit, the Junior Soca Warriors finished on the wrong side of a 5-0 hammering in their second outing of the youth competition.
Mexico, who mauled Suriname 8-0 on Sunday, are already sure to qualify as group leaders while Haiti are through as well—as they downed Suriname 3-0 yesterday to move to four points. Trinidad and Tobago, coached by Angus Eve, have a solitary point from their opening 4-4 draw with Haiti on the weekend. Suriname, who lost both outings so far, have zero points.
As a result of Concacaf's farcical format, the twin island republic can advance to the next round with just two points. A draw against Suriname will suffice. But it would be premature to write the Dutch-speaking nation off—despite the fact that they have conceded 11 times already without scoring once.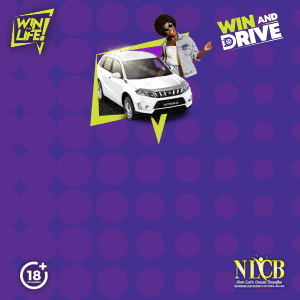 Suriname can turn the narrative of their competition around with a result over Trinidad and Tobago tomorrow and they will be fighting for their lives.
The boys in red, white and black would rue not finishing Haiti off on Sunday, as they led 4-3 with just 10 minutes remaining. But T&T's match-up with Suriname was always likely to be decisive.
The riddle for Eve was always going to be: "how do you line up against Mexico—a match sandwiched between games against Haiti and Suriname, with just one rest day after each encounter?"
A 20-man roster meant Eve could not rotate his entire team as he did at the 2021 Concacaf Gold Cup, when he pulled off a remarkable draw.
Did Eve see a weakness in "El Tricolour" that he felt his players could exploit? Was it a case of putting out players he felt could limit damage? Or just use as many fringe players as possible and hope for the best?
His team list seemed to suggest a combination of the first two possibilities, as he picked an extra defender, Noah Roka, but kept captain Molik Khan and attacker Nathaniel James and started Real Gill and Andrew De Gannes—the latter duo caused a ruckus as second half substitutes against Haiti.
Roka, a left back, was used in central midfield in another typical defensive ploy from Eve.
Should you play your best defensive midfielder in defensive midfield when you are facing a tough opponent? Or just stick a defender in there?
It has been an existential question for Eve so far—at national senior and now youth level.
Eve's experiments with Jesse Williams and Mekeil Williams in midfield were largely failures but it is worth noting that full back Noah Powder thrived with his promotion. And, for much of the first half, the Roka gamble looked more Powder-ish than Williams-like.
There were barely 34 seconds on the clock when Roka won the ball in Mexico's half of the field and immediately picked out James, who hit wide on the turn with the first shot of the match.
Gill, who started in his natural position on the right flank, turned Mexican defender Jesus Alcantar into a cone in the ninth minute but his eventual shot lacked conviction. And Roka was wide at the near post after a surging run to link up with James.
The Junior Warriors were in this game.
Mexico midfielder Jonathan Perez showed Gill's defensive frailty as he brushed aside the La Horquetta Rangers player and hit the post with a clever chip in the 15th minute. It was a warning that the North American nation can strike at any minute, whether or not they had momentum on their side.
Trinidad and Tobago had another decent scoring opportunity in the 24th minute, as Gill failed to divert a delicious James cross into the back of the net. But then defender Jaheim Joseph gave away a needless free kick with a lunge on Perez and, from the set piece, the Warriors fell behind.
The T&T defence failed to clear Perez's cross—Roka would not want to see his attempted header again—and Mexican defender Antonio Leone was on spot to thump home the loose ball from close range.
Eve's teenage troops never really recovered.
Wickham made a couple decent saves but was again left exposed by his backline, as left back Marvin Waldrop lunged unsuccessfully at Perez and the attacker's cross was successfully converted by Bryan Gonzales in first half stoppage time.
Eve made a triple substitution at the interval as he returned to his choice defensive midfield pair of Kassidy Davidson and Luke Phillip and swapped De Gannes with Kaihim Thomas.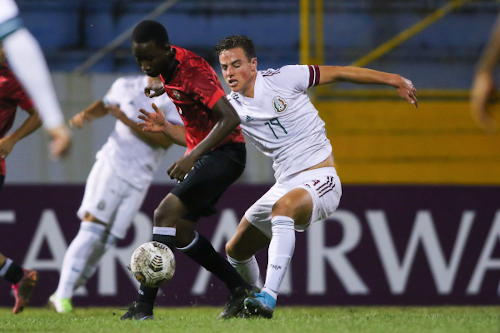 But, seconds after the restart, Trinidad and Tobago conceded again. Canadian referee Drew Fischer penalised Joseph for tugging at Mexico's strapping centre forward, Esteban Lozano. And Lozano rubbed his nose in it by coolly converting the resulting penalty kick.
Mexico got their fourth in the 52nd minute as Gonzales sauntered past Trinidad and Tobago right back Christian Bailey with embarrassing ease before crossing for Perez to finish.
Mexico were getting one-on-one opportunities on either flank and Trinidad and Tobago's overworked fullbacks were not helping their own cause by diving into tackles.
Sensing a weakness to be exploited, Mexico coach Luis Perez sacrificed a defender for an extra centre forward, Jesus Hernandez. They would get a fifth from Lozano in the 79th minute, after the Trinidad and Tobago defence again failed to clear their lines—while the forward also volleyed off the post in the 59th minute.
But that was as bad as it got for the Warriors, who would not concede again.
At the other end, Khan probably had his best performance in national colours since the pandemic. There can be no faulting the teenager's commitment to the cause and he worked harder than anyone against Haiti on the weekend. But, against Mexico, there was evidence of his passing range and football IQ too.
Khan has often appeared in the 'number 10' position for the Warriors and is yet to demonstrate that he carries either a scoring threat or an eye for the intricate angles that can lead to clear sights on goal for advanced teammates. However, his tenacious personality and ability to quickly complete the slightly more obvious passes suggest he has real promise as a 'number 8'.
Perhaps the biggest complement Eve could have given his captain was to substitute him. His spunk could be vital on Thursday against Suriname. Khan played the full 90 minutes, plus stoppage time though.
Maybe the Trinidad and Tobago captain has an engine to match his spikiness. 
In sport, the decision that leads to the result is inevitably the right one. We will know if Eve managed his resources well enough by Thursday night as the Junior Warriors look to beat Suriname to the third group qualifying spot and a Round of 16 date with regional foes, Jamaica.
(Teams)
Trinidad and Tobago: 1.Jahiem Wickham (GK); 2.Christian Bailey, 5.Jaron Pascall, 4.Jaheim Joseph, 3.Marvin Waldrop; 16.Tyrik Trotman (6.Kassidy Davidson 46), 13.Noah Roka (8.Luke Phillip 46); 9.Real Gill (12.Josiah Wilson 62), 10.Molik Jesse Khan (captain), 17.Andrew De Gannes (7.Kaihim Thomas 46); 11.Nathaniel James (19.Isaiah Thompson 62).
Unused substitutes: 18.Tristan Edwards (GK), 14.Josiah Cooper, 15.Micah Cain, 20.Tarik Lee.
Mexico (4-3-3): 1.Emiliano Perez (GK); 2.Emiliano Martinez (13.Diego Gomez 55), 3.Antonio Leone (14.Abraham Freyfeld 55), 4.Jesus Alcantar, 16.Rafael Palma; 6.Fidel Ambriz (captain), 18.Jonathan Perez (9.Jesus Hernandez 62), 8.Salvador Mariscal (17.Saul Zamora 55); 7.Christian Torres, 19.Esteban Lozano, 11.Bryan Gonzales (20.Heriberto Jurado 72).
Unused substitutes: 12.Jose Eulogio (GK), 5.Isaias Violante, 10.Karel Campos, 15.Everardo Lopez.
Coach: Luis Perez
Referee: Drew Fischer (Canada)
Concacaf U-20 Championship Group F results
(21 June)
Haiti 3 (Steevenson Jeudy 48, 59, Adelson Belizaire 63), Suriname 0 at San Pedro Sula;
Mexico 5 (Antonio Leone 28, Bryan Gonzales 45+1, Esteban Lozano 49 pen, 79, Jonathan Perez 52), Trinidad and Tobago 0 at San Pedro Sula;
(19 June)
Trinidad and Tobago 4 (Nathaniel James 2, 71, Kaihim Thomas 43, Real Gill 69), Haiti 4 (Watz Leazard 30, Steevenson Jeudy 45, 53, Bryan Destin 89) at San Pedro Sula;
Mexico 8 (Esteban Lozano 13, Salvador Mariscal 23, 25, 87, Fidel Ambriz 33, Bryan González 45+1, Antonio Leone 90+3, Jesús Hernández 90+13), Suriname 0 at San Pedro Sula.