The NLCL Under-19 Community Cup organising committee announced that "substantial" fines have been levied against youth clubs Cox Football Academy and Cantaro United FC, after the role in a brawl during last week's semifinals at the Ato Boldon Stadium in Couva.
However, neither the organising committee nor the Trinidad and Tobago Football Association's "special disciplinary committee" that ruled on the matter shared details of the supposed punishment.
Further, the NLCL committee, in a release today, confirmed that that no additional players had been suspended for the behaviour, beyond the initial five who were ejected on Sunday 12 June.
Referee Ashton Benjamin ruled last weekend, after a brawl that involved players from both teams, substitutes and even spectators, that Cox Football Academy captain Gesiah Bishop and teammates Tereek Abraham and Yohan Romano were guilty of violent conduct, along with Cantaro Utd players Jaydon Charles and Jamal Williams.
Remarkably, despite having the benefit of footage of the fracas and time to pore over it, the TTFA committee—formed by the Fifa-appointed normalisation committee—did not find a single other person deserving of punishment.

Tournament director Brian Jordan confirmed that the TTFA "ruled out any further participation of the five red-carded players" and "fined both teams a substantial amount for not maintaining disciplinary control of their respective teams".
Jordan did not provide more details or even name the suspended players. However, he said his committee has put "additional security measures" in place for Monday's third place play off and finals.
 "Our organising committee appreciates the work of the TTFA Special Disciplinary Committee," said Jordan. "Our teams have sincerely apologised, and we all share in the deep regret of what occurred last weekend. It's not what we stand for, and we believe that this was an outlier, as no other games in our history have had such a display. 
"We take full responsibility for the fan experience and will do our best to ensure there will not be a similar occurrence on Monday, or ever in the future of this tournament."
On Monday, Cantaro United will face Eagles FC from 2pm in the third place play off, with bronze medals and TT$2,500 at stake.
Soccer Made Simple and Cox Football Academy face off from 4pm in the final with the winner due TT$7,000 plus a championship trophy and gold medals. The runner-up will take home TT$5,500 plus silver medals.
Soccer Made Simple, which is based in the Arouca/Trincity area, advanced to the final on the back of a 4-1 semifinal over Eagles, courtesy of a first half hattrick by forward Terron Miller.
The Cox Football Academy outfit, which travel from Palo Seco on Monday, held off Cantaro Utd 3-1 in the semifinals with Tyrique Ramjit contributing a double.
"The teams are focused on giving their all on the field," said Jordan, "and fans can come out assured that additional security measures have been put in place for the exciting championship day on Monday."
Entry for the final match day is priced at TT$30 for adults and TT$15 for children aged 13 to 17. Children 12 years and under are free.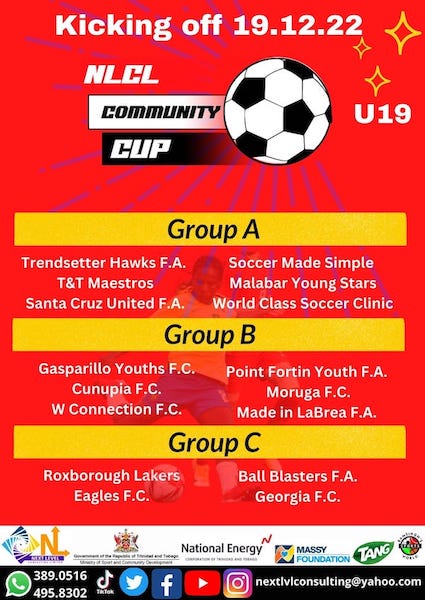 There will be tassa and live DJ entertainment at the venue while food and beverages are on sale. No coolers or glass bottles will be allowed into the stadium and fans are asked "to arrive as early as possible".