The Trinidad and Tobago Men's National Senior Team closed off their competitive calendar for 2022 with their biggest win of the Concacaf Nations League yet, as they downed St Vincent and the Grenadines 4-1 last night at the Hasely Crawford Stadium in Port of Spain.
The scoreline was comprehensive enough, but it would be misleading to describe the affair as 'comfortable'. Not when the visiting islanders seemed adamant to kick every thing that was not in a blue shirt while Honduran referee Nelson Salgado offered less protection than an umbrella in a hurricane.
The Soca Warriors did not deal with the roughhouse tactics particularly well either. And, by the second half, the host team could not keep hold of the ball as the affair became scrappy—with flashes of quality few and far between.
At this point, amidst the celebrations for a deserved three points, there is one sobering fact that should not be ignored. Jamaica, Curaçao, Suriname and Martinique have already taken points in Concacaf's League A while Haiti put six goals past a Guyanese team that held the full-strength Warriors to a draw in Port of Spain.
Marooned in League B, Trinidad and Tobago football fans have accepted that we are now a second tier Concacaf nation—but are we, at men's senior level, now an also-ran in Caribbean circles too?
The St Vincent and the Grenadines team, which lost eight of their last nine games, could barely manage five successive passes under minimal pressure last night. For the second straight match—both, coincidentally, against Trinidad and Tobago—the 'Vincy Heat' were without their best player, attack Oalex Anderson, who tested positive for Covid-19.
Like The Bahamas, St Vincent and the Grenadines are not the sort of opponent that teams with ambition should gauge their progress against. Certainly not if we want to be a respected football team again within the next three to five years.
Instead, games like last night's offer the chance to remind our group opponents that we do not belong here. Angus Eve's troops did so for long periods in the first half, but is that good enough in a 90-minute affair?
It was a mixed start for the 2,000-odd fans who were able to file through the TTFA's unwelcoming bottleneck at the front gates to get inside the venue.
The lights at the Hasely Crawford Stadium dimmed after just five minutes—surely to the consternation of the television crew and photographers on site. But the Warriors were just getting started.
After just nine minutes, the hosts were ahead. A retreating SVG defender poked the ball away from T&T midfielder Duane Muckette but only succeeded in playing it into the path of Judah Garcia, who drilled below opposing goalkeeper Lemus Christopher for the opener.
Two minutes later, the lead doubled. This time, Muckette and full back Shannon Gomez combined down the right flank and, as Christopher flapped at Muckette cross, Noah Powder tapped home for his first senior international goal.
Christopher redeemed himself somewhat in the 19th minute, as he used his legs to deny Powder from close range after a Garcia cross—with Gomez again influential.
Then, just like that, St Vincent and the Grenadines halved the deficit. Nothing fancy. Right back Jazzi Barnum-Bobb sauntered forward and swung a straightforward cross into the area where Gomez had failed to track St Vincent and the Grenadines attacker Cornelius Stewart. And Stewart volleyed past Trinidad and Tobago captain Marvin Phillip to make it, temporarily, 2-1.
It was a rare blot on Gomez's book on the night and, fortunately, his teammates restored the two goal advantage at the break. Star forward Levi Garcia dribbled outside an opposing defender and squared to Powder who side-footed home his second and Trinidad and Tobago's third.
The hosts might easily have had twice as many goals by then, as Levi hit the post and volleyed another good chance overbar, while Christopher made a fine double save to keep out Levi and Muckette—after a Powder corner kick.
Levi dazzled in the first half but missed a hatful of chances, which is becoming a routine description of his showings upfront. The 24-year-old Greece-based attacker is undoubtedly Trinidad and Tobago's most gifted player. But it is becoming equally clear that finishing is not his strong suit.
Levi will not get as many opportunities to score against top tier nations. Can we count on him to finish one from two chances?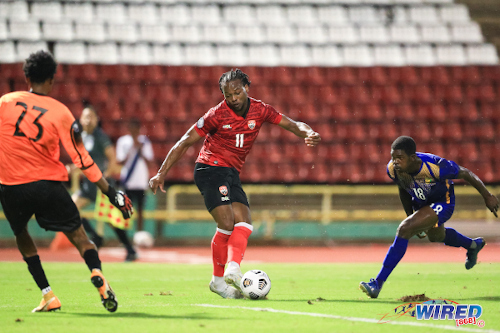 Attacking midfielder Kevin Molino, once fully fit, is desperately needed in red, white and black gear again.
Trinidad and Tobago had another decent scoring opportunity soon after the restart. Again, Christopher denied Levi, after a build-up that involved a clever Powder back-heel and an accurate left side Keston Julien cross.
After that, St Vincent and the Grenadines players got more physical and the Warriors, unable to get sympathy off the referee, seemed unsure what to do. Unable to pass through the opponents or unwilling to risk physical confrontation, the hosts took to trying to keep possession in non-threatening areas of the field.
And, bit by bit, the fixture began to resemble a game again. The Vincy Heat began to feel like maybe they could do business at the Hasely Crawford Stadium after all.
Twice, Stewart tested Phillip from the edge of the opposing area as they looked to claw a goal back once more.
Eve turned to his bench with Reon Moore and John-Paul Rochford introduced on either flank. Moore, busy and direct, was an immediate threat. Rochford, again, was disappointing.
Trinidad and Tobago were the better team. But they were not particularly good either.
The hosts did put some gloss on the score summary, though. In stoppage time, Gomez—switched to the left back position—again produced a buccaneering overlapping run and linked up with Moore who, in turn, picked out Levi. Again, the talented attacker could not beat Christopher.
However, Rochford was on spot to tuck away the rebound. And there was probably a touch of relief in his exuberant celebration.
Arguably, it summed up Trinidad and Tobago on the night. The end result was there—but the performance was not quite convincing.
The Warriors are second in Group B, one point shy of Nicaragua. They will get the chance to change that next March when they travel to the Bahamas and then host the Central American team.
Eve's immediate mission remains on course then. But it might be a good idea to get an exhibition game or two with our former regional rivals like Jamaica, Haiti and Martinique.
The jury is out on if we are getting any closer to matching them. Or if we are now merely a bit better than the Caribbean's worst football nations.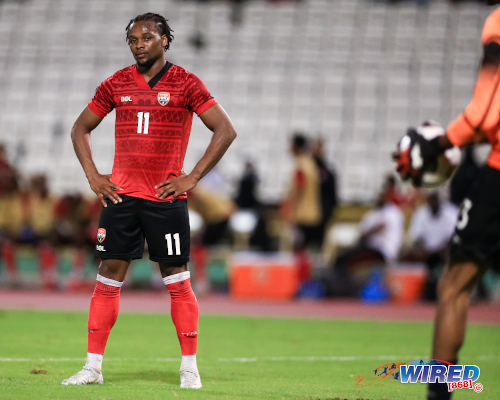 (Teams)
Trinidad and Tobago (4-2-3-1): 1.Marvin Phillip (GK) (captain); 18.Shannon Gomez, 12.Kareem Moses, 2.Aubrey David, 19.Keston Julien (16.Alvin Jones 73); 8.Kevon Goddard, 15.Neveal Hackshaw (23.Leston Paul 83); 13.Judah Garcia (14.John-Paul Rochford 63), 10.Duane Muckette (17.Reon Moore 63), 7.Noah Powder (20.Molik Khan 83); 11.Levi Garcia.
Unused substitutes: 21.Denzil Smith (GK), 22.Jabari St Hillaire (GK), 3.Jameel Neptune, 4.Sheldon Bateau, 5.Daniel Phillips, 6.Andre Ettienne, 9.Marcus Joseph.
Head coach: Angus Eve
St Vincent and the Grenadines (4-1-2-3): 22.Lemus Christopher (GK); 3.Jazzi Barnum-Bobb, 5.Jahvin Sutherland (captain), 18.Jamol Yorke (13.Tristan Marshall 86), 2.Najima Burgin; 6.Adeen Charles; 17.Aaron Jackson, 21.Brad Richards (14.Keshorn Durham 65); 11.Azinho Solomon, 10.Rondell Thomas (20.Matthew Jackson 65), 9.Cornelius Stewart (12.Garret Leigertwood 83).
Unused substitutes: 1.Josh Stowe (GK), 22.Jadiel Chance (GK), 4.Mekeal Williams, 8.Dorren Hamlet, 15.Kevin Francis.
Head coach: Kendale Mercury
Referee: Nelson Salgado (Honduras)
Concacaf Nations League League B
(Mon 13 June)
Trinidad and Tobago 4 (Judah Garcia 9, Noah Powder 11, 41, John-Paul Rochford 90), St Vincent and the Grenadines 1 (Cornelius Stewart 26) at Port of Spain;
Nicaragua 4 (Juan Barrera 19, Jaime Moreno 34, 45, Ariagner Smith 74), The Bahamas 0 at Managua.