Trinidad and Tobago utility player Joevin Jones is set to return to his US Major League Soccer (MLS) employers, InterMiami CF, after a disagreement with Men's National Senior Team head coach Angus Eve over his non-selection.
Jones came on at halftime in Managua for Trinidad and Tobago's opening Concacaf Nations League game against Nicaragua, which the visitors lost 2-1. Assistant coach Reynold Carrington ran the technical area against Nicaragua in Eve's absence.
Subsequently, Jones said Carrington told him Eve opted to 'rotate his squad' for Monday's home fixture against The Bahamas and was left out of the entire 23-man squad.
"To be honest, I don't think Joevin is up to speed—he hasn't played much with his club and I think he was off the pace a bit," Eve said, in a press briefing on Sunday. "It is nothing major. He is coming back gradually. 
"He probably needs a little bit more match practice under his belt before he plays a full competitive match."
On Tuesday morning though, a TTFA Media release stated 'coming back into the squad is Inter Miami CF midfielder Joevin Jones [and] Marcus Joseph with Andre Ettienne also getting a call'. They supposedly replaced Radanfah Abu Bakr, Nicholas Dillon and Michael Kedman.
Within hours, Jones was out again.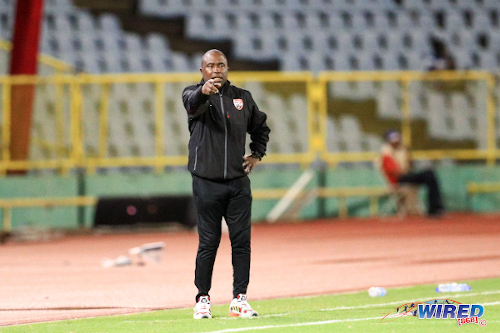 This afternoon, the TTFA Media stated 'one change to the arriving squad [in Kingstown, St Vincent], player Joevin Jones did not travel and will not be involved in Friday's encounter'. The Warriors landed in Kingstown this morning.
Wired868 contacted Eve for clarification but did not get a response by the time of publication.
As far as Jones is concerned, he still does not understand why he was dropped in the first place—much less the second time.
"Why would you call a player who you think is not match fit?" Jones asked. "[…] For me, that doesn't make sense. Things are not adding up."
Notably, although Jones has played primarily with the Inter Miami second team this season, midfielder Duane Muckette has not even had a club in two years while several national players are in their post-season.
Wired868 understands that several players within the squad are questioning the reasons given for Eve's selections, as opposed to his right to pick the players he thinks can get him a result.
Defender Mekeil Williams, a former World Youth Cup player, was used in midfield for the Soca Warriors against Barbados, Guyana and Nicaragua with mixed results—and then dropped out of the 23-man squad although against the Bahamas, as Eve said he wanted more 'attacking players'.
However, Eve replaced Williams with a central defender, Abu Bakr.
Midfielder Justin Sadoo was an unused substitute in each of the games that Williams was played in midfield. He was also cut from the 23-man team after the Nicaragua fixture.
Forward Marcus Joseph was played out of position against Nicaragua, dropped when Eve said he needed goals against the Bahamas, and then recalled to travel to St Vincent.
Flanker Levi Garcia, right back Shannon Gomez, defender Jesse Williams and midfielder Noah Powder are other examples of players used outside of their normal role with their professional teams.
England-born defender Michael Kedman, a left back in the Iceland lower division, played 10 minutes as an attacking winger against Nicaragua and has not been selected since.
Is it too early to start questioning Eve's methods?
The most capped footballer in Trinidad and Tobago's history, Eve was a multifunctional player himself who played as a forward or winger for his country and also as a central midfielder at domestic level.
As a coach, he has proven adept at building teams that are difficult for opponents to break down and he told Wired868 on the weekend that he thinks a counter-attacking style suits the current national team best.
Last July, he won plaudits after leading Trinidad and Tobago into the Concacaf Gold Cup group stage where he then produced a shock goalless draw with then defending champions Mexico.
His overall record is a matter of perspective. In 10 games, he won three (Montserrat, Barbados, the Bahamas), drew four (French Guiana, Mexico, Guatemala and Guyana), and lost three (El Salvador, Bolivia and Nicaragua).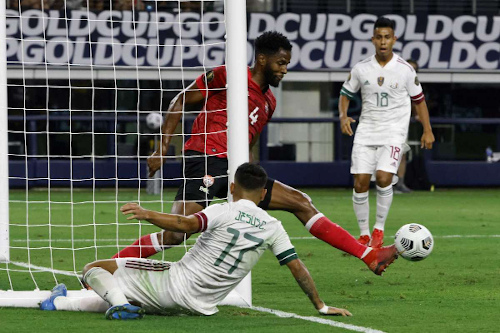 If Trinidad and Tobago win away to St Vincent and the Grenadines on Friday, their aim of regaining promotion to Concacaf's League A will remain in their own hands. But it might also help Eve demonstrate to doubters that he knows what he is doing.
Jones waived the opportunity to speak off the record. At 30-years-old, the versatile utility player is already the 11th most capped player of all time for Trinidad and Tobago—his 82 caps are 35 shy of Eve's tally.
He told Wired868 he had nothing to hide and preferred to speak openly.
On Tuesday night, Jones claimed that Eve told him he felt it wise to keep most of the players who edged the Bahamas on Monday. However, Eve supposedly promised to bring the US-based player back into the team for next Monday's game against the 'Vincey Heat' in Port of Spain.
"If I am not match fit now, how will I be match fit then?" Jones said he asked his coach. "I'd be better off if I just go back with my club."
It was the last exchange between the two men before Eve took the Warriors off to Kingstown.
Jones doesn't expect to play any further part for his country in this Fifa match window. However, he insisted that he remains ready and willing to represent his country. He pointed to his eight hour bus ride from Costa Rica to Nicaragua last week as just one example of his commitment.
Trinidad and Tobago's players, Wired868 understands, have also put up with substandard accommodation at the TTFA's Home of Football with minimal fuss—with identified issues ranging from tiny beds, missing television sets, poor internet connection and varying water pressure which occasionally forced some players to fill their toilet tanks manually.
The national players were told the TTFA cannot afford to do better for them at present. So they accept it.
And although Jones earns his living in the US, he said his heart remains in Trinidad and Tobago.
"I always look forward to represent the national team and you could see from my first game back out [against Nicaragua], I was hungry for it," said Jones. "[…] I was really, really disappointed not to play the home game [against the Bahamas]. I am ready to play and my club cleared me to play. 
"[…] I was super excited to be back and I would never turn down the national team just like that. But for now, I just have to refocus and stay healthy—and whenever I am called up, I am ready."
(Trinidad and Tobago team for St Vincent)
Goalkeepers: Marvin Phillip (Deportivo PF), Denzil Smith (W Connection), Jabari St Hillaire (Terminix La Horquetta Rangers);
Defenders: Shannon Gomez (Sacramento Republic—USA), Alvin Jones (Forward Madison—USA), Kareem Moses (Vaasan Palloseura—Finland), Sheldon Bateau (Samsunspor—Turkey), Aubrey David (Deportivo Saprissa—Costa Rica), Andre Ettienne (Deportivo PF), Jameel Neptune (Las Vegas Legends—USA), Keston Julien (FC Sheriff Tiraspol—Moldova),
Midfielders: Noah Powder, Neveal Hackshaw (both Indy Eleven—USA), Kevon Goddard (Defence Force), Leston Paul (Memphis 901—USA), Daniel Phillips (Watford FC—England), Duane Muckette (Unattached), Molik Khan (Minnesota United II—USA);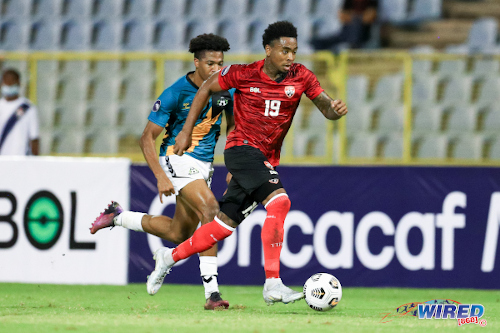 Attacking midfielders: Michael Kedman (Thróttur Vogar—Iceland), Judah Garcia (AEK Athens B FC—Greece), John-Paul Rochford (Sure Sports FC—USA);
Forwards: Levi Garcia (AEK Athens FC—Greece), Marcus Joseph (Mohammedan SC—India).
(Reserve Pool)
Defenders: Radanfah Abu Bakr (Sure Sports FC—USA), Mekeil Williams (Pittsburgh Riverhounds—USA), Triston Hodge (Colorado Springs Switchbacks FC—USA);
Midfielders: Justin Sadoo (Defence Force);
Attacking midfielders: Jabari Mitchell (Police FC), Joevin Jones (Inter Miami CF—USA);
Forward: Nicholas Dillon (Central Soccer World).