The Trinidad and Tobago Men's National Senior Team picked up their first win of the 2022-23 Concacaf Nations League tonight. It came against the outfit, The Bahamas, which knocked the Soca Warriors out of the Qatar 2022 World Cup qualifying series.
Yet, in the end, a 1-0 win at the Hasely Crawford Stadium over the 10th worst team in international football felt like being served white rice and lentils after you ordered a full Sunday lunch. It was still a meal, yes. So maybe you should even be grateful.
But not even a whiff of macaroni pie? Or a drumstick?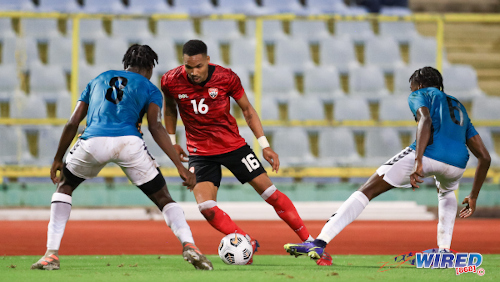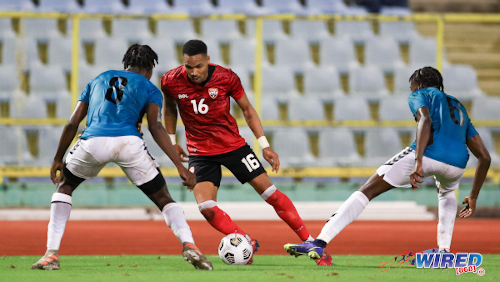 A draw earlier today between Nicaragua and St Vincent and the Grenadines at Arnos Vale kept the two-island republic within touching distance of the Central American group leaders who now have four points.
And head coach Angus Eve snapped his run of five competitive winless matches, three of them draws, including a goalless encounter with Mexico at the 2021 Concacaf Gold Cup.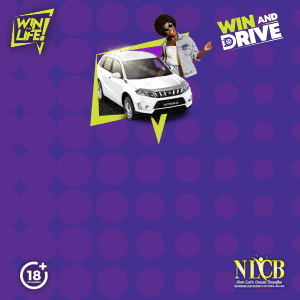 But it was not quite the result he or the local football body were counting on, especially after a week in which the team's administration, tactics and selection all came into question.
Trinidad and Tobago reportedly wanted attack-minded players and goals, yet had no room on the 23-man squad for their only in-form centre-forward, Marcus Joseph?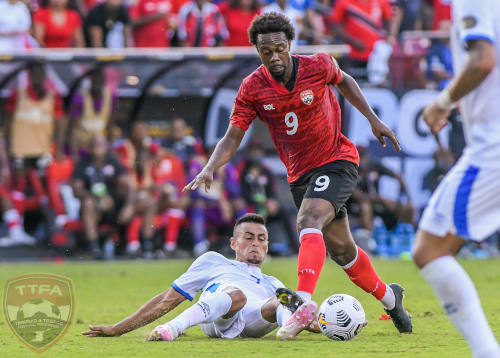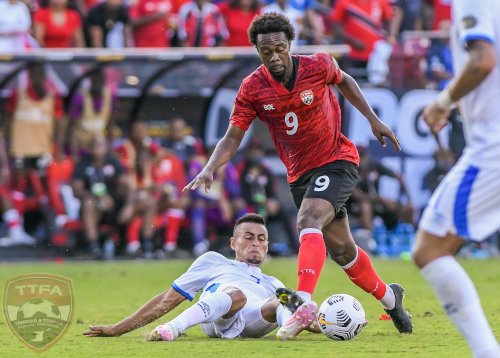 Joevin Jones, the highest goal-scorer available to Eve at present, was omitted owing to supposedly inadequate match sharpness, as he slowly returns to competitive football with MLS outfit InterMiami CF. Yet, Eve started Duane Muckette, who has not had a club at all in two years?
For the first half-hour tonight, such questions would have seemed like nitpicking. Watched by a small crowd of roughly 4,000 fans, Trinidad and Tobago started the game with appreciable zest and earned a reward from their first meaningful attack. 
Noah Powder produced an in-swinging corner kick from the right. Neveal Hackshaw met the cross with a firm downward header that beat goalkeeper Julio Jemison. It was Hackshaw's first senior international goal and, there was no reason not to think at the time, the first of many for the boys in red, white and black.
In the 12th minute, forward Levi Garcia left an opposing defender with his legs mimicking a slippery road sign, tearing down the right flank and floating in a cross.  Meeting it with his head, Muckette managed only to hit the bar.
And off another Powder corner in the 25th minute, Kareem Moses forced a fine save from Bahamas custodian Jemison.
The Warriors were moving the ball around quickly and with purpose, and bravely trying to pick out players in threatening areas of the field. Bahamas could barely get out of their half, let alone get a peek at Trinidad and Tobago captain and goalkeeper Marvin Phillip.

Surely, it was just a matter of time before the visiting amateur players wilted under the pacy examination and the goals began to come.
Yet, oddly, it was the home side who began to slow down.
In first-half stoppage time, Defence Force midfield terrier Kevin Goddard had an uncharacteristic effort at goal that Jemison turned around the upright. After that? Not much.
Right-back Alvin Jones wasted a series of free kicks with long-distance shots. With his favoured left foot, Levi Garcia kept pulling his efforts wide at the near post or hitting them overbars with his right. His younger brother, Judah Garcia, could not locate anyone at the end of his twisting runs; nobody in Eve's starting tea, it seemed, had the necessary spatial awareness in the opposing box to get on the end of crosses.
Eve sent Nicholas Dillon on for Garcia (J). It turned out that he was the guy he needed to deliver the crosses for him in the first place—particularly as Garcia (L) never really returned to the party after the interval.
There were other substitutions. Winger Reon Moore showed that his game is better suited to running into space rather than unlocking a packed defence; he caused the opponents no problems. Playmaker John-Paul Rochford had an emphatically forgettable night. Midfielder Molik Khan's showing again suggested that he might well be one for the future but he is not yet one for the present.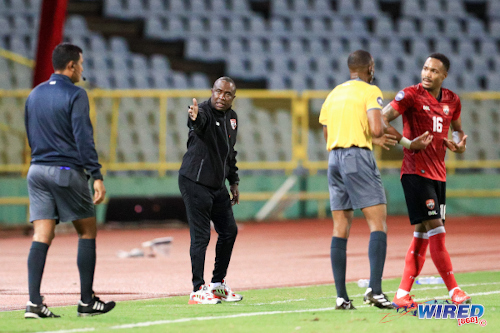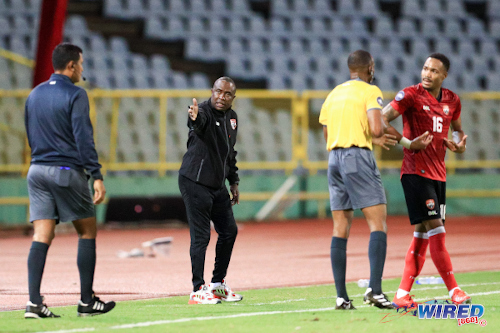 In the 64th minute, the Bahamas got in the Trinidad and Tobago box for the first time and left-back Keston Julien was forced into an uncultured clearance to deny opposing flanker Omari Bain.
The 'Baha Boys' won a few corner kicks too. Perhaps if wing-back Troy Pinder had kept his composure in the 77th minute when Julien slipped in his own area, the final scoreline might have looked considerably worse for Eve.
Like much of the Bahamas play in Port-of-Spain, Pinder's shot was wayward and ugly. By then, truth be told, Trinidad and Tobago's was not much better.
At the final whistle, the Warriors were level with their opponents on points and goal differential but ahead on goals scored so they had moved from third to second in the group.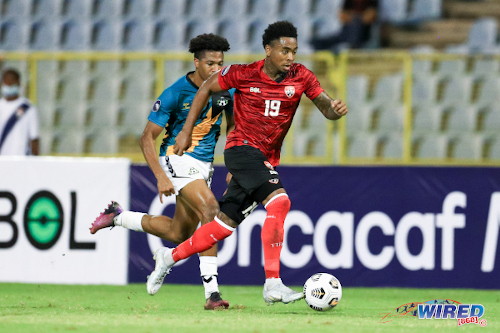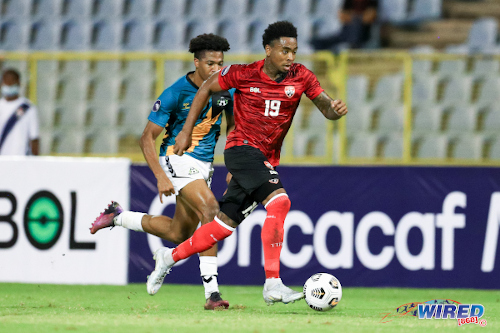 So, despite the three points lost, the Bahamas will not feel too downcast when they check in at Piarco International Airport tomorrow.
That fact, as much as anything else, helps tell the story of tonight's Nations League match.
(Teams)
Trinidad and Tobago (4-2-3-1): 1.Marvin Phillip (GK) (captain); 16. Alvin Jones (18.Shannon Gomez 74), 12.Kareem Moses, 2.Aubrey David, 19.Keston Julien; 15.Neveal Hackshaw, 8.Kevon Goddard; 7.Noah Powder (20.Molik Khan 81), 10.Duane Muckette (14.John-Paul Rochford 61), 13.Judah Garcia (9.Nicholas Dillon 61); 11.Levi Garcia (17.Reon Moore 81).
Unused substitutes: 21.Denzil Smith (GK), 22.Jabari St Hillaire (GK), 4.Sheldon Bateau, 6.Radanfah Abu Bakr, 3.Jameel Neptune, 23.Leston Paul, 5.Daniel Phillips.
Head coach: Angus Eve
Bahamas (3-4-3): 18.Julio Jemison (GK); 4.Troy Pinder, 10.Lesly St Fleur (captain), 8.Evelt Julmis; 7.Quinton Carey (5.Kenaiz Swain 47), 16.Jean Francois (15.Michael Massey 80), 19.Roen Davis (14.Logan Russell 85), 13.Christopher Rahming; 11.Marcel Joseph (17.Jordin Wilson 80), 6.Wood Julmis, 12.Omari Bain.
Unused substitutes: 23.Vance Weaton (GK), 2.Alexiou Cartwright, 3.Miguel Thompson.
Head coach: Nesley Jean
Referee: Shavin Greene (Guyana)
Concacaf Nations League
League B, Group C results
(6 June 2022)
Trinidad and Tobago 1 (Neveal Hackshaw 4), Bahamas 0 at the Hasely Crawford Stadium, Port-of-Spain,
St Vincent and the Grenadines 2 (Azinho Solomon 3, Oalex Anderson 45+5), Nicaragua 2 (Byron Bonilla 22, Matias Moldskred 41) at Arnos Vale.