On Tuesday morning, the Trinidad and Tobago Football Association (TTFA) announced 28 players who would represent the Men's National Senior Team in the 2022/23 Concacaf Nations League. Of those 28, inexplicably, only 24 were booked to travel to Nicaragua for their opening game in Managua on Friday 3 June.
Today, the TTFA confirmed that just 19 players should be available to represent the Soca Warriors in their opening Nations League fixture—and head coach Angus Eve is among the absentees!
"Head coach of the Men's Senior Team Angus Eve will miss the encounter," stated a release from TTFA Media,  "after being unable to travel due to a personal family emergency. Also missing the trip are players Alvin Jones, Noah Powder, Neveal Hackshaw and Jabari St Hillaire for a combination of reasons.
"Both Jones and St Hillaire did not reveal their online travel health pass approval from the Nicaraguan Health Authority in time to board the departing flight out of Piarco. 
"Powder and Hackshaw also did not receive their PCR results in the United States within the required time necessary to receive similar approval for their entry into Nicaragua."
The TTFA release further claimed that rescheduled travel arrangements would have meant the quartet would get to Nicaragua 'mere hours before the 8pm kick-off' on Friday evening. "Eve and his staff felt it was therefore unfitting," it said, "to have them travel to Managua."

"All four players will join the team in Trinidad for Monday's match against the Bahamas at the Hasely Crawford Stadium," stated TTFA Media.
The list of players who were to remain in Trinidad had also grown. 
On Tuesday, the Terminix La Horquetta Rangers duo of Real Gill and Kaihim Thomas as well as Police FC midfielder Jabari Mitchell and unattached playmaker Duane Muckette were named as members of the Trinidad and Tobago's Nations League troops who would not travel to Nicaragua. Today, the no-fly list had swollen to include Defence Force midfielder Kevon Goddard.
Although a 23-man travelling party would usually be considered appropriate for international duty, no reason was given for the decision to keep those players in Trinidad.
Even with the 19 players expected get to Nicaragua, the TTFA revealed that the group travelled in 'two batches'. One group travelled through Miami and direct to Managua on Tuesday, while Wired868 understands the second group journeyed through Central America and had an extensive bus ride to get to their destination.
As of this evening, there were only eight Trinidad and Tobago players in Managua. It is uncertain why some players were asked to take the latter route.
Wired868 reached out to Eve, team manager Major Basil Thompson and TTFA director of football Richard Piper for additional information on the issues affecting the team for Friday's outing. (Editor's Note: Wired868 was subsequently informed that Thompson now operates as manager of the Under-20 squad while Piper is Senior Team manager.)
None of the threesome had responded up to the time of publication.
With Eve absent from the team camp, assistant coach Reynold Carrington will take charge of the Warriors for Friday's encounter, which will be broadcast live on Flow Sports from 10pm TT time. Incidentally, on Sunday 5 June, Carrington is due to travel with the Men's National Under-20 Team  to Costa Rica, where he will again deputise for Eve, as the head coach remains with the Senior Squad.
The double act for Eve and Carrington between national senior and youth team jobs—an unusual reality introduced by the Fifa-appointed normalisation committee, which misfired in the case of Women's National Under-20 and Under-17 Team head coach Jason Spence—was difficult enough without farcical travel arrangements.
But Carrington put a brave face on things.
"The task is the same and we remain upbeat and committed to that task," Carrington told TTFA Media. "We have 19 capable players with loads of experience and ability with the overseas and home-based players in the mix.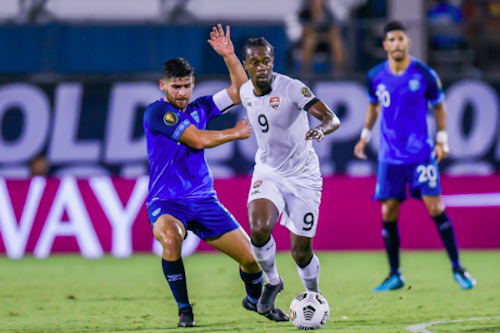 "The important thing is for us to remain focused and understand the importance of the match and also wanting to get a positive start to the campaign on Friday."
The absences leave Trinidad and Tobago especially light in central midfield, where Hackshaw and Powder cemented themselves as First Team players during the 2021 Concacaf Gold Cup.
From Carrington's anticipated 19-man squad, the only player who has started a game in central midfield during Eve's tenure is defender Mekeil Williams—and only the head coach deemed that experiment successful.
However, Memphis 901's Leston Paul and Watford City's Daniel Phillips are not short of international experience and should be strong contenders for the vacant role.
Sacramento Republic FC defender Shannon Gomez, who is uncapped under Eve, would have been competing with Jones for the right-back position. Now, he is the only right-back in the squad.
And although Muckette has just one start under Eve, he featured four times off the bench and Carrington might be a little light on offensive options.
Trinidad and Tobago routinely start with four attacking players, but Carrington has just five in his entire squad: Judah Garcia, John-Paul Rochford, Joevin Jones, Marcus Joseph, and Levi Garcia. There will not be much firepower in reserve on Friday then.
Still, the spine of the Soca Warriors squad in Nicaragua is strong and well-tested, with veteran goalkeeper Marvin Phillip covered by TTFA 2021 Player of the Year Aubrey David and returning Turkey-based defender Sheldon Bateau.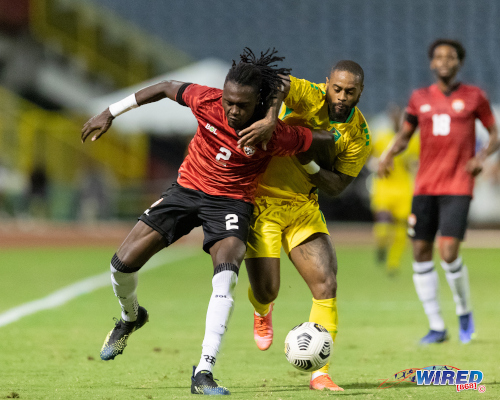 Phillip, Bateau, David, Williams, Paul and Joseph are all former World Youth Cup players.
Since being sidelined with injury last July, versatile InterMiami CF flanker Joevin Jones is also set for his first outing of the Eve era.
"It's always an honour to get called up to represent the national team," said David. "Regardless of the occasion or the challenges. I'm excited to be here. I know the boys are all looking forward to it because we've made some progress over the past few months.
"The spirit and momentum from the last two matches against Barbados and Guyana was excellent. This is something we'll be looking to take into these upcoming matches.
"It's also great to have experienced players such as Joevin [Jones], Sheldon Bateau and Leston Paul back in the squad. Overall, we have the capability to go in there and put on a performance that can hopefully give us a winning start before we head home for Bahamas."
At present, Trinidad and Tobago are ranked 103rd in the world by Fifa while Nicaragua are 144th. 
In five meetings, Nicaragua have defeated the Warriors just once—in a friendly outing on 27 December 2016 under then head coach Tom Saintfiet. However, Saintfiet avenged that loss with a 3-1 win three days later in Managua, with goals from Cornell Glen, Carlyle Mitchell and Aikim Andrews.
None of the current Trinidad and Tobago roster travelled to Nicaragua in 2016 although goalkeeper Adrian Foncette, Jones (A), Radanfah Abu Bakr and Jomal Williams were all involved six years ago.
Back in Managua in 2022, a short-handed Soca Warriors squad will hope to make it two wins in a row for the two-island republic.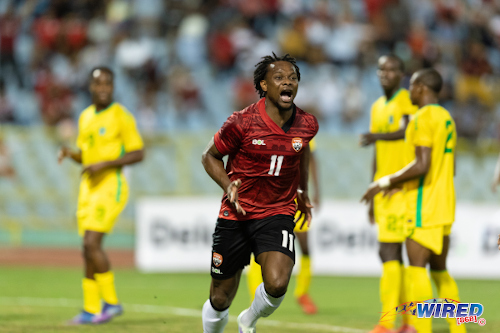 (Trinidad and Tobago players expected in Nicaragua)
Goalkeepers: Marvin Phillip (Deportivo PF), Denzil Smith (W Connection);
Defenders: Shannon Gomez (Sacramento Republic—USA), Kareem Moses (Vaasan Palloseura—Finland), Sheldon Bateau (Samsunspor—Turkey), Aubrey David (Deportivo Saprissa—Costa Rica), Mekeil Williams (Pittsburgh Riverhounds—USA), Triston Hodge (Colorado Springs Switchbacks FC—USA), Keston Julien (FC Sheriff Tiraspol—Moldova);
Midfielders: Justin Sadoo (Defence Force), Michael Kedman (Thróttur Vogar—Iceland), Leston Paul (Memphis 901—USA), Molik Khan (Minnesota United II—USA), Daniel Phillips (Watford FC—England);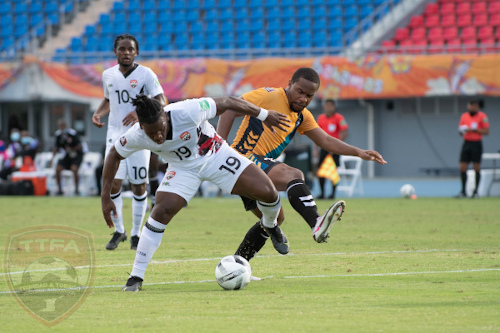 Attacking midfielders: Judah Garcia (AEK Athens B FC—Greece), John-Paul Rochford (Sure Sports FC), Joevin Jones (InterMiami CF—USA);
Forwards: Marcus Joseph (Mohammedan SC—India), Levi Garcia (AEK Athens FC—Greece).
(Originally selected players who did not travel)
Goalkeeper: Jabari St Hillaire (Terminix La Horquetta Rangers);
Defender: Alvin Jones (Forward Madison—USA);
Midfielders: Kevon Goddard (Defence Force), Kaihim Thomas (Terminix La Horquetta Rangers), Noah Powder, Neveal Hackshaw (both Indy Eleven—USA), Duane Muckette (Unattached);
Attacking midfielders: Real Gill (Terminix La Horquetta Rangers), Jabari Mitchell (Police FC).
Editor's Note: Trinidad and Tobago's remaining 11 players arrived by bus between Wednesday night and Thursday morning, which brought the contingent of Soca Warriors players up to 19.