What a wonderful weekend it has been for West Indies cricket!
First, the women secured their qualification for the 2022 World Cup. Then, to double the enjoyment, the men created history by securing a 1-0 series victory against England to become the first-ever holders of the newly minted Richards–Botham Trophy.
The series victory over England will now be joyously celebrated by West Indies cricket fans all over the world and, equally and deservedly so, by captain Kraigg Brathwaite and his entire team.
Perhaps, the victory will also be joyously celebrated even more so by the team's beleaguered Phil Simmons-led coaching staff, which had borne the brunt of criticisms for the highly unenviable record of results in its most recent Test series. Before the England series, and in the now almost three and a half years since his appointment as head coach, Simmons and his key assistants, batting coach Monty Desai and bowling coach Roddy Estwick, have produced some most unflattering results in all three formats.
In Tests, considered by most to be the most important of the three, West Indies under Simmons have won just three, drawn four and lost a whopping nine of their 16 matches before the recent 10-wkt win against England.

The coaching staff have received more than their fair share of the blame for the many failures associated with such dismal results. Having done so, they must now in all fairness be similarly accredited with at least some of the praise for the many collective and individual performances that contributed to this most welcome series victory.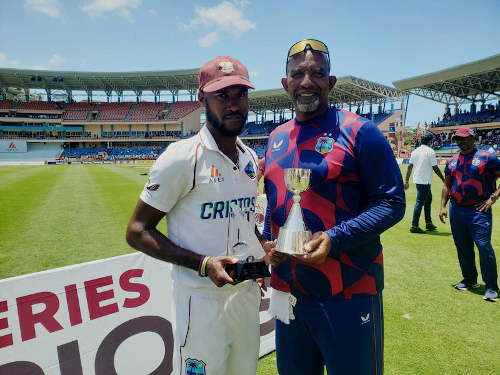 Foremost among those would be the admirable fighting spirit demonstrated by the team throughout the series. They doggedly fought to secure draws in the first two Tests, England having more often than not enjoyed the relative positions of superiority. They then secured a most admirable victory in the Third Test, consistently playing very disciplined cricket in winning arguably 9 of the 10 sessions required to produce the eventual result.
England's first innings last-wicket 90-run partnership between the number 10, Jack Leach, and number 11, Saqib Mahmood, which fashioned a recovery from 114 for 9 to the eventual 204 all out, was the only period of play in almost the entire Test that was not dominated by the West Indies. And, reassuringly not for the first time in recent matches, there were instances of individuals putting their hands up and delivering outstanding performances at crucial times.
The series-clinching victory in the Third Test will now be forever fondly remembered by WI fans for two such outstanding performances. The first was Joshua Da Silva's most timely maiden Test century.
The second was the equally superlative bowling of Kyle Mayers which produced the incredible figures of 5/19 in 17 overs in decimating England's second innings.
Da Silva's 355-minute, 257-ball undefeated century helped WI recover from their own precarious first innings position of 128 for 7 to an eventual total of 297, a lead of 93. It was an innings of admirably stubborn resistance that will now, hopefully, signal Da Silva's transformation into a reliably consistent lower-order Test batsman.
With a record of having scored two centuries and nine half-centuries in the 58 first-class innings he's played to date, which have yielded 1,628 runs at a fairly respectable average of 32.56, Da Silva should rightfully be regarded far more as a batsman who keeps wicket than the reverse.
What was so very important about his hopefully now transformative innings was the manner in which it was constructed. It was characterised as by very wise shot selection, coupled with a demonstrated ability to shift gears from defence to aggression whenever the opportunity presented itself.
Another very heartening aspect of Da Silva's innings was his successive batting partnerships with Alzarri Joseph, Kemar Roach and Jayden Seales, which helped the last three WI wickets add an eventual match-winning 169 runs. The 93-run first innings then provided the perfect platform for Mayers to weave his bowling magic.
Omitted from the final playing XI for the first two Tests, Mayers more than proved his worth in the third. He produced match figures of 7/31 from 27 overs, his victims including England captain Joe Root, best batsman and series twin century-maker, for scores of 0 and 5.
Apart from the match-winning heroics of Da Silva and Mayers, there were also very admirable individual performances by WI players throughout the series. Skipper Brathwaite led from the front and by example with his series-stopping aggregate of 343 runs from six innings, including one century and two fifties for a most enviable whopping 85.25 average.
There were also individual centuries from Nkrumah Bonner (123) and Jermaine Blackwood (102). Bonner yet again demonstrated his reliability as a top-order batsman with a respectable series average of 44.25.
At 32, Blackwood's was far less so and would have been even more so had he been given out, as the replays subsequently showed he should have when he had scored only the very first run of the eventual 102 he compiled in the Second Test.
In terms of the bowling, the youngsters Seales and Joseph, figuring alongside the veteran Kemar Roach as WI' top wicket-takers in the series, was very encouraging. Roach and Seales both claimed 11 wickets apiece at marginally different averages, 26.27 for the former compared to the latter's 26.45, to emerge as the two most productive bowlers on either side.
Joseph's 10 wickets were produced at a much higher 37.30 average. He, however, also had the distinction of being the series fastest bowler by far, regularly producing deliveries at speeds above 140 kph and on at least one occasion even reaching as fast as 150 kph!
There were, therefore, very many positives to be taken from the WI' performances with both bat and ball during the series. Whether those will be deemed sufficient to offset the very negative comments on the standard of West Indies umpiring made throughout the series is, however, highly debatable.
In three matches, all of which were officiated by umpires Joel Wilson, Gregory Brathwaite and Test debutant Nigel Duguid, deemed to be the region's very best, there were no fewer than 20 decisions that were subsequently overturned on review.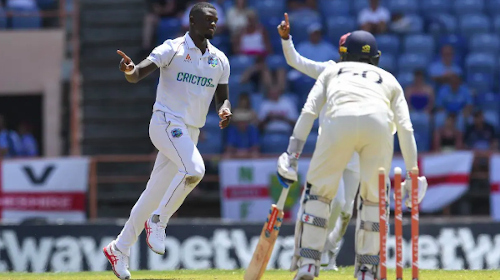 There were also at least another two decisions favouring WI that were not reviewed at crucial points in the series but which the TV replays showed were errors.
The first was the previously mentioned decision involving Blackwood during the Second Test. The second was an equally important LBW decision in favour of Seales during the first innings of the Third Test.
Poor umpiring aside, the series result will now rightfully be viewed by all West Indies cricket fans as a step in the right direction. Undoubtedly, there's still a long way to go, but with a visit by Bangladesh scheduled as the West Indies' next Test assignment, it's a very encouraging foundation on which to base even further restoration of West Indian fortunes in the immediate future.
In the interim, West Indies fans will look forward to the Women's World Cup semifinal against Australia with high hopes for a similarly favourable outcome.