"And let Angus, if he name Angus Eve, let him put down the ball and bring it out from the back on Tuesday," said Guyana Men's National Senior Team head coach Jamaal Shabazz, with a twinkle in his eye. "And he will see, as the old people used to say, where barley grows and when to reap it. He will see that."
By the end of Sunday night, it was hardly the most shocking confrontation between adults in the same industry. 
Or maybe the sting will come on Tuesday night, when Trinidad and Tobago and Guyana square off from 7pm for bragging rights and the newly created Courts Caribbean Classic trophy at the Hasely Crawford Stadium in Port-of-Spain.
(Two fans are allowed in on one ticket on Tuesday while children 12 and under are free.)
One thing is for sure: the Soca Warriors will have a much trickier assignment than on Friday when they routed Barbados 9-0.

Last night, it was Guyana's turn to play with the 'Barbados Trident;' the final result was 5-0 to the 'Golden Jaguars'.
Like Trinidad and Tobago, Guyana were five goals clear after an hour. Unlike the Warriors, once they turned to the substitutes' bench, the Jaguars could not maintain their momentum.
Both coaches went about things differently, though. Eve, in his first home game as Men's National Senior Team coach, started with what appeared to be his strongest XI against Barbados.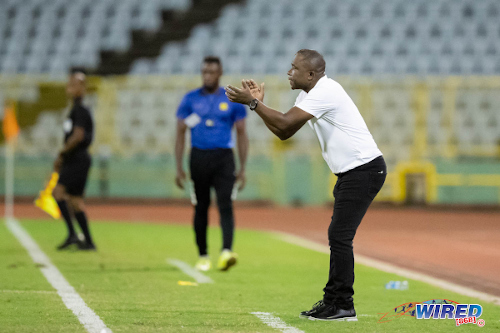 Shabazz, a Trinidad and Tobago native and former Soca Warriors head coach, opted to keep his powder dry as he began with just one of five available overseas-based players last night.
"We have the local-based players training four days a week in Guyana and the only way to test their level of readiness is to give them that match exposure," the Guyana coach explained. "[…] This first game we wanted to use the local players […] to measure the work we have done. Against Trinidad and Tobago, we will try to play more of the overseas-based players and try to make it a match."
Dread-locked central midfielder Javier George certainly made a case to be included on Tuesday with his ball distribution from deep areas while his partner, Daniel Wilson, looked happy to do the grunt work where necessary.
And, during his 45-minute run-out, 20-year-old substitute Nathan Moriah-Welch, a reserve team player for England Championship team Bournemouth AFC, looked robust and mobile as well as technically sound.
Against Barbados, the Trinidad and Tobago midfield trio of Mekeil Williams, Noah Powder and Andre Fortune II seemed to be strictly observing the Covid protocols, consistently keeping their social distance from one another. Against the Jaguars, they will need to be far less scrupulous if they are to retain control of middle earth.
Guyana were spritely and purposeful without appearing especially dangerous. Trinidad and Tobago, as expected, start as favourites.
But that would probably suit Shabazz just fine.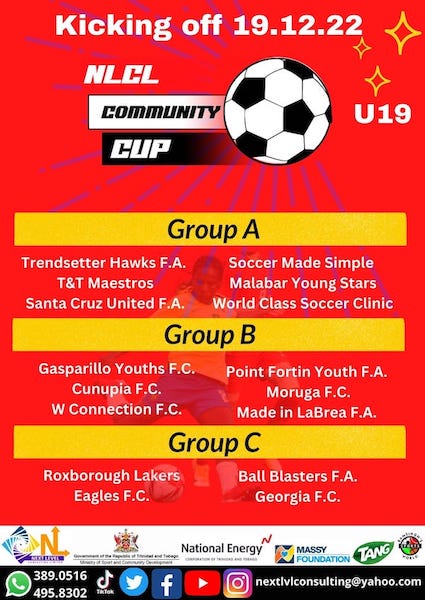 "I think it is going to be who dares win," said Shabazz. "Who is going to take the chance to put down the ball and try to play out of pressure? It is a very interesting encounter and exactly what both teams need at this point in time."
Barbados, led by assistant coach Fitzgerald Carter in the absence of Russell Latapy, made four changes to their starting line-up today. And, twice in the first half, were forced to introduce fresh legs owing to knocks—as the amateur squad tried to recover from Friday's exertions.
Both changes were decisive although not in the way the Barbados bench would have hoped.
The Bajans were defending a corner kick in the 11th minute when flanker Darico King replaced left-back Ramon Manning. And, before King could get his bearings, it was 1-0—as Guyana defender Quincy Adams scored with a header from Shemar Fraser's set piece.
Carter turned to his bench again in the 36th minute, as lanky defender Honor Bradshaw replaced Ackeel Applewhaite. And Bradshaw's first contribution was to give the ball away on top the Barbados penalty area, with Guyana forward Tyrell Ondaan pouncing to release strike partner Pernell Schultz for the second goal.
Ondaan, who plays in the Romanian second division for FC U Craiova 1948, created another item in the 40th minute, tearing down the left flank before crossing for Omari Glasgow to extend the Guyana lead.
Barbados were in trouble again.
Shabazz made two changes at the half and bullish 39-year-old attacker Neil Danns wasted no time in grabbing the spotlight, as he hit the post, won a penalty and took it himself for Guyana's fourth item—all within three minutes of the restart.
And Ondaan conjured up his third assist of the night in the 60th minute, with a diagonal ball that Glasgow ran on to before prodding past Barbados goalkeeper Liam Brathwaite.
"It was good to start with a win tonight," said Shabazz. "[…] The guys moved the ball well, especially in the first half."
Both Guyana and Trinidad and Tobago are miles better than Barbados. But what does it say for either team exactly? Tuesday should tell.
Shabazz appeared to be more than a little concerned with Trinidad and Tobago's rapier-like counter attack. Or at least that might be one way to read his light-hearted goading of Eve, his former player at Joe Public.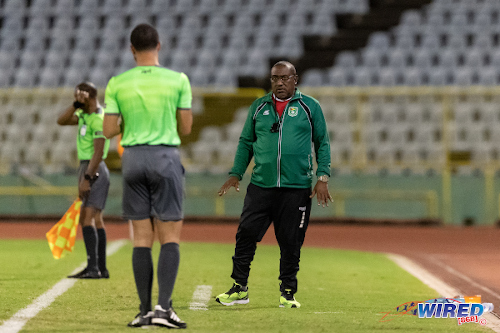 "We all know Angus likes to play kick ball—he showed it in the Pro League," said Shabazz. "But respect to him […] I was really, really impressed with the way they put the game together [against Barbados]. But I would like to see them tiki taka it out against our pressing methods in this game coming.
"Trust me they are going to find some difficulty in this game. It will be a good game for Trinidad and Tobago fans to come out and watch. 
"It will be a good game to measure the two teams as well."
The challenge has been made and, hopefully, it will encourage an exciting game of football on Tuesday.
If Will Smith doesn't mind, of course.
(Teams)
Guyana (4-4-1-1): 1.Akel Clarke (GK); 2.Leo Lovell, 15.Marcus Wilson, 19.Quincy Adams (8.Samuel Cox 62), 5.Shemar Fraser; 10.Omari Glasgow, 21.Javier George (16.Neil Danns 46), 23.Daniel Wilson (9.Ryan Hackett 76), 20.Trayon Bobb (11.Kelsey Benjamin 62); 12.Pernell Schultz (6.Nathan Moriah-Welch 46); 17.Tyrell Ondaan (13.Jamal Pereira 62).
Unused substitutes: 18.Ronaldo Blair (GK), 3.Kevin Layne, 4.Jeremy Garrett, 7.Jobe Caesar, 14.Jamanine Beckles.
Coach: Jamaal Shabazz
Barbados (5-3-2): 18.Liam Brathwaite (GK); 20.Nicoli Brathwaite (16.Shay Prescod 82), 4.Mario Williams, 8.Ackeel Applewhaite (12.Honor Bradshaw 36), 2.Ricardio Morris, 3.Ramon Manning (13.Darico King 11 [7.Nadre Butcher 69]); 15.Lemar Catlyn (14.Kevon Lucas 46), 6.Jomo Harris, 10.Hadan Holligan (captain); 9.Keon Atkins (17.Akeem Hill 82), 19.Armando Lashley.
Unused substitutes: 1.Kishmar Primus (GK), 5.Jamaal Watson-Cummins, 11.Azarel Croney.
Coach: Fitzgerald Carter
Referee: Kwinsi Williams
Courts Caribbean Classic
(Sunday 27 March)
Guyana 5 (Quincy Adams 11, Pernell Scholtz 37, Omari Glasgow 40, 60, Neil Danns 49 pen), Barbados 0 at Hasely Crawford Stadium.
(Friday 25 March)
Trinidad and Tobago 9 (Levi Garcia 27, 35, 40, Ryan Telfer 29, 59, Nicholas Dillon 68, 77, Reon Moore 79, John-Paul Rochford 81), Barbados 0 at Hasely Crawford Stadium.