In my life, there are two men—your mind's in the gutter, wretch!—whose knowledge of football is encyclopaedic.
One is Wired868 Editor Lasana Liburd. From him, I got an unsolicited lecturette on Marcelo Bielsa's family history. In five minutes, I learned more about the just fired Leeds coach than I know about any other current EPL coach—except Steven Gerrard.
Liburd supports neither Leeds nor Chelsea nor Chile nor Spain.
But from reading From Mason Hall to White Hall (sic), I gleaned less about the author's mother than I could've learned about César Azpilicueta's mamá.
The second one is Bobby. Every morning, he walks and talks with me for an hour or two. He does not know—and does not care—who Bielsa or Azpilicueta is. He doesn't know or care with what team either plies his trade.

He is full of little-known 20th Century World Cup football stories that fascinate. Not just about the teams that have won the Cup. About minnows too, including Gally's Strike Squad.
But it's not possible for me to persuade him to put pen to paper. The poor people, he says, who lap up the trash in the conventional media nowadays are pitiable. Beneath contempt.
Besides, says he, the EPL is no longer a football league. In fact, it's not about football at all; it's about buying and selling stock.
Yuh have more corn, yuh feed more fowl.
"I mean, CR7—it's almost a sneer—gets 500-plus thousand pounds a week to mash up your side?"
One morning, we heard a picoplat ramajaying in a tree near the exercise track. Recalling his telling me that Garrincha was Portuguese for 'little bird', I inquired about the late Brazilian star.
Fifteen laps we did that day, I think; I lost count. Here is his story, the bare bones:
"You know," he began, "just last week, his second wife, Elza Soares, the famous Brazilian singer, died. He passed in 1983, still loved as a man of the people.
"Brazilians would always love him for what he did for their country on the football field. But he was a flawed human being. A drunkard and a womaniser. He couldn't see a skirt.
"He leave his first wife for Soares—after she make nine daughters fuh him, yes, nine! And never look back.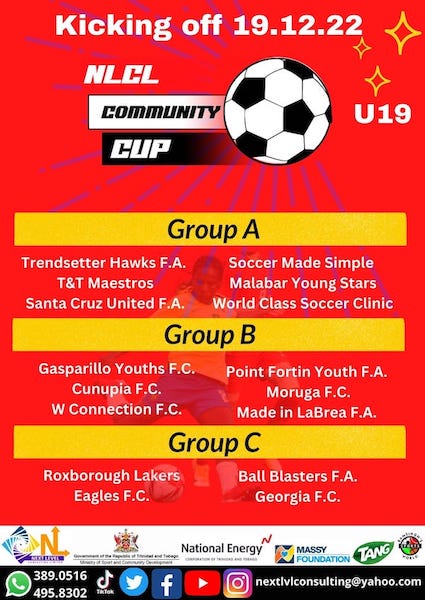 "They say alcohol put him in hospital once. People lost count ah how much woman come to visit him. In and out, in and out…
"The man was k-foot and bandy-leg too same time." He laughed. "So he had to have something special!"
"Want mih to guess?"
"No, thanks, bro; is okay. In Stockholm for the 1958 World Cup, he stepped off the plane and somebody say, 'Eheh! Brazil bringing a cripple to play fuh them?'
"He was 24 and Pelé was 17. (Vicente) Feola didn't play either one in the first two matches. But after they draw goalless with England, he let them loose on the Russians. They didn't score but they totally confuse the Soviets with their speed, their dribbling, their dummies, everything.
"2-1 Brazil, a Vava double."
"Is true Brazil never lorse a match when both Pelé and Garrincha played?"
"Yuh memory good," he flattered me, "not one!
"After that, Pelé score six in the next three games and hit world headlines. But, in Chile four years later, Pelé was injured early.
"Brazil bring in Amarildo. And Garrincha take over the attack.
"In theory, he was the right-winger, eh. But in fact, he played a roving forward, popping up inside the box to score headers and volleys, powerful ones! Against England, he hit one unstoppable bullet from outside the box. Keeper never see it. He was joint top scorer with five others on four goals, Golden Boot winner.
"They say that 1962 tournament was the most violent World Cup ever. Playing at home, Chile was the worst. Garrincha score with a volley from a corner in the semifinal to cancel out their lead. Deh kick up his tail, he retaliate and the ref send him off.
"Brazil so darm lucky! Garrincha walking off the field and some fool pelt a bottle from the stands. He head buss. Blood. Brazil appeal, saying Chile should get ban, I think. So, to prevent a big stink, FIFA decide to let Garrincha play in the final.
"Garrincha ent do nothing but they beat Czechoslovakia 3-1.
"He couldn't stop drinking, didn't stop womanising; he put on weight, he lost form. So taking him to England in '66 was a big mistake. The man coulda hardly run!
"Yeah, he scored a beauty of a free-kick with the outside of his foot in the opening 2-0 win over Bulgaria. But that was it!
"After that, he was history."
And we were just too tired to go on!